Designing A Kitchen | An Architect Explains
Since more time and effort are spent in the Kitchen more frequently than in any other part of the house by the person who prepares the meals, careful planning is important. Some of the important planning considerations are: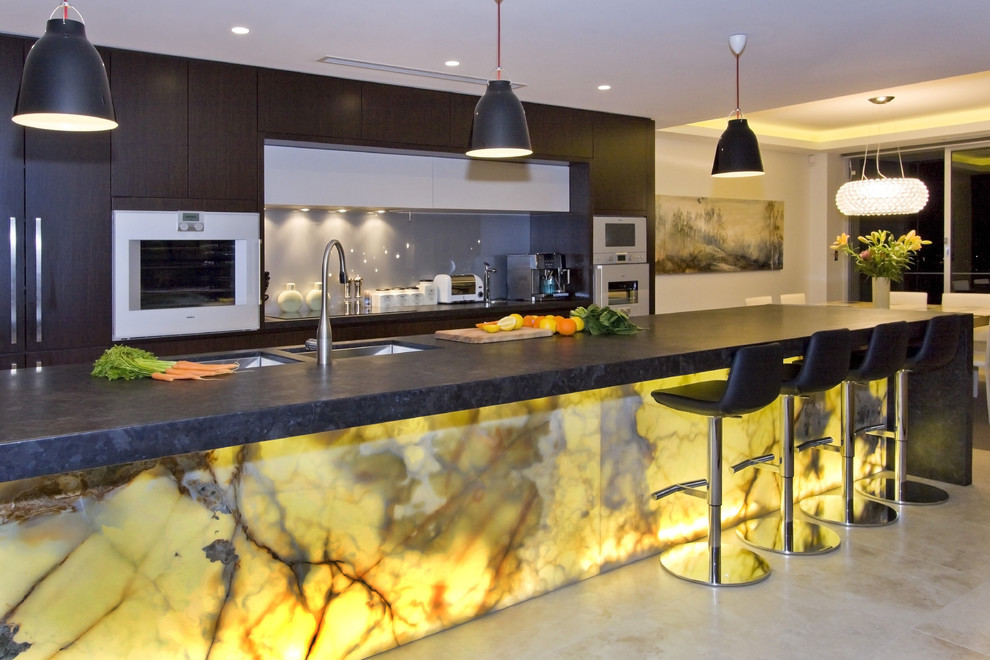 The Work Centres.

The Arrangement of Counters

Counters and working surfaces

Storage.

Materials.

Lighting.

Ventilation.

Safety.

Other Kitchen Activities

Critical Dimensions
WHAT IS THE PLANNING CONSIDERATION FOR STORAGE IN A KITCHEN?



There should be adequate storage space in a Kitchen. This can be provided both under the counter and above the Counter.

There should be sufficient space to store items so that they may be easily seen, reached, grasped, taken down and put back without much strain. This can be achieved by having sliding, pull-out shelves, trays etc.

Storage space should be sufficiently flexible to permit arrangement of different sized containers for different items. This can be achieved by having adjustable shelving.

With proper planning, food items, utensils, crockery etc can be stored close to the work centre where they need to be used.

Unattractive items can be stored away out of sight, while attractive crockery or crystal ware can be stored in overhead cabinets with glass shutters so that they are visible.

The maximum depth of the overhead wall cabinet should not be more than 1'0″ to prevent the head of the person from touching it.

The minimum height between the Wall cabinet and the counter top should be 2′ above the sink and stove and in other areas, 1'6″. This is to allow for easy working and to prevent the head of the person from hitting the overhead cabinet.

It is advisable not to have a wall cabinet above the stove, as it will get damaged by the fumes. Instead it is better to have a chimney hood above the stove at a minimum height of 2'6″.

A woman should be able to reach the overhead, storage shelves keeping both her feet flat on the floor. The highest shelf can be at a maximum height of 6'0″ above the floor. More than that, and it becomes inconvenient, necessitating a ladder or a stool which can cause accidents.

Spacing of shelves should be: 5″ for 6″ deep shelves, a minimum of 6″ for 10 " deep shelves and a minimum of 7″ for 1'0″ deep shelves. etc, for the cabinets below the counter, so that one does not have to bend down too much to reach for something.
WHAT ARE THE BEST MATERIALS FOR A KITCHEN?

The Counter and cabinets should be made of materials and finishes that require very little maintenance and cleaning. Generally a natural stone like polished granite is ideal for the Kitchen counter. Laminated  or wooden cabinets with PU coating are easy to maintain.

It should be possible to wipe and clean with water the materials and finishes used for the cabinets and the counter top, without damaging them.

It is preferable to have light colours in the kitchen as it creates a pleasant work atmosphere.
Refer: KITCHEN MATERIALS AND FIXTURES
WHAT ARE THE PLANNING CONSIDERATIONS FOR LIGHTING IN A KITCHEN?

Good lighting helps to prevent fatigue and create a pleasant atmosphere.

A well lit kitchen with minimum shadows helps you to see clearly, what you are doing while cutting and cooking. It is advisable to have lighting under the overhead cabinet to light up the counter.

Sunlight contains UV rays which act as a germicide in killing the germs

Adequate lighting in the kitchen makes the room more agreeable and attractive to work in, for long periods of time. that thrive on kitchen counters, floors etc due to the presence of food and water. So sunlight should be allowed to flood the kitchen.
WHAT ARE THE PLANNING CONSIDERATIONS FOR VENTILATION IN A KITCHEN?



The Kitchen should be well ventilated to get rid of the food odours, gas, fumes etc.

There should be a good sized window in the Kitchen to allow in fresh air. The Window should not be located behind the stove as the flames can be affected by the wind and be exposed to dust. The window sill should be at least 6″ above the counter top.

It is preferable to have an exhaust either in the wall or in the hood above the stove to throw out the objectionable kitchen odours and fumes.
WHAT PLANNING CONSIDERATIONS SHOULD BE TAKEN FOR SAFETY IN A KITCHEN?



The edges of the counter top should be rounded off and not be sharp.

If possible, the gas cylinder should be kept outside the house where it is well ventilated, so that any leaks will not cause an explosion within the kitchen.

There should be safety catches on drawers and doors to limit the exploratory activities of young children.

Sharp corners should be avoided.
WHAT ARE THE OTHER KITCHEN ACTIVITIES?



DINING – Many families want to eat a quick meal in the kitchen. In fact kids enjoy watching their mother preparing hot food and serving it to them right there. This can be provided for, by having a breakfast counter.
INFANT & CHILD CARE – Kitchens are often used for infant care, toddlers play area, since young children want to move around and yet be near their mother. Also the mother can keep an eye on them while cooking. Adequate provision for infant care supplies, toys and games should be made in the kitchen. Provision should also be made for a play area away from the work centres but where adequate supervision is possible. for giving them a bath or for
GROOMING – Washing hands and personal grooming frequently take place in the kitchen. So a mirror is desirable near the sink.
WHAT IS THE BEST LOCATION FOR A KITCHEN?
The Kitchen is not a specialized room but has many uses. It is a space used for preparing meals, storage of food and utensils, eating, child care, entertaining etc. It is the most frequently used space in a house and hence it should have a pleasant, attractive and cheerful atmosphere. It should also be well lit and well ventilated. The windows of the Kitchen should allow in sunlight which can kill the germs that thrive on kitchen counters and floors and also dry it up. The windows should also allow fresh air into the kitchen while the kitchen fumes and food odours are removed by an exhaust. For this, it is advisable to consider the orientation of the kitchen with respect to the sunlight and wind direction. Vastu Shastra gives guidelines regarding the ideal location of kitchens based on the Sun and wind directions. These Vastu Guidelines have a scientific basis and have been explained here:
Related Topics:
If you found this post useful, I would really love it if you pin it or share it. All it takes is a simple click on the "pin it" "like," "share," "tweet," or Google+ buttons below the post.
Also, unlike many other sites, I do not insist that your ad blocker be turned off to allow you into my site. This is because I know that my content will be useful to you. But putting up posts regularly takes up time and hard work and I am able to run this site only because of the ads. So I will be much obliged, if you would turn off your ad blocker. Thank you!