Engineered Wood Flooring | An Architect Explains
For those who want to use real wood for flooring, there are two types: hardwood flooring and engineered wood flooring. The first is made from 100% real hardwood, while the second, called engineered wood flooring is constructed using real wood together with MDF, Plywood and Softwood. When fitted correctly you will never be able to spot the difference between the two types. So, Engineered wood is a cheaper and more eco-friendly alternative to solid hardwood, as it uses half the number of trees.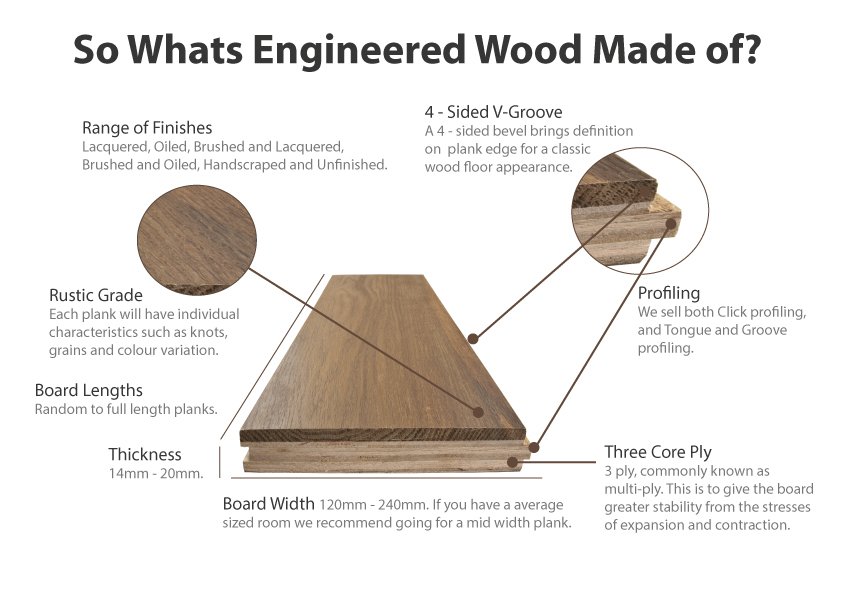 Engineered wood flooring is made up of layers of wood that are pressed and glued together. For added stability, the grains of each layer run in different directions. As a result, Engineered wood is less likely to expand and contract compared to solid wood during fluctuations in humidity and temperature. The top layer of engineered wood flooring consists of high-quality wood. While this type of flooring can be sanded and finished, it cannot be done as many times as solid wood flooring.



WHAT ARE THE METHODS OF INSTALLING ENGINEERED WOOD FLOORING?
Unlike solid wood, which must be nailed to a wood sub-floor, engineered wood can be installed in a different number of ways. 
Nail-Down Floor. This is for the 3/8″ thick floor–its thinness requires nailing to enhance stability;
Glue-Down Floor. The 1/2″ thick floor can be nailed down or glued down.
Floating Floor. The 5/8″ planks are thick enough to act as a floating floor.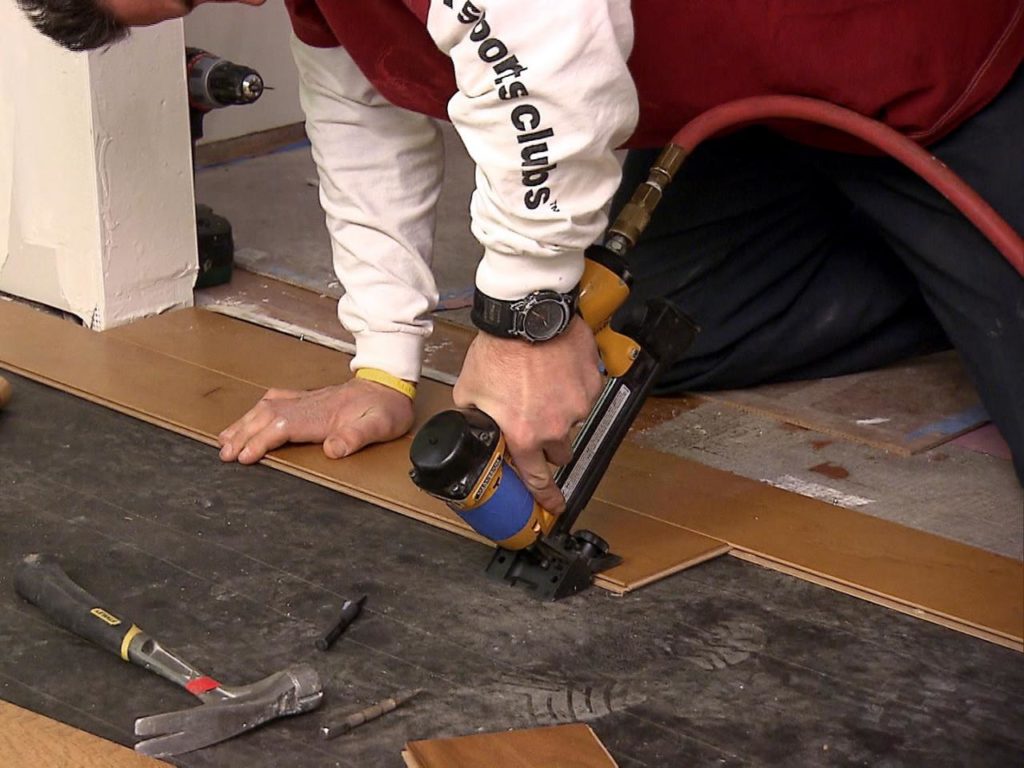 WHAT ARE THE ADVANTAGES OF ENGINEERED WOOD FLOOR?
Real wood: Engineered Wood Flooring has real hardwood veneer on top unlike Laminate flooring which has melamine-infused paper veneer.
Strong:  Engineered wood has plywood underneath, which is laid cross-ways thus providing additional strength to the flooring.
Pre-Finished: Engineered Wood Floor is already sanded and sealed before installation, unlike solid hardwood.
Can be sanded: Engineered Wood Flooring can be sanded after scratches and dings develop upto 3 times.
Moisture-proof:  Engineered wood flooring works well in kitchens, basements, and bathrooms where light moisture might be present unlike solid wood but doesn't hold up in really wet areas. Only tiles and other natural flooring  materials can resist moisture.

WHAT ARE THE DISADVANTAGES OF ENGINEERED WOOD FLOORING?

Cost: Engineered flooring is almost as expensive as solid hardwood flooring and much more expensive than laminate wood flooring.
Maintenance: While solid wood flooring can be sanded many times to eliminate scratches and blemishes on the surface, the thin top layer of engineered flooring only allows this to be done two or three times at most.
Cleaning:  Engineered flooring comes with beveled edges to make installation easy. But the joints attract dirt and are difficult to clean.
Appearance:  Although the top layer is made of real wood, in some cases the engineering process can result in a different grain pattern that does not look like wood.
Durability: Because of the thin top layer, engineered hardwood flooring is susceptible to dents, and harder to repair if damaged.
WHERE IS ENGINEERED WOOD FLOORING BEST SUITED?
When remodeling, many homeowners want hardwood flooring. However, solid hardwood floor is difficult to install on your own and hardwood can be finicky when it comes to moisture. This is where Engineered flooring has an advantage. It looks like real wood and can be periodically sanded to revive the wood grain. Also, it is more moisture-proof than solid wood. But for people who cannot afford hardwood or engineered wood, Laminate wood is a much cheaper alternative – it looks like actual wood and is much cheaper.

For information on other flooring options, go to: