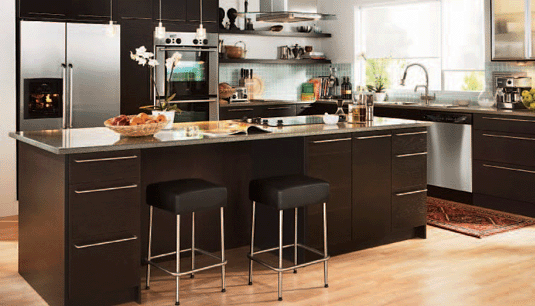 A Kitchen is a room or part of a room used for cooking and food preparation. It may also be used for dining and entertaining. A kitchen is typically equipped with a stove, a sink, a refrigerator, kitchen countertop and kitchen cabinets. In addition there may be a microwave oven, a dishwasher and other electric appliances.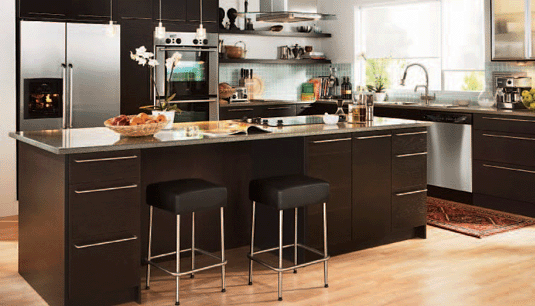 As An Architect practising in India, in my projects I have to keep in mind every room's arrangement while designing the whole house. If there is one room that requires important consideration, it's definitely the kitchen. The kitchen is the room where we interact most with our environment on multiple levels. It has to allow for food preparation, storage, waste management, entertainment and a comfortable dining area. A kitchen needs to be designed as a custom space, outfitted especially to suit your needs. In the design of the kitchens, the arrangement of the 'work areas', the positioning of doors and windows are important to make it very efficient. For tips on this, go to:

Here are some more tips to create an efficient, clutter-free, hygienic kitchen. These tips are based on common sense and organisation:
VASTU SHASTRA GUIDELINES FOR KITCHEN: The ancient Indian science lays down guidelines for the ideal location of Kitchens and the spaces associated with and near the kitchen, such as the kitchen backyard and the dining room. Sometimes I refer to Vastu Shastra guidelines to decide the best positions for the fixtures like the sink, cooking hob, fridges because Vastu is based on scientific reasoning.

MATERIALS USED IN KITCHENS:
If you found this post useful, I would really love it if you pin it or share it. I have not blocked the site just because your ad blocker is switched on because I hope my content will be useful to you. But I am able to run this site only because of the ads. So I will be obliged if you turn off your ad blocker. Thank you!
Related Topics: