Location: The location near the ORR, Hebbal ring road and Manyata Tech Park makes it very attractive to the IT crowd. Moreover, it is not very far from MG road, schools, tech parks, hospitals and the Airport.
Resale Value: Chitrakut Amber will have good resale value because of it's excellent location.
Design and appearance:  The 2 towers, unlike in many other projects, are separate and not connected to each other. The advantage in having them separate is that there is ample light and ventilation to each and every unit.
Foyer: Both 2-bed and 3-bed units have foyers of good size which are advantageous as they serve as  'pause' spaces as one enters the apartment. Also they are a useful place to keep the footwear.
Living room: The living room and dining room form an L and hence are separate but still open to each other. This arrangement is better than the rectangular hall arrangement seen in some projects, because the living and dining get 3 walls each, for placing furniture. The dimensions are also very comfortable,  making it a spacious space.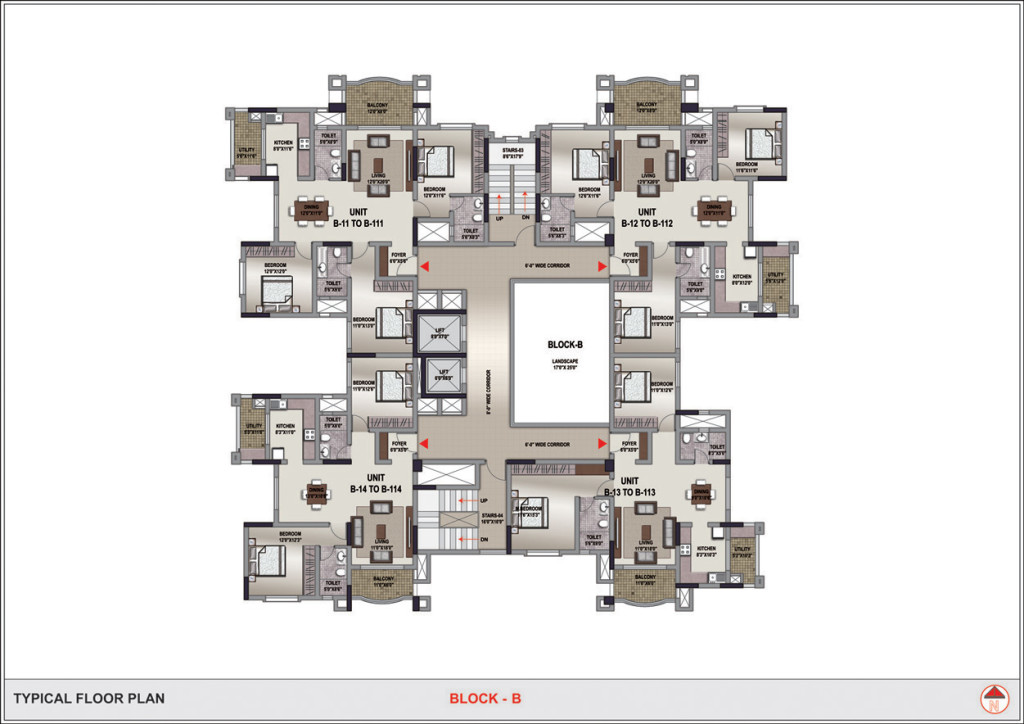 Kitchen: The kitchen and utility are separate and of good sizes and can accommodate a lot of gadgets and storage. See my post on Kitchen sizes in design of a Kitchen.
Bedrooms: All the bedrooms are comfortably sized. See my post on Design of a Bedroom,
Bathrooms: The bathrooms have a good size especially lengthwise. Their comfortable dimensions make them look and feel spacious unlike the bathrooms in many other projects. Usually the bathrooms are compromised in a bid to reduce square footage.
Dining Room: In all the units, just like the living room, the dining room gets direct light and ventilation. This is so unlike most other apartment projects.
View from apartments:  All the bedrooms and living rooms face outwards towards the landscaped areas. Only the bathrooms face internal open spaces and each other. This is unlike many other projects, where at least one bedroom faces an internal court.
Balconies:  Balconies are very wide (8′) unlike many of the newer projects.  They are almost like terraces.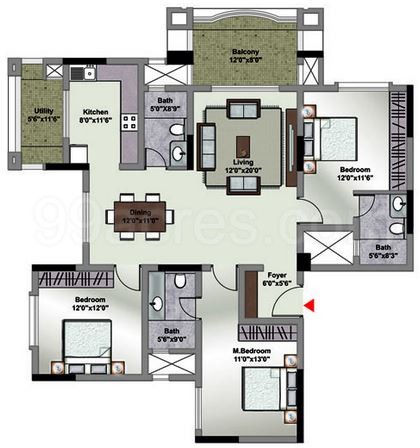 NEGATIVES OF CHITRAKUT AMBER, HORAMAVU, BANGALORE
Reputation: Chitrakut Amber is a mid-level construction group and does not fall in the bracket of "established builders." They have only 11 projects to their credit. The impression I get of their completed projects is just "okay". They do not look very impressive externally.
Square footage: The super built-up area of the 2 BHK apartments is on the higher side. Nowadays 2 BHKs are of much lower square footage to encourage more buyers.
Vastu compliance: Thought the builder claims that the project is Vastu compliant, the master bedrooms in some of the units do not fall exactly in the SW quadrant. You can read more about Vastu Shastra Guidelines for Design Of a House here.

Lobby/corridor: To have a lobby before a toilet is good, as the bedroom and toilet doors can open from this space instead of from other rooms. But when the lobby becomes disproportionately big it is just a waste of space and it all adds up in the built-up area. So effectively you are paying for wasted space. In Chitrakut Amber, all the master bedrooms have a disproportionately large lobby.
Living /Dining area: In all the apartments, the living/dining space is an L-shape. As a result the entrance part is unused and a wasted space. In fact about 80 sft is wasted and if the foyer was included in that space, thf en  the overall square-footage would have reduced and the buyer would be getting the same plan but at a cheaper price.
All the 3-Bed-units have three toilets: In my opinion, there should have been 3-bed 2-toilet apartment options as 2 toilets are sufficient for a family of 4 or 5 and is advantageous as the super-built-up area of such an apartment is reduced by 150 to 200 sft. There are many people who want a 3-bed unit but cannot afford it because of the price which is in direct proportion to the super-built up area.
This is my unbiased review of Chitrakut Amber, Horamavu, Bangalore. The location is good and hence it will have good resale value. The overall layout, design and elevation are all good and rooms are comfortably sized. But it is marketed by a relatively unknown builder, Chitrakut Estates and the elevation is boring. So, in spite of so many positives, I will give this project a rating of 7.8 out of 10. For information on other apartments designed and executed in East Bangalore, go to:
For more information on buildings/projects designed/executed completed in Bangalore, go to:
If you found this post useful, I would really love it if you pin it or share it. I have not blocked the site just because your ad blocker is switched on because I hope my content will be useful to you. But I am able to run this site only because of the ads. So I will be obliged if you turn off your ad blocker. Thank you!