STATISTICS OF ARCHITECTS IN INDIA
Sometimes it is interesting to know the statistics of architects in India. As a woman Architect, practising in India, I am surprised that the male:female ratio of independently practising architects is so skewed even though at the time of admission, there are often equal number of girls and boys joining Architecture. Here are some interesting statistics about the architects in India, the male:female ratio, age, number of architects in cities and states of India, under the following headings:
How many Architects are there in India today?
What is the ratio of male to female architects in India?
Till what age do architects practise in India?
How many architects are there in the major cities in India?
How many architects are there in the states in India?

 



HOW MANY ARCHITECTS ARE THERE IN INDIA TODAY?
As on 04.05.2019, there are a total of 90,796  i.e. approximately Ninety thousand Architects in India. In the past 10 years the number has increased by sixty thousand.

WHAT IS THE RATIO OF MALE AND FEMALE ARCHITECTS IN INDIA?
Out of these ninety thousand (registered) Architects, 53% (48,510) is Male while 47% (42,285) is Female. The number of women architects who have registered with the CoA has increased in the past 10 years from 34% to 47% which is a very favourable sign.
An interesting fact is that while 35% of the male Architects are self employed, only about 17 % of female Architects are practising independently. This could be because the general perception about women Architects is that they are better suited to be interior designers and so people hesitate to approach a woman Architect for architectural services.
Among the female architects, the percentage that is working in the private sector has increased and is around 54%. This shows that, even though self-employed women architects are still a small percentage, there are many who are working as architects and have not given up on their careers.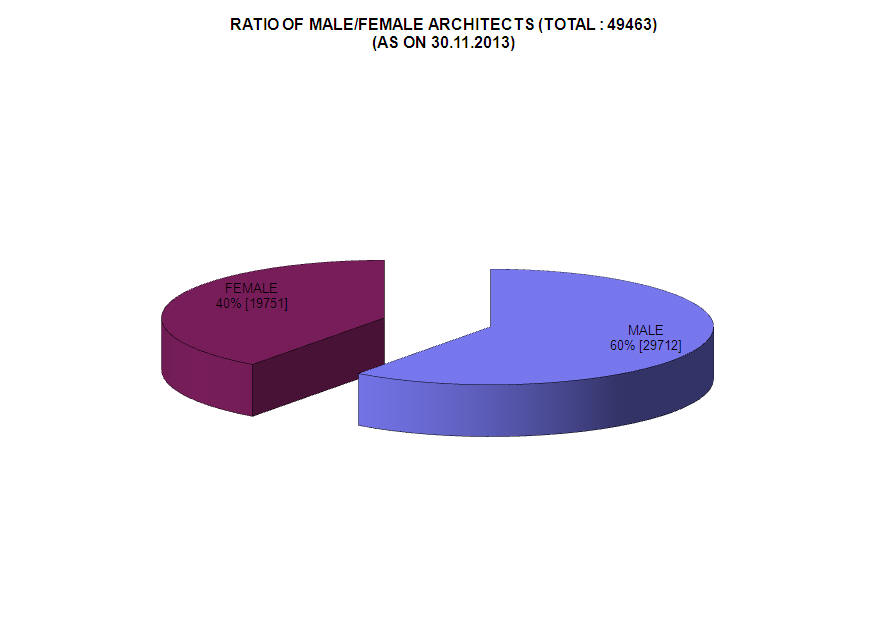 TILL WHAT AGE DO ARCHITECTS PRACTISE IN INDIA?
Out of the ninety thousand architects in India, 46,000 Architects (51%) are in the age group of 20-35 and there are just about 1565 Architects (2%) in the post retirement age group of 66-75. Surprisingly, there are 741 Architects in the age group 76-85, and believe it or not there are 86 Architects older than 85 who are still practicing. Architecture being a creative field, one can just not fix an age of retirement. So if you have the enthusiasm for it, you could still be practicing at 90!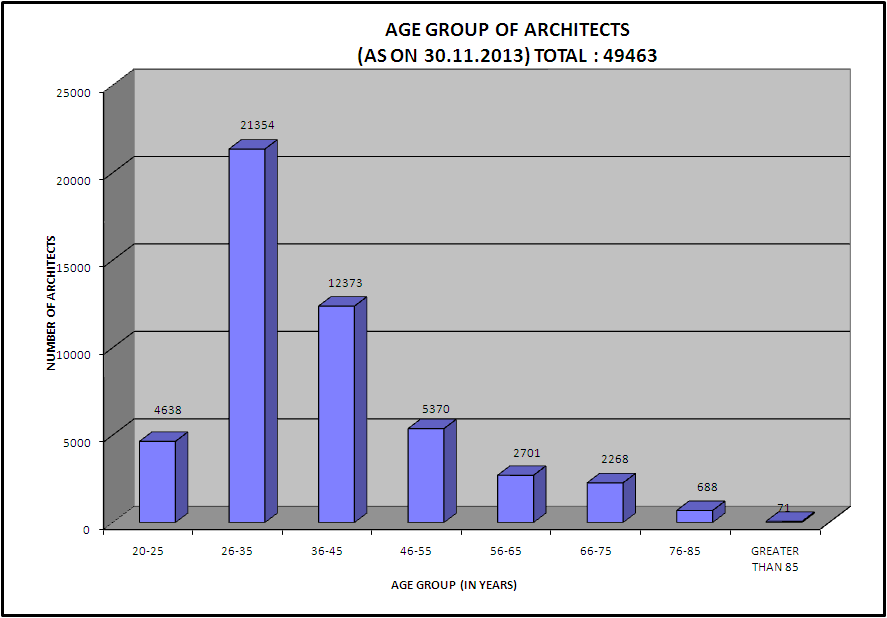 HOW MANY ARCHITECTS ARE THERE IN THE MAJOR CITIES OF INDIA?
5000 – 10000 architects
Mumbai has the largest number of Architects of around 6850.
New Delhi has around 6145 Architects,
1000 – 4999 architects
Pune has around 4834 Architects,
Chennai has 4300 odd Architects.
Bangalore has around 3767 Architects.
Hyderabad has 2391 Architects.
Nagpur has 1714 Architects.
Ahmedabad had around 1572 Architects.
Thane has 1569 Architects.
Delhi has 1565 architects
Kolkata has around 1303 Architects.
Gurgaon has 1292 architects.
Jaipur – 1133
Navi Mumbai – 1021
Nashik – 1002
Below 1000 architects
Surat – 989
Ghaziabad – 876
Vadodara – 864
Indore – 707
Kolhapur – 689
Chandigarh – 636
Mumbai (Suburban) – 587
Thiruvananthapuram – 553
Bhopal – 548
Coimbatore – 540
Faridabad – 519
The rest of the cities and towns in India have less than 100 Architects.
HOW MANY ARCHITECTS ARE THERE IN THE STATES & UNION TERRITORIES IN INDIA?
The number of Architects in the different States and Union Territories of India, varies from just 1 in Lakshadweep to almost 11,000 in Maharashtra.
Andaman & Nicobar Islands has 15.
Andhra Pradesh has 1015.
Arunachal Pradesh has 14.
Assam has 101.
Bihar has 139.
Chandigarh has 410.
Chattisgarh has 162.
Dadra & Nagar Haveli has 3.
Daman & Diu has 7.
Delhi has 4133.
Goa has 404.
Gujarat has 1443.
Haryana has 670.
Himachal Pradesh has 157.
Jammu & Kashmir has 120.
Jharkhand has 132.
Karnataka has 2419.
Kerala has 818.
Lakshadweep has 1.
Madhya Pradesh has 631.
Maharashtra has 10,930.
Manipur has 27.
Meghalaya has 37.
Mizoram has 20.
Nagaland has 12.
Orissa has 277.
Pondicherry has 51.
Punjab has 461.
Rajasthan has 375.
Sikkim has 23.
Tamil Nadu has 1594.
Tripura has 10.
Uttar Pradesh has 1290.
Uttarakhand has 161.
West Bengal has 1014.



If you found this post useful, I would really love it if you pin it or share it. I have not blocked the site just because your ad blocker is switched on because I hope my content will be useful to you. But I am able to run this site only because of the ads. So I will be obliged if you turn off your ad blocker. Thank you!
Also read about: