BEDROOM CLOSET ORGANISING IDEAS | An Architect Suggests
Bedroom Closet organising takes up a lot more time than you would expect. As an Architect, many a time, I have had to sit with the client for a minimum of 3 sittings to finalise the design. This is because the amount of clothes and accessories possessed by each member of the family is so huge that, it seems unlikely that the area demarcated for storage purpose will be able to contain all of it. But over the years, I have realised that there is no need to despair, as it is quite possible to maximize storage space by clever organization.


MAKE A LIST:
The first thing I tell my clients is to come prepared before the meeting. Each member of the family  must have a list of the kinds of things (clothes, accessories, musical instruments, sports equipment etc) they need to store, the manner in which they prefer to store (using hangars or folding), the colours and materials that they prefer for the closet as it should cheer them and any extra  facilities that they may want, if space permits.
Once the requirements are clear, it is my job to try to accommodate each client's needs in the available spaces. Sometimes, there is no space demarcated for a walk-in closet. So, it is not easy, but the seemingly impossible task can be made possible. Here are some closet organization ideas that create a functional, attractive and tidy space that's uncluttered and has designated spots for everything. Also it is worthwhile to read about the correct placement of furniture as it determines whether a closet looks spacious, aesthetic and un-cluttered.
NO WALK-IN CLOSET- CREATE A WARDROBE SPACE:
When walk-in Closet is not an option you can create a wardrobe for your storage needs even in the smallest bedroom. But remember to have sliding shutters rather than swing-out ones. Otherwise you will not be able to open out the doors especially if the wardrobe is close to the bed.
Use curtains instead of sliding shutters: If you cannot have sliding shutters, then hang curtains or hanging screens as shown here in the image below. All the stuff can be hidden behind the curtain and that space will be mistaken for a window.

WALK-IN CLOSETS- THE OPTIONS:
When walk-in is an option, preferably have a window in the walk-in area, as natural daylight and ventilation in a small but packed space is beneficial. You could also have a small, cosy window seat like the one in the picture below.

ADDITIONAL FACILITIES IN WALK-IN CLOSET:
Have additional facilities in the Walk-in closet if you have the room, like a dressing area with a storable ironing board and a bench or chair for dressing. Or have a chaise lounge/sofa for reclining. A great way to be inspired to get dressed every morning is by creating a designated spot in your closet to hang and display the outfit for that day.

USE ALL THE SPACE AVAILABLE, UP TO THE TOP:
T
he higher you go, the more space you can create.
Sto
re your most-used items at eye level, less-used items below and least-used items up high. Have separate shuttered storage above the usual 7′ window lintel level for storing suitcases, or just have a shelf at that level and keep interesting storage boxes with handles for stacking out-of-season clothes. Remember to have a safe step stool.
Hang the clothing rod higher: If you hang the rod higher, then you can fit more stuff below your clothes. You can squeeze in an additional shelf,  drawer or shoe rack. See the picture below.

Make more room in your closet by storing out-of-season clothes in boxes or vacuum sealed in space bags, up high or under the bed. Get into the habit of cleaning and storing seasonal items until you need them. Also get rid of stuff that you have never used for at least a year. De-clutter once in a while!
SLIDING STORAGE FOR ADDITIONAL SPACE:
You can use narrow, wasted nooks between the wardrobes for storing things that take up little space like belts, scarves, ties and shoes. A pull out  organizer on wheels or one that slides out when you need it is the best solution.


ADD SHELVES:
Add a contemporary touch to your closet by adding an open shelves. The open shelf is the perfect spot for a display of favorite handbags and other objects including neatly folded sweaters. Some good ways include a built in, free standing bookcase or wall-mounted floating shelves.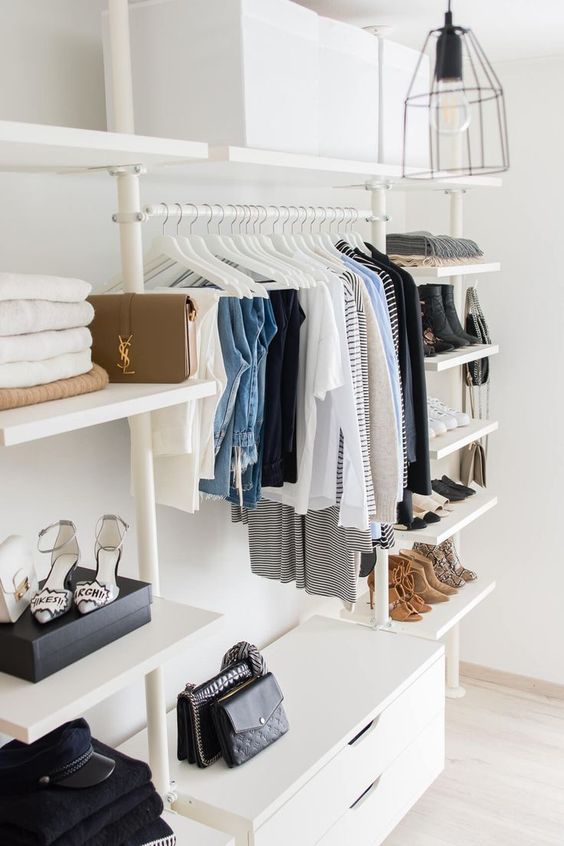 ADD DRAWERS:
Drawers are some of the best closet storage pieces. Opt for a combination of shallow and deeper drawers. Deep drawers are useful for stacking t-shirts. Store folded items like sweaters or t-shirts vertically, instead of horizontally, so you can see all folded items in a drawer. Shallow drawers are great for everything from jewelry to scarves and sweaters. It's easier to find items in a shallow drawer than stacking them (where they can be forgotten) in a deep drawer. Just because your closet doesn't come with drawers, doesn't mean you can't add any. Add some drawers like the one shown here below.


ADD DIVIDERS:
A closet with large drawers and big, deep shelves is not as efficient as you'd think. Things get lost in back, shoes become a jumbled mess and items stacked in tall shelf spaces topple over easily or make it difficult to grab the bottom items. Make these big spaces smaller and more efficient by adding dividers into the drawers or extra shelving to break up the open shelf space.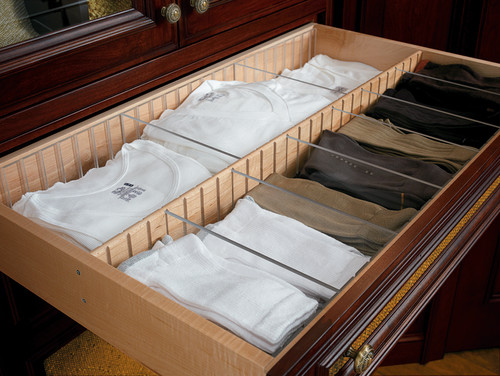 You can divide a drawer into smaller spaces by using trays and cubbies to hold smaller items like belts or ties.
USE WASTED WALLS FOR SMALL THINGS:

The side walls within closets usually are wasted. They can be used for tiny accessories like your sunglass collection or your belts or hair clips etc. Otherwise, such small items could easily get lost in drawers.

The best place for jewellery and accessories is behind the mirror. This way the entire wall behind the mirror is not wasted and can hold your entire jewellery, ties, watches, belts collection. See the image here below.


USE CO-ORDINATED HANGERS FOR A NEAT LOOK:

Use coordinated and the same type of hangers for a clean, uncluttered look that will care for your clothes and help you stay organized and find all your stuff.
HANGERS CAN BE USED IN DIFFERENT WAYS:
Double up your hangers as it allows you to fit more into your closet, while pairing up items you usually wear together — so you don't have to hunt for the missing mate when you're already in a rush. Also, instead of having a hanger for each of your camis or scarves, use shower rings to create individual holders for your entire collection. Shower hooks are also perfect for hanging purses in your closet as they will ensure handles don't get misshaped.

USE THE INSIDE OF THE SHUTTER FOR HOOKS:
Use the inside of the wardrobe shutters for hanging things. Hooks on the inside of your closet door will offer space for your entire collection. Also, it makes picking out a purse that matches your outfit so much easier. You can also hang a laundry hamper on a hook on the back of your closet door. This way, you'll know when it's time to put the load into the washing machine.
HAVE GOOD LIGHTING IN THE WALK-IN CLOSET:
Add lights in your closet so you can see what's in there. There are a number of clever, low-voltage and battery powered lights that can be added to shelves, drawers and other dark corners. Also, you can get lighting that turns on and shuts off automatically when you open and close drawers and cabinets.

COLOUR CODING MAKES IT EASIER TO FIND THINGS:
Color coding your wardrobe makes finding things easier. Hang like-items pants, tops, dresses and jackets in the same area, by color. Also arrange clothes by color, from light to dark. See the image below- how neat it looks!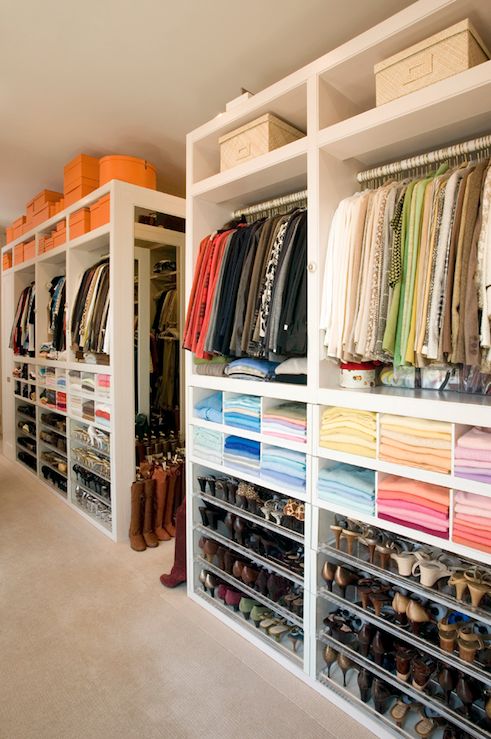 These are just a few tips for organising a tidy, bedroom closet.  These tips can go a long way in helping you to accommodate almost all your stuff neatly in a small space. To know more about the different types of Closets and tips on designing a Closet, go to:
Related Topics:
You may also like:
If you found this post useful, I would really love it if you pin it or share it. I have not blocked the site just because your ad blocker is switched on because I hope my content will be useful to you. But I am able to run this site only because of the ads. So I will be obliged if you turn off your ad blocker. Thank you!