KITCHEN ACCESSORIES IN INDIA | An Architect Recommends
CARYSIL SINKS: 
Acrysil India (ACRYSIL) was incorporated in the year 1987. The company is promoted by Parekh and associates. Acrysil manufactures and markets kitchen sinks under the brand name Carysil.  The registered office is located in Mumbai, India. Its factory is located in Bhavnagar, Gujarat.
SPEC
IALISTS IN: Sinks

PRODUCTS:
Kitchen sinks are available in three variants: Quartz, stainless steel and Granite. Quartz sinks are made of 75-80% mineral Quartz, Granite sinks are crafted out of 70% natural granite & 30% resin along with special ingredients.  Sinks are available as Single Bowl Drainer, One & Half Bowl Drainer, Two Bowl Drainer, Two Bowl without Drainer and Big Bowl
Sink Faucets:
Food Waste Disposer: Installed under the outlet of the kitchen sink, it can grind all kinds of food waste and then drain it all away through the pipe.
WEBSITE: For any further information, you can visit their website here: www.carysil.com
DOLPHIN INTERNATIONAL: 
Dolphin International an Indian company, more than twenty five years old , deals with Modular Kitchen accessories and wardrobe accessories. The headquarters is located in Delhi.  Dolphin International has dealers and distributors all over India. The products made of stainless steel, are known by the name "DOLIN" in the domestic market.
SPEC
IALISTS IN: Modular kitchen accessories.
PRODUCTS: 
Corner units: Carousel- 3/4 or full, moving corner.
Tall Pull-out units: Double pull-out, Grain trolley, shelf organiser, bottle pull-out.
Multipurpose Pull-out Baskets and drawer baskets: Cup and saucer basket, plate basket, thali baskets, cutlery basket.
Wire shelf: Base unit, wall unit.
Over the counter units: multipurpose rack, Hanging corner, Ladle cradle, Utensils basket, Bread basket, Glass holder, cylinder trolley, microwave stand
Utility accessories: Detergent holder, Dustbin, Bin holder, detergent pullout
WEBSITE: For any further information, you can visit their website here:www.dolin.co.in
EVERSHINE KITCHENS: 
Evershine is the brand name of the Kitchen accessories manufactured and marketed by Crystal Interior Products Limited.
SPECIALISTS IN: Kitchen accessories.
PRODUCTS:
Baskets
Pull-outs
Corner units: Single/double triple corner units
Racks: multi-purpose rack, triple rack, glass/plate rack
Pole systems
Kitchen utilities: bin holder, detergent pullout, cutlery drainer, cutlery holder, foil/paper holder, wine glass holder, recipe book holder, spice rack, glass/plate rack, fruit basket, cylinder trolley
WEBSITE: For any further information, you can visit their website here:  www.evershineworld.com

EVERYDAY  – HOUSEHOLD ACCESSORIES:
Maruti Interior Products Pvt. Ltd. is an Indian manufacturer of "Everyday" Household Accessories, mainly Kitchen Accessories. 'Everyday' has it's dealer network all over India and is in the process of exporting to Middle East Countries, East Africa and Europe.  Everyday manufactures and designs several different types of accessories for optimum utilization of space in kitchens and wardrobes. Everyday accessories are made of Stainless Steel with Chrome finish. The product range is quite diverse in sizes and designs.
SPECIALIST
S IN: Everyday Kitchen, wardrobe Accessories.
PRODUCTS:
Pullout System: Drawer Baskets, Corner Units, Plain Baskets, Cup and Saucer Baskets, Plate Baskets, Cutlery Baskets, Big Plate baskets, Partition Baskets, Grain trolley Baskets, Bottle plate pullout, Rack system.
Big Unit System: Tall Units, Larder Units, Pantry Units, Multi Storage Pullouts, Magic corner pullouts, Carousel unit, Swing tray unit
Accessories: Hanging System, wall and railing system, Tube System, Counter top, corner rack system, Glass holder, Garbage bins
Pole Kitchen System.
WEBSITE: For any further information, you can visit their website here:  www.everyday-india.com
FABER: 
Faber an Italian company, specializing in Kitchen chimneys was established in 1955. In the last 50 years, Faber has become a leader in the hood sector. For this reason, in Italy, one hood in two is a Faber chimney. Faber is present in 13 countries. I n 2005 it became part of the Swiss Franke Group.
SPECIA
LISTS IN: Kitchen Chimneys also known as Hoods.
PRODUCTS:
Hoods: Traditional Hoods,

Decorative Hoods

,

Glass Hoods

,

Collection Series.

Hobs: 

Gas Hobs

,

Cook Tops

,

Cooking Range

,

Built-in Ovens

Dishwasher

:

Microwaves

: 

Built-in Microwaves

Accessories: Flat Air Ducts, Charcoal Filter, Cassette Filter, Modular Filter, Duct Cover
WEBSITE: For any further information, you can visit their website here: www.faberheatkraft.in
FGV LIFESTYLE: 
FGV is a leading Italian manufacturer of furniture accessories for Kitchens, Bedrooms and Offices. FGV started operations in 1947 in Italy and is one of the major Italian brands in furniture accessories. FGV subsidiaries are present all over the world. FGV is the leading hinge manufacturer in Europe.  FGV Lifestyles (India) Pvt. Ltd. is a subsidiary of FGV Italy and is a joint venture between  the Pagnis family (Lifestyle) and FGV Italy. It was established in 2004, and has a wide network of Distributors/Dealers throughout India.
SP

ECIALISTS IN: Kitchen, Wardrobe accessories, Hinges, Slides.
PRODUCTS: 
Drawers : Single wall drawers and double-wall drawers. Drawer lighting system wherein standard battery powered bright LED lights are fitted in the drawers to illuminate their contents.
Inner ware: For managing the space inside cabinets –  Small cabinet, high cabinet and corner solutions.
Slow Motion technology: Silent and controlled movement to doors and drawers.
One Touch technology: Handle free drawers and shutters. A light touch with your hand or a pressure of your hip is enough to open doors, flaps and drawers.
Slides : Visible or concealed, Single extension or full extension fitted with self-closing mechanisms, Slow motion damping systems or One Touch systems for handle free furniture design.
Hinges: Optima Click, MS Slide-On, QS Mini hinges, Slow Motion and One Touch options. New Push-open hinges with touch-latch options for controlled movement of the door.
Alternative Openings: Whilst drawers are popular for bottom cabinets, alternative openings like sliding up or sideways, flipping over or flipping up are finding their way for wall-hung upper cabinets.
WEBSITE: For any further information, you can visit their website here:www.fgvlifestyle.com
HETTICH INDIA PVT. LTD: 
Hettich is a leading German manufacturer and supplier of furniture fittings. As Hettich International, the company has evolved into a diversified company group operating chiefly in the furniture sector. The new millennium 2000  saw the birth of Hettich India Pvt. Ltd with its headquarters at New Delhi. Presently the business operations have spread across the country with offices in Mumbai, Chennai, Kolkata, Delhi, Gurgaon and Bangalore.
SP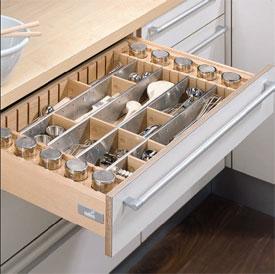 ECIALISTS IN: Kitchen, Wardrobe accessories, hinges, slides, drawer systems.
PRODUCTS: 
Sliding/Folding systems: Smooth, effortless door action that frees up space. Wide opening for easy access Fast assembly
Drawer Slides:  InnoTech drawer frame system, Quadro ball-bearing slides, MultiTech steel drawer system, Roller runner systems, Ball-bearing slides, TV swivels
Hinges: concealed hinges with over 100 mounting configurations for different face angles make a strong practical contribution to better design and easier assembly. Snap-on technology, toolless assembly, flexible adjustment, simple disassembly .
Interior fittings: Built-in waste bin
Miscellaneous fittings: Decorative shelf supports, Locks, Magnetic catches, Steel table leg set
Lighting systems – Magic: for furniture, ceilings, walls and floors
Handles and knobs- ProDecor: Innovative design, Advanced surface finishing.
WEBSITE: For any further information, you can visit their website here: www.hettichind.com
JAYNA: 
Jain Brothers Sanitations Pvt. Ltd. a manufacturer of stainless steel kitchen sinks, wash basins and accessories under the brand name of JAYNA was established in 1992. It's headquarters is in New Delhi, India. There is a countrywide network of over 900 dealers which ensures that JAYNA products are available at all leading sanitary & hardware stores across the country.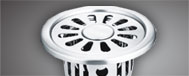 SPECIALISTS IN: Floor drains and sinks.
PRODUCTS: 
Kitchen Sinks: Stainless steel
Kitchen wash basins: Stainless steel
Faucets:
Floor Drains: with removable cap / cover, Grating Lock can be moved left or right to uncover, or with Push-Pull mechanism.
Cockroach traps:
Sink drainers
WEBSITE: For any further information, you can visit their website here:  www.jaynasinks.com
KAFF KITCHEN APPLIANCES: 
KAFF is a pioneer Indian company engaged in Kitchen Appliances, Built-in Kitchen Systems, Slides and Hinges (Hardware). The corporate office is in Mumbai. The KAFF dealers are distributed all over India.
S
PECIALISTS IN: Chimneys, Hobs.
PRODUCTS:
Chimneys: Straight Line Models, Hood Chimneys, Designer Hood Chimneys, Designer Hood Island Chimneys
Kitchen appliances: Cooking Range, Built-in hobs, Built-in Oven, Cook top, Dishwashers.
Kitchen Accessories: Pull Out System, Tall Storage System, Corner Storage System, Over the Counter System, Under the Sink Waste System
Sinks: Single and double bowl models, with or without chopper boards, Under the sink waste systems.
Hardware: Handles, hinges, slides, drawer systems
WEBSITE: For any further information, you can visit their website here:  www.kaff.in
NIRALI SINKS: 
Jyoti Industries, an Indian company was set up in 1985, to manufacture stainless steel sinks under the brand name of "Nirali". Today, Nirali is a household name in India and Nirali sinks are exported to Nepal, Sri lanka, Kenya, Vietnam, USA and UK.
PRODUCTS: 
Stainless Steel Sinks: Single bowl/double bowl with or without drainboard in glossy, satin or anti-scratch finishes, Hand washbasins.
Accessories: Removable vegetable bowl, strainer, coupling, plastic guard.
For any further information, you can visit their website here: www.niralisinks.com
ONYX: 
Onyx is a 5 year old Indian company manufacturing Architectural fittings such as glass fittings, cabinet support and buffer series, computer and other accessories, drawer systems, kitchen accessories, aluminium profiles and shutter – drawer accessories.
SPECIALISTS IN: Architectural Fittings
PRODUCTS:
Baskets: Glass Basket, Plain Basket, Cutlery Basket, all Out Basket, Cup&Saucer Basket, Thali-Plate Basket, Partition Basket, Basin Basket, Bottle Rack Basket, Laundry Basket
Racks: Hanging M.P.Rack (Single and double), Glass-Plate Rack, Plate Rack, Perfume Rack, Wine Glass Holder (Single)
Units: Utility Single Pull Out, Single/double /Triple Corner Units, Carrousel Unit, Magic Nook (Left, Right), Pole Unit, Grain Trolley
Utility units : Use Me Shutter Bin, Bin Basket, Hook Liner
WEBSITE: For any further information, you can visit their website here:  www.onyx.cok.in
SLEEK KITCHEN  ACCESSORIES: 
Sleek Kitchens, an Indian company was launched in 1996 with the manufacture of plastic coated wire baskets for household usage. In 1998, Sleek Kitchen Accessories was established. Various Outlets have been opened across India – Mumbai, Pune, Ghaziabad, Bangalore, Hyderbad, New Bombay.
SPECIALISTS IN: Kitchens and Kitchen accessories.
PRODUCTS: 
Drawers: Linen drawer, cutlery, crockery drawer. Grain drawer
Accessories: For Tall units, wall units, corner units, midway, pole and loose accessories.
Household appliances: Hobs, built-in ovens, chimneys.
Utility accessories: Sink units, Detergent holder, Dustbin, Bin holder, detergent pullout
Shutters, cornices, pelmets for lighting.
WEBSITE: For any further information, you can visit their website here:   www. sleekworld.com
SNAIDERO: 
In 1946, Rino Snaidero started the first furniture manufacturing shop in Majano near Udine, Italy. In the last 60 odd years this company has kept its focus on Kitchens only and has created a whole range of Kitchen Products.
SPECIALISTS IN: Kitchen Accessories, appliances.
PRODUCTS:
Household appliances: Oven, Hob, Refrigerator, Dishwasher, Cooker hoods, Espresso machine
Base and wall units: Contoured connecting wall unit
Cupboards: Corner unit with internal lighting and chromed wire rotating baskets.
Drawers: Deep drawers, Large drawers equipped for holding pans and lids, Equipped drawer with wooden knife-holder kit or with a steel cutlery tray.
Lighting: Slim rectilinear look.
Furnishing items: Chairs, Aluminium Tables, Multi-purpose trolley on wheels
WEBSITE: For any further information, you can visit their website here:  www.snaidero.com
For a concise Vastu guide and evaluation of your Kitchen and Kitchen Backyard, please refer to the posts on my blog: House construction in India
Related Topics:
If you found this post useful, I would really love it if you pin it or share it. All it takes is a simple click on the "pin it" "like," "share," "tweet," or Google+ buttons below the post.