CIRCULAR STAIRCASE | An Architect Explains
A circular staircase resembles a circle in plan. The steps wind similar to a spiral staircase, but there is no support pole in the middle. A circular staircase may have a very narrow diameter like the one seen in this picture or a wide curve giving it a very grand appearance. Using different materials, you can create different types of circular stairs.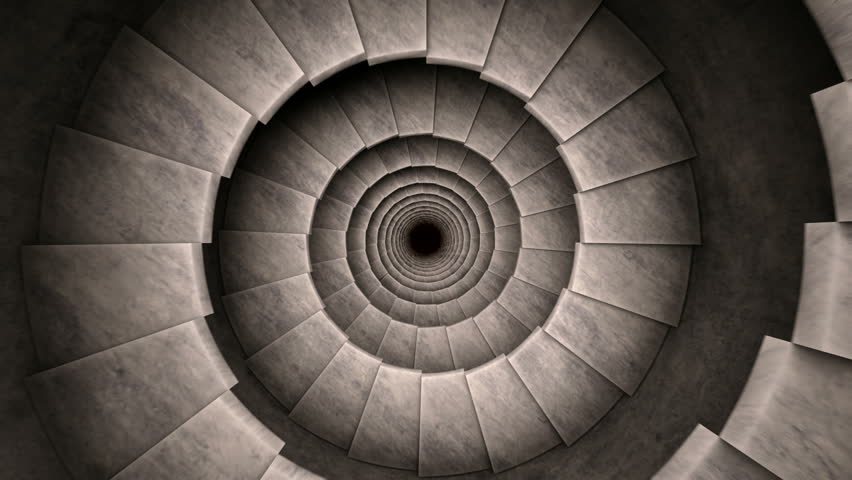 Circular stairs are similar to spiral stairs, but unlike spiral stairs which wind around a pole, the circular stairs do not have a central support. Using different materials, we can create different types of circular stairs. As an Architect, I have listed guidelines under the following headings to help you in the design of  circular staircases, :
What are the advantages and disadvantages of circular stairs?
What are the types of two-stringer circular stairs?
What are the types of centre-stringer circular stairs?


 



WHAT ARE THE ADVANTAGES AND DISADVANTAGES OF SPIRAL STAIRCASES?
Advantages of spiral staircases:
Less space : than normal staircases and can be introduced into the tiniest spaces.
Cheap: Easier to install then normal staircases.
Pre-assembled: These offer a wider variety of materials and shapes and sizes.
Add value: They are great as second staircases and also they add value to your home.
Disadvantages of spiral staircases:
Steep: because they take so little space. This makes them almost impossible to use by elders and larger people.
Head room: When you install them you should make sure that you have adequate head room as you climb up, otherwise they are not usable.
Expensive: Pre-assembled stairs are usually more expensive than normal staircase and will surely add to the costs.

 




TWO-STRINGER CIRCULAR STAIRCASES:
Usually the staircase has two stringers on either ends to support the treads. The stringers are commonly made of concrete or metal and the treads- wood, stone or glass – are fixed between the two stringers. Described below are two-stringer circular stairs made of different types of materials.
On the other hand, in the example below, the circular concrete staircase is attached to a wall that allows the striking form of the  curved stairs to be seen.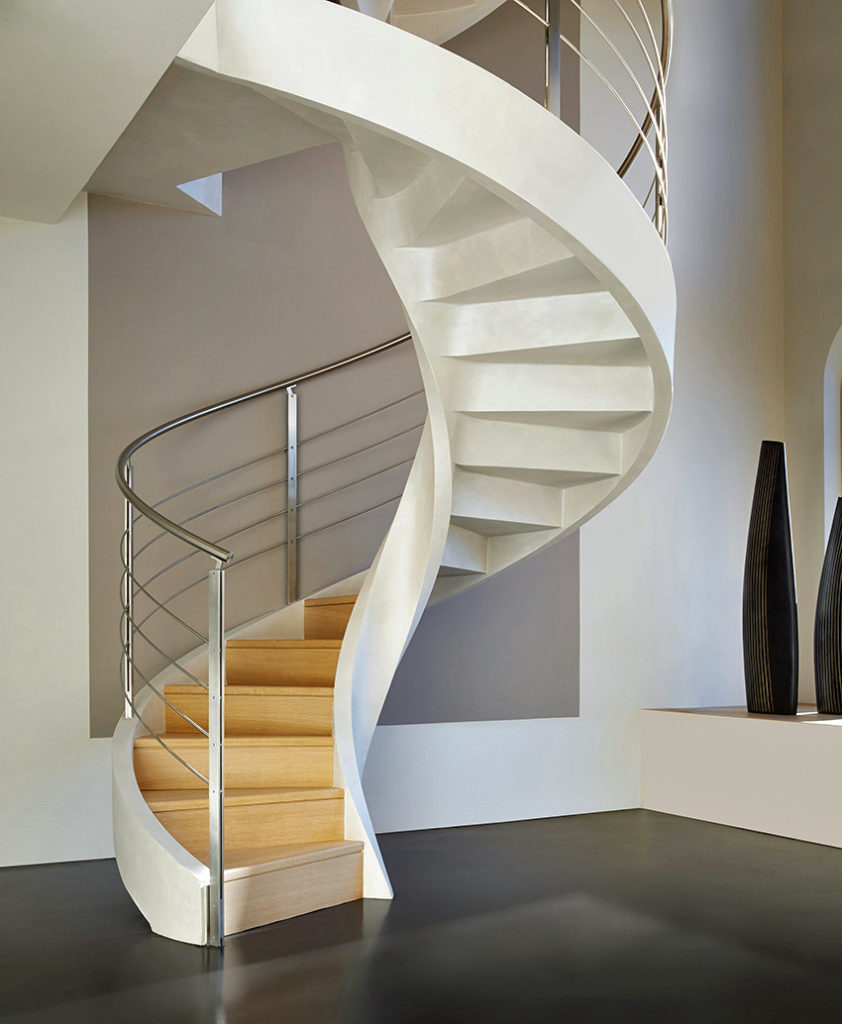 In yet another example, the circular, concrete staircase with wooden treads has two closed stringers (the stringer is not visible). By having everything in white, save the wooden treads that match with the flooring, the curve of the staircase is the focus.
CONCRETE CIRCULAR STAIRCASE WITH OPEN TREADS: Another way of doing a concrete circular staircase is by having circular concrete stringers. Treads made of wood, stone, glass etc are fixed between the two stringers. See image below.

WOODEN CIRCULAR STAIRCASE WITH OPEN TREADS: Instead of concrete, wood can be used to create a circular staircase with two wooden stringers and wooden treads. But this is an expensive option as thick, wooden sections are required to carve out the curved pieces.

WOODEN, CARPETED CIRCULAR STAIRCASE:  Adding a running carpet, highlights the curve of the circular stairs. In the picture, a wooden staircase is set against a white wall backdrop. 
STEEL CIRCULAR STAIRCASE:  Steel is also used in place of  concrete or wooden stringers. The two-steel stringers are fabricated to the required form and treads made of wood, glass or stone (marble, granite etc) are fixed between them as seen in the two examples, above and below.
CENTRE-STRINGER, CIRCULAR STAIRCASE:
Instead of the regular two-stringer circular stairs, a staircase with a central stringer made of wood, steel or concrete can be used. But this is expensive to make because of the thick, curved wood sections required  and the accurate design and specialized skill that is needed. But there is no denying the visual impact of the dramatic curve of such staircases. See image below.

 A concrete central stringer supports wooden treads, in this example.
The stairs shown in this post are few examples. Innumerable types are possible with the imaginative use of different materials for the treads, risers, stringers, balusters and railings.
However, circular stairs have to be custom-built and require specialised skill. Therefore they are very expensive. For cheaper options read about other Stair Shapes.




Related topics:
If you found this post useful, I would really love it if you pin it or share it. All it takes is a simple click on the "pin it" "like," "share," "tweet," or Google+ buttons below the post.
Also, unlike many other sites, I do not insist that your ad blocker be turned off to allow you into my site. This is because I know that my content will be useful to you. But putting up posts regularly takes up time and hard work and I am able to run this site only because of the ads. So I will be much obliged, if you would turn off your ad blocker. Thank you!