SPIRAL STAIRS | An Architect Explains
Like an arched staircase, a Spiral stair is a curved stair. The treads of a spiral stair wind around a central post in a spiral or helix shape. A Spiral stair is the best option in small spaces. A Spiral staircase is also great for modern houses as it gives a nice, glamorous look. Generally, it is cast in place, though pre-assembled spiral stairs are also available.
Spiral stairs have a wide range of advantages depending upon your space and style. The small footprint of a spiral stair frame makes it easy to fit into any design. As an Architect, I have listed guidelines here under the following headings to help you in the design of  spiral staircases, :
What are the advantages and disadvantages of spiral stairs?
What are the considerations while installing spiral stairs?
What materials are used in spiral stairs?


 



WHAT ARE THE ADVANTAGES AND DISADVANTAGES OF SPIRAL STAIRCASES?
Advantages of spiral staircases:
Less space : than normal staircases and can be introduced into the tiniest spaces.
Cheap: Easier to install then normal staircases.
Pre-assembled: These offer a wider variety of materials and shapes and sizes.
Add value: They are great as second staircases and also they add value to your home.




Disadvantages of spiral staircases:
Steep: because they take so little space. This makes them almost impossible to use by elders and larger people.
Head room: When you install them you should make sure that you have adequate head room as you climb up, otherwise they are not usable.
Expensive: Pre-assembled stairs are usually more expensive than normal staircase and will surely add to the costs.

WHAT ARE THE CONSIDERATIONS WHILE FIXING A SPIRAL STAIRCASE?
Once you have decided to connect two floors by a Spiral staircase, you will have to do some calculations:
Location of staircase: Find the right location for the staircase. The minimum width of a Spiral staircase is 5′, so have this in mind.
Size of Staircase: Its size depends on how inclined the stairs are. For a more comfortable climb, the stairs should be larger than 5′.
Height of Staircase: Next you will need to measure the height of the staircase, from the lower to the upper floor. But be careful to measure from floor top to floor top, and not from floor to ceiling.
Number of Steps: Now you can calculate the number of steps. 8" high risers are much easier to climb compared to 9" risers, so divide the floor-to-floor height by 8 and you will have the number of steps.
Headroom: At the top of the staircase make sure that you have a minimum height of 6'6″, to allow people to stand up.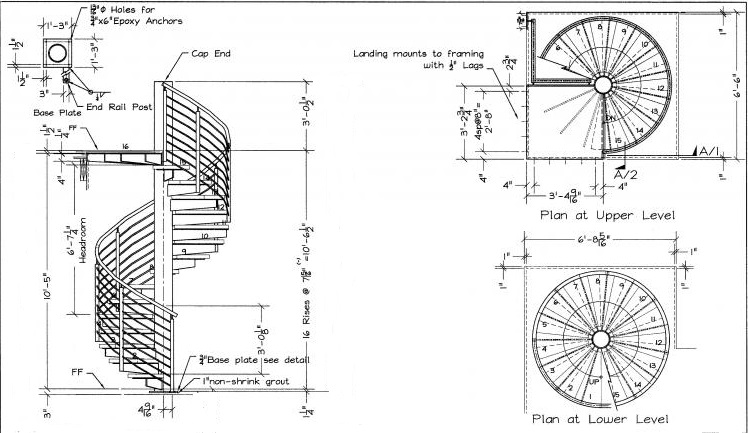 WHAT MATERIALS ARE USED IN A SPIRAL STAIRCASE?
WOODEN SPIRAL STAIRS: Wood is used to make Spiral Stairs as seen in the picture below. But it is not as commonly used as metal in India.

METAL SPIRAL STAIRS:
Cast iron, steel and aluminium are the metals
popularly used to make spiral stairs
. The treads may be made of slotted metal, perforated metal, brushed steel, wood or stone.
In the example below, the form of the metal Spiral staircase gets enhanced because it is free standing with gkass balustrade.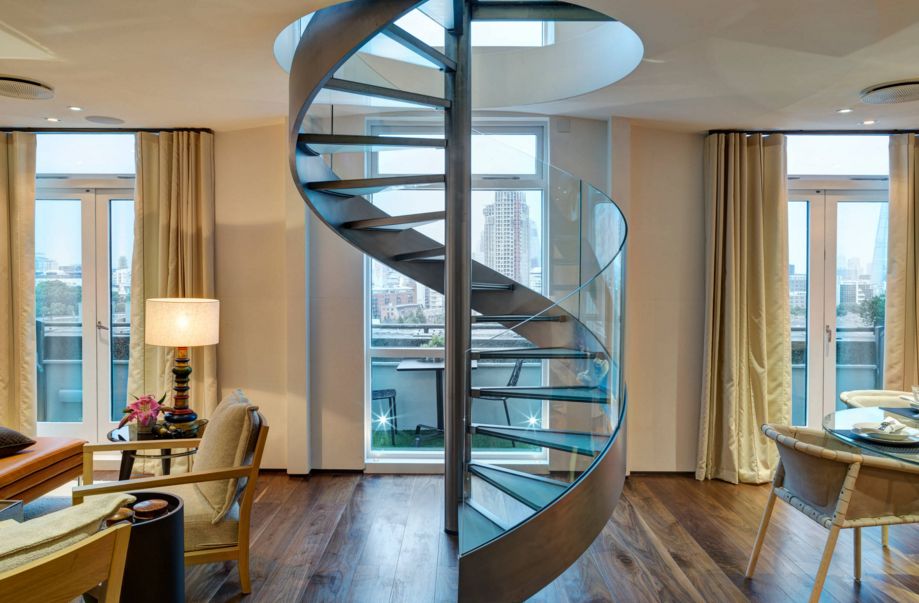 The example below is of a cast-iron Spiral Stairs. It is very decorative and belongs to a bygone era. Sometimes it adds decoration to a very simple and understated space like in this picture.
The image below shows a metal staircase with metal treads, painted white to go with the rest of the building. The acrylic baluster and wooden railing highlight the helical curve of the stairs.
GLASS SPIRAL STAIRS: Sometimes, instead of metal treads, glass treads are used to make the whole staircase look lighter and admit light into the lower levels. See image below.

In this innovative example of an all-glass Spiral staircase, glass treads are fixed to the glass central post with the help of bolts. But one might be forced to walk gingerly.
All images are courtesy www.houzz.com. The stairs shown in this post are few examples. Innumerable types are possible with the imaginative use of different materials for the treads, risers, stringers, balusters and railings.
Spiral stairs are very steep and not comfortable to climb. A better option is the Circular stairs. For more information on other shapes of stairs go to:
Related topics:
If you found this post useful, I would really love it if you pin it or share it. All it takes is a simple click on the "pin it" "like," "share," "tweet," or Google+ buttons below the post.
Also, unlike many other sites, I do not insist that your ad blocker be turned off to allow you into my site. This is because I know that my content will be useful to you. But putting up posts regularly takes up time and hard work and I am able to run this site only because of the ads. So I will be much obliged, if you would turn off your ad blocker. Thank you!