Purva Highlands, Kanakpura Road, Bangalore | An Architect Reviews
Purva Highlands is an  under-construction, residential, high-rise apartment complex, with two and three bedroom apartments located off Kanakpura Road, South Bangalore. It is promoted by the Puravankara Group and has been designed by Venkataramanan Asssociates, well-known architects of Bangalore.
ARCHITECTS OF PURVA HIGHLANDS, KANAKPURA ROAD, BANGALORE:
The Architect for this project is the well-known architectural firm of Bangalore, Venkataramanan Associates, known for their experience.
ABOUT THE DEVELOPER OF PURVA HIGHLANDS, KANAKPURA ROAD, BANGALORE:
The Puravankara Group was established in 1975, in response to the growing need for housing and commercial space in the metropolitan cities of India. Since then, the Group has grown to be one of the leading Real Estate Developers in Bangalore.
ABOUT PURVA HIGHLANDS:
The project spread on a 17 acre property is located right on the NICE expressway, off Kanakpura Road. The apartments are distributed in 13 Nos. three-pronged buildings. These buildings are arranged in  two semicircles around the  entertainement centre and the swimming pool.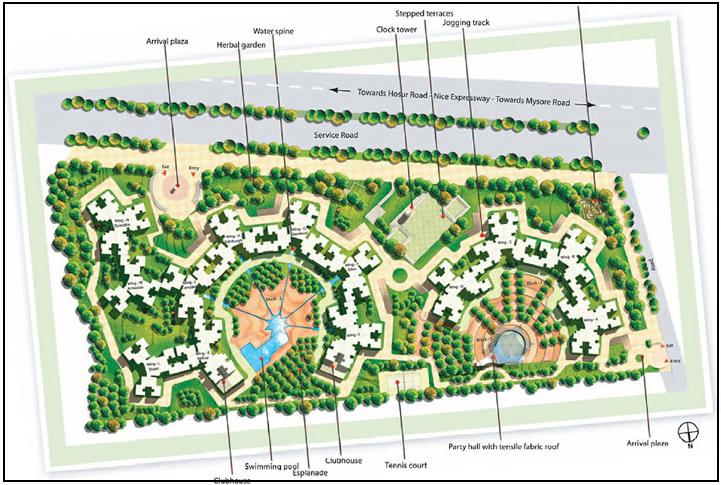 UNIT TYPES AT PURVA HIGHLANDS, KANAKPURA ROAD, BANGALORE:
There are totally 1600 apartments. There are two-bedroom and three-bedroom units priced at Rs 44 Lakhs onwards.
2 Bhk – 1317 sq ft. to 1340 sq ft.
3 Bhk – 1632 sq ft. to 1812 sq ft.
FEATURES OF PURVA HIGHLANDS, KANAKPURA, BANGALORE:
Purva Highlands has all the standard amenities found in such large residential complexes in Bangalore like:
An Entertainement centre with health spa, meditation/aerobic room, squash court, badminton court, billiards table, table tennis;

Gym, steam, sauna and Swimming pool;

Outdoor sports like lawn tennis court and basket ball court;

Outdoor children's play area;

Restaurant, cocktail lounge, supermarket, health care center, amphitheatre and party hall;

Water purification plant.
LOCATION USP:
The new NICE road adjacent to this project connects all the major IT hubs in south Bangalore, like Electronic city, Sarjapur Road and White Field. The easy connectivity to Mysore, through the BMIC corridor road is also another reason that this area is seeing a lot of renewed interest from investors and builders. Moreover, South Bangalore is close to a wide range of entertainment and recreational spots like the Bannerghatta zoo, resorts and water bodies, which make for interesting weekend destinations.
ARCHITECT'S REVIEW OF PURVA HIGHLANDS, KANAKPURA:
Since I am an Architect based in Bangalore, I am able to review some of the projects and builders in Bangalore with confidence. These reviews will hopefully help you in making the right decision when planning to buy a flat. My reviews are unbiased and solely based on the merits and demerits of the design of the buildings.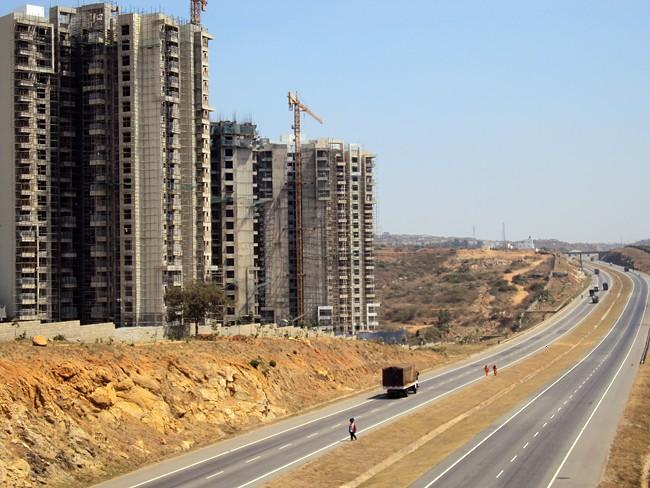 Connectivity is important, but imagine living right on a busy expressway for the rest of your life. Look at the latest  on-site photo of Purva Highlands taken on 03 Feb 2010 and shown here.
Pollution: I may sound a tad too critical, but looking at this photo I can only see associated problems for the residents, like 24 hour noise pollution, exposure to dust and exhaust fumes which will trigger  allergic reactions and ailments. In addition, unlike the  'high' sounding name, there seems to be some lowland in the Site which may cause flooding.
When the common man books these apartments, they are subtly encouraged to see the positives by the sales team. However, when they start living in these apartments, they are bound to face the problems. Then, the only solution will be to have air conditioning in all the apartments, which will in turn trigger other health related problems.
As an Architect, my request to the builders is that, when selecting a Site for residential purposes, please keep in mind the location. Most people buy a house only once and they intend to live there for the rest of their life. So let it be someplace they will thank you for ever!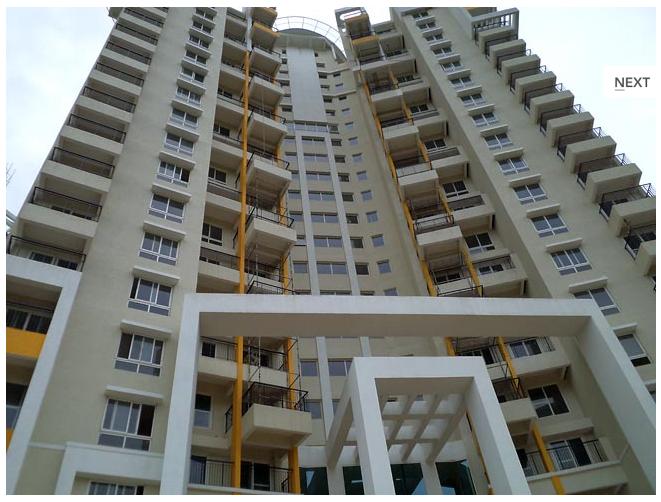 For more information on buildings/projects designed/executed completed in Bangalore, go to:
If you found this post useful, I would really love it if you pin it or share it. I have not blocked the site just because your ad blocker is switched on because I hope my content will be useful to you. But I am able to run this site only because of the ads. So I will be obliged if you turn off your ad blocker. Thank you!