Purva Venezia, Yelahanka, Bangalore | An Architect Reviews
Purva Venezia is a completed residential, high-rise apartment complex  located at Yelahanka, Bangalore. It is being promoted by the Puravankara Group  and has been designed by the well-known architects of Bangalore, Venkataramanan Asssociates.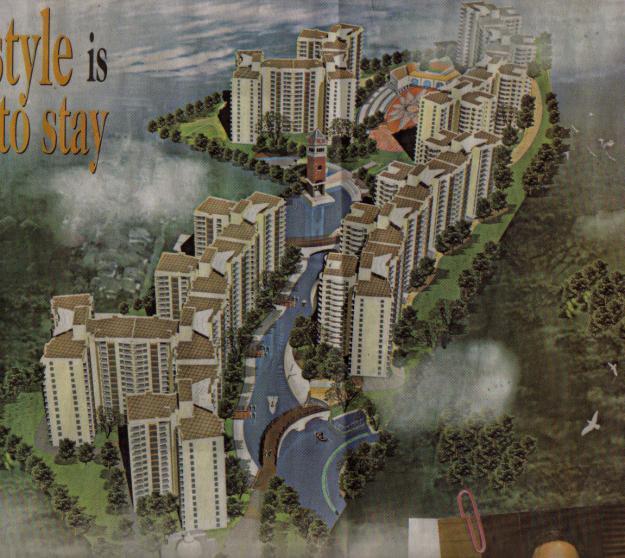 ABOUT THE DEVELOPER OF PURVA VENEZIA, YELAHANKA:
The Puravankara Group was established in 1975, in response to the growing need for housing and commercial space in the metropolitan cities of India. Since then, the Group has grown to be one of the leading Real Estate Developers in Bangalore.
ABOUT THE PROJECT PURVA VENEZIA, YELAHANAKA:
Purva Venezia is so named because it's design theme is inspired by the landscape of Venice. Shown here, are a few pictures of the propsed project.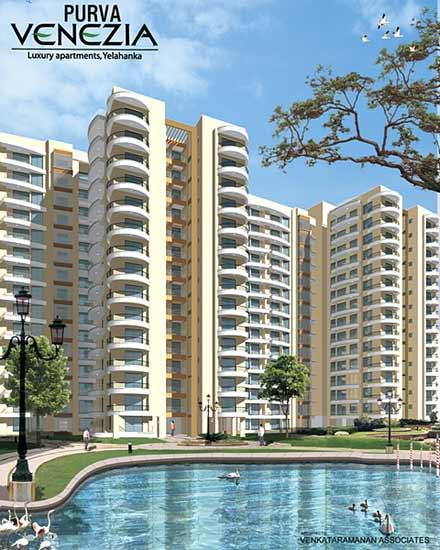 APARTMENT UNITS IN PURVA VENEZIA, YELAHANKA:
There are 2-bedroom and 3-bedroom apartment units with prices starting from Rs 55.5 Lakhs onwards. 3-bedroom unit – 1610 sft and 2-bedroom unit – 1327 sft
PURVA VENEZIA FEATURES:
Purva Venezia has the standard amenities expected of such high-rise and multiple dwelling apartment complexes, such as:
An entertainment centre with squash court, billiards, table tennis.

Swimming pool, gym, jaccuzzi, sauna, steam room,

Restaurant, supermarket, laundrette, amphitheater,

Health care centre,

Water purification plan.
HIGHLIGHT FEATURES OF PURVA VENEZIA, YELAHANKA, BANGALORE:
The highlight of this project is the proposed Venetian style landscape with a large waterway, canal and wooden footbridges.
To quote the Promoter's –  "From the sparkling waterways, the gently rocking gondolas, the arching bridges, the vast piazza, the manicured gardens – the richness, colour, light and texture create a scene of beauty that will touch a chord in you".
The artist's impression of this project, definitely conveys all these. But whether there is enough water to fill up such large waterways is the question. I have been to the site – there is no natural depression or trace of water on the surface.  So obviously the proposed waterways will have to be created literally from 'scratch' (-ing thesurface to create the water channels and digging several deep tubewells for the water).  Is it right to pump out enormous amounts of underground water just to artificially create a Venice when water is a scarcity in Bangalore?
ARCHITECT'S REVIEW OF PURVA VENEZIA, YELAHANKA, BANGALORE:

Since I am an Architect based in Bangalore, I am able to review some of the projects and builders in Bangalore with confidence. These reviews will hopefully help you in making the right decision when planning to buy a flat. My reviews are unbiased and solely based on the merits and demerits of the design of the buildings.
Venice theme: As an architect, I just cannot accept these theme based projects. I understand that the builders have to try out different strategies to catch the attention of the public when they launch a new project – So, if some other builders have already used a Mediterranean theme or a Greek theme or a Roman theme for their projects, then beat them all, and use a theme that has instant recall value- like beautiful, romantic Venice that everyone would love to visit.
The only problem:-  To fill up such a large man-made, waterway as shown in the Layout diagram, it would require around 200 lakh litres of water. And since the water is constantly getting evaporated, it has to be regularly replenished by pumping out more water through tubewells. Also think of the constant maintenance required for the waterway. Is it all worthwhile, just because the builder decided that this time, it had to be Venice!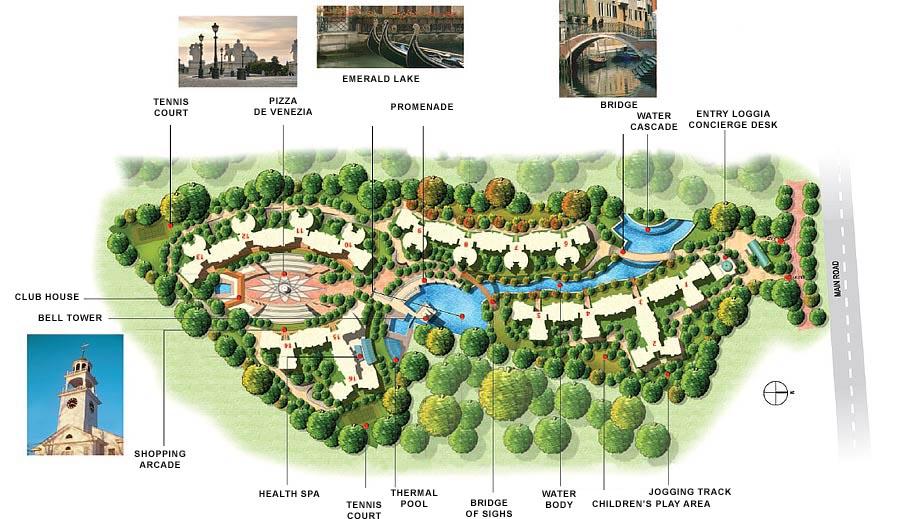 As a fellow architect, I have the highest regard for Venkataramanan Associates and I appreciate their work and architecture. Unfortunately, architects do not have much say in the fantasies of the Builders. At most, they give form to the Client's vision.  When an architect does not have creative freedom in the design of a project, it shows. In this project too, except for the 'proposed' waterway and foot bridges, there does not seem to be much 'Venice' in Venezia! See the latest on-site photo of the project here below (28 Jan 2010).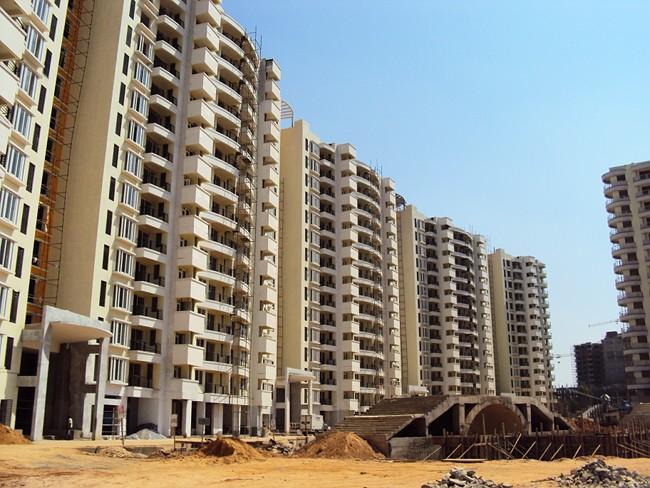 Architect: Now comes my next complaint. I found out that Purva Venezia is designed by Venkataramanan Associates only through their site. Why is it that most builders prefer, not to mention the Indian Architects associated with their projects,  in their promotional sites? And why don't the Architects insist that they should be mentioned?
UPDATE ON PURVA VENEZIA, YELAHANKA, BANGALORE:
The latest images show the waterway as the builder had promised. It looks interesting and adds charm to the project.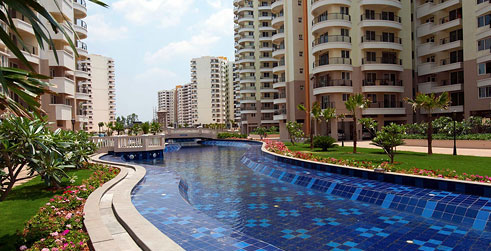 For more information on buildings/projects designed/executed completed in Bangalore, go to:
If you found this post useful, I would really love it if you pin it or share it. I have not blocked the site just because your ad blocker is switched on because I hope my content will be useful to you. But I am able to run this site only because of the ads. So I will be obliged if you turn off your ad blocker. Thank you!