Brigade Gateway, Malleswaram, Bangalore | An Architect Reviews
According to the promoters, the Brigade Group, "this is Bangalore's first lifestyle enclave. A gracious, landscaped 40-acre neighbourhood that includes a man-made lake and promenade, club, school, mall, multiplex, cafés and restaurants, star hotel and a leading hospital."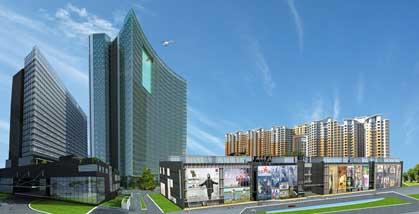 LOCATIONOF BRIGADE GATEWAY, MALLESWARAM, BANGALORE: 
Brigade Gateway is located in the Malleswaram-Rajajinagar area. There are two  entry / exit points from the public roads (one from Malleswaram and the other from Rajajinagar).
ARCHITECTS OF BRIGADE GATEWAY, BANGALORE:
In the words of the promoters-  "the master plan has been designed by H.O.K, New York ranked as one of the world's leading architectural firms. The location of each facility within Brigade Gateway has been logically planned, with entrance and exit gates maximising privacy and facilitating smooth vehicular movement. The result is the meeting of Brigade Group's vision and H.O.K.'s synergistic philosophy: '…creating places that enrich how people work, play, heal, worship, discover, learn and travel—places that improve how people live'".
In the same vein, the promoter also mentions that, "Brigade Gateway is a remarkable blend of global experience and talents and the local expertise of Bangalore's leading architectural firms."
Well, which Bangalore architectural firm are they talking about? I had to do some research and found out  that  Venkataramanan Associates is the local architect.
ABOUT BRIGADE GATEWAY, MALLESWARAM, BANGALORE: 
Stretching across 40 acres in central Bangalore, Brigade Gateway is an integrated enclave and a self-contained urban neighborhood. It has planned zones for: residential, retail, recreational, educational and commercial purposes.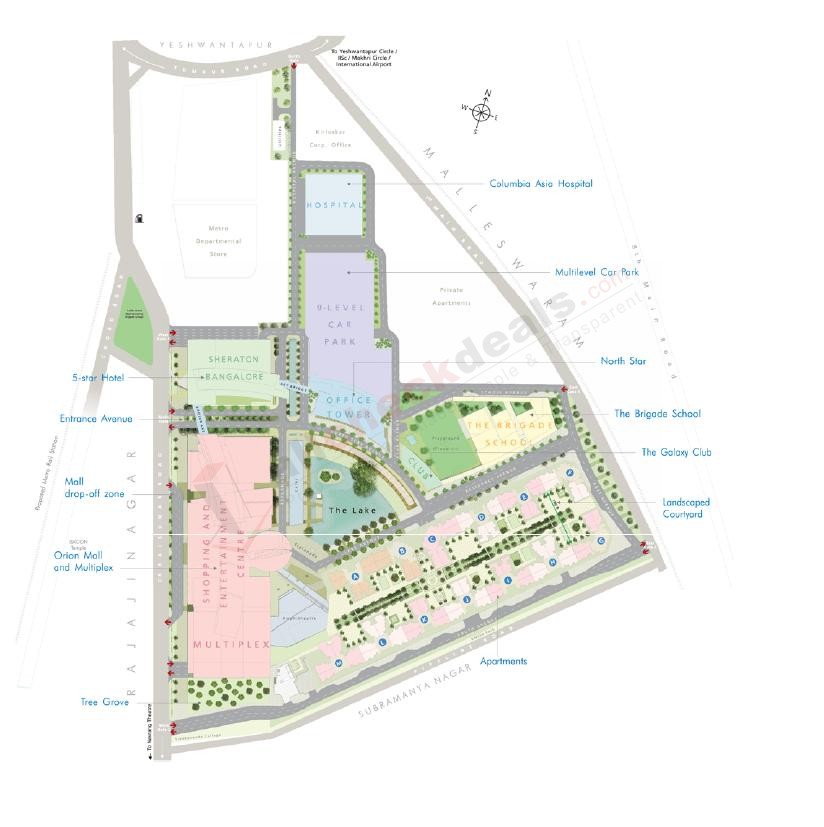 RESIDENTIAL SECTION OF BRIGADE GATEWAY, MALLESWARAM, BANGALORE:
The residential section of Brigade Gateway occupies a separate section of the enclave and has over 1,200 apartments in luxury and premium categories (premium apartments come with superior specifications). The premium category offers a choice of two options: apartments that come fitted-out with wardrobes, cupboards and air-conditioners or apartments that are both fitted-out and furnished.
APARTMENTS: Apartments are spread across a series of 13 residential buildings, from 16- to 19-storeys high, and is constructed on a podium, with two levels of parking space for residents. There are 3 categories of apartments:
Gateway Luxury Apartments: 2-bedroom, 3- bedroom and 4-bedroom; 1310 sft – 2360 sft [C to M Wings]

Premium Fitted-out Apartments (Andromeda):3-bedroom and  4-bedroom; 2020 sft to 3310 sft; [A Wing]

Premium Furnished Apartments (Altair): 1-bedroom, 2-bedroom and 3-bedroom; 590 sft to 2420 sft [B Wing]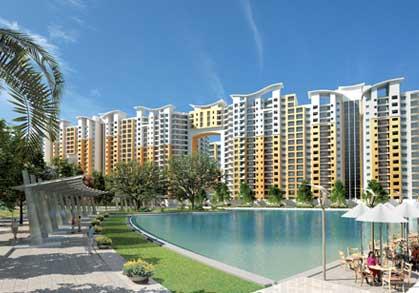 AMENITIES OF BRIGADE GATEWAY, MALLESWARAM, BANGALORE:
Galaxy Club: The Galaxy club has a range of social, recreational, sports and fitness facilities: indoor games; a  gymnasium; a steam room; a coffee shop and a Swimming pool.
Orion Mall & Multiplex: Designed as a lifestyle mall over 5 levels, Orion has specialty outlets—anchor stores, supermarkets for everyday needs to special shopping, chains, specialty outlets and boutiques—food court, restaurants and cafés, exhibition areas and a 4-storeyed, 11-screen multiplex.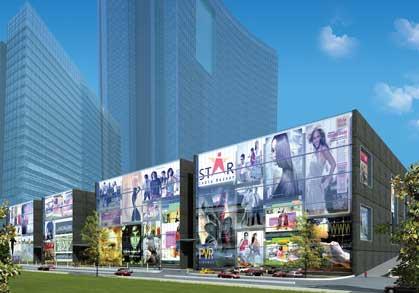 The Brigade School: The Brigade School is co-educational and will cater to children living in the apartments at Brigade Gateway and the surrounding areas. This is the third i n a chain of schools established and managed by the Brigade Foundation. The first is the highly successful school in the Brigade Millennium campus in J.P. Nagar. The second, The Brigade International School, will be opening near Whitefield this academic year.
Columbia Asia Hospital: is a consortium of healthcare companies operating across Asia with several hospitals in India. The Columbia Asia Referral Centre at Brigade Gateway is a 200-bed multi-specialty facility.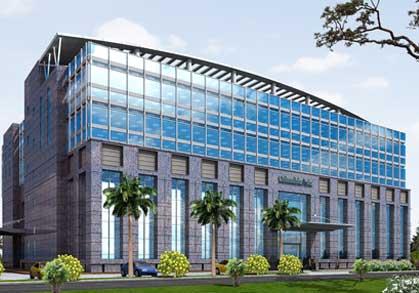 Sheraton Hotel: This is a 250+ room 5-star hotel which will be managed by Sheraton with a convention centre, banqueting facilities, 4 restaurants, Convention centre, Health club and spa.
North Star Office Tower: This is a 30-storeyed office building with a 9-level car park, crowned by an observation deck and helipad. North Star will have 1 million sft of office space and state-of-the-art facilities.
Man-made lake: The 2 acre man-made lake is at the heart of Brigade Gateway and is set between the apartments, commercial office space and mall space in Brigade Gateway. The lake is surrounded by landscaped gardens, seating areas, benches, tree-lined promenades and open-air cafés.
Extensive landscaping: between and around the wings.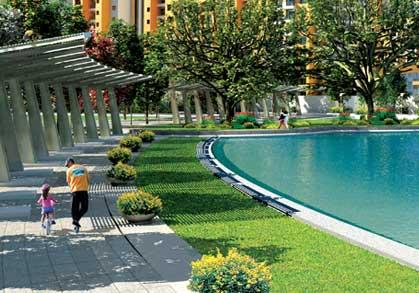 INTERNAL ROADS IN BRIGADE GATEWAY:
In the words of the promoter, "the likely traffic flow has been carefully studied, so that direction of traffic movement and placement of lights and medians is logical which will ensure easy commuting between facilities whether on foot or in a vehicle".
GATES AT BRIGADE GATEWAY:
According to the Promoter, "A thorough study of the roads around Brigade Gateway and the internal structure of the enclave was a critical part of the master plan design so as to identify areas that could create traffic bottlenecks and anticipate how these bottlenecks could be avoided. As a result of this study, the master plan has 6 gates positioned at strategic locations: two in the residential area and one each at the school, business zone, commercial zone and hospital.
The residential section has two dedicated entry / exit points from the public roads: one from 1st Main Rd, Malleswaram and the other from Dr Rajkumar Rd, Rajajinagar.
Orion Mall has a dedicated entrance and exit from Dr Rajkumar Rd, in addition to a drop-off point at the front of the mall.
The 5-star Sheraton Bangalore Hotel can be entered from Dr Rajkumar Rd.
Columbia Asia Hospital has its own entrance from Tumkur Road, Yeshwantapur.
The Brigade School has an entrance from Malleswaram, which connects to several other enclave facilities, barring the residential section.
ECO-FRIENDLY FEATURES IN BRIGADE GATEWAY: According to the promoters, Brigade Gateway enclave will have environmentally sound measures like:
Sewage Treatment:  Decomposable organic matter in the sewerage will be stabilised in a compact, underground sewerage treatment plant. The resultant effluent and sludge will be harmlessly disposed of. After tertiary treatment, the water will be used for flushing and for watering plants.
Rainwater Disposal: Vertical rainwater pipes from the terrace floor will empty into external storm water drains at ground level. Rainwater from balconies and various floors will be connected to the nearest pipe and emptied to the external storm water network.
Storm Water Disposal: All storm water will travel through the underground drainage system to the rainwater harvesting system. Box drains with catch basins, to collect rainwater, will be located at the periphery of the building and in open areas. Excess water will flow to the existing storm water drain outside the premises.
Basement Drainage System: Storm water/car wash water will be collected in catch basins located below the basement slab and conveyed by pipes to two underground storm water sumps.
Rainwater Harvesting System: Will comprise soak pits connected to box drains, storm water recharge cells and water bodies. This system will help to recharge the aquifers/sub-soil.
Solar Lighting: Many open areas will be illuminated by solar powered lights.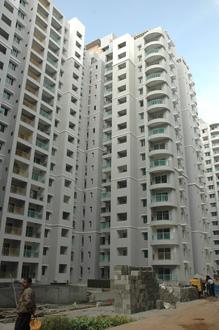 ARCHITECT'S REVIEW OF BRIGADE GATEWAY, MALLESWARAM, BANGALORE:
Since I am an Architect based in Bangalore, I am able to review some of the projects and builders in Bangalore with confidence. These reviews will hopefully help you in making the right decision when planning to buy a flat. My reviews are unbiased and solely based on the merits and demerits of the design of the buildings.
POSITIVES OF BRIGADE GATEWAY:
Location: Sizable enclave projects are usually located in extensions and suburbs—since large expanses of land are not available in the heart of the city. In this case, this location is hard to match, since the Malleswaram-Rajajinagar area is central, premium, well-connected and convenient.
Mixed land use: I like the idea of mixed land use especially in the centre of the city. The hospital, school, mall and office are accessible to the non-residents as well, which will surely be popular in Malleshwaram-Rajajinagar, where there are no such entertainement zones of this scale and at one place.

For the residents, a regular commute can be avoided if your workplace happens to be in the office building, the North Star. Fast and easy access to medical facilities is possible; good shopping, entertainment, eating out is all within walking distance at the Orion mall; the 11-screen PVR multiplex will offer a choice of movies; and special occasion treats at the Sheraton Hotel  is just a walk away on a special occasion.

Self contained enclave: The advantage of having a self-contained enclave is that you have control over your immediate surroundings: Confidence that your neighbourhood will stay the way it is—no undesirable structures coming up next door, trees chopped without reason, roads endlessly under repair….

The residential towers are arranged around a long courtyard and since the parking for the apartments is at the basement level, this leaves the ground level of the residential zone free of traffic, with uninterrupted stretches of landscaped, fountain-dotted courtyards.

Parking: The basement level parking allows for the different wings to be conveniently connected underground and enables safe, convenient access from the parking area to the apartments—regardless of time or weather.
Congestion is avoided since all the enclave facilities will have independent entry and exit points- there are 6 gates positioned at strategic locations—2 in the residential area and 1 each at the school, business zone, commercial zone and hospital.
Elevation: I really like the form of the North-Star tower. It is a simple, curved and elegant glass tower without any fancy projections or recesses that tend to break the form.
Lake: The man-made lake with a tree in the centre and cafes and benches alongside will gladden the eyes and hearts of everyone who lives, works and visits this lifestyle enclave. It'll be an ideal place for a quiet read, peaceful conversations or relaxing outings with children. On a more practical note, it will serve an important ecological purpose to facilitate rain water harvesting.

The promenade that runs along the lake, fringed by water on one side and shady trees on the other side will be a nice place to walk and enjoy the visual aesthetics of the expanse of greenery and water.

Walks: You can enjoy pleasures which you normally can't in a busy, crowded, growing city like Bangalore like a peaceful morning or evening walk on even pavements, along well-maintained and safe pathways  for which you don't have to drive down to.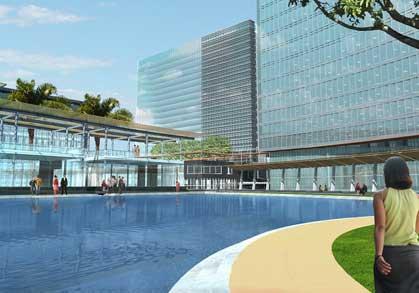 NEGATIVES OF BRIGADE GATEWAY:
Man made lake: The first thing is this massive 2 acre man made lake.There doesn't seem to be a natural depression from the pictures that I have seen. (See the photo shown below). So a lake has to be dug out and filled with pumped-out under ground water, that too when the underground water level in Bangalore has drastically gone down due to the indiscriminate digging of borewells.
Rain water harvesting: Though on paper, it seems to be a good idea that the rain water may be harvested into the lake by the help of drains, recharge cells etc, in reality, Bangalore does not have rain for most of the year.  I honestly don't like the concept of creating a lake artificially and then using it as a eco-feature.

Then comes the question of maintaining the lake. It is not moving water and so gradually it will accumulate muck and stink unless it is regularly maintained.  Maintenance will cost a lot and I'm sure it will be up to the residents' to pay a huge maintenance fee.

Elevations: I don't find the residential towers very impressive looking. They look like any other ordinary towers, the only feature of interest being the sky-bridge. Moreover they are a continuous line forming an elongated U-shape. This doesn't allow for much visual interest from outside as well as from the inside.

I cannot fathom why the promoter has given credit only to the international architect and not to the local architect who plays the most important role in the execution of the project.The only reason could be that HOK is an internationally acclaimed architectural firm and so deserves to be associated with the project!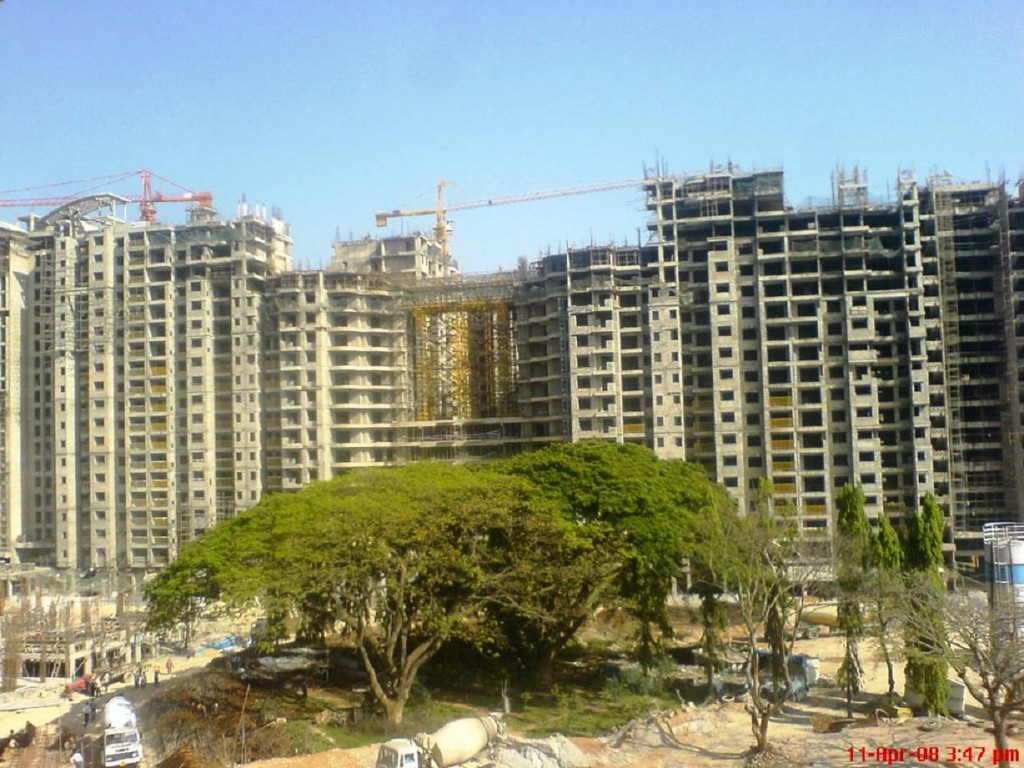 For more information on buildings/projects designed/executed completed in Bangalore, go to:
If you found this post useful, I would really love it if you pin it or share it. I have not blocked the site just because your ad blocker is switched on because I hope my content will be useful to you. But I am able to run this site only because of the ads. So I will be obliged if you turn off your ad blocker. Thank you!