Salarpuria Greenage, Hosur Road, Bangalore | An Architect Reviews
Salarpuria Greenage by Salarpuria group, is an under-construction residential apartment complex with 2-bedroom and 3-bedroom flats. Greenage consists of 10 apartment towers, consisting of 1672 flats, spread across 21 acres of landscaped area. It is located on Hosur Road, near the Silk Board Junction in Bangalore. There is another entrance from Begur Road.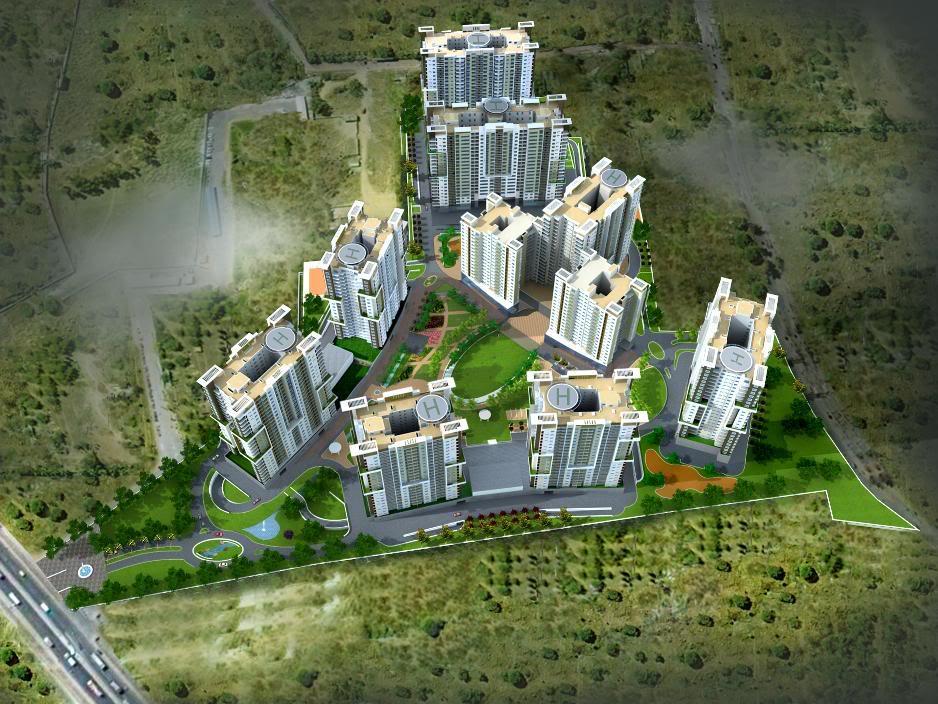 PROMOTERS OF SALARPURIA GREENAGE, HOSUR MAIN ROAD, BANGALORE:
Salarpuria Greenage is promoted jointly by the Salarpuria Group and it's sister concern, the Sattva group. Established in the year 1985 in Kolkata, the Salarpuria Group today is a well-known name specializing in the construction of IT parks, retail outlets, residential buildings and business complexes.
ARCHITECTS OF SALARPURIA GREENAGE:
The Master plan of Greenage has been designed by HOK, USA, an internationally acclaimed architectural firm, the landscape design is by Cracknell, UK and the local architect is  Zachariah consultants, Bangalore.
ABOUT SALARPURIA GREENAGE, HOSUR MAIN ROAD, BANGALORE:
Salrpuria Greenage is a 21 acre property with 10 apartment towers of heights ranging from 18 to 25 floors. Since the towers are tall, there is around 75% of open spaces available. There are totally 1672 flats of 2-bedroom, 2-bedroom + study and 3 bedroom units ranging in area from 1345 to 3000 sqft.
AMENITIES AT SALARPURIA GREENAGE, HOSUR MAIN ROAD, BANGALORE:
The amenities offered at Greenage include water purification plant, helipad, jogging track, theatre, swimming pools, kids play area, central plaza with landscape and water features, 2 screen amphitheatre with large seating capacity, a hi-tech media center, club house cum health spa, town square, departmental store, water sports and many more.
The club house has the usual features like table tennis, billiards, badminton court, squash court, gymnasium, aerobics floor, indoor games, restaurant etc.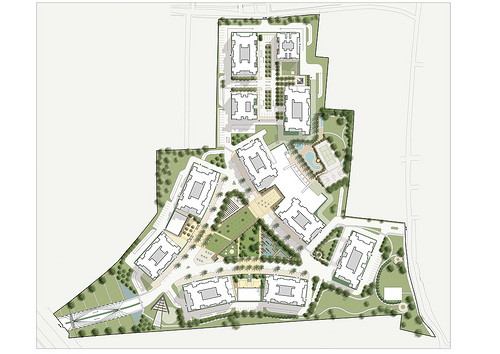 UNIQUENESS OF SALARPURIA GREENAGE, HOSUR MAIN ROAD, BANGALORE:
A unique system for forming casts in place of reinforced concrete building structures, called the "Mivan System Formwork" construction system is used in this project. Using this system, all walls, floor slabs, columns, beams, stairs, balconies, together with window and door openings are cast in place in a single site based operation. The resultant building is strong, accurate in dimensions and tolerances, with a high quality of finished concrete surface, meanwhile being fast, adaptable and cost effective.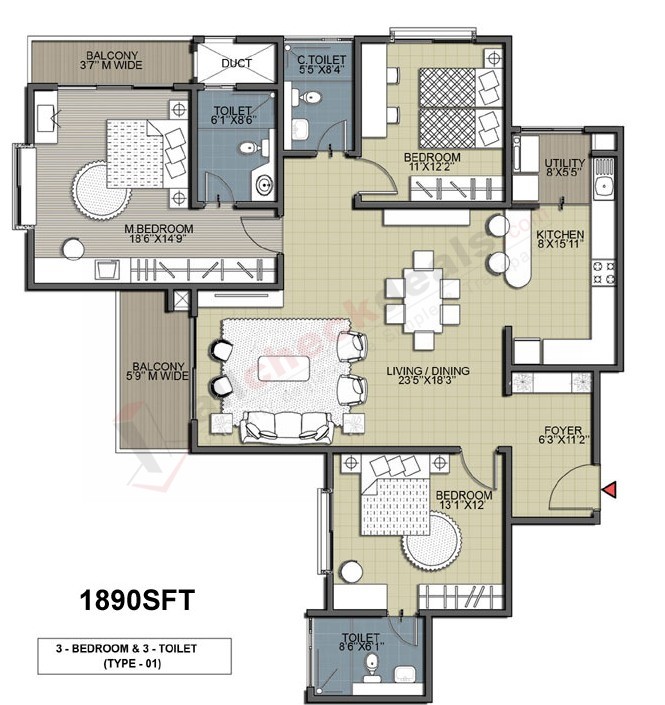 ARCHITECT'S REVIEW OF SALARPURIA GREENAGE, HOSUR MAIN ROAD, BANGALORE:
Since I am an Architect based in Bangalore, I am able to review some of the projects and builders in Bangalore with confidence. These reviews will hopefully help you in making the right decision when planning to buy a flat. My reviews are unbiased and solely based on the merits and demerits of the design of the buildings.
POSITIVES OF SALARPURIA GREENAGE:

Location: Greenage's prime location, on Hosur main road is a plus as it is easily accessible and close to most of the areas in the City.
Courtyard design: Typically, each tower has 8 – 12 units arranged around a large courtyard. In such courtyard designs, it can get a bit claustrophobic to look out of the window and see other apartments and an enclosed building. However in this design, it is interesting to note that, in all the units, the rooms that don't need a view like the bathrooms, are placed facing the courtyard while the bedrooms and dining room have a view to the outside.
Floor plan living: In the plan shown above, the living-dining-open kitchen space will appear large because of the L-shape and open plan.

The Foyer is quite large .

Floor plan Bedrooms: The Master bedroom has ample wardrobe space.
Floor plan toilets: There are some 3-bedroom units in this project that have only 2 toilets. This is the first time I am seeing a project Most people insist that every bedroom should have an attached toilet. But I presonally feel with the experience that I've had in the past 15 years, that 2 toilets are just fine for a 3 bed unit, especially when space is a constraint. A buyer generally prefers to have 3 bedrooms instead of 2 bedrooms, because a typical family of 4 needs a master-bed and 2 bedrooms for the 2 kids, wherein one of them can double up as a guest bed also. However, in most cases an extra bedroom and attached toilet means an increase in built-up area, which many cannot afford. So by avoiding the extra toilet, the builder can squeeze in an extra bedroom which  then is tempting for buyers, as the overall area is reduced by about 80 sft (around 4-5 lakhs less).

Finally I found a promoter, who has aknowledged all the Architects associated with this project, in their promotional site, and that is the Salarpuria Group, one of the rare few. It just goes to show that they surely understand that the

Architect adds value to a project.
NEGATIVES OF SALARPURIA GREENAGE:

Courtyard design: The units are arranged around a large courtyard. In such courtyard designs, it can get a bit claustrophobic to look out of the window and see other apartments within an enclosed building. Moreover when such tall towers enclose an open space, the air-flow through the courtyard will be hampered.

In some of the units, the Living room faces the internal courtyard while the kitchen utility faces the outside. If these two spaces had been interchanged, then the plan would have been better.

Floor plan bedrooms: Except for the Master Bedroom, the rest of the Bedrooms are quite small or let's say, tight. The furniture shown is a bit smaller than what it really is. This is done to create an impression of a large room with respect to the furniture. For comfortable sizes of a Bedroom, go to Design of Design of a Bedroom.
Floor plan kitchen: The Kitchen is also quite narrow, but since it is an open kitchen, one won't feel so cramped. You can refer my post on the design of a Kitchen for ideal sizes of a Kitchen.
Floor plan balcony: The Balcony shown outside the Master Bedroom is so narrow that it will be quite impossible to sit there in a relaxed position, thus negating it's purpose. Ultimately, it will be used for hanging clothes. That reminds me – why is there no space for drying clothes, in apartments? It is a necessity and can prevent the unsightly image of clothes swaying in the breeze in Balconies.
For more information on buildings/projects designed/executed completed in Bangalore, go to:
If you found this post useful, I would really love it if you pin it or share it. I have not blocked the site just because your ad blocker is switched on because I hope my content will be useful to you. But I am able to run this site only because of the ads. So I will be obliged if you turn off your ad blocker. Thank you!