Godrej Woodsman Estate, Hebbal, Bangalore | An Architect Reviews
Godrej Properties', Godrej Woodsman Estate is a completed apartment complex along the golden corridor of Hebbal & Devanhalli and is linked to the 6-lane Golden Quadrilateral highway. Excellent road connectivity ensures a smooth drive to the heart of Bangalore. It is approximately 30 minutes from M.G. Road and 40 minutes from the new airport.
ARCHITECTS AND CONTRACTOR OF GODREJ WOODSMAN ESTATE, HEBBAL:
Godrej Woodsman Estate is designed by the well-known, Bangalore architectural firm, Thomas Associates.  The landscape Architects are Site Concepts from Singapore and the principal Contractor is Gammon India Ltd.
PROMOTER OF GODREJ WOODSMAN ESTATE, HEBBAL BANGALORE:
Godrej Woodsman Estate is promoted by Godrej Properties Limited (GPL) which was established in 1990. GPL has projects in 10 cities across India. Godrej Woodsman Estate is one of the first GPL projects in Bangalore.
ABOUT GODREJ WOODSMAN ESTATE, HEBBAL, BANGALORE:

Woodsman Estate is a 15 acre property with around 900 apartments spread across seven tower blocks of 16 storeys each, with 8 apartments per floor.  There are both, 2-bedroom and 3-bedroom apartments. Each tower has 2 wings with 4 apartments per wing. With a tree lined entrance promenade, Godrej Woodsman Estate has been designed to give an open countryside look.
AMENITIES AT GODREJ WOODSMAN ESTATE, HEBBAL, BANGALORE:
The usual amenities such as podium parking, clubhouse, swimming pool, gardens, multipurpose court, Tennis Court, Basketball court, children's play area, Amphitheater with stage, a Glass Pavilion, Party Lawn, Maze garden, a promenade and jogging path.
In addition there is reticulated gas piping, 4 lifts per tower,  auto ventilation for the basements and electric car charging points.
ARCHITECT'S REVIEW OF GODREJ WOODSMAN ESTATE, HEBBAL, BANGALORE:
Since I am an Architect based in Bangalore, I am able to review some of the projects and builders in Bangalore with confidence. These reviews will hopefully help you in making the right decision when planning to buy a flat. My reviews are unbiased and solely based on the merits and demerits of the design of the buildings.
POSITIVES OF GODREJ WOODSMAN ESTATE, HEBBAL, BANGALORE:
Location: On the Golden Quadrilateral Highway, almost midway between M.G. Road and the International Airport is it's biggest plus point.
Away from highway: The apartment towers are laid out in lush greenery, at a distance from the main highway. This reduces the noise, dust and exhaust pollution to some extent.
Driveway: The tree-lined, entrance driveway has been designed to give the feel of driving through the countryside into an 'Estate'.
Privacy: In all the towers, there are 2 wings with 4 units in each wing. This gives a lot more privacy to the residents as there are only 4 apartments around the lift /staircase lobby.Also, in the plans, the Bedrooms are separated from living rooms for added privacy.
Floor plans: The Living Room is comfortably sized.
Credit given to Architect: The professionalism of Godrej Properties Limited, is shown by way of giving credit to the people associated with the project, whom they call their "partners'.

NEGATIVES OF GODREJ WOODSMAN ESTATE, HEBBAL, BANGALORE:
Parsi tower of silence: The Godrej property is located close to the Parsi Tower of Silence, where the last rites of the dead are done. This may deter many people from buying, especially if their block faces that direction.
Indirect light: The Living room does not get any direct light or ventilation. The only light it gets, is indirect, from the Dining room.
Corridor: There is a lot of wastage in corridor space within the flat in all the units.
Floor plans dining: The Dining room is narrow, but since it is not used as a circulation space,this does not affect it much. The Kitchen is okay sized but the Utility is very small. All the bedrooms are quite narrow at 11′ and the Guest and Children's bedrooms are small in size. For information on comfortable sized Bedrooms, read the post on Designing a Bedroom.
Floor plans bathrooms: The two toilets attached to the Guest and Children's Bedrooms are small and uncomfortable. To know more about the ideal sizes of Bathrooms, go to Designing a Bathroom.
Floor plans bedrooms: The Bedrooms and bathroom sizes have been made minimum, so that the overall built-up area reduces in order to reduce the overall price of the apartment, which then makes the property an attractive buy. But I personally feel that comfortable sizes are better appreciated by the user, in the long run.  There are ways to reduce the built-up area, like reducing the corridor spaces, avoiding one toilet as 2 bathrooms are quite sufficient for a 3-bedroom house, reducing the number of balconies, etc.
And finally the elevation of the towers, seen in the perspective as well as actually at site, is nothing to talk about. 'Boring' is the only word, I can use.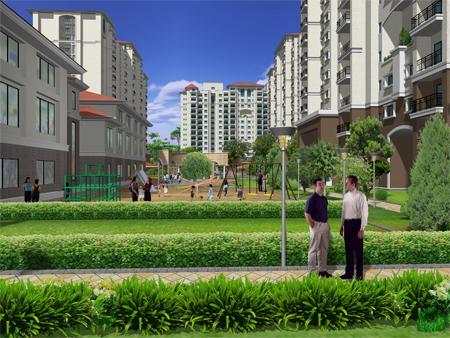 For more information on other buildings/projects designed/executed completed in Bangalore, go to:
If you found this post useful, I would really love it if you pin it or share it. I have not blocked the site just because your ad blocker is switched on because I hope my content will be useful to you. But I am able to run this site only because of the ads. So I will be obliged if you turn off your ad blocker. Thank you!