Raheja Pebble Bay, Dollars Colony, Bangalore | An Architect Reviews
Raheja Group's Pebble Bay is a completed residential enclave in Dollars Colony, Bangalore. It has six, 20-floor apartment towers, amidst 11 acres of landscaping, water, fauna, pebble paths, natural stones and wide-open spaces.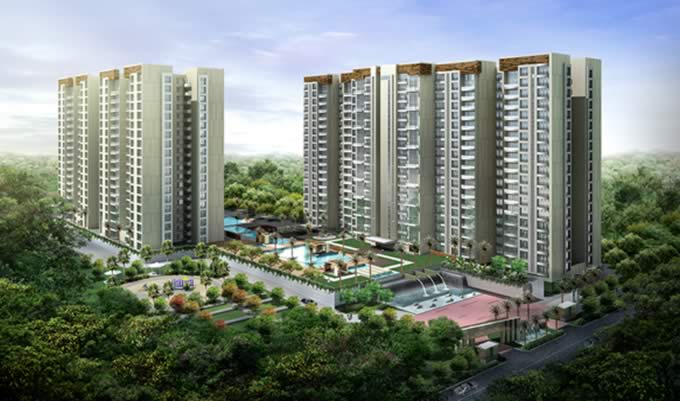 RAHEJA PEBBLE BAY LOCATION:
Pebble Bay is centrally located in Rajmahal Vilas Extension (RMV Extension), Dollars Colony, Bangalore. Dollars Colony is an upmarket residential layout with sophisticated villas, located in North Bangalore.
RAHEJA PEBBLE BAY PROMOTER:
Pebble Bay is promoted by B Raheja Group, well-known and established property developers and builders based in Mumbai, India. A majority of their projects are in and around Mumbai. Recently, they have started projects in Bangalore as well, one of which is the upmarket, Pebble Bay.
ARCHITECT OF RAHEJA PEBBLE BAY, DOLLARS COLONY:
The B Raheja Group has an in-house team of architects and engineers. Vijay Raheja is the  Chief Architect of the company.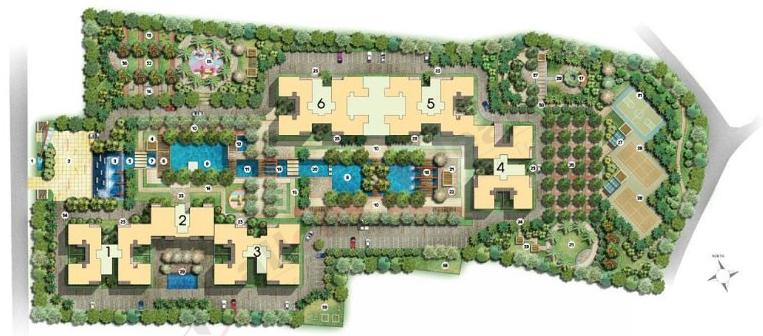 ABOUT RAHEJA PEBBLE BAY, DOLLARS COLONY, BANGALORE:
Pebble bay offers a choice of 3 BHK, 4 BHK and 5 BHK apartments in 6 towers of 20 floors each. And for those who prefer  the feel of independent villas, there are 4 BHK duplexes and 4/5 BHK penthouse duplexes.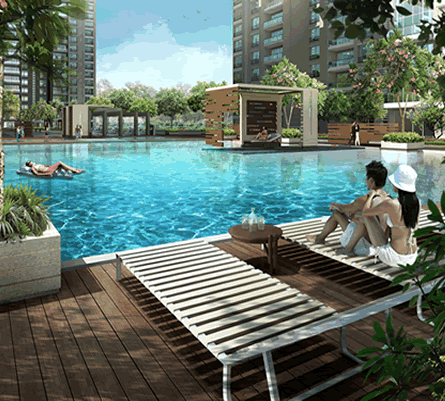 AMENITIES AND FEATURES AT RAHEJA PEBBLE BAY, DOLLARS COLONY:
The amenities at Pebble bay include Swimming Pool, Gymnasium, Kid's Play Area, Sports Facility, Open-air amphitheatre,  Jogging Track, Supermarket and ATM.
The features at Pebble bay are a garden podium with 9 water bodies, an orchard, pebbled paths, dedicated parking in the basement and ground floor and vehicle-free pedestrian walkways.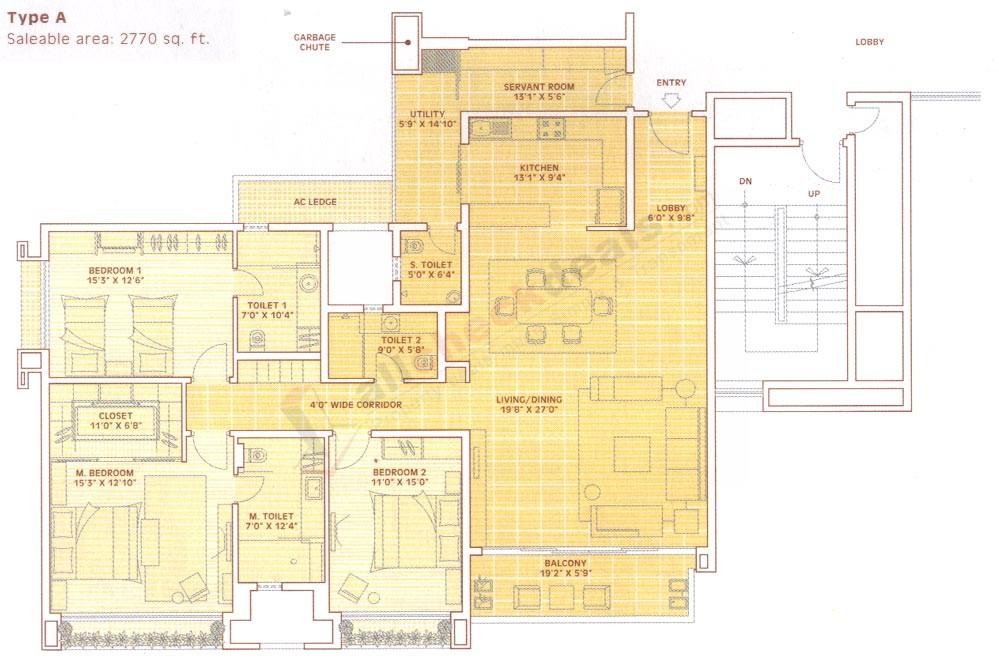 ARCHITECT'S REVIEW OF RAHEJA PEBBLE BAY, DOLLARS COLONY:
Since I am an Architect based in Bangalore, I am able to review some of the projects and builders in Bangalore with confidence. These reviews will hopefully help you in making the right decision when planning to buy a flat. My reviews are unbiased and solely based on the merits and demerits of the design of the buildings.
POSITIVES OF RAHEJA PEBBLE BAY:
View: All the towers are placed facing the water bodies and so, all get a view of the landscape and water.
Sizes of Living/dining: The Living/Dining space is very wide in all the apartments and allows for ample movement and circulation.
Size of bedrooms: The Bedrooms in all the apartments are quite spacious. The Master Bedroom has the advantage of having a seperate, large-sized walk-in closet.
Size of Toilets: The Toilets are all quite big and spaciousand are arranged around a duct which takes care of the ventilation, and piping. The Master toilet has a small cupboard which is very useful for storing lots of things. See the post on Closets:Designing a Closet.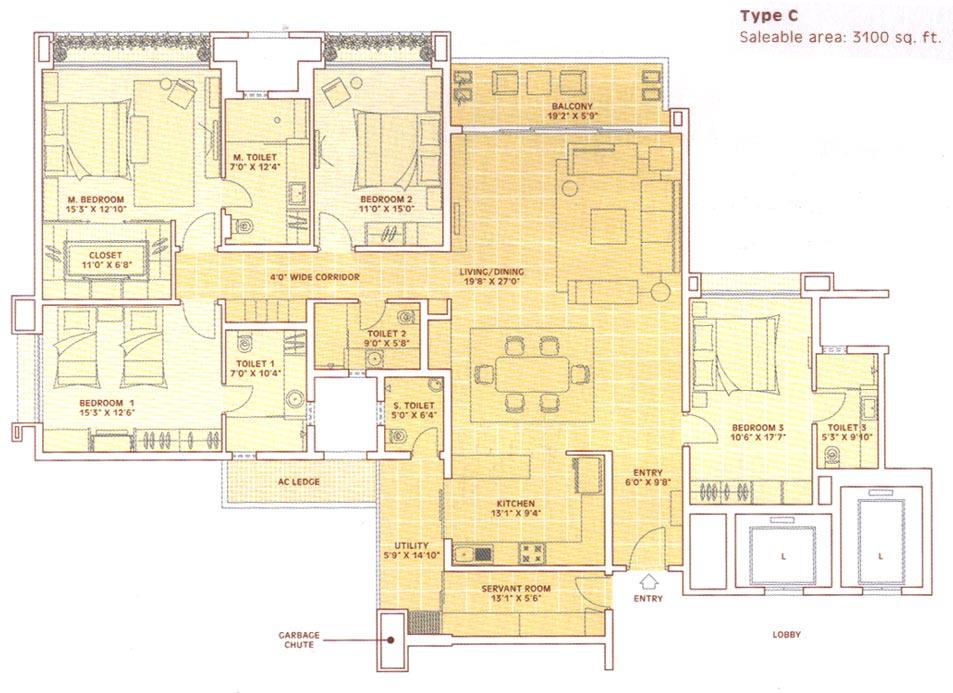 NEGATIVES OF RAHEJA PEBBLE BAY:

Indirect light: Inspite of having luxurious sizes for all the rooms, the dining area does not have any direct light or ventilation, except through the Living room and to some extent from the open kitchen.
Fridge position: The location of the fridge in the kitchen, right at the entrance and next to a wall, may not seem to be a negative. But try opening the fridge door and taking out things -it can be quite difficult because of the wall.It is always preferable to have the fridge away from walls and the door as explained in the post: Designing a Kitchen.
Corridor: The 23'0″ long corridor in both the 3-Bedroom and 4-Bedroom plans is just a waste and you are paying for a relatively unusable space.
Servant's toilet:

The servant's toilet opens into the Utility which is right outside the Kitchen. Somehow, though if it may be maintained well, the toilet odours can permeate into the kitchen. Even according to Vastu Shastra, toilets and kitchens do not go together. In fact that is why Vaastu Shastra is called a Science, as it is based on logic and reasoning. You can read the scientific explanation of  Vastu for Kitchens here

:Vastu Guidelines | Kitchens
Toilet layout: The Toilet layout is not the best possible, from a utility point of view. The doors open in the middle and the door juts out into the toilet. So to access on the other side of the door, you have to first close the door.  In some Toilets, the door opens against the shower panel making the entry to the shower area quite tight.
Cross-ventilation: Even though, it was possible to have cross-ventilation – windows on adjacent walls – in most of the Bedrooms, which is quite rare in apartments, it has not been exploited by the Architect.  Cross-ventilation cools the room as there is inflow of fresh air and outflow of stale air through the rooms.
Water: And finally, the question about water for such large water bodies.The ethics of pumping out underground-water for filling up and regularly topping up the water bodies. I don't believe it is right.
For more information on other buildings/projects designed/executed completed in Bangalore, go to:
If you found this post useful, I would really love it if you pin it or share it. All it takes is a simple click on the "pin it" "like," "share," "tweet," or Google+ buttons below the post.
Also, unlike many other sites, I do not insist that your ad blocker be turned off to allow you into my site. This is because I know that my content will be useful to you. But putting up posts regularly takes up time and hard work and I am able to run this site only because of the ads. So I will be much obliged, if you would turn off your ad blocker. Thank you!