CANOPY BED (4 POSTER BED) | An Architect Explains
A Canopy bed refers to a bed covered by a suspended cloth canopy. For hanging the cloth, usually the canopy bed will have a "canopy frame" supported by four posts, one at each corner of the bed. Hence the name 'four poster' or 'four post' bed. The Canopy bed can add an extra element of style, romance and luxury to even the best bedroom. Some hotels use canopy beds in their exclusive suites.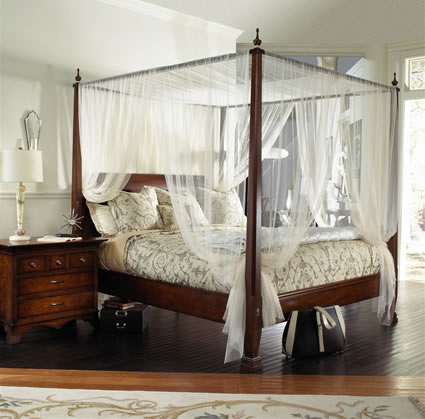 Listed here under the following headings, are some of the Guidelines for the design of a Canopy bed. As an Architect, I have explained each of these guidelines under the following headings:
What are the types of canopy beds?
What are the popular canopy bed sizes?
What are components of a canopy bed?
What colours are suitable for canopy beds?
How can a canopy be added to an existing bed?

 



WHAT ARE THE TYPES OF CANOPY BEDS?
The traditional canopy bed: which aims to reflect a Victorian aesthetic – usually has metal rod frames or intricately carved wood frames with lush romantic designs and heavy embroidered pleated draping.

The contemporary canopy bed: is concerned with delicacy and subtlety. Uses wood or metal in sharp, geometric designs and light, sheer materials are silk, cotton or polyester.
Crown canopy bed: An alternative style has a smaller crown canopy that just covers the top of the bed over the sleepers' heads.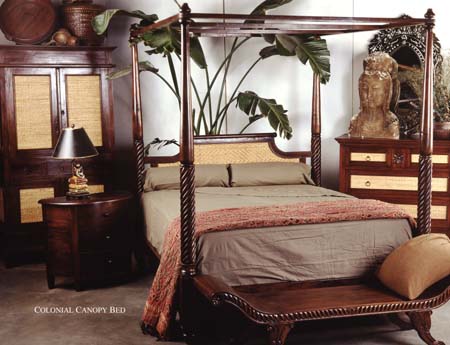 WHAT ARE THE POPULAR CANOPY BED SIZES?
The most common canopy bed sizes are queen and king, but you can get twin or even single sizes. However these smaller versions are less popular because the proportions do not appear right.
WHAT ARE THE COMPONENTS OF A CANOPY BED?
Canopy frame: supported by four posts, one at each corner of the bed. These posts may be plain or ornately carved.
Fabrics: Sheer fabrics like tulle and lace can be paired with solid fabrics like shiny satins or silks to give a layered look to the canopy beds.  The curtains can be trimmed with lace or crotchet. 

Layered Curtains: Layers of sheer fabric create more of an opaque look than single sheers and provide depth to the curtains.
Curtain ties: Decorative ties used for holding the curtains back can be plain ribbon or curtain ties that are pre-made.
Bedding : Hand stitched bedsheets, lace bed spreads with ribbon accents add to the appeal. Also, scattered, small pillows on the bed create a romantic image.
Light: Overhead light should not be used with a canopy bed. For soft lighting, a side table lamp may be used with a canopy.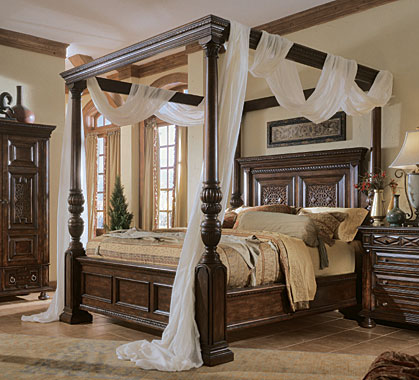 WHAT COLOURS ARE SUITABLE FOR CANOPY BEDS?
Wide spaces and white walls are the perfect background for a unique furniture accent such as a canopy bed. The colours of the bed itself and its drapery can be selected according to personal preferences and the overall interior design of the bedroom. Thus you could have a white sheer draped on dark wooden/metal frames or printed, tie dyed fabric in bright and striking colours hanging from a white framed canopy bed.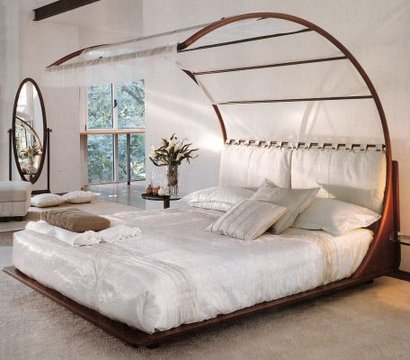 HOW CAN A CANOPY BE ADDED TO AN EXISTING BED?
Even if you do not have  a four-poster bed, a canopy can be added to an existing bed. To make it more personalized and unique, you can create a canopy that reflects your style.

Contemporary canopy bed:  Install four shower curtain rods on the four corners of the platform bed that reach up and connect to horizontal railings over the bed. Now, just hang soft fabric, with decorative motifs, from the rods with the help of rings, clips or decorative shower curtain hooks. Another way would be to hang four vertical curtain rods from the ceiling above the bed and drape curtains across the rods.

Conventional canopy bed: Make a canopy frame as mentioned above and use wood strips to create a ceiling for the bed. Then fasten suitable layers of fabric to the rods around the bed.

Crown canopy: Install a cornice board at the head of the bed and decorate it by embellishing it with multiple layers for fabric, surrounding the head of the bed. Or you could fix one or more rings on the wall above the headboard and drape curtains through them.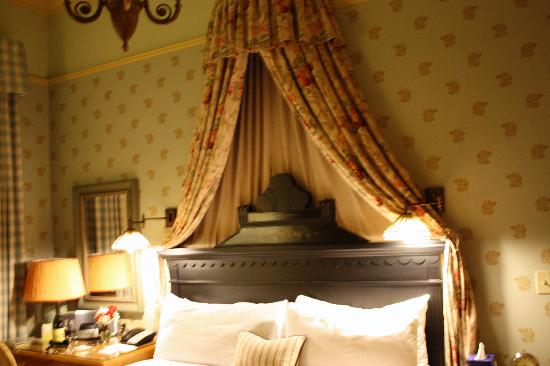 A Canopy bed is not a space saving bed and is suitable only in large, luxurious rooms. But nowadays, most apartments have small bedrooms and beds like sofa bed, Futon bed, Trundle bed, Murphy bed,Bunk bed  are best suited
If you found this post useful, I would really love it if you pin it or share it. I have not blocked the site just because your ad blocker is switched on because I hope my content will be useful to you. But I am able to run this site only because of the ads. So I will be obliged if you turn off your ad blocker. Thank you!
For information on other Bed Types, go to: