BUNK BED | An Architect Explains
A Bunk bed is essentially two beds placed one above the other, held apart by support struts and accessed by a ladder or steps. By using vertical space, a bunk bed allows two people to sleep in the floor space of one. Therefore, it is popular in places where multiple people must sleep in a small space like dorms, hostels, ships and prisons.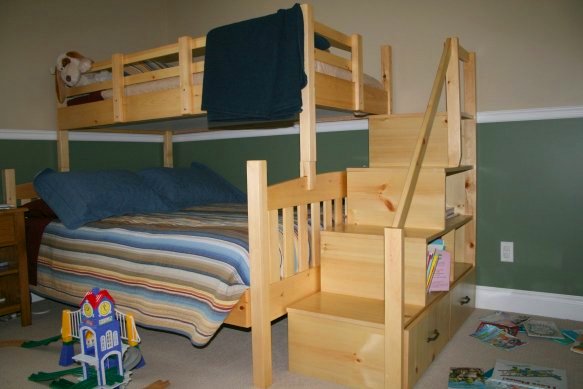 Listed here under the following headings, are some of the Guidelines for the design of a Bunk bed. As an Architect, I have explained each of these guidelines under the following headings:
What are the types of bunk beds?
What are the advantages of a bunk bed?
What are the main components of a bunk bed?
What are the safety measures to be followed in using bunk beds?

 



WHAT ARE THE TYPES OF BUNK BEDS?
Standard bunk bed: The most common type is the standard bunk bed which has two same-size bunk beds placed one directly over the other.
Double bunk bed: This is similar to the standard bunk bed, except that in this type, the lower bunk is a double bed.
Futon/couch bunk bed : A futon bunk is similar to a standard bunk bed except that the lower bunk is a Western-style futon  bed which converts into a couch during the daytime.
L-shaped bunk bed: In an L-shape  bunk, the bottom bed is oriented at right angles to the top bed so that when viewed from above, the beds form an 'L'. This also creates a small alcove where a desk or bookshelf can be placed.
Loft bunk beds: A loft bed denotes a bunk bed that has only the top bunk, creating an open space underneath that can be occupied by a chest, drawers, or even a work station. Some loft beds even have stowable/trundl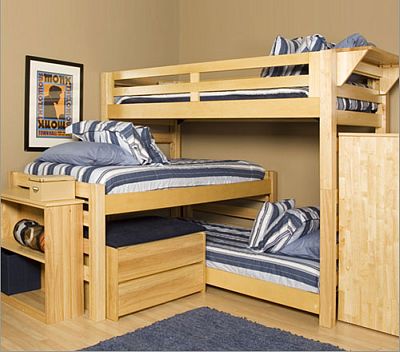 e beds while retaining workstations and drawers.
Triple Bunk bed: A triple bunk bed has 3 tiers instead of the regular 2 bunks. However, it is not very common. Since the top bed is likely to be even higher in this arrangement and a long way to the ground, safety becomes even more important.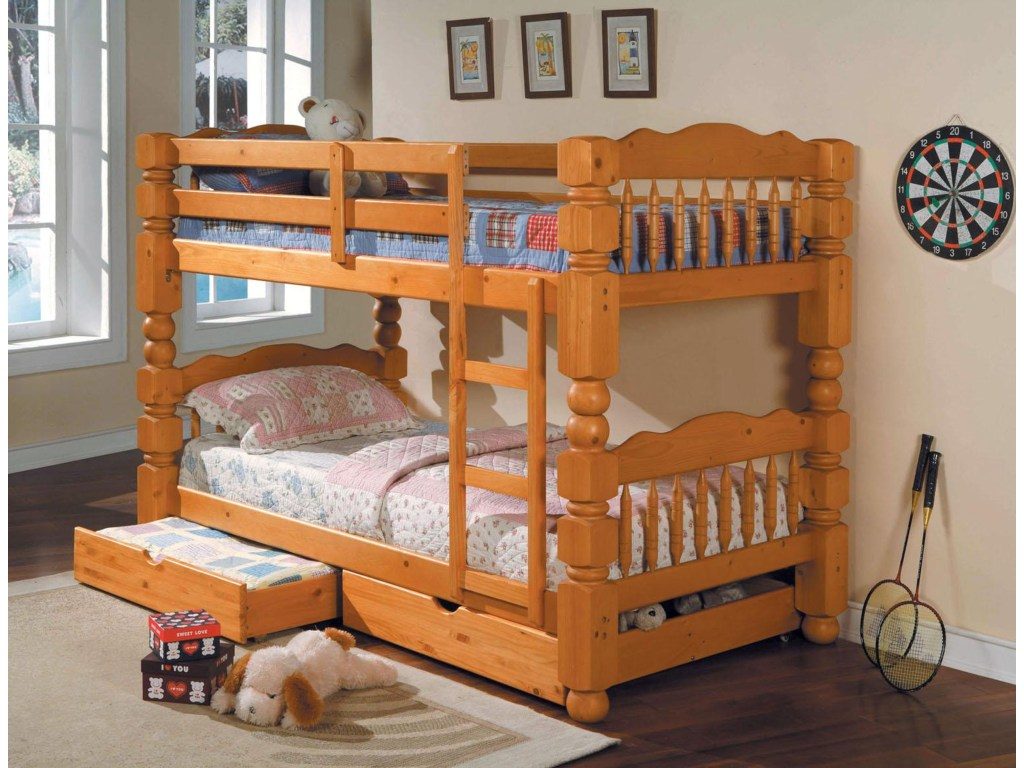 WHAT ARE THE ADVANTAGES OF A BUNK BED?
Durable: can be used by your child from age three through college.
Sharing a bedroom:  A bunk bed allows two kids to share a room.

Space-saver:  It frees up valuable floor space for a desk and play area for your child.
Resale:  A good quality bunk bed can be sold later for a good price.
Flexibility: Metal bunk beds are more flexible and the format of the bedroom can be changed.
WHAT ARE THE MAIN COMPONENTS OF A BUNK BED?
Ladder and guard rails: The top bunks have a ladder and are equipped with safety rails to prevent the sleeper from falling out.  Because of the need for support, the upper bunk is almost always single-person, whereas the lower bunk can be a double bed.
Drawers: Bunk beds can have drawers and shelves incorporated into them.
Detachable: Bunk beds can be designed in such a way that the upper bunk bed is like a separate bed placed on top of the lower bed. This allows it to be detached from the lower bunk  if required,  for example when the kids grow up.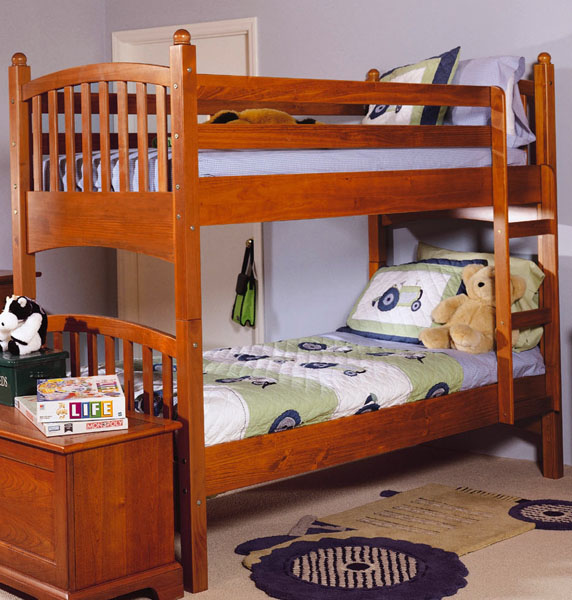 WHAT SAFETY TIPS SHOULD BE FOLLOWED IN THE USE OF BUNK BEDS?
Safety is vital when using bunk beds, whether it's adults or children sleeping in them. As well as the possibility of falling, entrapment is a serious potential risk for kids in bunk beds. For these reasons, the top bunk is not recommended for children under six years of age.
Strength: Always check its sturdiness by shaking the upper bed to check whether there is any kind of movement.
Guardrails: A upper bunk should have at least two guardrails. Make sure that there are no openings on the guardrails and if they are there, the gap should not allow a child's head or body to slip through.

Ladder: The ladder should be locked into the bed frame. It is advisable to have a nightlight near the ladder so that sleepy children can find their way down safely.
Placement in room: Ensure that the bunk bed placement is correct. Ideally it should be in a corner, where the bed will have support from two walls. The top bunk should be placed in such a way that an adult can enter and exit the top bunk without hitting the ceiling, ceiling fans or light fittings.
Instructions: Make sure that you have the instructions about the proper mattress size and how to use the beds safely.
Do-it-yourself: Pay particular attention to the safety aspects should you decide to build your own bunk bed.
A bunk bed will take up a permanent space in a room. So, if the room is very tiny, you can opt for another space saving bed, the Loft bed which is similar to a bunk bed, but only has the top bunk creating an open space underneath for a chest, drawers or a work station.
If you found this post useful, I would really love it if you pin it or share it. I have not blocked the site just because your ad blocker is switched on because I hope my content will be useful to you. But I am able to run this site only because of the ads. So I will be obliged if you turn off your ad blocker. Thank you!
For information on other Bed Types, go to: