GRANITE FLOORING | An Architect Explains
Granite is the hardest, most durable and long lasting among natural stones. It has a natural beauty like Marble, that  can give your home an aura of richness. Granite flooring doesn't easily scratch and is stain-resistant – making it ideally suited for residential flooring especially kitchens, which are subjected to spills, dropped objects etc. Granite is used sparingly in commercial buildings due to its high cost.
Granite has both advantages and disadvantages. It is useful to know the characteristics of Granite, its usability and suitability as a flooring option. As an Architect, I have described Granite along with it's features under the following headings so that you can decide whether it is suited for your requirement and your space:
What are the characteristics of Granite?
What are the advantages of Granite flooring?
What are the disadvantages of Granite flooring?
Where is Granite flooring best suited?

 



WHAT ARE THE CHARACTERISTICS OF GRANITE?
Origin: Granite is a natural stone product obtained from quarries.
Composition: Granite is a mixture of quartz and feldspar which is not adversely affected by alkalis and acidic substances.
Physical Characteristics

:

Granite is hard, smooth, very heavy and durable. Due to it's weight it is advisable to check the strength of the sub-floor before laying.
WHAT ARE THE ADVANTAGES OF GRANITE?
Durable: Granite is virtually indestructible– It lasts a lifetime with good care.
Very beautiful: The unique grain movement and colours of Granite flooring makes a room look elegant and rich.
Natural stone: unlike  terrazzo

,

ceramic/vitrified tiles etc. Therefore it is bio-degradable and a green option.
Non-porous: unlike Marble, therefore, water and stain resistant. It does not have to be sealed.
Hygienic: because Granite is hypoallergenic, bacteria resistant and highly resistant to water/moisture.
Easy to maintain: because of it's highly shiny surface.
Cool: Granite has an inherent ability to reflect heat and so Granite flooring is always cool underfoot.
Seamless flooring: Granite slabs are available in sizes 4′x2′ to 9′x4′ and can be laid with paper thin joints to give a seamless floor.
Paper thin joints: in Granite flooring prevent dust accumulation and fungal formations ensuring easy maintenance.
Wide range: of colours such as rich browns, vibrant golds, warm creams and cool blues, greens, grays and decadent black, to suit any purpose.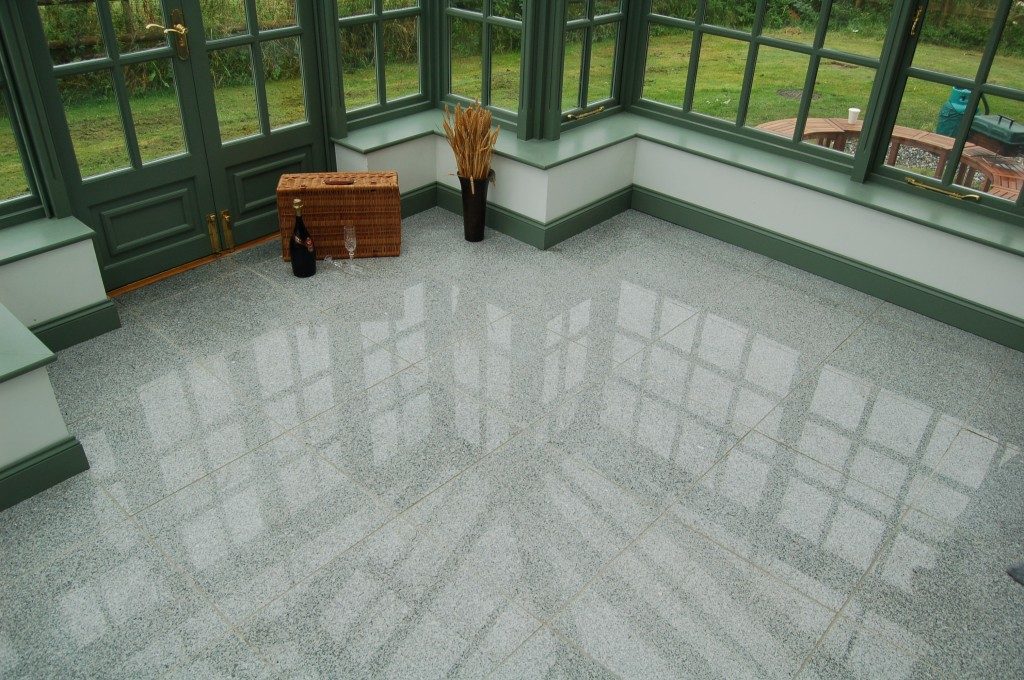 WHAT ARE THE DISADVANTAGES OF GRANITE?
Expensive: – much more expensive than other flooring types because it has to be obtained from quarries, polished and installed by experts.
Time consuming in laying: as granite needs professional installation and is very cumbersome.
Very cold: Granite flooring can be quite cold under feet in the winter, though not as cold as Marble.
Very hard: and so fragile items dropped on the granite surface probably will break.
Slippery: when wet because of the highly polished (glossy) surface of granite.
Difficult to repair: Restoration of badly scratched granite is an expensive affair, with a possibility of alteration in the colour as well.
Quality: is just a matter of chance because granite is naturally occurring. Low-quality tiles

may chip easily.

Regular care: for granite to remain shiny and last a lifetime.
WHERE IS GRANITE FLOORING BEST SUITED?
Due to it's high durability, scratch and stain-resistance and rich aura, granite is becoming a popular choice in residences. It is also used in the flooring and wall cladding in lift lobbies of commercial spaces, as it gives a luxurious feeling. But it is very expensive and most people opt for cheaper alternatives like Kota Stone or Slate.
For information on other flooring options, go to:
READ MORE:
In order to get a rough idea of the suitability of a particular flooring for your requirement and to make a fair comparison of the different types of flooring, refer to an Architect's rating of the various kinds of flooring on my blog: House construction in India
If you found this post useful, all it takes is a simple click on the "pin it" "like," "share," "tweet," or Google+ buttons below the post.