CERAMIC FLOORING | An Architect Explains
Ceramic tiles are man-made tiles that create a durable surface which is easy to clean, resists stains and scratches and doesn't fade. Since ceramic tiles are affordable, low-maintenance, available in various sizes, colours, shapes and can easily match with the decor of any room, they are a popular flooring choice in homes.

Ceramic tiles have both advantages and disadvantages. It is useful to know the characteristics of ceramic tiles, their usability and suitability as a flooring option. As an Architect, I have described Ceramic tiles along with it's features under the following headings so that you can decide whether it is suited for your requirement and your space:
What are the characteristics of Ceramic tiles?
What are the advantages of Ceramic tiles flooring?
What are the disadvantages of Ceramic tiles flooring?
Where is Ceramic tiles flooring best suited?

 



WHAT ARE THE CHARACTERISTICS OF CERAMIC TILES?
Composition:  Ceramic tiles are made from a mixture of clay, quartz, feldspar which is then fired at high temperatures (approximately 2200 degrees). The tiles are either unglazed or glazed- the glazed tiles have a hard, non-porous, vitreous (liquid glass) coating applied at very high temperatures.
Physical properties: Unglazed Ceramic tiles are soft in nature (scratches easily), have high absorbency (stains easily) and are affected by acids. Glazed ceramic tiles offer a durable surface that is easy to clean, resists stains and scratches, doesn't fade and is slip-resistant.
WHAT ARE THE ADVANTAGES OF CERAMIC TILES?
Durable: compared to most other flooring materials.
Fire proof: They do not burn, nor give off smoke or toxic fumes.
Resistance to abrasion: Ceramic tiles can withstand heavy foot traffic due to their resistance to abrasion and tread wear.
Moisture Resistance: The glazed tiles being  impervious to moisture, are an excellent choice for use in wet areas.
Frost resistance: 

Glazed ceramic tiles are frost resistant (

will not

deform or break in extreme temperature conditions).
Slip resistance: Ceramic tiles can be treated to prevent slipping either by adding an abrasive grit to the glaze or texture to the surface.
Chemical resistance: Ceramic tiles are highly resistant to chemical agents and stains.
Colour permanence: Direct exposure to sunlight will neither alter the colour of the tiles nor causes them to fade.
Hygienic

:

Ceramic tiles being moisture resistant, prevent bacteria and fungi from growing.
Easy to Clean

:

and so recommended in all areas where high sanitary standards are a must.
Cost Effective: They are cheaper than many other types of flooring.
Wide range and choice

:

of colours, patterns, designs, sizes. Virtually limitless.
WHAT ARE THE DISADVANTAGES OF CERAMIC TILES?
Installation: Tiles need to be installed with a lot of care by an expert layer. Any unevenness can cause the tiles to break.
Brittle: If something heavy drops onto ceramic flooring, it can break or chip.  Also, the edges and corners are prone to breakage.
Repair : Replacing a broken or chipped Ceramic tile is difficult. The tile with the defect must be cut away along the grout lines, but in the process, the surrounding material could be damaged.
Fade with time: If the Ceramic tiles have designs imprinted on them, then the design wears away with regular wear and tear.
Slippery: When wet and can cause possible hip/head damage.
Grout Maintenance:

It is advisable to keep the grout lines narrow while laying, to minimize the work involved in cleaning and sealing and to reduce the visibility of dirt.

Cold: underfoot  and can be uncomfortable in areas where the temperatures dip.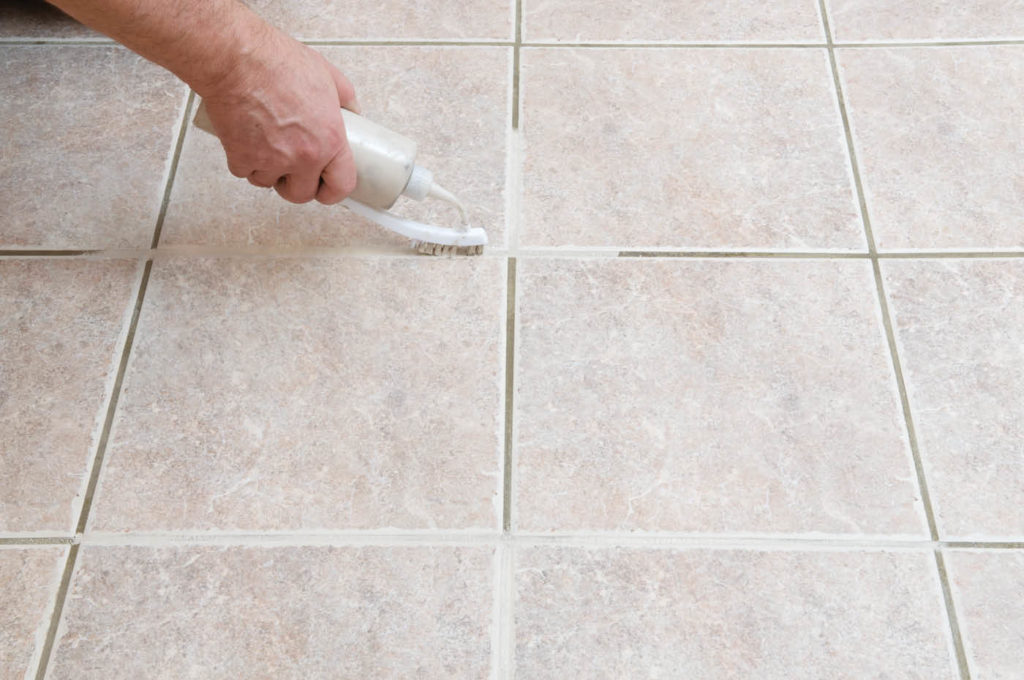 WHERE ARE CERAMIC TILES BEST SUITED?
Ceramic tiles are suited in homes (easy to clean and many options), food counters (as they are hygienic). They are also suitable in areas that are exposed to rain as the tiles do not rot in water. But they are less durable and stain resistant compared to
Vitrified tiles.
For information on other flooring options, go to:
READ MORE:
In order to get a rough idea of the suitability of a particular flooring for your requirement and to make a fair comparison of the different types of flooring, refer to an Architect's rating of the various kinds of flooring on my blog: House construction in India
If you found this post useful, all it takes is a simple click on the "pin it" "like," "share," "tweet," or Google+ buttons below the post.