CANTILEVER (FLOATING) STAIRCASE | An Architect Explains
A cantilever is a beam anchored at only one end. Cantilevered Stairs have independent steps which are anchored to a bearing wall or a stringer beam embedded in a wall, with the help of steel pins/bolts. The idea is to  give the impression of  floating stairs.

Using different materials, you can create different types of cantilever stairs which create different impressions. Cantilever stairs have both advantages and disadvantages. To help you decide the cantilever staircase that best suits your requirement, as an Architect I have described  different types here:
How are cantilever staircases fixed?
What are the advantages and disadvantages of cantilever staircases?
What are the materials used in cantilever staircases?

 



HOW ARE CANTILEVERED STEPS FIXED?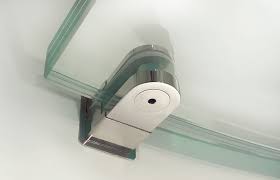 Each step assembly comes with a tread, two brackets, bolts and a telescoping support stud. The stud is installed into a concrete or steel beam with the brackets protruding outward. A wall is then built around the brackets. Then the finished treads are bolted in place. These treads may be of steel or wood or wood clad steel. Cantilever steps need to be designed by a structural engineer, so that they remain horizontal and rigid  with use over time.
WHAT ARE THE ADVANTAGES AND DISADVANTAGES OF CANTILEVERED STAIRS?
Advantages of Cantilevered steps:
They appear light.
They allow light into the different levels.
The impression is of a floating effect.
Disadvantages of Cantilevered steps:
They do not appear to be very strong and sturdy.
They may sag at the ends.
A balustrade is often avoided to reinforce the floating effect. But this is dangerous.
You may feel that your feet will slip through the gaps between the stairs.
WHAT ARE THE DIFFERENT TYPES OF MATERIALS USED IN CANTILEVERED STAIRS?
WOODEN CANTILEVER STAIRS: 
Rather than use solid wooden steps, wood clad steel studs that are fixed to a steel beam in the wall are used in the example below. But these treads will be thick to accommodate the steel support structure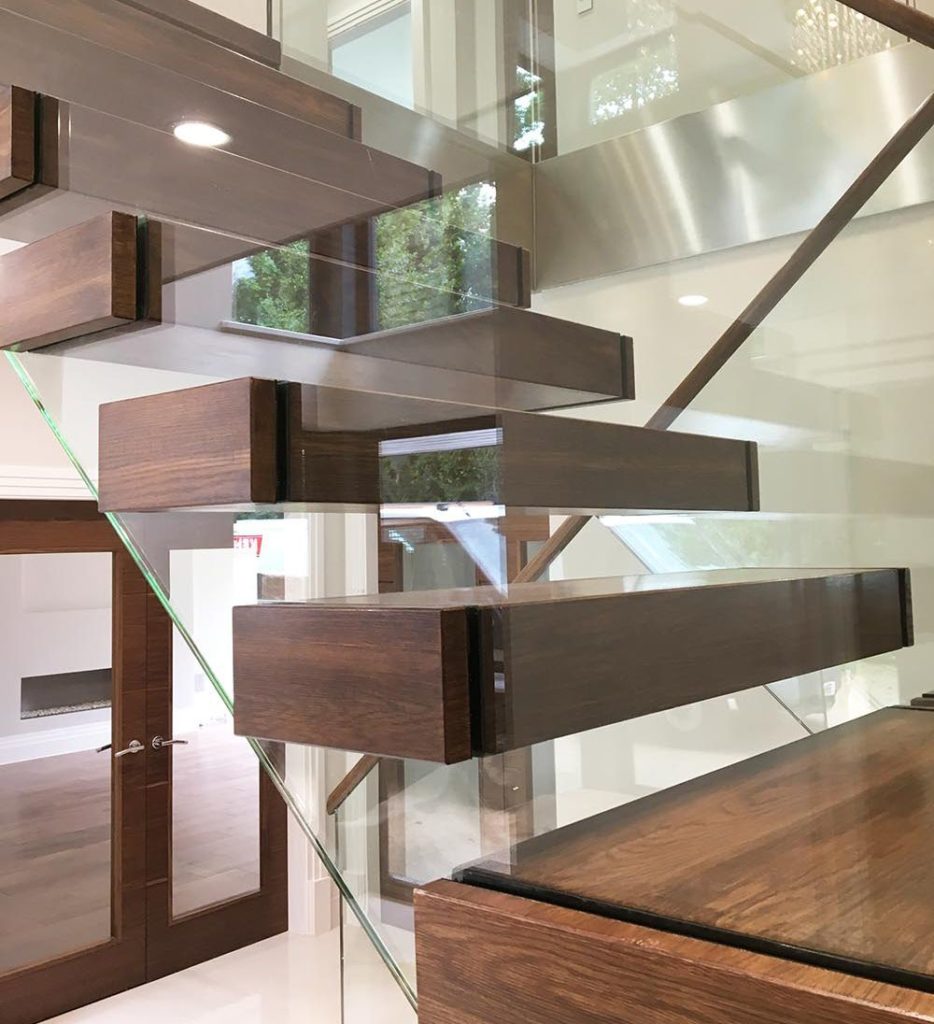 To reduce the thickness of the wood steps, you can have solid wooden planks resting on T-section plates that cantilever from the concrete stringer/wall as seen in the image below.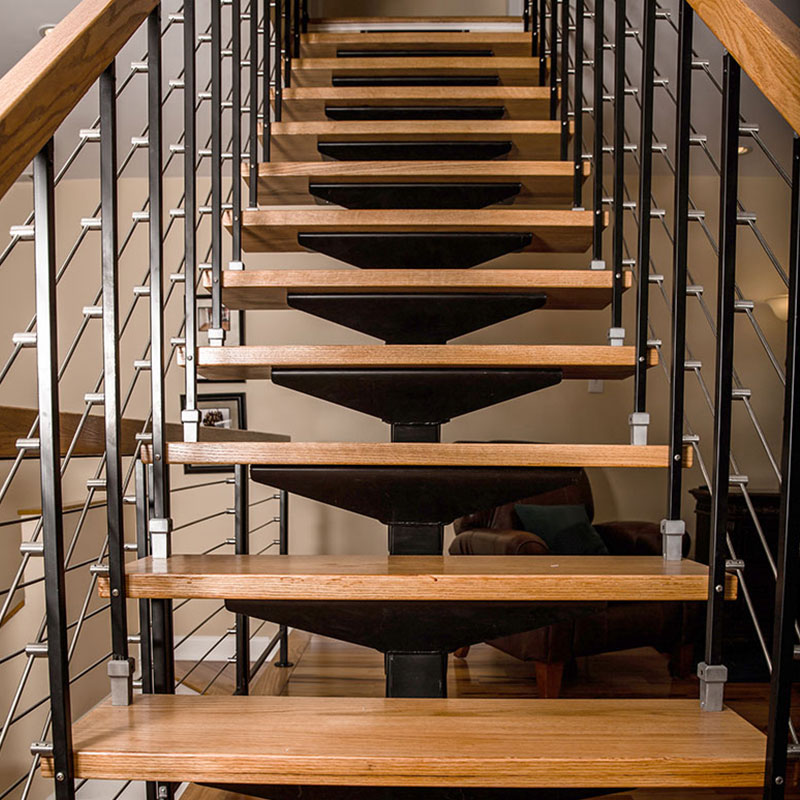 Generally, the stringer that supports the steps is hidden inside a wall, so that the cantilevered effect is dramatic. But sometimes, the stringer is exposed. To create a  really dramatic effect, the wooden steps are cantilevered from a feature wall like this.
In part-cantilever stairs, the steps cantilever out by one-third of the stair's width. The risers can function as drawers to take advantage of the space underneath.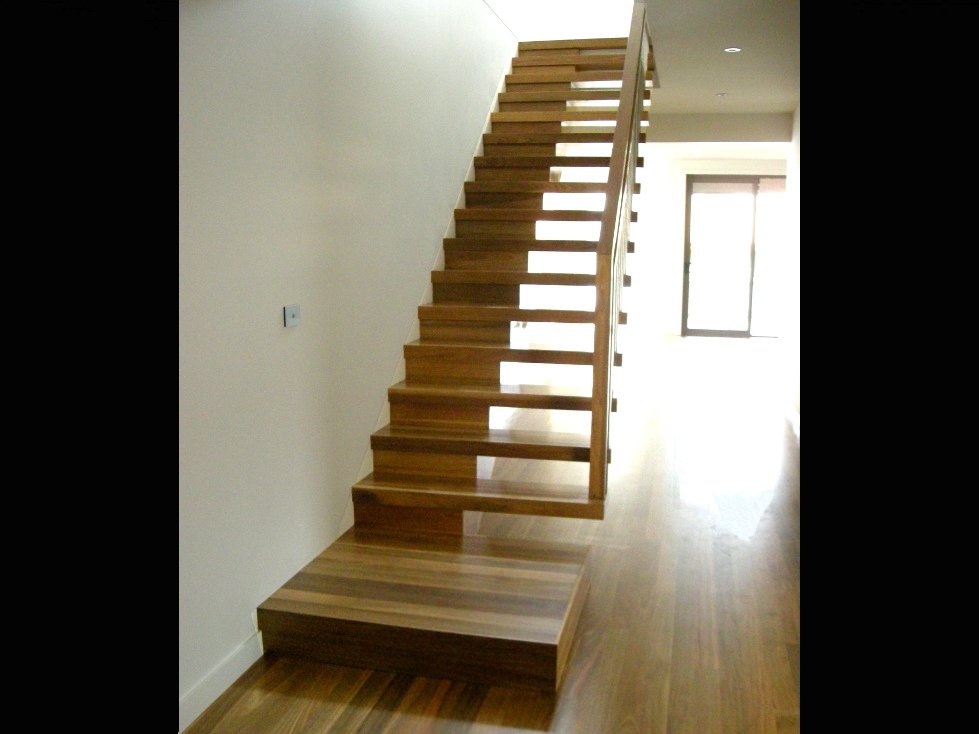 In Folded Cantilever stairs, the treads are connected to each other with risers, like a ribbon.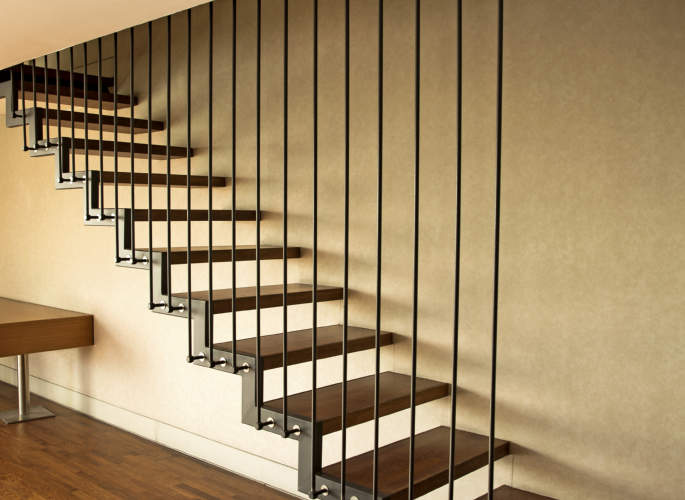 STAINLESS STEEL CANTILEVER STAIRS:
Stainless steel ribbon stairs are seen here. The glass balustrade reinforces the floating effect.Another type is the T-shaped steel tread which is anchored into a steel beam in the wall.

GLASS CANTILEVER STAIRS: 
Nowadays, Glass treads are becoming popular in homes as they allow sunlight to filter down the different levels. The glass treads are at least 32 mm thick and made of toughened glass.

STONE TREAD, CONCRETE CANTILEVER STAIRS:
Other examples include cantilevered steel treads with stone tops or  concrete steps that project from a concrete wall.
So, there are different styles possible with the Cantilever staircase. The same holds good for other types of stairs such as Two stringer and Centre-stringer stairs.



Related topics:
If you found this post useful, I would really love it if you pin it or share it. All it takes is a simple click on the "pin it" "like," "share," "tweet," or Google+ buttons below the post.
Also, unlike many other sites, I do not insist that your ad blocker be turned off to allow you into my site. This is because I know that my content will be useful to you. But putting up posts regularly takes up time and hard work and I am able to run this site only because of the ads. So I will be much obliged, if you would turn off your ad blocker. Thank you!