CENTRE STRINGER STAIRCASE | An Architect Explains
Centre stringer stairs also called mono-stringer stairs utilize a central stringer (structural element) to support the treads. The stringer is generally not very apparent as it is located centrally, underneath the treads. However, in some cases, like in open, curved/spiral stairs, it is visible. Then it is treated like a design element without aesthetically overwhelming the other staircase elements. 

Using different materials, you can create different types of Centre stringer stairs which create different impressions. The advantage of centre-stringer stairs is that they promote a sense of lightness and openness. To help you decide the centre-stringer staircase that best suits your requirement, as an Architect I have described  different types here:
How is a centre-stringer staircase fixed?
What materials are used for the treads and stringer in mono-stringer staircases?

 



HOW IS A CENTRE-STRINGER STAIRCASE FIXED?
When compared to traditional closed or enclosed stairs, mono-stringers require the use of relatively stronger materials  in order to single-handedly  support the treads. In fact, the design of centre-stringer stairs is one of the more expensive construction methods and should be done in consultation with a structural engineer.

 



WHAT MATERIALS ARE USED FOR THE TREADS AND STRINGER IN MONO-STRINGER STAIRS?
WOODEN STAIRS:
In the example below, a heavy-section, central wooden stringer is used. It gives solidity to the stairs but overwhelms also.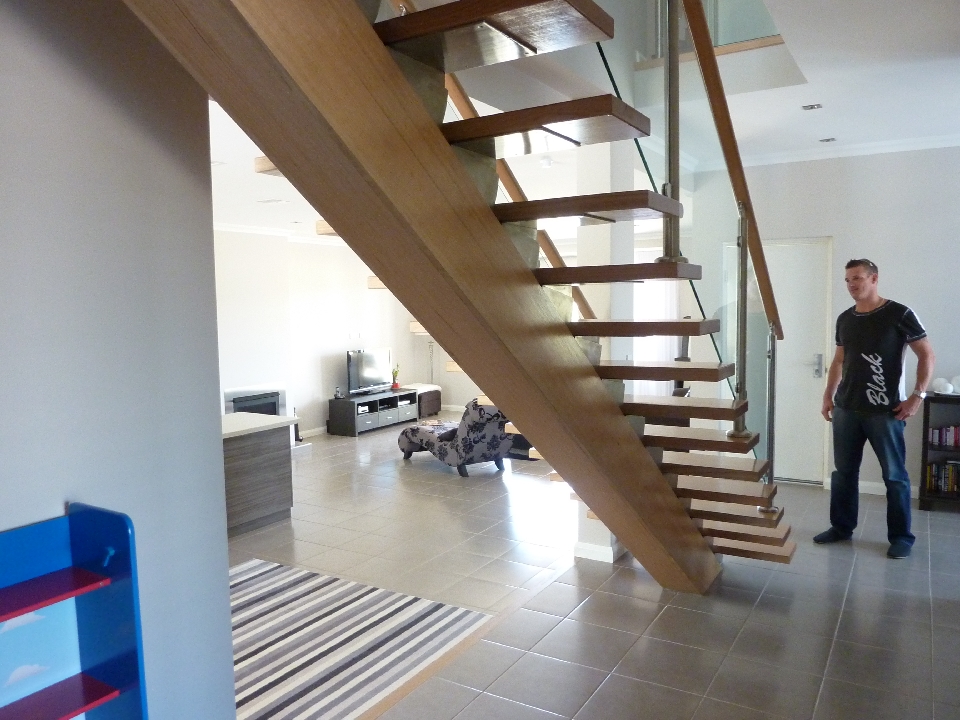 A cheaper option is to have the stringer and tread supports made of rectangular steel or aluminum tube sections, cast-in-shop and fitted with wooden treads as shown here below.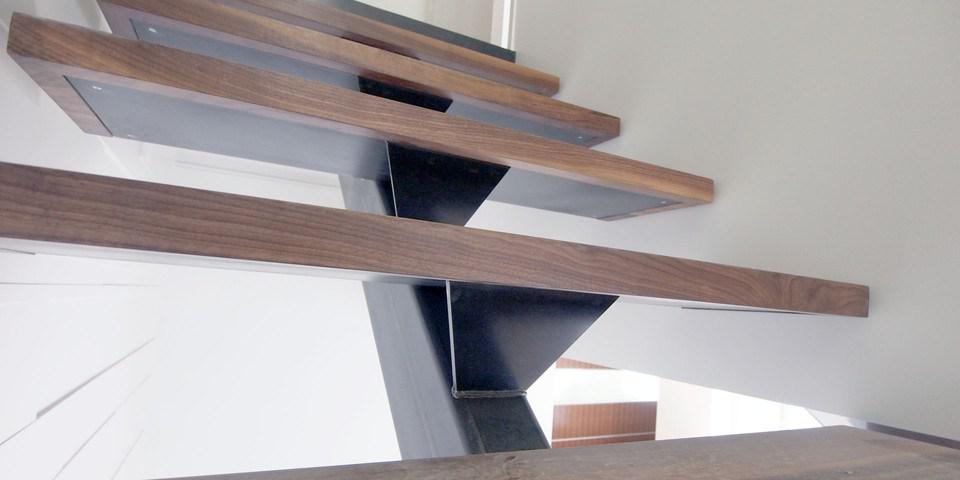 An even cheaper option is to use steel T-sections for the stringer and tread supports as seen in the picture below. Treads made of wood or glass or stone can be placed on the T-Sections.




METAL STAIRCASES:
Metal stringers are common but metal treads are not that popular due to the fact they are too smooth and get worn out over time. But  they are strong and can tolerate external atmospheric elements. Hence, roughened metal staircases like the one shown here are popular in industrial applications and as fire escape stairs outside buildings.
STONE STAIRCASES: 
Stone treads like Marble, granite and corian are the next preferred option after wood. But they should be made of thick sections otherwise they may break or sag at the ends.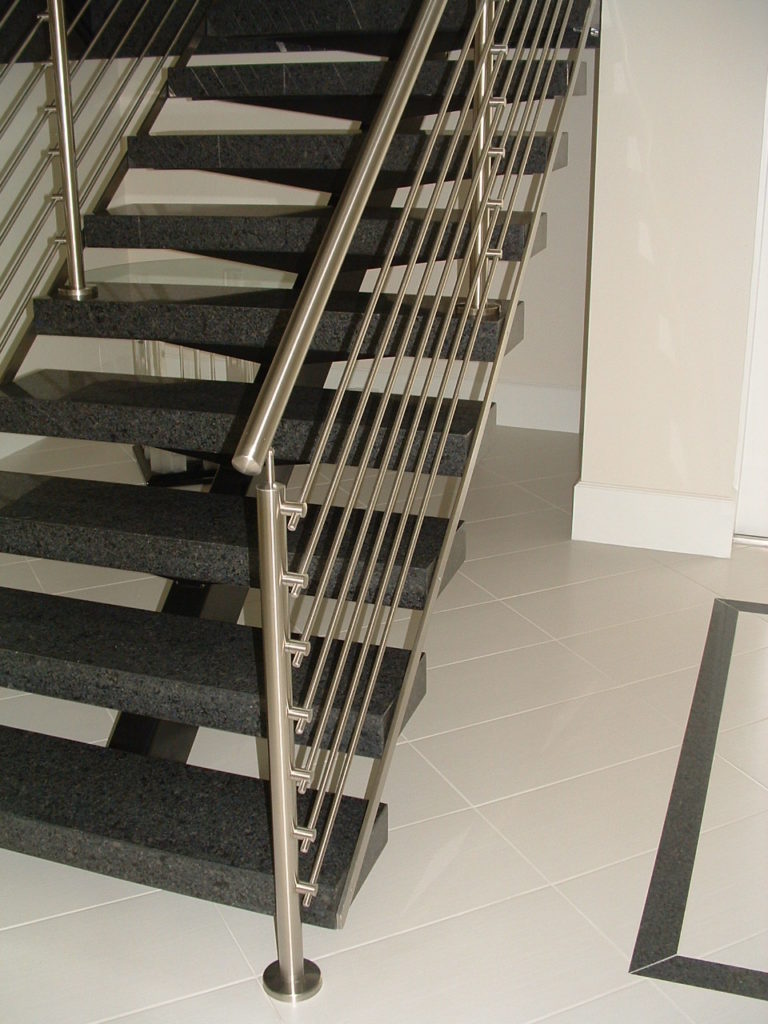 Here is an example of wooden treads supported on a central concrete stringer. Due to the heavy concrete stringer, a glass balustrade has been used to make the staircase appear light.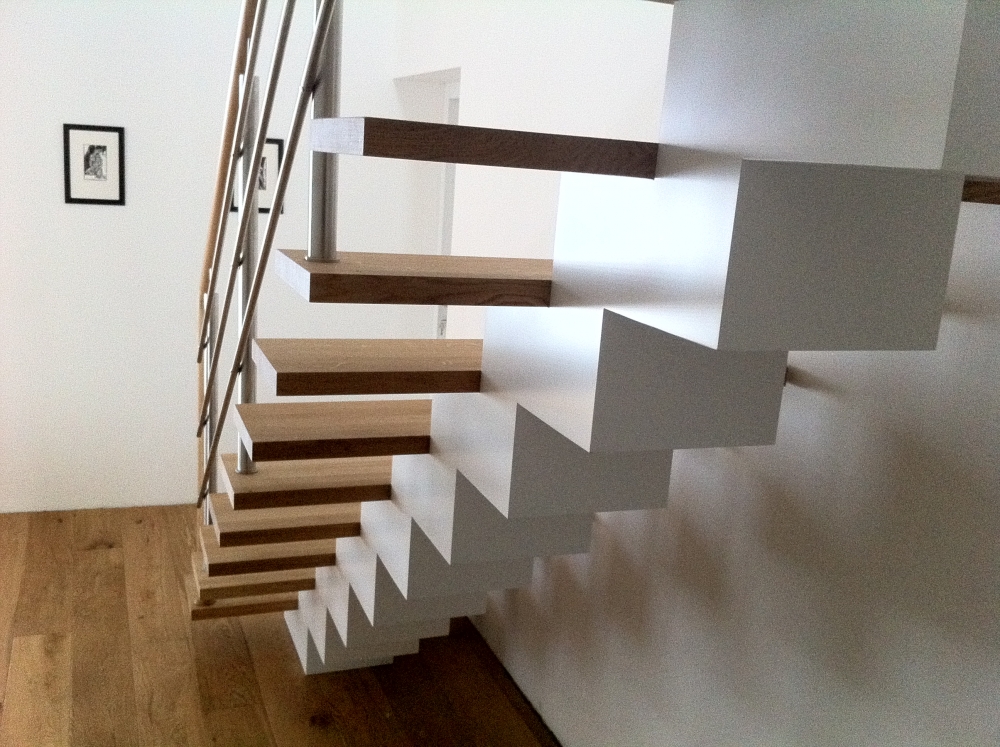 GLASS STAIRCASE:
To admit light into a space through the multiple levels, the best option is a glass staircase or a staircase with glass balustrrade like the one shown here.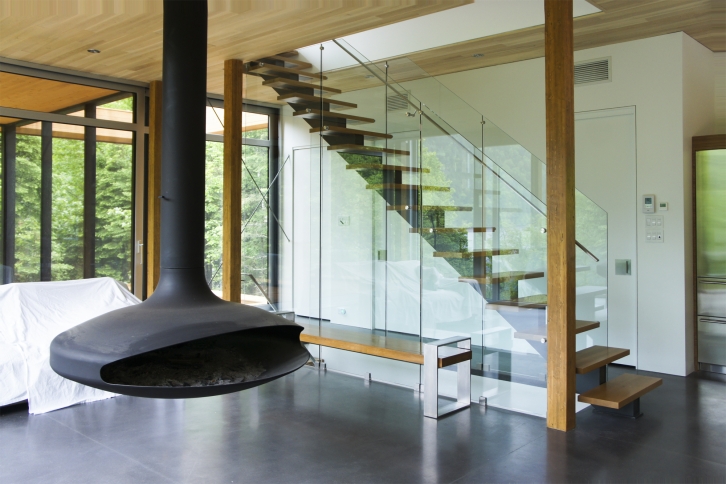 So, there are different styles possible with the Centre-stringer staircase. The same holds good for other types of stairs such as Two stringer and Cantilever stairs.



Related topics:
If you found this post useful, I would really love it if you pin it or share it. All it takes is a simple click on the "pin it" "like," "share," "tweet," or Google+ buttons below the post.
Also, unlike many other sites, I do not insist that your ad blocker be turned off to allow you into my site. This is because I know that my content will be useful to you. But putting up posts regularly takes up time and hard work and I am able to run this site only because of the ads. So I will be much obliged, if you would turn off your ad blocker. Thank you!