TYPES OF STAIRCASES | An Architect Explains
There are various different types of staircases, each with its own benefits and drawbacks. When constructing or remodelling a house requiring a staircase, it is important to consider which type of staircase will be best suited to the structure, as well as to the taste of the owner. 
When it comes to choosing a staircase design for a home, we need to look at the form of the space where the staircase will be, how often it will be used, and whether it is free-standing or supporting. There are different types of staircases which are best suited for different spaces.  As an Architect, I have described different types of staircases from which you can choose. They have been categorised under the following headings:
Types of staircases based on stringers
Types of staircases based on shape

 



TYPES OF STAIRCASES BASED ON STRINGERS:
The steps in stairs are supported by inclined beams called "stringers", which are strung between two floors slabs. There are typically two stringers, one on either side of the staircase, though single stringers at one end and in the centre are also possible. Based on the number of stringers and manner in which they support the steps, there are three broad types of stairs. They have been described here: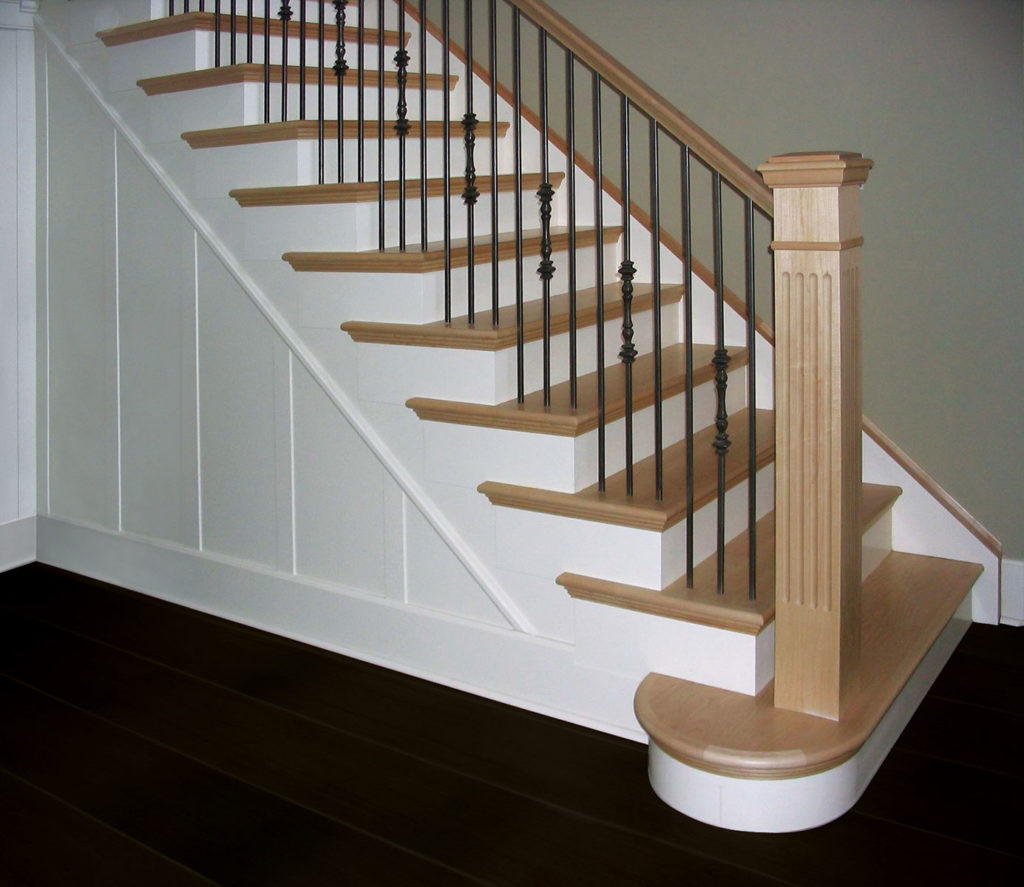 Stair Designs | Two Stringer: Two Stringers on both sides of the complete length of stairs.  The stringers are supported between the floor slabs or are embedded in the walls. Accordingly, the staircase may be attached to a wall or is free-standing to allow one to walk below it.
Stair Designs | Cantilever: Wall or stringer on only one side of the staircase, from which the steps are cantilevered.
Stair Designs | Centre Stringer: No wall or stringer on the right or left side of the staircase; steps are supported by a centre stringer.

 



TYPES OF STAIRCASES BASED ON SHAPE:
Based on the shape of the staircase, there are roughly six types. When choosing the shape of the staircase, the following aspects should be taken into account: space available, intensity of usage, form (shape) preferred,  convenience and safety. Here is a brief description of the different types of staircases and their shapes seen in plan.
Straight Stairs:  A straight staircase can be defined as one having a single, straight flight of stairs that connects two levels or floors in a building.
Stairs With Landings: There are many different types of staircases with landing. Some popular types are the Straight staircase with landing, L-shaped, double L-shaped and U-shaped staircases.
Arched (curved) Stairs:  Arched Stairs are the stairs with a flight resembling an arch in its shape. The treads in such stairs are wedge-shaped.  Though they are difficult to  make, they are elegant and graceful in appearance.
Spiral Stairs: Stairs of this type have a stair flight resembling a circle or a part of it in its shape and a central, vertical, support post to which wedge shaped treads are fixed. Due to the spiral shape, such staircases can fit into small spaces.
Circular Stairs:  A circular staircase also has a circular flight and can fit into a small space. But unlike the Spiral staircase, there is no support pole in the middle.
Elliptical Stairs: This is a type of curved staircase that narrows at the top and bottom with a wider curve in the middle. This type of staircase is more convenient than a circular staircase, because it is elongated and you will not feel dizzy when climbing  many floors.
Compact Stairs: These are stairs that occupy minimum space. Quite often they are called "goose-step" or "sambo" stairs because of the distinctive shape of their treads.
Related topics:
If you found this post useful, I would really love it if you pin it or share it. All it takes is a simple click on the "pin it" "like," "share," "tweet," or Google+ buttons below the post.
Also, unlike many other sites, I do not insist that your ad blocker be turned off to allow you into my site. This is because I know that my content will be useful to you. But putting up posts regularly takes up time and hard work and I am able to run this site only because of the ads. So I will be much obliged, if you would turn off your ad blocker. Thank you!