DESIGNING A STAIRCASE | An Architect Explains
Historically, homeowners used to spend a fortune on their kitchens and bathrooms, rooms that were often out of view and only had a lifespan of around ten years. But now, the design of Staircases is gaining importance as they are very visible and can become the focal point in interiors.

Not only the aesthetics, but the comfort and safety in climbing a staircase is an importance consideration while designing a staircase. High steps make climbing hard whereas shallow steps are uncomfortable and dangerous. Since there's so little room for error, building stairs requires careful layout and some potentially tricky calculations. There are some useful points that should always be remembered while designing a staircase. As an Architect, I have explained the steps to be taken in designing and planning a staircase under the following headings:
Why are staircases gaining importance in contemporary interiors?
When should a staircase be changed?
What are the factors to be considered to design a comfortable staircase?
What elements are needed to make a staircase attractive?

WHY ARE STAIRCASES GAINING IMPORTANCE IN CONTEMPORARY INTERIORS?
Earlier, a Staircase used to be a simple, utility thing standing against a wall. Today, it can be a central design feature of a home. Curved, cantilevered, spiral or suspended, in steel, glass, timber, copper or aluminium – infinite possibilities have been opened up by clever design and engineering. Architects are seeing the potential to add that 'wow factor' to a house using Staircases.

A well-integrated staircase should take trends into consideration. The trend for light and spacious open-plan interiors has made glass an important material. The light, ethereal property of glass allows designers to create staircases which appear to float and create an 'airy' feel.
WHEN SHOULD A STAIRCASE BE CHANGED?
Changing a staircase should be done only if it blocks out light, is not well integrated into the house or is in a rickety condition. Each staircase has to be planned individually, as aesthetic and structural implications need careful consideration. A sleek, stainless steel staircase works well in buildings with a high-tech, contemporary style whereas a very grand home with an impressive entrance hall requires something more majestic.
WHAT ARE THE FACTORS TO BE CONSIDERED TO DESIGN A COMFORTABLE STAIRCASE?
RUN-TO-RISE RATIO:  The run-to-rise ratio is important. The horizontal distance from the front to back of the tread is called the run, and the vertical distance is the rise. The rise and run can vary from staircase to staircase. Rise-to-run ratio: Ideally, the total of the rise and run should add up to 17 inches. This means that as the run gets shorter, the rise should get steeper for the stair to feel comfortable as you walk. There are limits, of course. A rise of more than 8¼ inches is going to be too steep for many people.
CONSISTENCY:  If you stumble or trip on a staircase, it is probably due to an odd tread or riser that is not the same size as the others. Our bodies get into a rhythm when climbing or descending, and even half an inch of difference can throw us off. So while planning a staircase, keep in mind the extra thickness of the flooring (that will be added later), while calculating the riser and tread dimensions.
OVERHANG:  Another thing that makes a stair comfortable to use is a tread overhang. Although some modern staircases omit this detail, an overhang will keep heels from scuffing risers on the way down and help you find your footing on the way up.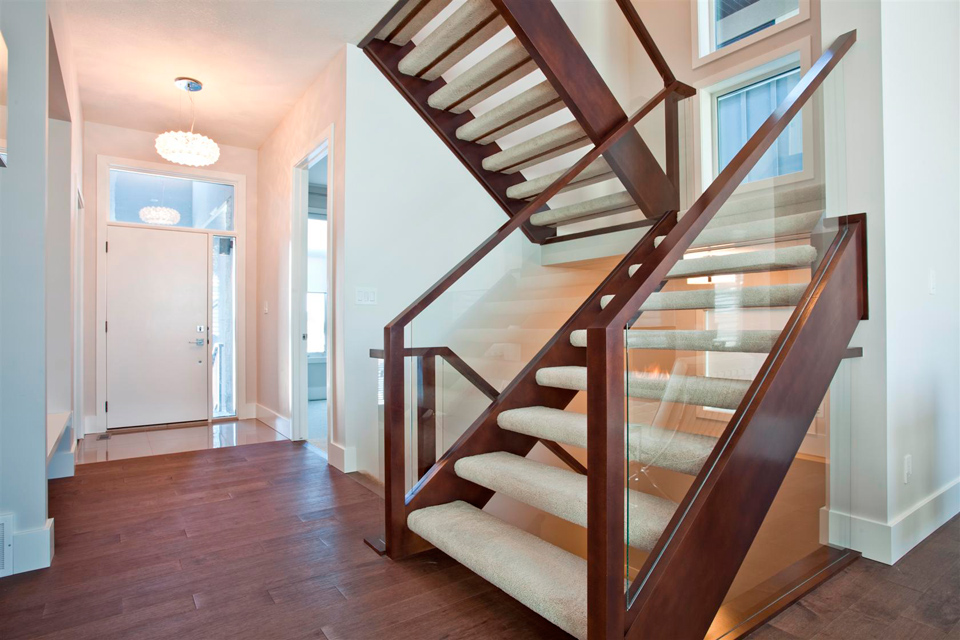 SPACE BETWEEN TREADS:  Sometimes, the riser is omitted entirely – it's just empty space instead of a board. In such a stair, the stringer – supporting structure of the stair is visible. For safety, a stair that doesn't have a riser should have a thicker tread and lesser space between treads, like the one shown above. Most codes require the opening between treads to be 4 inches or less because a child could crawl through a larger space.
CEILING HEIGHT:  The distance from the highest tread below a ceiling should be at least 80 inches, or 6 feet 8 inches. On the way up, people will bump their heads if the ceiling is too low. On the way down, it's hard to judge ceiling height, so people will duck if it looks too close. To prevent this, as much ceiling height as possible should be given.


RUNNER:  A runner along the length of the stairs as seen in the image below, protects the stairs and makes them less slippery, reducing falls.
WHAT ELEMENTS ARE NEEDED TO MAKE A STAIRCASE ATTRACTIVE?
A well-designed stair can be one of the most stunning objects in your house.  A few elements can be added to make a Staircase beautiful and the focal point of your house.

BALUSTERS: Balusters are the jewelry of a staircase. But a fancy turned baluster can cost a lot and you will need quite a number of them. To save on cost, consider using salvaged balusters or simple ones.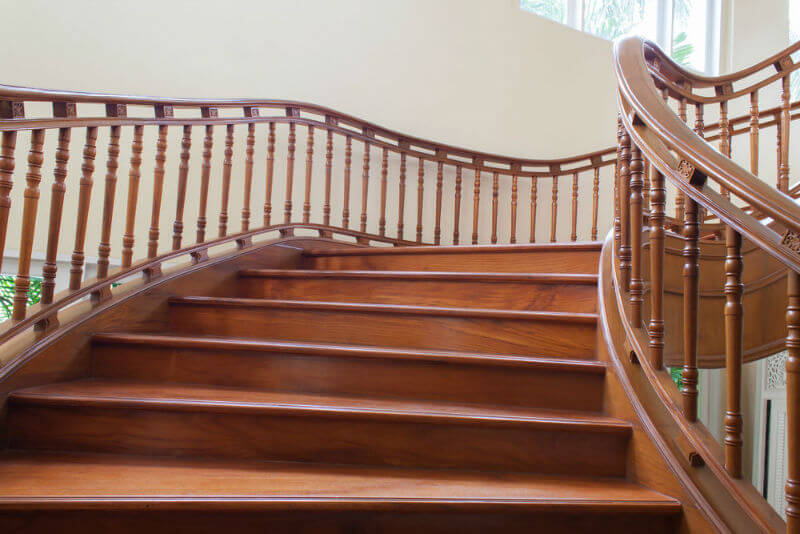 TREAD BRACKETS: In the image above, below the tread on the side of the stringer are carved tread brackets. Though they look like they're holding up the treads, they are just applied moldings. These add some flair to the staircase.
WAINSCOTING:  The wainscoting on the walls mimics the angle of the railing and line of the stairs. Wainscoting is a good way to protect the walls because stairs get so much traffic, .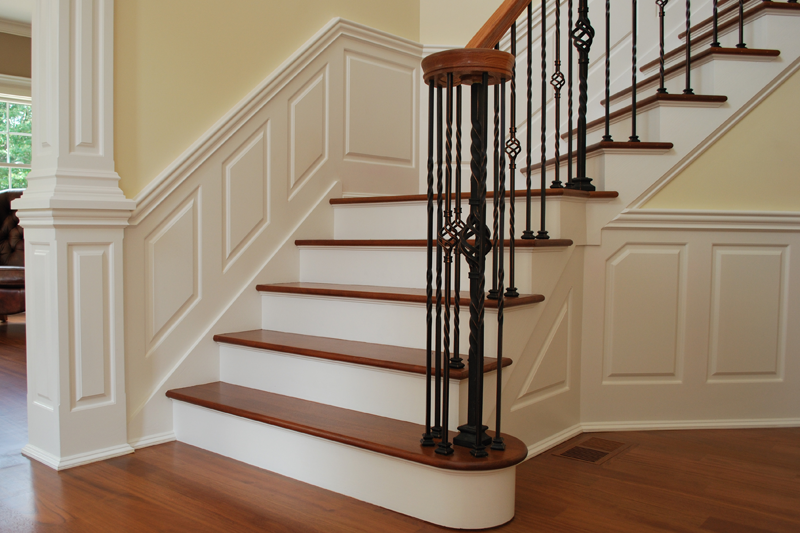 NEWEL POSTS:  A newel post anchors the railing. If the railing is fastened to only a wall at one end of the span, there is the possibility of wobble. Some stair railings go up several floors in a continuous loop before they reach a wall. A firmly anchored newel post is critical to making sure your railing is secure. 
BOX NEWEL:  Instead of a newel post, a box newel can be made out of stock boards and applied moldings like the ones pictured above. This type of post is easier to anchor, because of the interior framing.
LIGHTING: Good lighting is necessary for safety and good ambiance. Lighting focused on the treads with the help of recessed step lights along the wall, illuminates the stairs safely without over-lighting the rest of the space.
Related topics:
If you found this post useful, I would really love it if you pin it or share it. All it takes is a simple click on the "pin it" "like," "share," "tweet," or Google+ buttons below the post.
Also, unlike many other sites, I do not insist that your ad blocker be turned off to allow you into my site. This is because I know that my content will be useful to you. But putting up posts regularly takes up time and hard work and I am able to run this site only because of the ads. So I will be much obliged, if you would turn off your ad blocker. Thank you!