Prestige Gulmohar, Horamavu, Bangalore | An Architect Reviews
Prestige Gulmohar, is a newly launched, high-rise apartment complex with 5 towers spread over 3.20 acres, located in Horamavu, Bangalore. It will have 404 apartments of configurations 2, 2.5 and 3 bedroom units. Possession is expected in 2018. Other residential complexes by reputed builders in Horamavu include Brigade Altamont, Chitrakut Amber, Kolte Patil Mirabilis.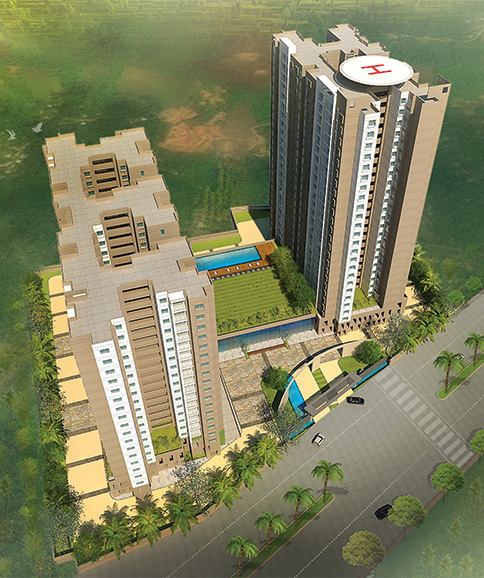 PROMOTER OF PRESTIGE GULMOHAR, HORAMAVU:
Prestige Gulmohar is promoted by one of the leading builders in Bangalore, the Prestige Group Builders. Since its formation in 1986, Prestige Estates Projects has grown swiftly to become one of South India's leading Property Developers. Prestige Builders  Group has  182 completed projects to it's credit.  It also has several on-going projects and to-be-launched projects which include Apartment Enclaves, Shopping Malls and Corporate Structures in Bangalore, Goa, Hyderabad, Mangalore, Cochin and Chennai.
ABOUT PRESTIGE GULMOHAR, HORAMAVU, BANGALORE:
Prestige Gulmohar will have 5 towers out of which 2 towers will have G + 18 floors at a height of 59.3m and 3 towers will have G+26 floors at a height of 83.7 m. The built-up areas of these apartments range between 1,169 sq.ft. to 1,763 sq. ft., depending upon sizes and layouts. The prices range from 55 lakhs to 83 lakhs.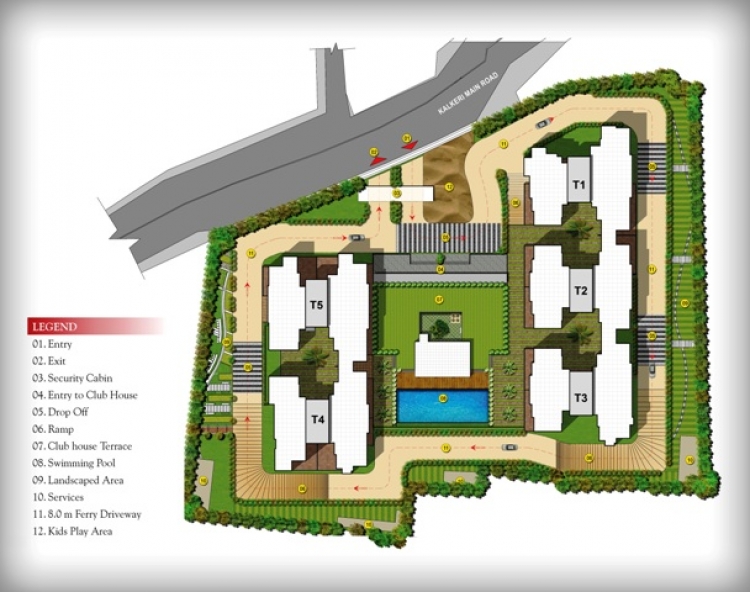 AMENITIES OF PRESTIGE GULMOHAR, HORAMAVU:
According to the plans, Prestige Gulmohar will be equipped with amenities such as: Badminton Court, Billiards, Party hall on the lower basement level of the Clubhouse, Steam and sauna, indoor games room, and gymnasium on the upper basement level of the clubhouse and a terrace garden, Splash Pools, Swimming Pool on the ground floor level of the clubhouse. Kids play area, 24×7 Security, Intercom Facility.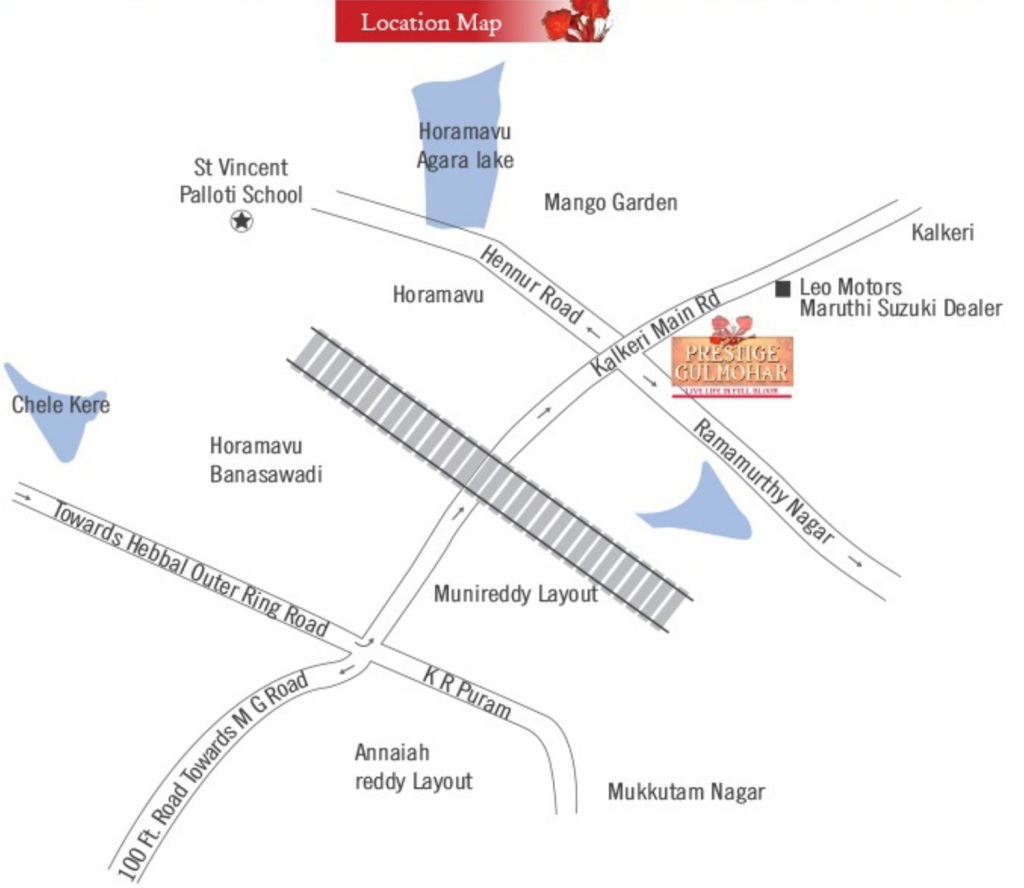 LOCATION OF PRESTIGE GULMOHAR, HORAMAVU, BANGALORE:
Prestige Gulmohar is located in East Bangalore in Horamavu and comes under ward no.25 of B. B. M. P. It is situated on Kalkere Main Road which connects to the Outer ring road and Old Madras road on the other side.
Advantage: The USP of this project is it's location. It is close to the Outer ring road (only 1.5km),  and only 8 km away from MG Road, City Centre and Commercial Street. The International airport is located at a distance of about 35 kilometers from project site. Three major metro stations located close to Horamavu are K.R Puram, Banaswadi and Bangalore East. Its closeness to the IT hubs of Bangalore at Whitefield (6 km), ITPL and Nagavara, which are hardly 7-10 kilometers away, will attract IT professionals.
Disadvantage: As an architect, my major concern with Prestige Gulmohar is that it is just 500 meters from the railway track and you might get caught in the traffic jam at the crossing often. Also, the sound and vibrations of passing trains will be heard from the apartment and it can be quite unsettling. Read more about it in my post on Vastu location of site.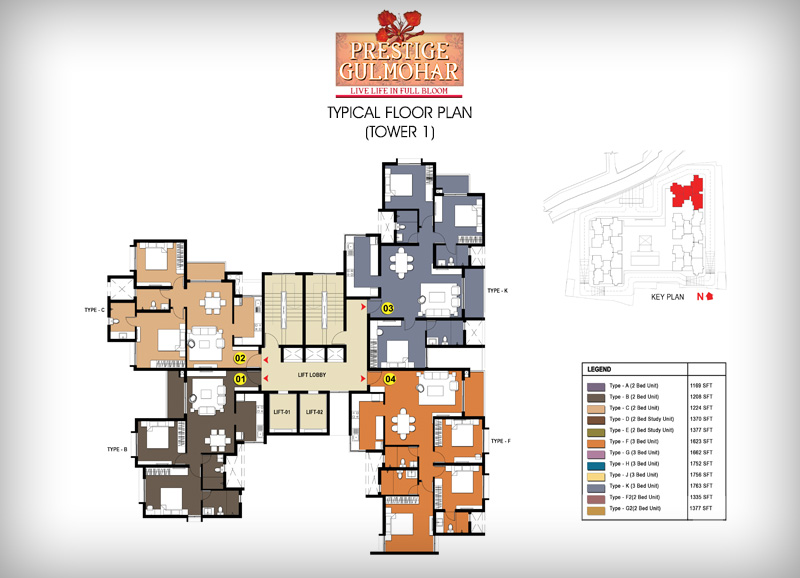 ARCHITECT'S REVIEW OF PRESTIGE GULMOHAR, HORAMAVU, BANGALORE:
Since I am an Architect based in Bangalore, I am able to review some of the projects and builders in Bangalore with confidence. These reviews will hopefully help you in making the right decision when planning to buy a flat. My reviews are unbiased and solely based on the merits and demerits of the design of the buildings.
POSITIVES OF PRESTIGE GULMOHAR, HORAMAVU:
Most of the flats have a small foyer into which the entrance door opens. This is an important feature in any apartment as it is a pause space before you enter, a place to keep footwear. Also, there is no direct view into the apartment from the lift lobby.

In the plans shown below of a 2-bedroom, 2 bed study and a 3-bedroom flat, the Master bedrooms are reasonably big. 

The bedrooms, kitchens and toilets are small but of comfortable proportions.

The bedroom and toilet doors, all open from a lobby and not directly from the living/dining areas. So privacy is maintained.

The Master Bedroom furniture arrangement is compact and allows easy circulation space. There are 2 windows to allow for cross ventilation.


In one of the toilets, the bathroom fittings arrangement is such, that the ventilator is in the bathing area. This is very essential for proper ventilation and quick drying of the bathing area.

The ramp that goes down to the basements has a comfortable slope and the traffic is one way.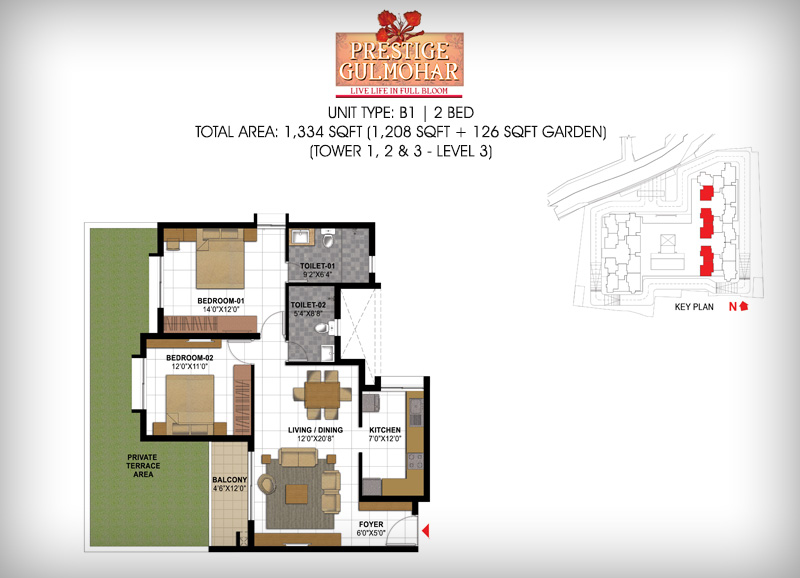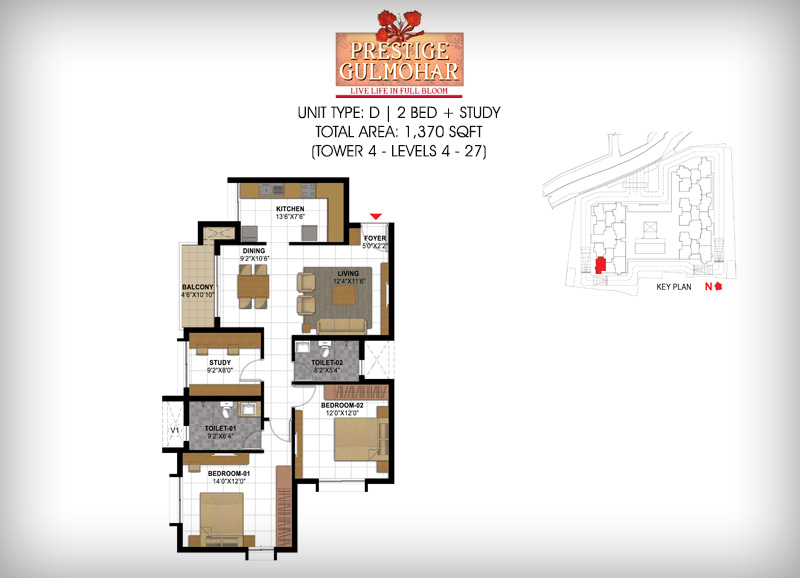 NEGATIVES OF PRESTIGE GULMOHAR, HORAMAVU:

Though this is a highrise project, there is very little green space. Most of the open space is taken up for the ramp that goes down to the 2 basements.

Additionally, the project has low UDS (Undivided Share), as it has 404 high rise residential units cramped into just 3.20 acres of land.


I cannot see how the car parking for 400 apartments  can be accommodated in the two basements. I may be missing something.

In the 2-bedroom and 2 bed study plans the Living/dining room is quite cramped and short, at 20′ or 21′. If one takes into account

allwances for seating, circulation space and movement

into the other rooms and the balcony,

the Living/dining size

should have been at least  25′ long. This could have been achieved if the lobby space leading to the bedrooms was pushed back by 3′ and by re-arranging the position of the toilet doors. This way the built up area of the flat is retained, but the spaces are utilized better.

In most of the floor plans, the dining area gets only indirect light, through the living room.

An unnecessarily long dark corridor of between 8′ to 10′ leading to the bedrooms is seen in the 2 bed study and 3 bed flats.

There is no wall in the living area of the 2 bed flat, against which the seating can be arranged because of the balcony window in one wall and the passage from the foyer to the rest of the house on the other side.

The kitchens do not have adjoining utility space and are quite small in the 2 bed and 2 bed study.

Once again, I can't resist complaining about the fact that nowhere on the promoter's site could I find the Architect of this project. Definitely an

Architect adds value to a project

and he deserves to be mentioned. But sadly most builders ignore this fact and only take care to mention the Architect, if he is an international one.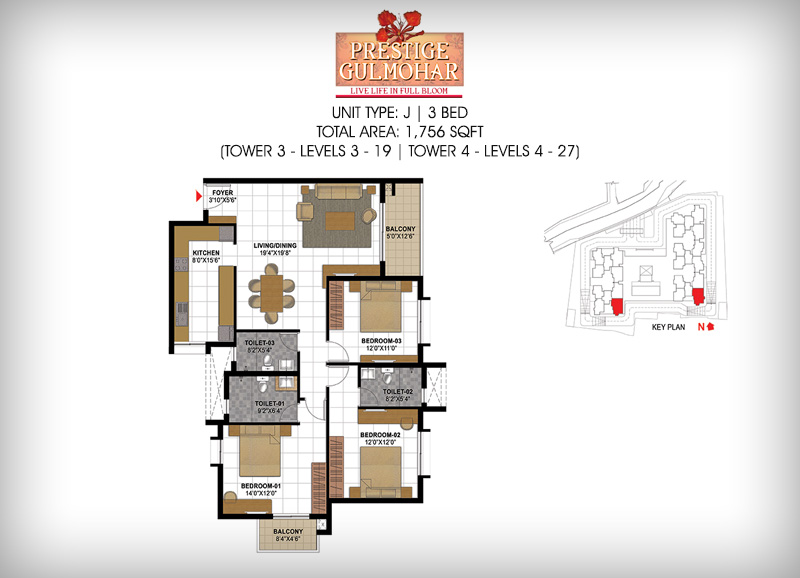 PRICE OF PRESTIGE GULMOHAR, HORAMAVU:
While the ongoing property rates on Horamavu Main Road (towards the ORR and before the railway crossing) ranges between Rs. 3,500-4,000 per sq.ft., Prestige Gulmohar has pre-launched its unit at Rs 5,000 per sq.ft. Comparable projects in the same area but at cheaper rates have been reviewed here:
For more information on other buildings/projects designed/executed completed in Bangalore, go to:
If you found this post useful, I would really love it if you pin it or share it. I have not blocked the site just because your ad blocker is switched on because I hope my content will be useful to you. But I am able to run this site only because of the ads. So I will be obliged if you turn off your ad blocker. Thank you!