VITRIFIED vs NATURAL STONE FLOORING | An Architect Explains
Vitrified Tiles being a manufactured product, their quality is controlled whereas in naturally occurring stones, good quality is just a coincidence. So, vitrified tiles have a slight edge over Natural Stones like marble/granite/kota/slate etc. I have given a point-by-point analysis of vitrified tiles vs natural stone flooring.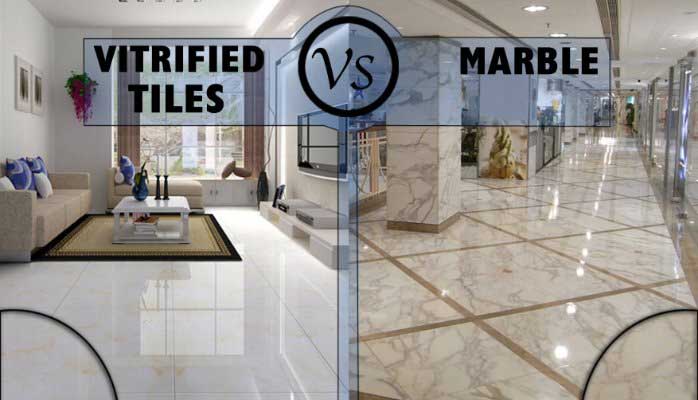 COST:
Vitrified Tiles: are more affordable when compared to marble/granite. The cost of installation of Vitrified tiles is also much less.
Natural stones: The cost of marble/granite, being a naturally occurring material is much more than tiles. Depending upon the grade, rarity of color etc, the cost variation of marble/granite is much higher. Moreover, the installation cost of marble/granite is higher than vitrified tiles.
Advantage: Vitrified Tiles
STAIN/SCRATCH RESISTANCE:
Vitrified Tiles: are stain resistant as they have a glass like surface. Vitrified tiles are also scratch resistant.
Natural stones: Marble reacts with even dilute acids (vinegar, citrus etc). Granite takes less scratches but marble scratches easily.
Advantage: Vitrified Tiles
POROSITY:
Vitrified Tiles: are non-porous in nature owing to the vitrification process they go through. Hence they absorb little to no water.
Natural stones: Marble/granite is a dense natural stone with slightly porous properties. Different grades of marble will absorb water differently even though the absorption is only minimal.
Advantage: Vitrified Tiles
MAINTENANCE:
Vitrified Tiles: are easy to clean and maintain. Any tile cleaner and water is sufficient.
Natural stones: Marble can be cleaned with water and mild detergents. But for long term maintenance,  Marble/granite requires more care compared to vitrified tiles. It also need to be re-polished when it becomes dull.
Advantage: Vitrified Tiles

SLIPPAGE:
Vitrified Tiles: are available with anti-slip or slip-resistant finishes and can be used anywhere in the house, including bathrooms and kitchens.
Natural stones: On the other hand, polished marble/granite floors are slippery especially when wet. So they cannot be used in some areas like bathrooms, kitchens, outdoors. If  they are less polished, the slippage reduces but the real beauty of marble/granite is visible only when it is highly polished.
Advantage: Vitrified Tiles
INSTALLATION TIME:
Vitrified Tiles: are available in stores in a ready-to-ship condition and usually, it will not take more than 1.5 working days to lay tile flooring in a standard-size room.
Natural stones: Marble/granite is usually not available in a ready-to-ship condition. After placing an order, the marble/granite is cut to your requirements. Then,  the laying of marble/granite flooring and polishing and finishing take a lot of time. So it is a very time-consuming process.
Advantage: Vitrified Tiles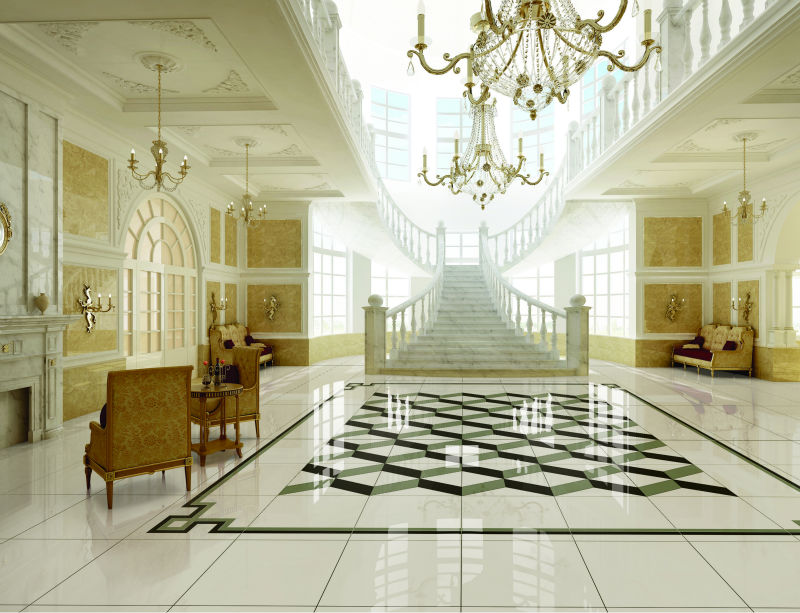 DESIGN CHOICES:
Vitrified Tiles: Being man-made, vitrified tiles come in a large variety of designs, colours, prints and textures. They can even mimic marble quite well. Technology enables customization options in the design of vitrified tiles and so there are much more options for designers. They are more 'dynamic' and 'trendy'.
Natural stones: While marble/granite has a personality of it's own with its distinct natural texture for every piece, marble/granite designs and colors may appear limited when compared to Vitrified tiles. It gives a more 'classic' look to a space.
Advantage: Vitrified Tiles
APPEARANCE:
Vitrified Tiles: Vitrified Tiles are man-made and lack the natural sheen and lustre found in natural stones. Also, since the tiles are individually made, the edges may be slightly warped, and so grout lines between the tiles are wider and visible.
Natural stones: Marble/granite looks natural, more luxurious and opulent.  In addition, the grout lines between marble/granite slabs are barely visible unlike in vitrified tiles. For this reason enthusiasts often pick the marble/granite.
Advantage: Natural stones

DURABILITY:
Vitrified Tiles: Due to a detailed vitrification process vitrified tiles can withstand harsh conditions and can easily last for 10-15 years if maintained well. However, these tiles are prone to breakage if mishandled and cannot be renovated or renewed.
Natural stones: Granite is very strong and durable. The strength of marble can vary but generally it does not break easily. When used with adequate care, granite/marble flooring remains intact for around 25 years. Re-polishing can bring back the shine into old marble/granite flooring.
Advantage: Natural Stones

CONCLUSION
While choosing between marble/granite and vitrified tiles let your budget, design requirement, space location and utility be your judgment criteria. While the former offers durability at a higher price, the other offers a myriad of design options at a lower price. Flooring is the decor element that cannot be changed very often. Hence, choose wisely!
For information on other flooring options, go to:

READ MORE:
In order to get a rough idea of the suitability of a particular flooring for your requirement and to make a fair comparison of the different types of flooring, refer to an Architect's rating of the various kinds of flooring on my blog: House construction in India
If you found this post useful, all it takes is a simple click on the "pin it" "like," "share," "tweet," or Google+ buttons below the post.