FOYER IDEAS | An Architect Suggests
A Foyer is a space that connects the entrance door to various other rooms. Therefore a foyer is synonymous with the terms 'entrance hall', 'hallway', 'entryway' and even 'vestibule'. A foyer is where you welcome your guests when they enter your home, whether it's a house or an apartment. So, in a way, a person makes his first impressions in the foyer. Hence it is important to make sure the furniture, paint color and decorative items that you choose, send the right message.
So, how must you decorate this space? As an Architect, I shall list some ways to create a good impression. First of all,  you need to decide all the things you need in a foyer. They may include storage space for shoes, coats, bags, keys etc., a mirror, a seat for wearing shoes, artifacts. Once you have finalised your requirements,  then you need to find ways to accommodate all those things without wasting floor space, arrangement of the furniture, the colour scheme etc. Described here with pictures, are some examples of foyers to give you some ideas.
STORAGE UNITS THAT HAVE MULTI-USES ARE IDEAL IN FOYERS:
It is always useful to have a storage unit that has multi-uses like the one shown below. This unit has a shelf for books, drawers for keys and a seat. yet it takes up so little space. You could also have a closed one for keeping footwear.
The antique trunk in the image below provides convenient and much needed storage, while adding to the rustic atmosphere of the home.
CONSOLES IN FOYERS ADD STYLE:
Instead of a storage unit, you can have a console table as it sets the tone for your home and adds style. It can be placed in a corner or against a wall. In addition it is very functional – It can add light, provide storage, and ensure you'll always know where your keys are. Decorate the table with a vase, a lamp or with candles and other accent pieces you find attractive and suitable for this space. You can also have stools, pouffes, ottomans under the console.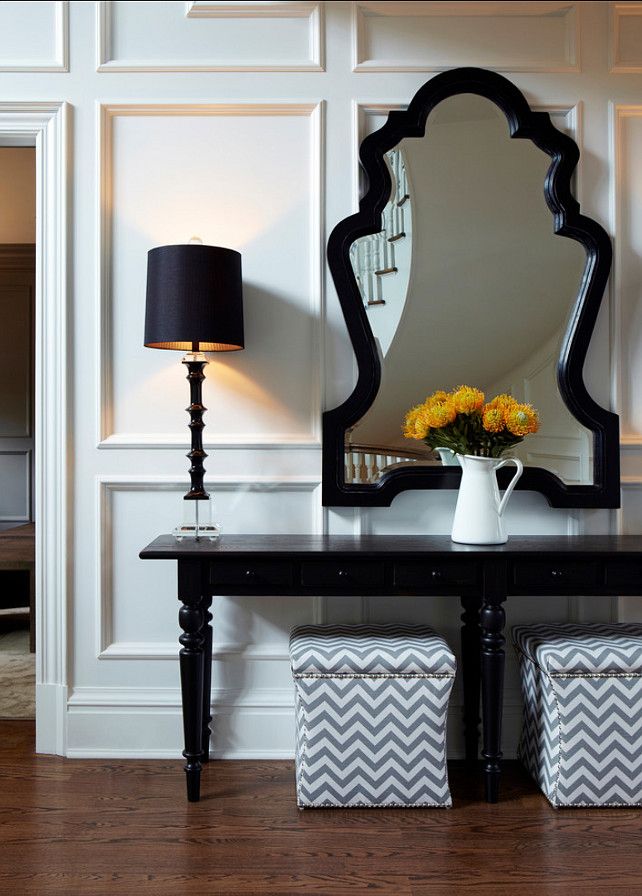 Instead of the regular console, you can also go for a minimalist super-slim one like the one in the image below. This type is suitable in small, narrow and modern foyers.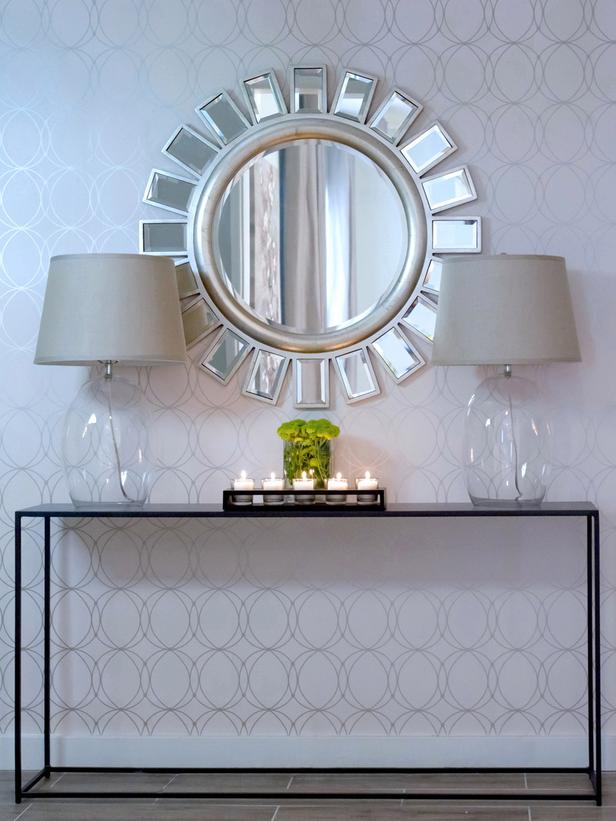 SYMMETRY ADDS BALANCE TO THE FOYER:
Whatever the unit that you have in a foyer, have symmetry in your arrangement. Symmetry always adds balance to a space. So if you decide to have a lamp or a seat, go for two on either side. Any extra chairs in the house can be placed here for use when required and meanwhile, they serve as a seat for putting on your shoes.


MIRRORS IN FOYERS ARE MAKE THE SPACE APPEAR BIGGER:
A mirrors placed in a foyer or entryway is a welcome sight for guests.  They reflect light and open up a dark entry and give a place for guests to 'check' themselves while entering your home. They also give an illusion of space and can transform a room from small to roomy.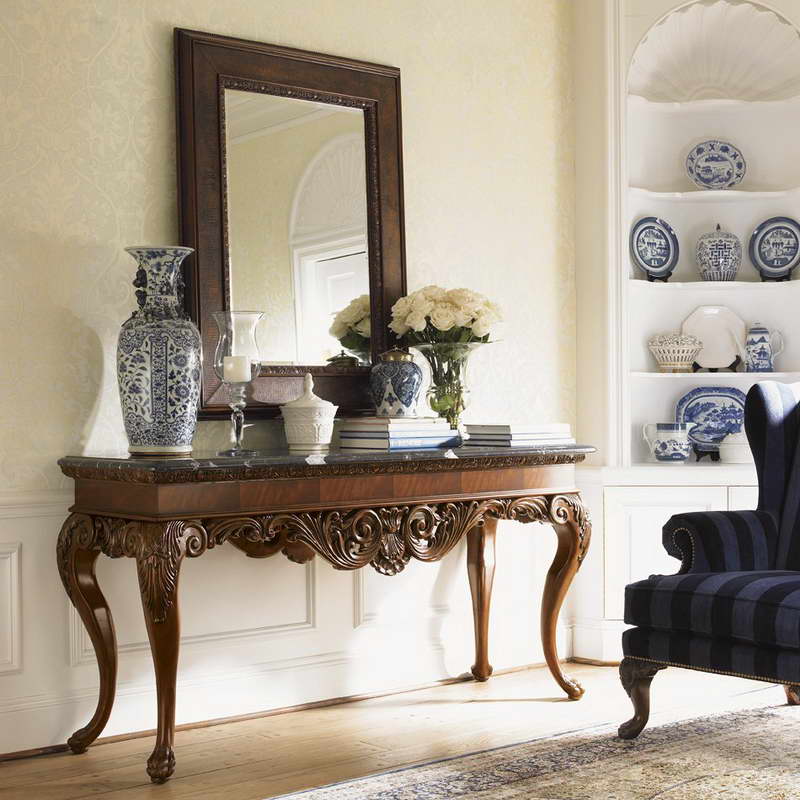 If you are constrained for space, you can have a small console and matching mirror like the one in the image below. It adds character to your foyer and lets visitors know the style that they can expect in the rest of the house.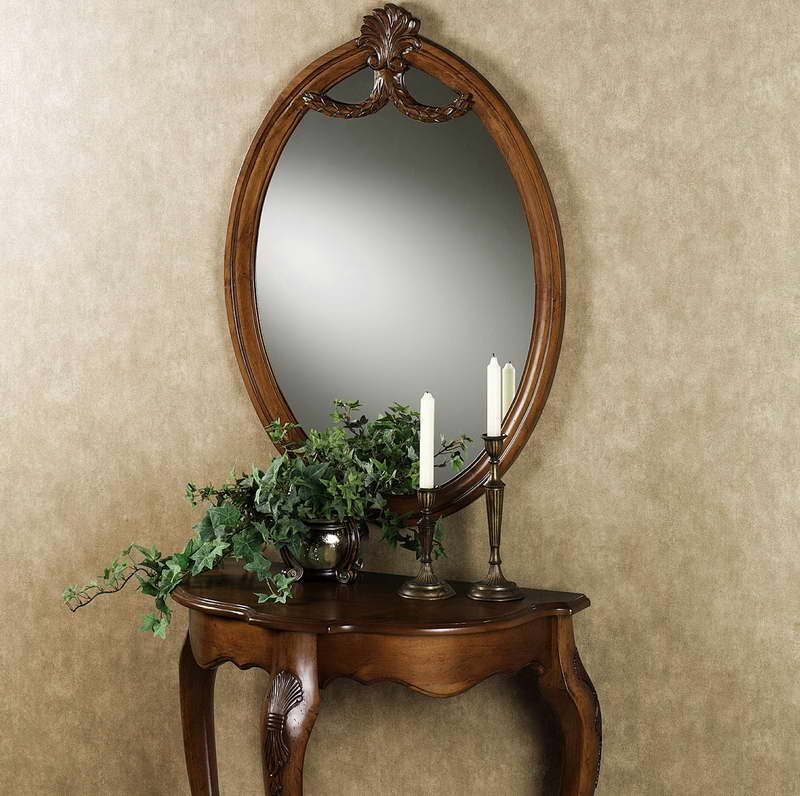 In a small and dark foyer you could do the opposite, by opting for full wall mirrors. This will double the room size and reflect in light. See the image below.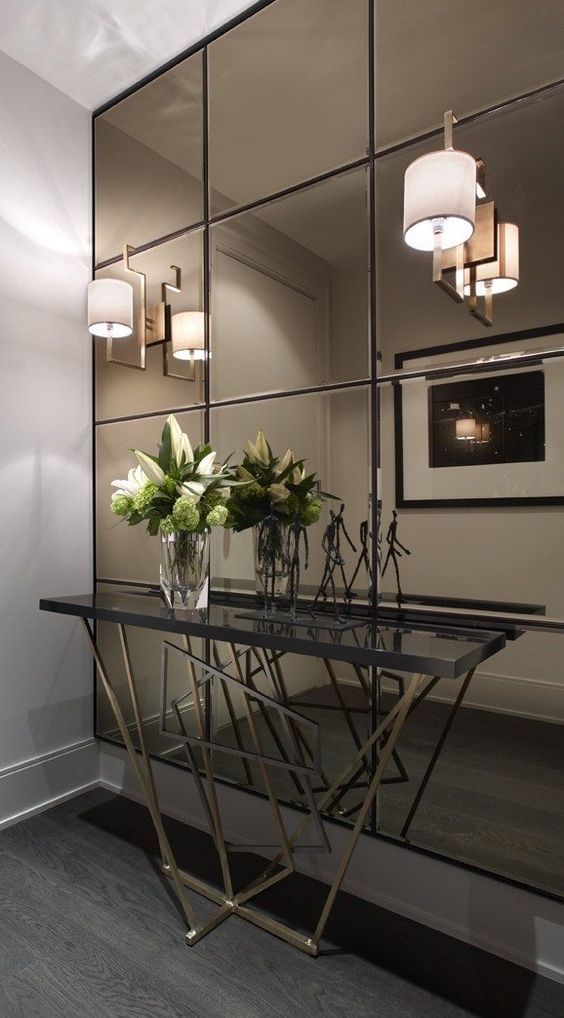 Or instead you could have a full height mirror behind the console, like the one shown here.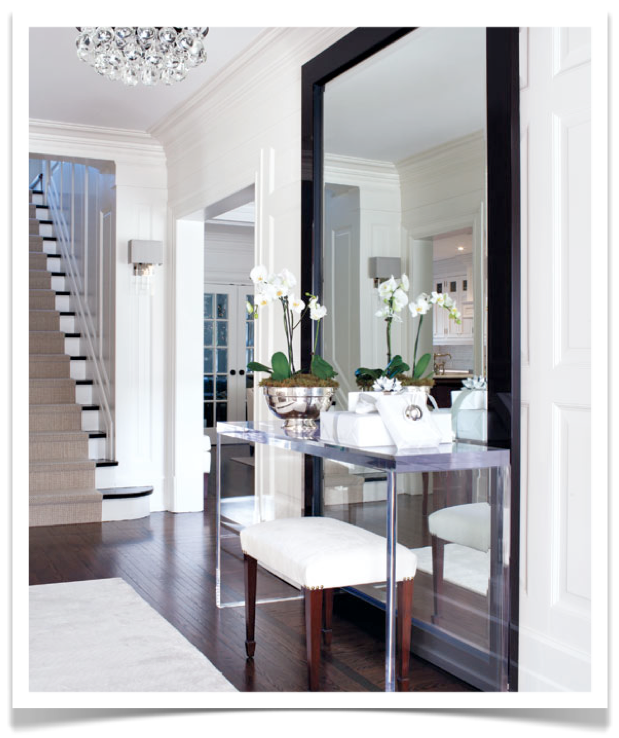 ARTWORK IN A FOYER GIVES A PEAK INTO WHAT CAN BE EXPECTED:
You can decorate the foyer with artwork or with a vintage mirror which gives a sneak peak of what lies inside.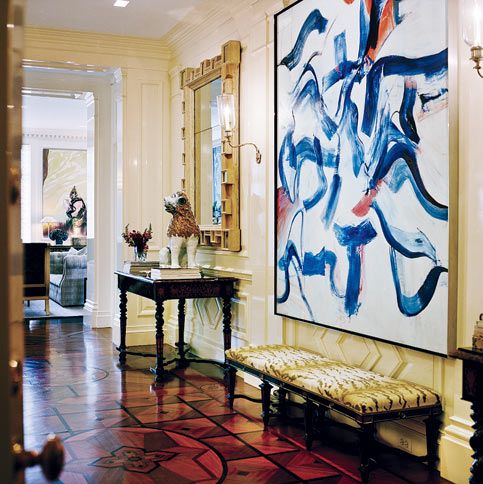 Instead of art work, a mix of family photos and drawings can fill the hallway as it reminds one of family and brings back  so many memories.
USE FLOOR RUGS IN FOYERS TO DRAW GUESTS INTO THE HOUSE:
Other things you can use to decorate a foyer include a rug or carpet, a table and decorative accessories such as vases.  When choosing a rug of carpet, consider something with a pattern. Stripes are a nice option. They're simple and they'll draw guests into the house.

In the image below, different types of vases – a rosewood vase, a bowl and an oversized green bottle vase – are used to draw attention.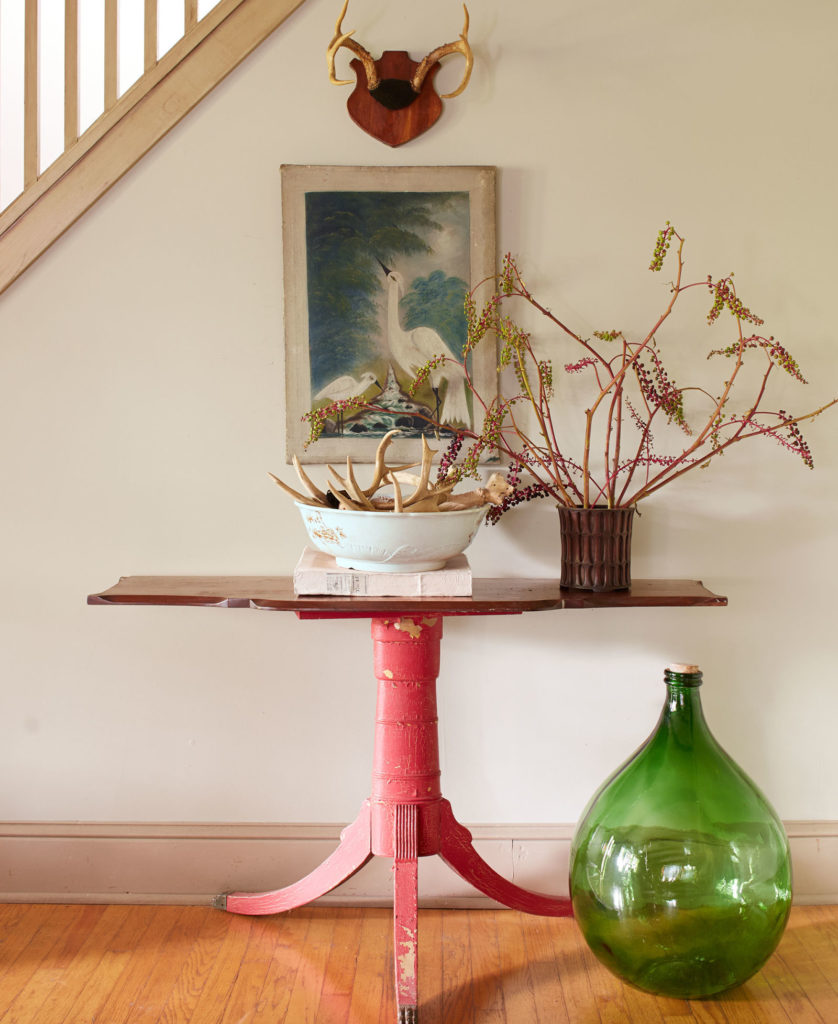 HOOKS ARE VERY USEFUL IN FOYERS FOR HANGING THINGS:
Hooks serve many purposes in foyers. They are used to hang keys, bags, hats, coats, scarves etc.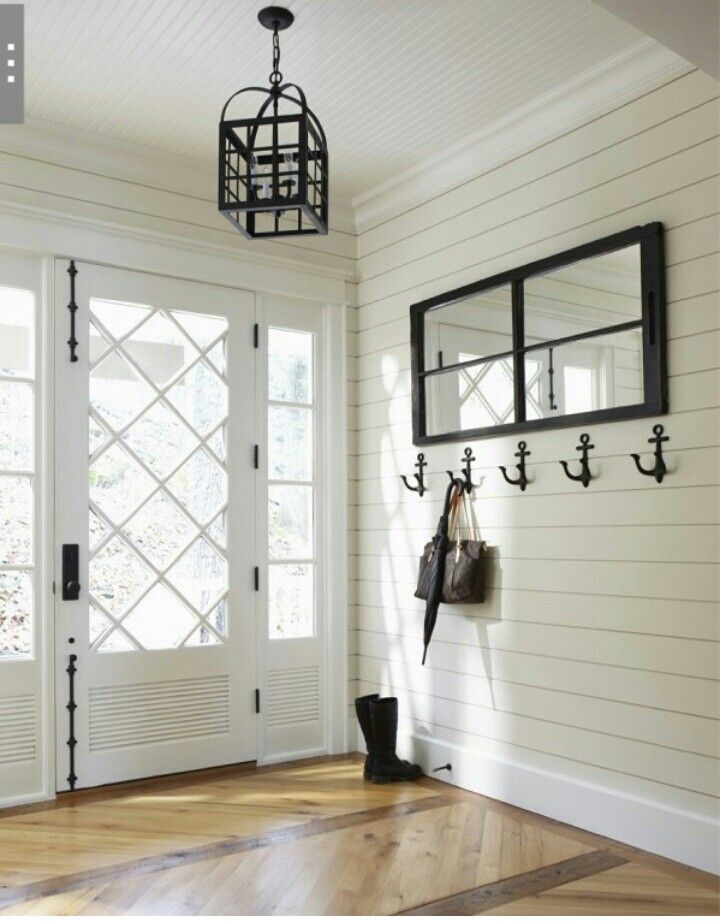 LIGHTING IN FOYERS IS IMPORTANT TO CREATE A GOOD IMPACT:
And don't forget the lighting. If the foyer has high ceilings you can hang a chandelier or a pendant light. Sconces can also be mounted on the walls in key areas such as next to the mirror. Or you can have table lamps.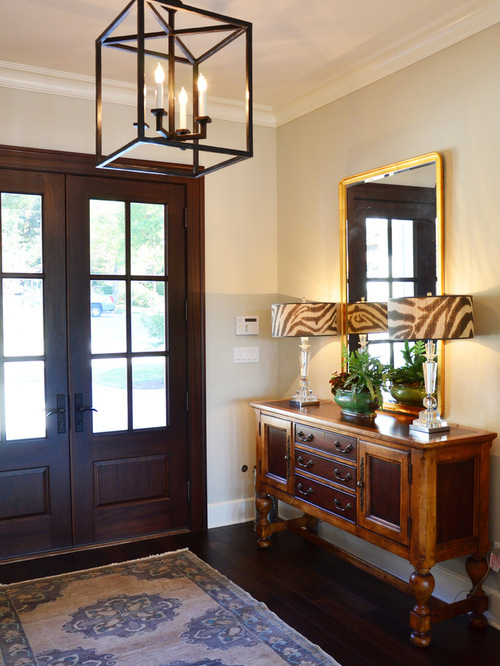 The correct placement of furniture in a foyer determines whether it looks spacious and aesthetic or cluttered and unattractive. So, for more ideas on the proper placement of furniture in the room go to my post: Good placement of furniture
These foyer ideas will hopefully help you in decorating your foyer.
If you found this post useful, I would really love it if you pin it or share it. I have not blocked the site just because your ad blocker is switched on because I hope my content will be useful to you. But I am able to run this site only because of the ads. So I will be obliged if you turn off your ad blocker. Thank you!
Related Topics on design ideas in a house: