Golden Grand, Yeshwantpur, Bangalore | An Architect Reviews
Golden Grand by Golden gate properties, is an under-construction 23 floor residential apartment complex, located in the Golden Square Mile (GSM) in Yeshwanthpur in North-West Bangalore, India.
PROMOTERS OF GOLDEN GRAND, YESHWANTPUR, BANGALORE:
The Golden Grand is promoted by Golden Gate Properties Ltd, a Bangalore based Public Limited Company which started its operations in 1997.
ARCHITECTS OF GOLDEN GRAND, YESHWANTPUR, BANGALORE:
Golden Grand has been designed by HOK-USA, a well-known American architectural firm, the preferred choice of many Indian builders.
OVERVIEW OF GOLDEN GRAND, YESHWANTPUR, BANGALORE:
The Golden Grand is located in a 13-acre property in the heart of the GSM.  When completed, it will have 790 apartments – both two and three bedroom units. As shown in the layout plan, there are 5 towers, out of which 4 are leaf-shaped, two-winged towers and 1 is a three-winged tower.  Each leaf shaped tower will have wings of differing heights. The promoters claim that each apartment has a stand alone design, which means that there are no common walls.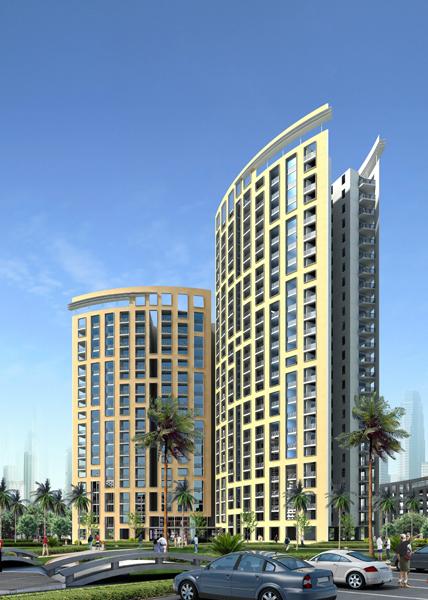 FEATURES OF GOLDEN GRAND, YESHWANTPUR, BANGALORE:
The Golden Grand apartment complex has the usual features common to most luxurious residential complexes such as:
Water body/ wet and dry fountains, Landscaped garden, Jogging trail, Party lawns, Toddlers park, Meditation center, Gazebo, ATM center, Cash-n-Carry store and business point, Basketball court, Tennis court, Pick-up and drop point for school children and parents within the apartment complex.

Security measures with Video Monitoring, Water treatment plant, Power backup, Building Management System (BMS).

In addition it has some other features like: Temple with Temple plaza, Skating rink, Open amphitheater, Solarium lounge by day and milky way at night.

HELIDECK facility for Airport Transfers & Emergency evacuation
 ARCHITECT'S REVIEW OF GOLDEN GRAND, YESHWANTPUR, BANGALORE:
Since I am an Architect based in Bangalore, I am able to review some of the projects and builders in Bangalore with confidence. These reviews will hopefully help you in making the right decision when planning to buy a flat. My reviews are unbiased and solely based on the merits and demerits of the design of the buildings.
POSITIVES OF GOLDEN GRAND, YESHWANTPUR:
Elevation: I like the design of 2-winged, leaf shaped towers that allow more surface area (because of the curved surface) of the apartments  to be exposed to Sunlight

. Usually in winged towers, the rooms at the junctions of the wings tend to be crowded in, dark and lack privacy. But these 2-winged buildings allow the light to permeate all the rooms of the apartments and allow privacy.

Massing: It is generally difficult to create massing in high-rise, multi complexes. Usually the  buildings tend to look too regular and variation  is introduced with the help of different colours on the building.  But in this project I feel that  the additional curved skin wall helps to create the required variation because of the different depths of the balconies and rooms. Also, the different heights of the wings break the monotony of the overall building mass.
Skin wall: The curved, external skin of the building with punctured balconies and bask-set windows, serves as a sun-shade and gives different points-of-view for the inmates because of the double-wall effect. It also gives the building a nice, curved, finished look.

Also it is good that the builders accepted this external, skin-wall design element proposed by the Architect, even though it means extra columns, beams, walls  and extra cost. But I guess, this is  because it was proposed by an international architectural firm.
NEGATIVES OF GOLDEN GRAND, YESHWANTPUR, BANGALORE:

Foreign Architect: Why do builders approach foreign architects, when there are some really reputed architectural firms in Bangalore/India who have the capability to handle projects of this scale?
Is it not because the addition of the international Architect's name to the project will ensure more sales? So it is quite clear that the builders know that the Architec

t

does add value to the project.

So obviously comes my next peeve – Why is it that most builders prefer not to mention the Indian Architects associated with their projects,  in their promotional sites? And why don't the Architects insist that they should be mentioned?
For more information on buildings/projects designed/executed completed in Bangalore, go to:
If you found this post useful, I would really love it if you pin it or share it. I have not blocked the site just because your ad blocker is switched on because I hope my content will be useful to you. But I am able to run this site only because of the ads. So I will be obliged if you turn off your ad blocker. Thank you!