Prestige Kensington Gardens, Jalahalli, Bangalore | An Architect Reviews
Prestige Kensington Gardens by the Prestige Group Builders, is a completed residential enclave with 419 apartments comprising of two-bedroom, three-bedroom  units and penthouses. It is located on over 7.6 acres, in Jalahalli on HMT Main road in North Bangalore.
PROMOTER OF PRESTIGE KENSINGTON GARDENS, JALAHALLI, BANGALORE:
Prestige Kensington Gardens is promoted by the Prestige Group, a well-known builder in Bangalore with over 185 projects to their credit.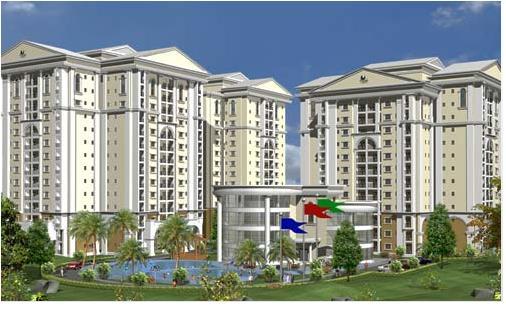 ABOUT PRESTIGE KENSINGTON GARDENS, JALAHALLI, BANGALORE:
The architecture of Kensington Gardens has been inspired by the elegant and opulent locality in London of the same name with fluted columns and sloped roofs. This development houses 4 residential towers of Ground + 12/ 13 floors and a Clubhouse. There are eight apartments in a typical floor with 419 apartments in all. Car parking is located in the Basement and on the Surface level.
According to the builder, "the specialty of this development is that every apartment, regardless of the price slab, has a view to its name. Care has been taken to see that not a single apartment faces inside. Every apartment is also equipped with all the amenities that are a must for present day modern residences.
AMENITIES OF PRESIGE KENSINGTON GARDENS, JALAHALLI, BANGALORE:
The clubhouse has a Gymnasium, Health Club, Badminton, Party Hall & space for a Supermarket. In addition it has a Swimming Pool and Jogging Track.
ARCHITECT'S REVIEW OF PRESTIGE KENSINGTON GARDENS, JALAHALLI:
Since I am an Architect based in Bangalore, I am able to review some of the projects and builders in Bangalore with confidence. These reviews will hopefully help you in making the right decision when planning to buy a flat. My reviews are unbiased and solely based on the merits and demerits of the design of the buildings.
POSITIVES OF PRESTIGE KENSINGTON GARDENS, BANGALORE:
In the 3-bedroom plan shown above I can find the following positive points:
Floor plan living room: The Living room and master bedroom are okay sized.
Floor plan balcony: The Balconies are of a good size.
Floor plan kitchen: The Utility is also big.
Floor plan bathrooms: The shower area in the Toilets are all placed near the ventilators which allows for good ventilation.
Floor plan bedrooms: Though there are three bedrooms, there is very little wastage of corridor space in accessing them.
NEGATIVES OF PRESTIGE KENSINGTON GARDENS, BANGALORE:
Floor plan Dining room is congested and does not have direct natural light. For an idea of the ideal sizes of a Dining Room, go to Designing a Dining Room.
Floor plan Kitchen is quite narrow to have a U-arrangement. For information on the different kinds of arrangements possible in a Kitchen, go to Designing a Kitchen | Arrangement.
Floor plan bedrooms: None of the bedrooms have cross-ventilation. Is it to reduce the cost / number of windows? The furniture arrangement shown is not to scale. The cots look much smaller than they should have been. This is a tactic used by builders to make the room look larger with respect to the furniture.
Elevation: Now coming to the overall appearance of the completed buildings – I am personally not very impressed. Inspired by the old architecture of Kensington Gardens London, I can see a few of the elements like flutes, arches and a triangular top facia. But it never really captures the charm of the original Kensington Gardens. That's what I keep saying in my reviews,- I don't see why builders feel the need to adopt some foreign style of architecture, name and elements just to sell their apartments.

And then I come to my pet peeve. The fact that I don't have a clue about the Architects of this project. Who are they? Why have they not been mentioned anywhere? Is the Builder only responsible for this project? Does associating the name of the Architect to the project, reduce it's value. I think the opposite is true. An

Architect adds value to a project

. I think it is high time the Architects insisted that their name be mentioned.
For more information on buildings/projects designed/executed completed in Bangalore, go to:
If you found this post useful, I would really love it if you pin it or share it. I have not blocked the site just because your ad blocker is switched on because I hope my content will be useful to you. But I am able to run this site only because of the ads. So I will be obliged if you turn off your ad blocker. Thank you!