Prestige Nottting Hill, Bannerghatta Road, Bangalore | An Architect Reviews
Prestige Notting Hill by the Prestige Group Builders, is a 14 floor apartment complex with 288 two-bedroom and three-bedroom  apartments, spread across 4.7 acres. It is located in South Bangalore, on Bannerghatta Road opposite Meenakshi temple near Electronic city. It was completed in August 2010.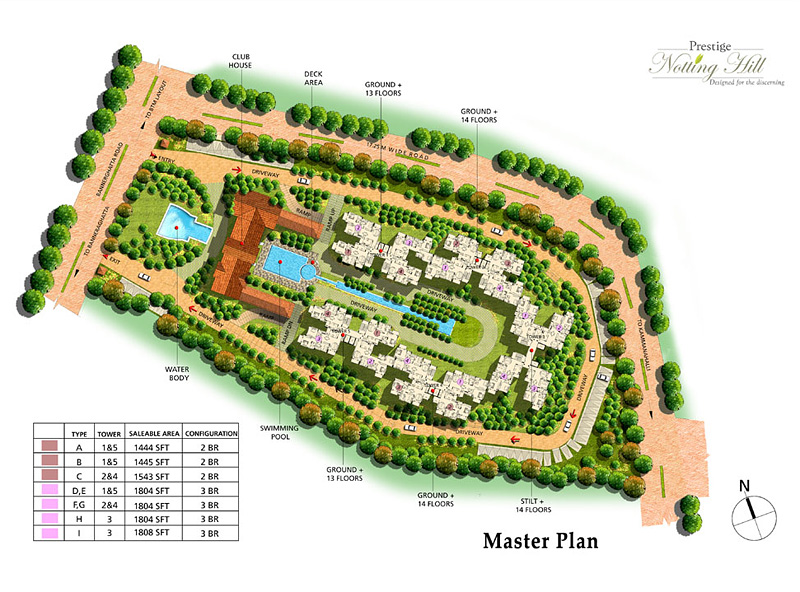 PROMOTER OF NOTTING HILL, BANGALORE:
Notting Hill is promoted by the Prestige Group, which has over 190 completed projects to their credit.
ARCHITECT OF PRESTIGE NOTTING HILL, BANGALORE:
Prestige Notting Hill has been designed by the well-known, Bangalore based, architectural firm, Venkataramanan Associates.
ABOUT PRESTIGE NOTTING HILL, BANGALORE:
Notting Hill displays distinctive Tudor style of architecture and the Clubhouse is modeled along the lines of a Roman Courtyard to complement the towers in the background. Notting Hill has five-apartment towers that are designed in an ascending form, creating a set of cascading roofs that leads the eye gently to the top of the building. This undulating effect gives this hi-rise, 14-floor building, a low-rise feel.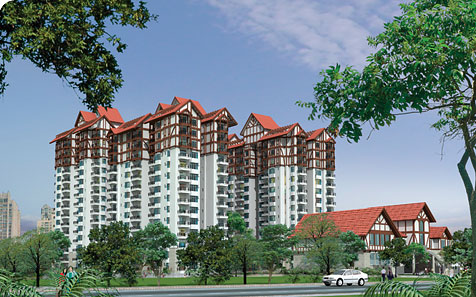 According to the Builder, "Each tower is built sufficiently far from the road and unique to residential properties in Bangalore, the lush gardens and green areas that adorn the Notting Hill landscape act as a buffer zone between the buildings and the bustle of city life".
AMENITIES AT PRESTIGE NOTTING HILL, BANGALORE:
Gymnasium, Health Club, Party Hall, Badminton Court, Supermarket, Swimming pool with solarium and children's play area.
ARCHITECT'S REVIEW OF PRESTIGE NOTTING HILL, BANGALORE:
Since I am an Architect based in Bangalore, I am able to review some of the projects and builders in Bangalore with confidence. These reviews will hopefully help you in making the right decision when planning to buy a flat. My reviews are unbiased and solely based on the merits and demerits of the design of the buildings.
POSITIVES OF PRESTIGE NOTTING HILL:

Elevation: I personally liked the tudor syle roofs shown in the perspective. It is a style of architecture that has not been used much in Bangalore and is sure to catch your attention.
Positioning of buildings: I also liked the fact that the main residential blocks have been set back from the busy Bannerghatta Road. However, I am not sure if the road shown along the periphery of the property is busy.
Floor plans: In the plans shown below of a 2-bedroom and a 3-bedroom flat, the Kitchen, Master bedrooms are reasonably big.  However, the  furniture indicated in the bedrooms can only be used by kids in a real situation, as they are indicated at 20% less than their actual size. Sadly, this is a ploy used by many builders to make the room appear bigger than it actaully is. I have even seen in model apartments, cots of sizes 4'6″ x 5'6″ which are made to pass off as a queen-sized bed. For information on the sizes of furniture in a bedroom go to Bedroom Furniture.
Floor plan bedroom: The Master Bedroom furniture arrangement is okay, though I wish there was a window in the corner near the Toilet to allow for cross-ventilation.
Floor plan toilet arrangement is such that the ventilator is in the bathing area. This is very essential for proper ventilation and quick drying of the bathing area.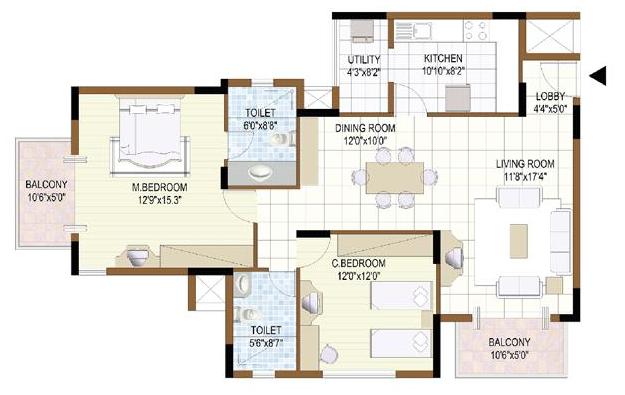 NEGATIVES OF PRESTIGE NOTTING HILL: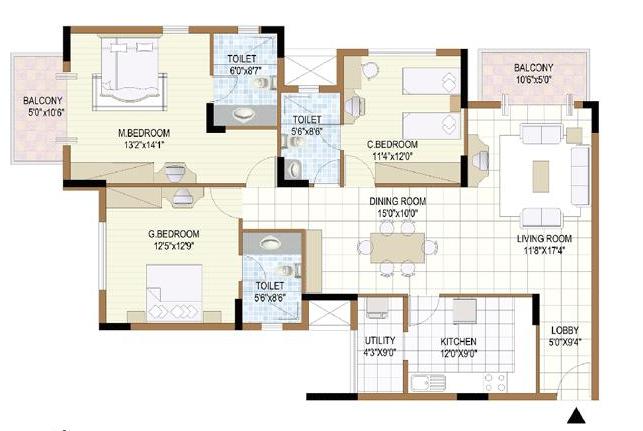 Once again, I can't resist complaining about the fact that nowhere on the promoter's site could I find the Architect of this project. I finally found out only when I went to the Architect's site. Definitely an

Architect adds value to a project

and he deserves to be mentioned. But sadly most builders ignore this fact and only take care to mention the Architect, if he is an international one.
For more information on buildings/projects designed/executed completed in Bangalore, go to:
If you found this post useful, I would really love it if you pin it or share it. I have not blocked the site just because your ad blocker is switched on because I hope my content will be useful to you. But I am able to run this site only because of the ads. So I will be obliged if you turn off your ad blocker. Thank you!