OUTDOOR LIGHTING FIXTURES | An Architect Explains
A lighting fixture designed for outdoor use and engineered to handle the elements is called an oudoor light. Outdoor lighting consists mainly of Entrance lighting, pathway lighting, patio lighting and garden/landscape lighting. Outdoor lighting fixtures combine decorative looks with durability and weather resistance.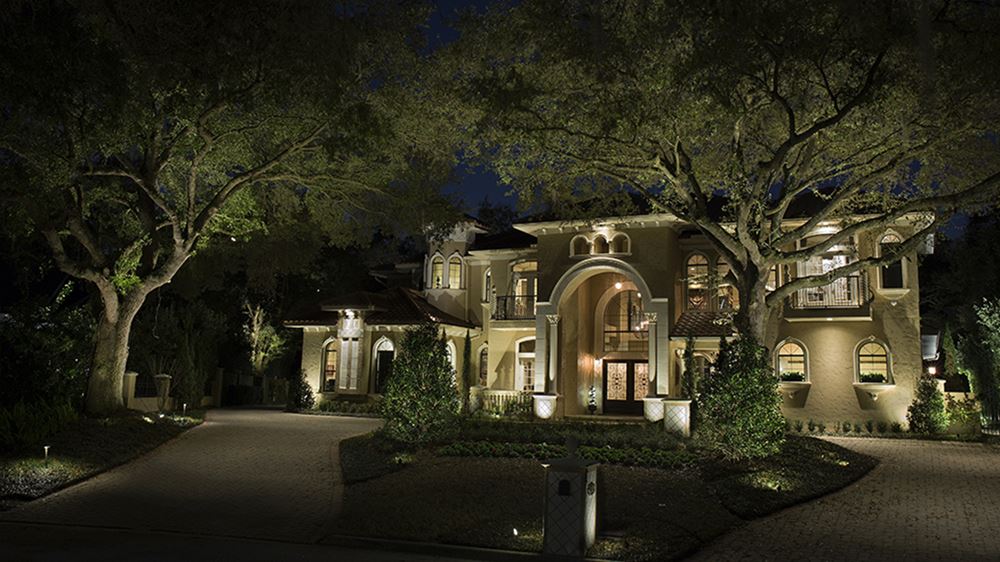 Outdoor lighting consists mainly of entrance lighting, pathway lighting, patio lighting and garden/landscape lighting. To help you in planning the right placement of outdoor lighting in your home, as an Architect, I have listed guidelines for outdoor light fixtures under the following headings:
Why is outdoor lighting essential?
How do you select an outdoor lighting fixture?
How do you select the right entrance lighting?
How do you select the right lighting for the rear of a house?
How do you select the right lighting for your patio?

 



WHY IS OUTDOOR LIGHTING ESSENTIAL?
An emerging trend in design, is to transform the area around your home into outdoor living spaces. A great deal of thought, time, effort and money is put into the exterior of a home with landscaping, gardening and more. Outdoor lighting accentuates your efforts and provides dramatic and instant beautification to your property, allowing for increased time you and your family can spend outdoors.
1. Increases value – Your home is one of your largest investments. Outdoor lighting increases the value and resale of your home and compliments your landscaping. Moreover you will enjoy viewing your property after dark as it will look and feel more valuable.
2.Practical and elegant – The right outdoor lighting will enhance the elegance and charm of your home for entertaining and allows you to enjoy more hours outside.
3. Security and Safety –Outdoor lighting increases protection for your family and friends. By properly lighting your property, you are adding a new level of home security because dark corners virtually disappear and deter trespassers and intruders. Lighting also provides a safe passage for you and your guests.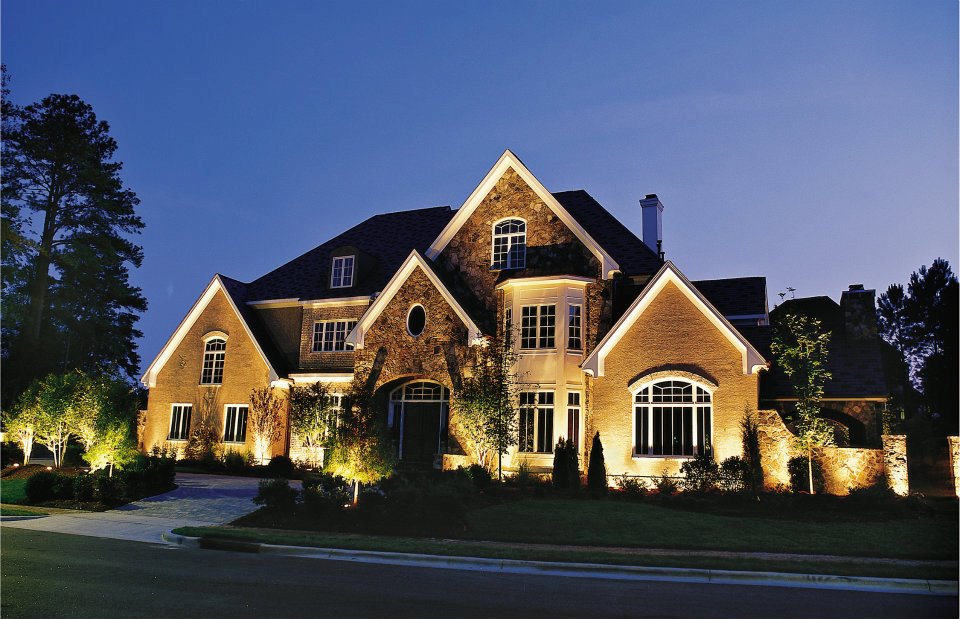 HOW DO YOU SELECT AN OUTDOOR LIGHT FIXTURE?
If you are looking to purchase some outdoor lighting fixtures, then you need to look out for certain factors, to ensure that these fixtures will last for at least a few years and will beautify your lawn and backyard. These factors include:
1. Durable construction: Check the fixtures thoroughly before you purchase. Look for cracks or scratches on the outer surface. Even if there are tiny visible cracks on the surface, don't buy the product. Those cracks will enlarge pretty quickly when the fixture is exposed to sunlight. Go for good brands as these usually have stringent quality control standards in place to make sure that the finished product is durable.
2. Good finish: Look for light fixtures with good finish. Powder coated finish is best, because it lasts for a really long time, and is usually scratch-resistant. Polished finishes look great on metal fixtures, but remember that you will have to get it polished at least once a year in order to retain the luster. Fixtures with good finishes will resist environmental corrosion and will naturally be more durable, so go for these ones.
3. Affordable price: Before you go out to the stores to buy light fixtures for your home, browse the net  and compare the prices between the websites to get an idea of the cost. Then it becomes easier for you to decide how much and what types of lighting fixtures you require.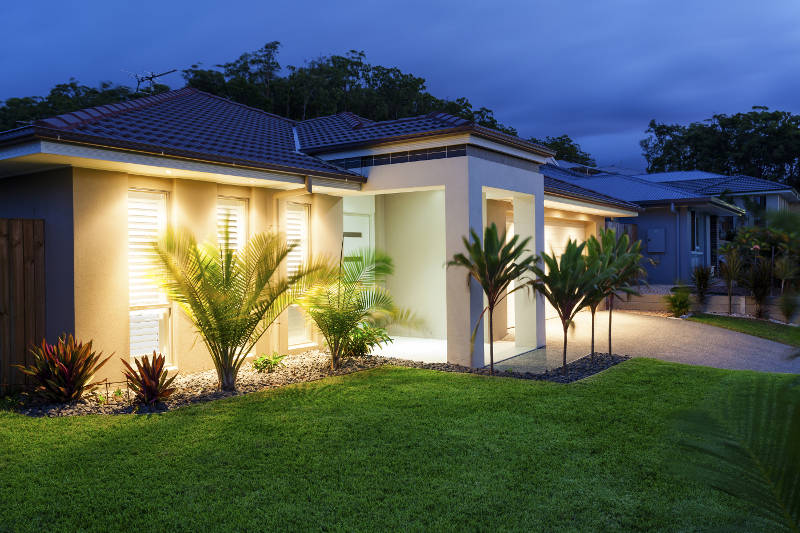 HOW DO YOU SELECT THE RIGHT ENTRANCE LIGHTING?
Types: A well lit front entrance welcomes. It enables you to greet guests and identify visitors. The commonest examples of Outdoor Entrance Lighting are:  Wall Lanterns, Hanging Lanterns, Ceiling Mounted fixtures and Front Entrance Lighting. Wall lanterns on each side of the door will give your home a warm look, while assuring the safety of those who enter. Under a porch or overhang use recessed, chain-hung, close-to-ceiling fixtures or unique and beautiful lamps and chandeliers specifically suited for outdoor use. Also, consider having a lighted address fixture, which can be a comforting light to greet you.
Size and height: Proportion is important when selecting entrance luminaries. The most frequent mistake is to buy fixtures that are too small. If you have a single wall light on one side of the door, choose a fixture of height approximately one-third of the height of the door. If using lights on both sides, choose fixtures of height one-fourth of the door height. The wall fixtures should be mounted at least 66" above standing level.
Light wattage: Balance the amount of light output with the front environment. If the light is too dim, guests may stumble, if it is too bright, it will dazzle and blind them. You can use 40-75 watt incandescent lamps that give a warm light. Be sure that the light reaches the steps and other grade changes for safety purposes.
HOW DO YOU SELECT THE RIGHT LIGHTING FOR THE REAR OR SIDE OF YOUR HOUSE?
Type: Use a single wall lantern installed on the keyhole side of the rear door to provide adequate task lighting and security. Have Post Mounted Lanterns in the yard, to ensure safe and easy movement after dark by illuminating the yard, paths and walking areas.
Size and Height: The wall lantern, on one side of the door should have a height of approximately one-third of the height of the door and should be mounted at least 66" above standing level.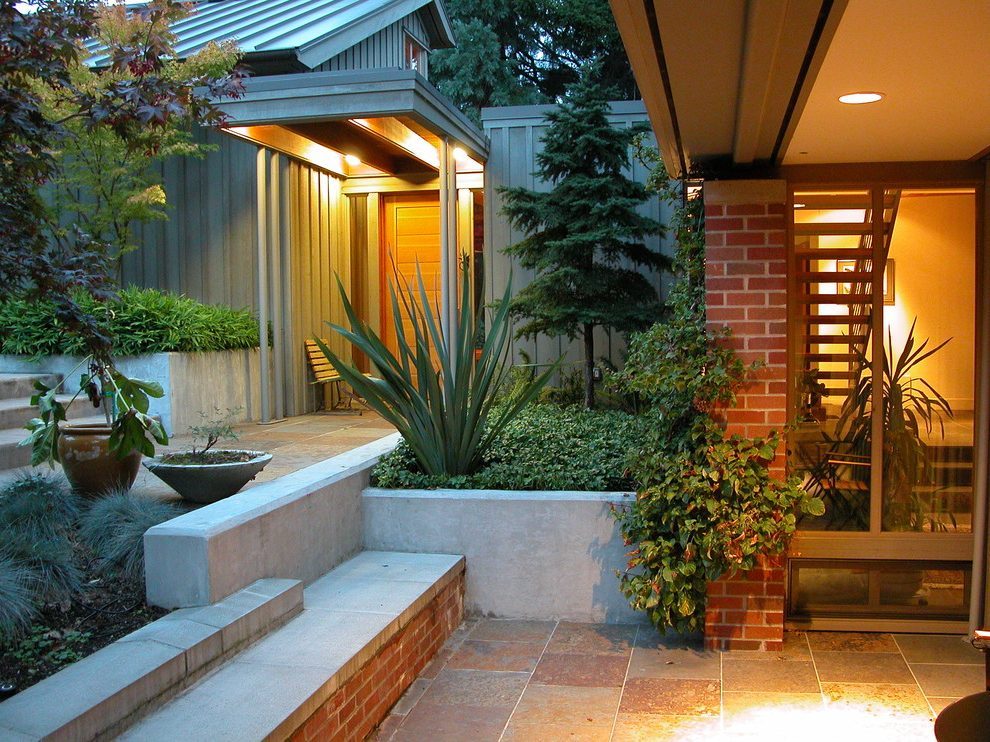 HOW DO YOU SELECT THE RIGHT LIGHTING FOR YOUR PATIO?
Patio lighting, not only allows you to spend more time outside at night but also accentuates the best parts of your garden and patio and makes your patio and yard a safer place to be at night. There are many different types of patio lighting. Here are a few, short descriptions of some of the most popular types of patio lighting:
Deck Lighting: For decks, you can highlight and spotlight any changes in elevations, drop-offs, or deck-edges, by concealing the light fixtures beneath railings, beneath benches, or on vertical posts. In doing so, you create not only a dramatic effect, but a safer deck, as well.
Step Lighting: This type of patio lighting will allow both you and guests to navigate up your steps in safety. Place step lighting beneath railings, on vertical posts, or recessed into the steps.
Silhouetting: Silhouetting is a type of patio lighting that highlights the shape of an object. To create the silhouette effect, place a light behind the subject, and shine it up against a vertical surface like the wall of your home.
Beautifully designed landscape lighting adds charm and elegance to your home. It is used to bring trees and flowers to life at night, feature focal points around your home, and light pathways and steps for safety and security. To know more, go to:
If you found this post useful, I would really love it if you pin it or share it. I have not blocked the site just because your ad blocker is switched on because I hope my content will be useful to you. But I am able to run this site only because of the ads. So I will be obliged if you turn off your ad blocker. Thank you!



Related Topics: