VINYL FLOORING | An Architect Explains
Vinyl Flooring was invented in the 1930's as a synthetic cousin of linoleum and is made of synthetic materials like vinyl, felt, fiberglass and dyes. Due to it's composition, Vinyl flooring is more water-and stain-resistant, versatile, and durable compared to linoleum. Also, it is cheaper and has become a popular option among homeowners, particularly in kitchen and bathroom applications.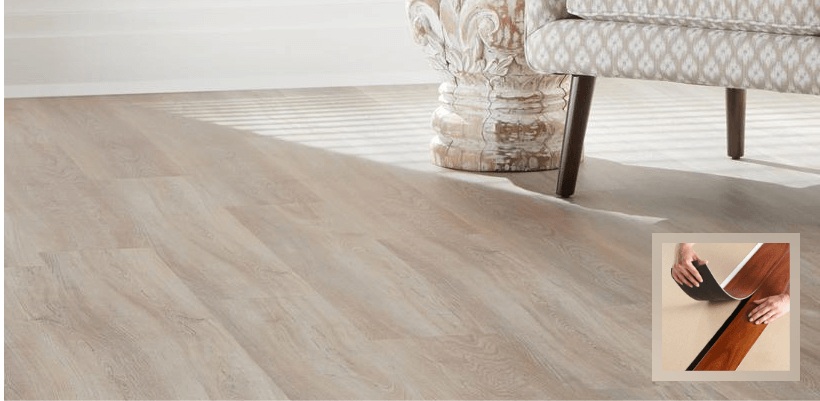 So, what are the types of vinyl flooring? What are the advantages and disadvantages of using Vinyl flooring? Where is Vinyl flooring preferably used? As an Architect, I have explained all there is to know about vinyl flooring under the following headings:
What are the types of vinyl flooring?
What are the pros of vinyl flooring?
What are the cons of using vinyl flooring?
Where is vinyl flooring best suited?

 



WHAT ARE THE TYPES OF VINYL FLOORING?
There are two types of vinyl flooring. the question is which option do you choose, sheet or tile vinyl flooring. Each option has its inherent advantages and disadvantages and the choice is based on the environment it will be installed in.
Sheet flooring:  in which the flooring material is laid down in sheets 6 or 12 feet wide
Tile flooring: which uses tiles of 9″x9″ or 12″x12″. While sheet flooring is more water resistant and is easier to install, many homeowners prefer vinyl tile, which replicates the look of a ceramic tile floor at a more affordable cost.
WHAT ARE THE PROS OF VINYL FLOORING?
Design Options: Nearly endless colour and design options. Printed vinyl recreates the look of natural stone, hardwood etc
Low Maintenance: Vinyl flooring is relatively easy to care for.
Water Resistant: Is almost impervious to water penetration, making it perfect in bathroom, kitchen, laundry room, or other high moisture spaces.
Not cold underfoot:  and is generally soft beneath your feet.
Inexpensive:  compared to any other flooring material.
Durable: High quality vinyl can last upwards of ten to twenty years but cheaper ones will wear out within five years.
Stain Resistant: Printed vinyl tiles and sheets have a clear wear layer that acts as a surface barrier, protecting the floor from stains and spills.
Safety:

Vinyl flooring can be slip retardant. It is also less likely to harbour bacteria – there are fewer areas for bacteria to hide than with other types of floors.

Ease Of Installation: But ensure that you have a completely dry, level sub-floor to work with.
WHAT ARE THE CONS OF VINYL FLOORING?
Volatile Organic Chemicals (VOC): The chemicals used in the manufacture of vinyl flooring can cause out-gassing of volatile toxins into the house after laying, which may lead to respiratory problems, eye irritation, or asthma effects.
Ecological Waste Problems: Vinyl flooring is not biodegradable and does not break down naturally. It also consumes non-renewable natural resources such as petroleum and natural gas during the manufacturing process.
Sub-floor Damage: The sub-floor must be a perfectly smooth, flat surface to work on. Because vinyl is relatively soft, even small grains trapped beneath the floor can wear down the material over time, causing lumps to appear in the surface.
Chemical Stains: While vinyl is generally resistant to stains, it is susceptible to discoloration when it comes in contact with rubber mats or shoes.
Difficult To Repair: Low quality vinyl will be susceptible to rips and tears and cannot be refinished or repaired.
Yellowing Effects: Low quality vinyl flooring will yellow with age and sunlight can cause it to fade. So it is not recommended for outdoor uses.
Toxic Fire Hazards: If a vinyl floor catches fire it will release toxic chemicals into the air.

WHERE IS VINYL FLOORING BEST SUITED?
Vinyl flooring is one of the cheapest flooring options, is easy to install, comes in many designs, is easy to maintain and it's safe. Therefore it can be used in all rooms in a home especially in bathrooms and kitchens as it is water proof. Although it will show signs of wear and tear after a few years, the low price means that you won't be too disappointed to put down a new floor. A similar type of flooring is the rubber floor.
For information on other flooring options, go to:

READ MORE:
In order to get a rough idea of the suitability of a particular flooring for your requirement and to make a fair comparison of the different types of flooring, refer to an Architect's rating of the various kinds of flooring on my blog: House construction in India
If you found this post useful, all it takes is a simple click on the "pin it" "like," "share," "tweet," or Google+ buttons below the post.