RUBBER FLOORING | An Architect Explains
Rubber is tough, durable, resilient and water resistant just like Vinyl flooring, making it a popular flooring choice for commercial, high traffic environments like gym rooms, play areas. Nowadays with a wide selection of colors, patterns, and textures available, it is also finding its way into residential interior and exterior applications.
So, what are the advantages and disadvantages of using rubber flooring? Where is rubber flooring preferably used? As an Architect, I have explained all there is to know about rubber flooring under the following headings:
What are the advantages of rubber flooring?
What are the disadvantages of using rubber flooring?
Where is rubber flooring best suited?

 



WHAT ARE THE ADVANTAGES OF RUBBER FLOORING?
Durability: Rubber flooring is strong, tough and resilient and if properly cared for, it can last twenty years.
Low Maintenance: Rubber flooring is very easy to take care of and polishing the surface with a water soluble wax emulsion will make it more resistant to damage and discoloration.
Soft: Rubber flooring is actually quite soft yielding which helps to relieve stress fatigue associated with standing or walking for long periods of time. Therefore it finds application in playrooms, bedrooms, and other living areas.
Water Resistant: Rubber flooring is nonporous and water-resistant making it a popular floor for wet environments such as bathrooms, kitchens, and laundry rooms.
Fire and Burn Resistant: Rubber is resistant to burns left from cigarette butts and other small heat sources.
Non-toxic:  It is also non toxic, and will not release noxious fumes into the air in case of fire.
Sound Properties: Thicker rubber tiles act as a powerful sound barrier between floors in a building because the natural elasticity can reduce noise from walking.
Color Choices: Earlier rubber was typically polished black or slate gray. Nowadays there are countless color and pattern options available. They can also replicate marbling and random speck patterns found in natural stone materials, or can take on extremely bright, vibrant, neon tones to create a loud and brash flooring design.
Textures: Rubber tiles can be manufactured with raised dimples, studs, and other complex textures which add traction to the floor, making it more slip resistant.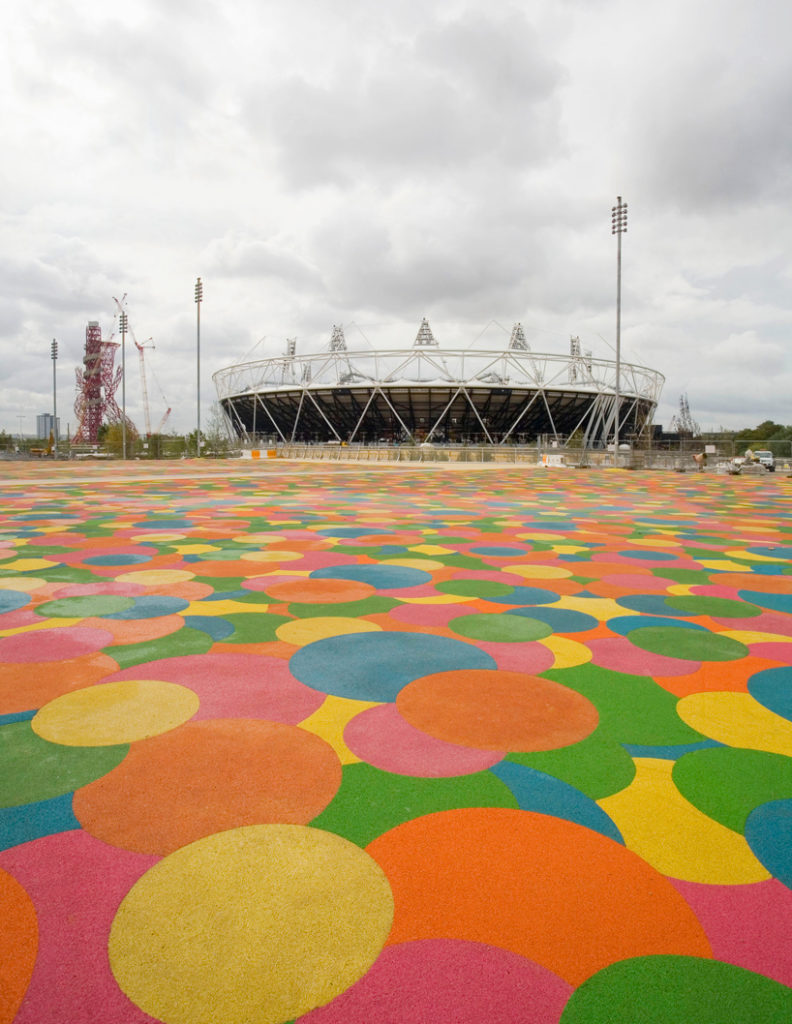 WHAT ARE THE DISADVANTAGES OF RUBBER FLOORING?

Expensive: The biggest drawback to rubber flooring is that it can be quite expensive.
Slippage: Smooth, untextured rubber tiles can become rather slippery when water is present, especially if it is polished.
Above Grade: While rubber is resistant to water damage it is still susceptible to seepage issues, including loosening of adhesive, and curling of tiles.
Staining: While rubber flooring is resistant to most staining agents, there are a few that can discolor its surface, such as detergent, grease and other abrasive cleaning liquids.
WHERE IS RUBBER FLOORING BEST SUITED?
Since Rubber flooring has many advantages like durability, toughness, water-resistance and soft resilience, it is used commonly in gyms, play rooms, toilets and kitchens. But rubber can be very expensive and looks artificial. A much cheaper option is vinyl flooring, a softer option is carpet and a more natural option is Cork flooring.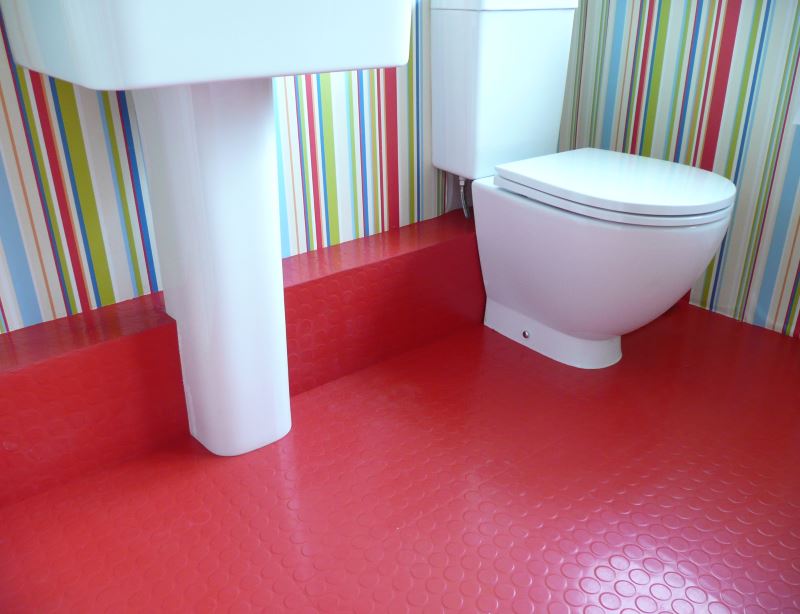 For information on other flooring options, go to:

READ MORE:
In order to get a rough idea of the suitability of a particular flooring for your requirement and to make a fair comparison of the different types of flooring, refer to an Architect's rating of the various kinds of flooring on my blog: House construction in India
If you found this post useful, all it takes is a simple click on the "pin it" "like," "share," "tweet," or Google+ buttons below the post.