PLANNING A CLOSET | An Architect Explains
A Closet is a cabinet, cupboard or enclosed recess for linens, household supplies or clothing. More often, a Closet is defined as a small and enclosed space used for storing or hanging clothes. Usually it is adjacent or inside the Bedroom.

The design of a Closet requires careful planning considerations in order to have a very efficient space. As an Architect, I have explained some of the design considerations that you must take into account before you plan or renovate your Closet. They have been explained here under the following headings:
What are the types of closets?
What are the planning considerations for a closet?
What are the basic fixtures of a closet?

 



WHAT ARE THE TYPES OF CLOSETS?
Storage space in a House is always not enough. Most families nowadays have so much clothing and need a lot of storage space. It is always better to have more storage space than not enough. So, at the planning stage itself, you can reserve some areas for storage. It is advisable to have a small space reserved exclusively for a Clothes Closet, within the Bedroom or adjacent to it next to the toilet. It can either be a Walk-in or a Walk-through.
WALK-IN CLOSET – It is a room with open or closed shelves on 2 or 3 walls into which you walk in to store and view clothes. It is like walking into a large enough closet.
WALK-THROUGH CLOSET – It is a room through which you walk, to enter another space and has shelves on the walls. Usually this is the space you walk through, to enter an attached toilet from the bedroom.

 



WHAT ARE THE PLANNING CONSIDERATIONS FOR A CLOSET?
A lot of stuff can be stored in a small space if the space is planned properly. Many closets have unused and unusable space due to poor planning. Good Closet design requires planning, arrangement and fixtures. Some of the important planning considerations are:
Easy accessibility.

Good lighting for maximum visibility.

Good ventilation to retain freshness.

Maximum use of space,

Orderliness,

Preservation from dust and moths,

Safety from pilferage,

Preservation of pressed Clothes in the same condition.
EASY ACCESSIBILITY:
Doors which expose the full width of the closet are preferable for easy accessibility and good visibility.
Hinged doors allow you to see the full closet. They are economical and most efficient. Also, hooks racks, accessories can be fixed to the backs of hinged swinging doors, thus using unoccupied space in the closet. However they stick out into the space that you are standing in and can block traffic.
Roller doors – which roll up or roll to the sides. These have the advantages and disadvantages of the sliding doors. They are not very popular, because the working is a bit clumsy and not very smooth.
Sliding doors – There are 2 types- doors that slide into the adjacent walls to expose the full width of the closet and doors that slide behind each other to expose only half the closet at a time. Sliding doors have an advantage that they do not obstruct the space in front and do not block traffic. However, Sliding doors are more expensive than hinged doors. Door fixtures like tie racks, shoe racks, mirrors etc cannot be fitted to the backs of sliding doors thus wasting some unoccupied space.

LIGHTING
Nowadays, lighting within the closet is considered essential, unless the room lights are so located that they can fully illuminate all portions of the closet. A single tube or bulb light with diffusing reflector placed just above the door inside the front of the closet is sufficient. Automatic lights – which get switched on opening the door – are convenient.
VENTILATION
Ventilation is often desirable particularly for closets where damp, outer garments or work clothes can be stored. This can be achieved by providing louvers in the Closet doors or by having louvered doors.
WHAT ARE THE BASIC ELEMENTS (FIXTURES) OF A CLOSET?
The standard elements of Closet storage are Shelves, Poles, Hooks, Drawers, special fixtures. With the proper arrangement of these fixtures, the maximum use of space, orderliness, preservation from dust and safety from pilferage can be achieved when storing items. Here is a brief description of the advantages and disadvantages of the basic fixtures.
SHELVES
They are simple, inexpensive and easy to install. They are adaptable in size for the storage of different sized items.
However, if shelves are kept open within a Walk-in or Walk-through closet, they are exposed to dust.
Also if the shelves are deep, small objects become hidden behind one another. Therefore, usually a 1'0″ deep shelf is considered adequate to store many things. However, items of greater depth like linens should be stored on deeper shelves of about 1'4″.
The shelves should always be within reach. Any shelf above 5'6″ from the floor should be used only for the storage of items that require infrequent access.
DRAWERS

They are quite popular nowadays in closets, because they accommodate numerous articles within a minimum space and with maximum convenience.
Also, they provide dust-free storage and present a neat appearance.
Drawers of different widths and heights can be planned in one section of the closet to store the possessions of the user depending on their size and type.
If the drawers are not constructed by a skilled carpenter and are made of cheap materials, then there is the possibility that they will not operate freely and can disintegrate over time. even if they are cluttered inside. Drawers are an incentive to keep things orderly.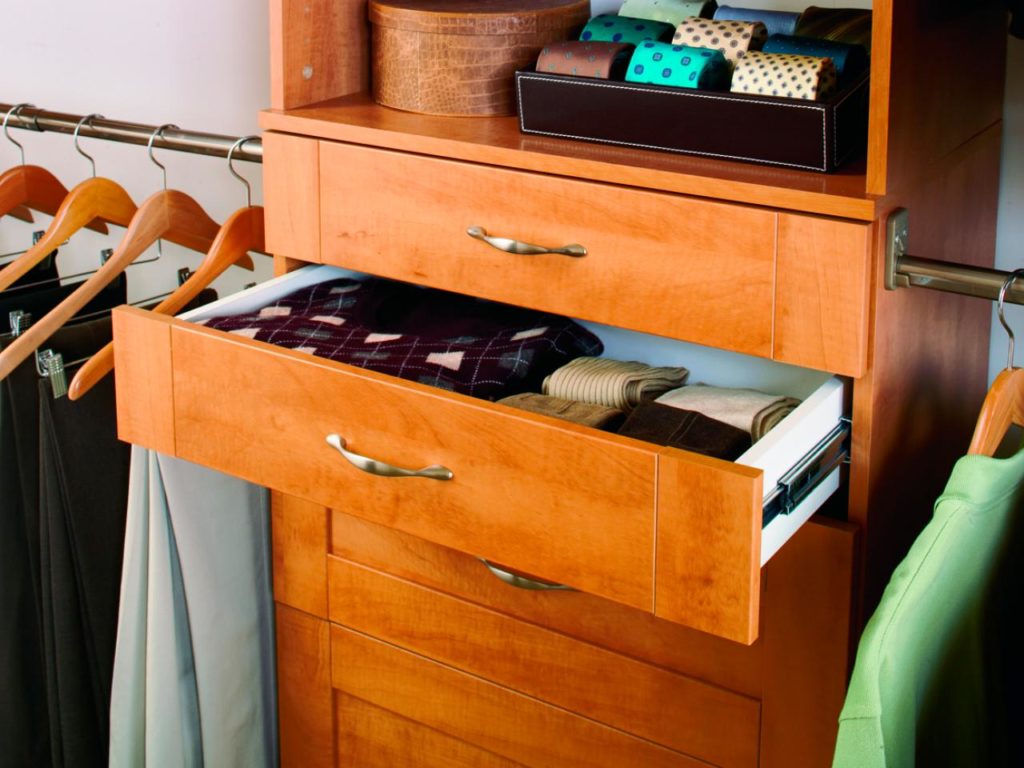 POLES:
Poles are essential in closets for storing suits, shirts, women's clothing on hangers. They allow maximum clothing to be stored because men's clothing just requires 3″ per hanger for suits while women's clothing requires just 2″ per hanger.
The height of the pole should be 5'4″ from the floor.
The diameter of the pole, either a hardwood or steel pole should be around 1″.
The clearance between the pole and the shelf ab0ve should be at least 3″ to allow the easy movement and removal of the hangers.
If the pole is more than 4'0″ in length, then an intermediate support is required.
Nowadays you can get extension poles and special-purpose hanging rods.
HOOKS & SPECIAL FEATURE FIXTURES –
A variety of hooks are available. They can be fixed on the inside of the door of the closet for storing belts, ties, bags, hats etc.
Special space saving shoe racks, pull-out pant racks and miscellaneous racks are available in the market nowadays.
Mirrors can be fitted on the inside of the door of the closet to allow one to dress. Or hinged mirrors can be fixed in front of the shelves to enclose them and prevent dust.
If you found this post useful, I would really love it if you pin it or share it. I have not blocked the site just because your ad blocker is switched on because I hope my content will be useful to you. But I am able to run this site only because of the ads. So I will be obliged if you turn off your ad blocker. Thank you!
Related Topic: