DESIGNING A HOME | An Architect Explains
Once you've decided to build your own house, there are many things to consider regarding the design of your house such as the needs and likes of the people who are going to stay in the house, your budget and your plot size. It should be possible to fit in all your requirements in your budget and your plot. Interiors should also be thought of and the Sun direction should be considered and taken advantage of. You should also plan for the future- accommodating children or aging parents and be able to maximize your space efficiency so that there is a logical flow through the house.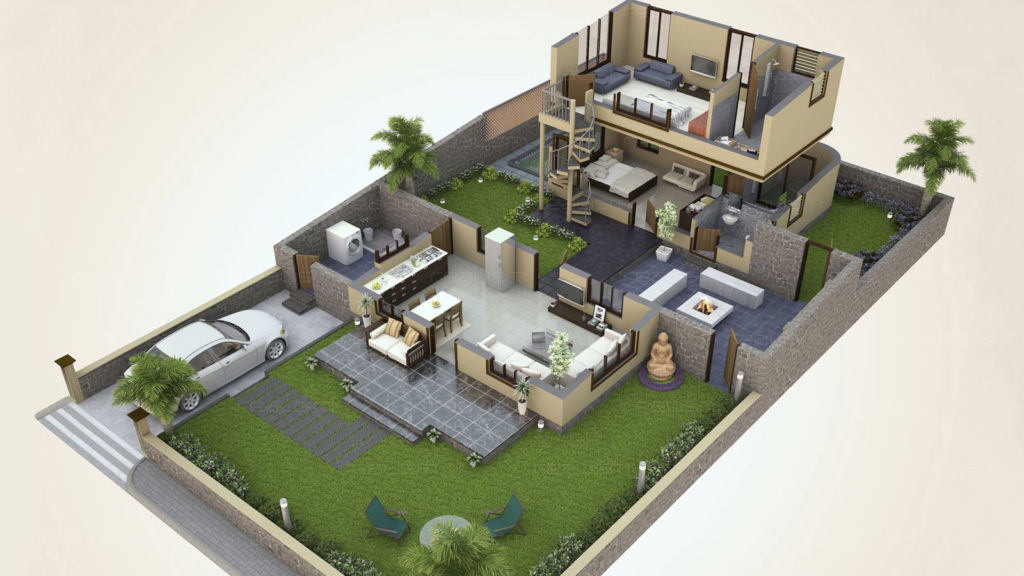 As an Architect practising in Bangalore for the past 20 years, designing houses is an instinctive process and I am able to immediately tell a client whether his requirements will fit in the plot and within his budget. This is because, we as Architects use certain 'standards' in designing efficient spaces and in deciding the sizes of rooms, the space allowances between furniture, clearances etc. So, when you are planning your house, it will be worthwhile to consider some tips on ideal room sizes, clearances, furniture layout etc, that I am sharing here:
DESIGNING A HOME: While designing a house, the main consideration is to create a pleasant, comfortable environment to live in. If a house is designed well, with a place and position for each item, it becomes a well lit, airy, clutter free, efficient place to live in, which in turn makes us happy and contented.

DESIGNING A LIVING ROOM: A Living room is a room in a residence used for the common social activities of the occupants.  The term sitting room is sometimes used synonymously with living room. A typical Living room may contain furnishings such as a sofa, chairs, occasional tables, and bookshelves, electric lamps, rugs, or other furniture. So in designing the living room all these should be taken into consideration and has been explained here:
DESIGNING A DINING ROOM: A Dining room is used by the family primarily for having meals. This activity involves setting the table, serving the food, eating, cleaning up after meals, storing cutlery and crockery. In addition, very often, the Dining room is also used for other activities like a children's play area or place for study and homework, reading, writing, entertainment, board games, sewing, watching TV and  ironing clothes.

DESIGNING A BEDROOM: The bedroom is that part of the house where you go to recharge and rest after a hard day's work and the daily stress. To do so, the room must be similar to your personality to make you feel comfortable. It should be designed with style, without crowding it with useless materials so that it feels like a spacious special retreat.
DESIGNING A BATHROOM: Bathrooms may not be the most important part of the house but you can tell that the house has class if its bathroom is designed in style. By designing the interiors of a bathroom, you can create the ultimate refuge where you can indulge yourself with delicious-smelling hot baths. And, with the right colors and lighting, you can create the illusion of a roomy bath as explained here:
DESIGNING A KITCHEN: The kitchen is the heart of the home, a gathering place for casual family meals and to catch-up cups of coffee with friends and neighbors. A Kitchen needs to facilitate all these activities while melding seamlessly into the rest of your home's design. These Kitchen design ideas will help you in designing the right Kitchen with the help of your  Architect or Interior Designer. 
DESIGNING A STUDY/HOME OFFICE: A study or a home office is a must for kids and for those of you who work from home.  A study space should be a functional area that's organized, fun and above all, practical. Size is not as important as good organization and tidiness. Choose a desk that offers plenty of space to spread out your books, then add fun personalized accents that reflect your style. Read about it here:

If you found this post useful, I would really love it if you pin it or share it. I have not blocked the site just because your ad blocker is switched on because I hope my content will be useful to you. But I am able to run this site only because of the ads. So I will be obliged if you turn off your ad blocker. Thank you!
Related topics:
If you found this post useful, I would really love it if you pin it or share it. All it takes is a simple click on the "pin it" "like," "share," "tweet," or Google+ buttons below the post.
Also, unlike many other sites, I do not insist that your ad blocker be turned off to allow you into my site. This is because I know that my content will be useful to you. But putting up posts regularly takes up time and hard work and I am able to run this site only because of the ads. So I will be much obliged, if you would turn off your ad blocker. Thank you!