Purvankara Palm Beach, Hennur, Bangalore | An Architect Reviews
The Purva Palm Beach apartment complex in Bangalore East, off Hennur Road diagonally opposite to Biozene is being constructed along the lines of a tropical beach resort and is spread over 19.37 acres. This apartment complex consists of a lagoon which promises to replicate the sight and sound of a beach in Bangalore. It has 19 towers of 19 floors each with over 1000 apartment units of 2-bed and 3-bed types in areas ranging between 1232 sft and 1846 sft. The price ranges between Rs 63 lakhs and Rs 95 lakhs @ of Rs 5130/sft. It is expected to be completed by June 2018. Apartments by other reputed builders in Hennur are Chowriappa Constellation,  LGCL One Street, Salarpuria Gold Summit and Shriram Luxor, Hennur.
LOCATION OF PURVA PALM BEACH, HENNUR: 
It is located in Narayanapura on Hennur Main Road, Bangalore, diagonally opposite to Biozene. It is in close proximity to the Manyata Tech Park (7.5 km), ORR (5.5 km), MG Road is 15 km. There are many schools such as Royal Concorde School , Delhi Public School, Vidya Niketan School, Vidya Shilp School, Bangalore International School, St Micheal's School, Kristu Jayanti College and hospitals like Columbia Asia Hospital near this location. Some of the other big apartment complexes near this location include Salarpuria Gold Summit.


ABOUT PURAVANKARA BUILDERS, HENNUR:
Since its inception in 1975, Puravankara has grown from strength to strength, having successfully completed 36 residential/commercial projects spanning 7.80 million square feet. Currently, it has 29 million square feet of projects under development, with an additional 88 million square feet in projected development over the next 7-10 years. The Group commenced operations in Mumbai and has established itself in the cities of Bangalore, Kochi, Chennai, Coimbatore, Hyderabad, Mysore and overseas in Dubai, Colombo and Saudi-Arabia.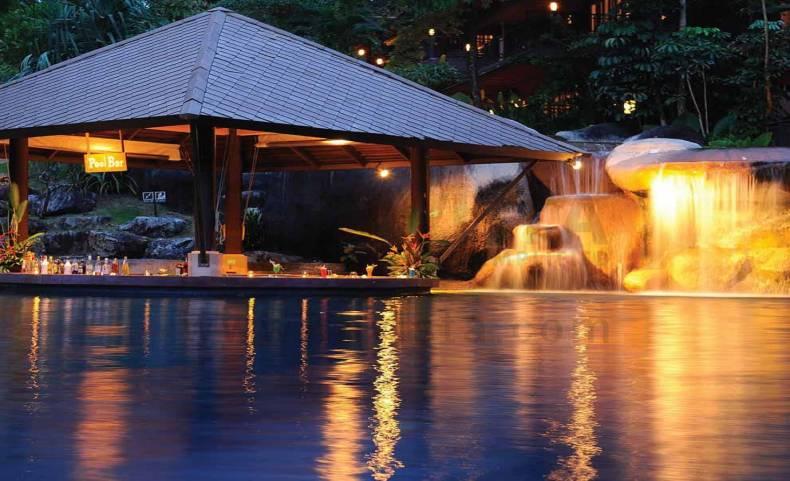 ABOUT PURVA PALM BEACH, HENNUR:
Palm Beach as the name suggests is designed along the lines of a tropical beach resort so that you feel you are permanently on a holiday. Purva Palm Beach has over 1000 apartment units of 2-bed-2-toilet, 3-bed-2-toilet, 3-bed-3 toilet configurations in areas varying from 1232 sft to 1846 sft. The base price is 5130/sft. For every floor rise, there is an additional 20/sft. For the premium apartments facing the "beach" an additional cost of Rs 450/sft is charged. The car park cost is Rs 3,50, 000 and club house charges are Rs2,25,000. So the apartment prices range between 63.2 lakhs and 94.69 lakhs.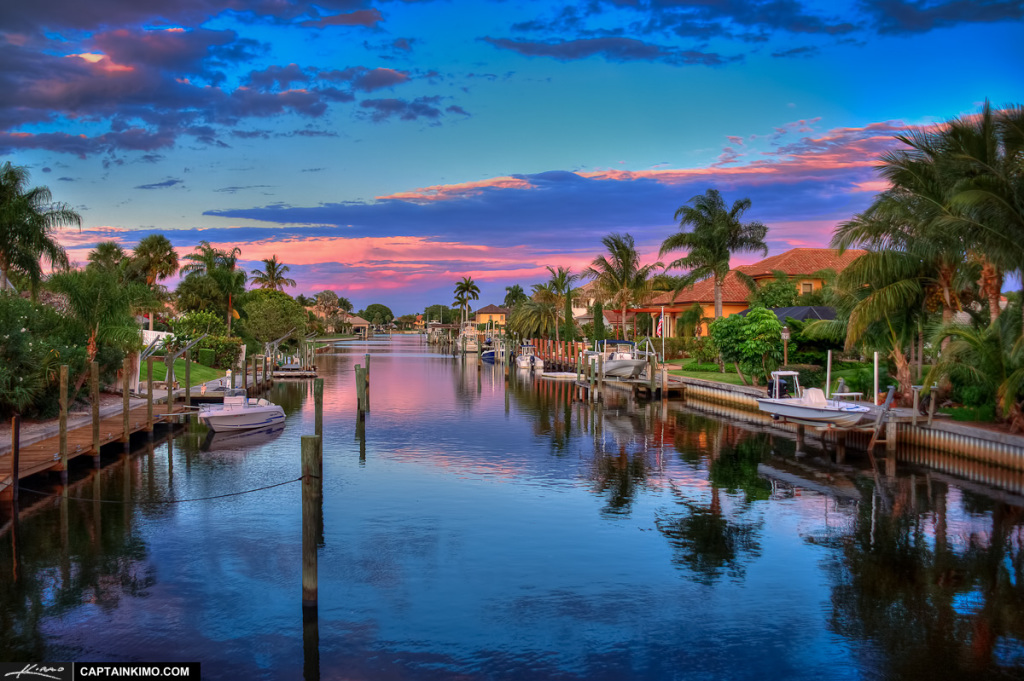 AMENITIES IN PURVA PALM BEACH, HENNUR:
Proposed amenities include Landscape at podium level, Swimming Pool, Tennis Court, Gymnasium, Indoor Games, Kid Friendly Play Area,  Jogging Track, Koi pond, Snorkeling zone, wave pool, Palm court, Beach volley ball court, Barbeque deck, skating ring,  Pitch and putt golf, Tennis court, Cricket practice field, Yoga court, Paw park for pets, two well equipped Clubhouses with steam & sauna, a club theatre, Gymnasium, Squash court, Squash court, Table tennis, Pool table, Yoga / Meditation / Aerobics / Ballet room, Party hall, Jacuzzi,

Provisions for Restaurant, Supermarket, Parlour, Clinic, Crèche, Jamming room, Lego room, Science club hobby will also be in place.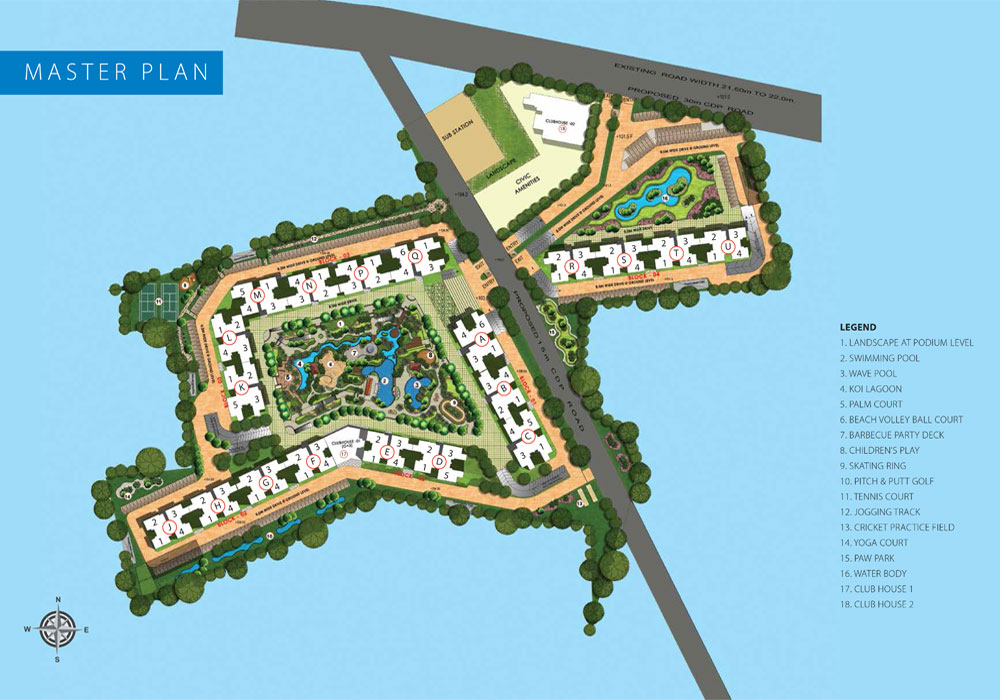 ARCHITECT'S REVIEW OF PURVA PALM BEACH, HENNUR, BANGALORE:
Since I am an Architect based in Bangalore, I am able to review some of the projects and builders in Bangalore with confidence. These reviews will hopefully help you in making the right decision when planning to buy a flat. My reviews are unbiased and solely based on the merits and demerits of the design of the buildings.
POSITIVES OF PURVA PALM BEACH, HENNUR:
Location: Needless to say the location of this project is it's USP. Close to schools, tech parks, hospitals and the Airport, you couldn't ask for a better location. Moreover, the Hennur  road has been widened and  is a breeze to drive on.
Resale Value: It is good for investment and will have good resale value b ecause of it's excellent location.
Unique concept: The idea of living in a beach resort like a permanent holiday may be tempting to many. But I disagree, because then what is the thrill in looking forward to a holiday if the holiday is brought to your doorstep.
View: Half the flats get a beautiful view to the swimming pool, koi pool, water body and central landscaped area.
Reputation: Puravankara Group has been around since 1975 and completed over 8 million square feet of projects. It is a well-established real-estate developer and has an ISO 9001 certification by DNV and a DA2+ rating by CRISIL. So if you go by reputation, then this is the one for you.
Areas of the flats: The super built up areas of the flats are not too high and affordable. Many builders add more % on the Built-up area whil calculating the Super built-up area.
Room sizes: The master bedroom, kitchen, living room and bathrooms are comfortably sized considering that the super built-up areas of the flats are on the lower side. You can confirm this in my post on Bedroom sizes in Design of a Bedroom, design of a Kitchen.
Living dining: The L shaped living/dining room in  the apartments of Block A and B are good sized have good ventilation and light from both ends and have privacy.
Foyer: All apartments have an entrance foyer so that you do not walk in straight to the living room.
Balcony: The balconies are comfortably sized – 5′ wide unlike in Salarpuria Gold Summit which has 4′ balconies. A 5′ wide balcony allows comfortable reclining chairs.

3-Bed-2-Toilet option: is available in which the super-built-up area of a 3-bed apartment is reduced by 150 to 200 sft. So for those of you who are looking for a cheaper 3-bed unit, you can opt for this type. In my opinion, 2 toilets are sufficient for a family of 4 or 5.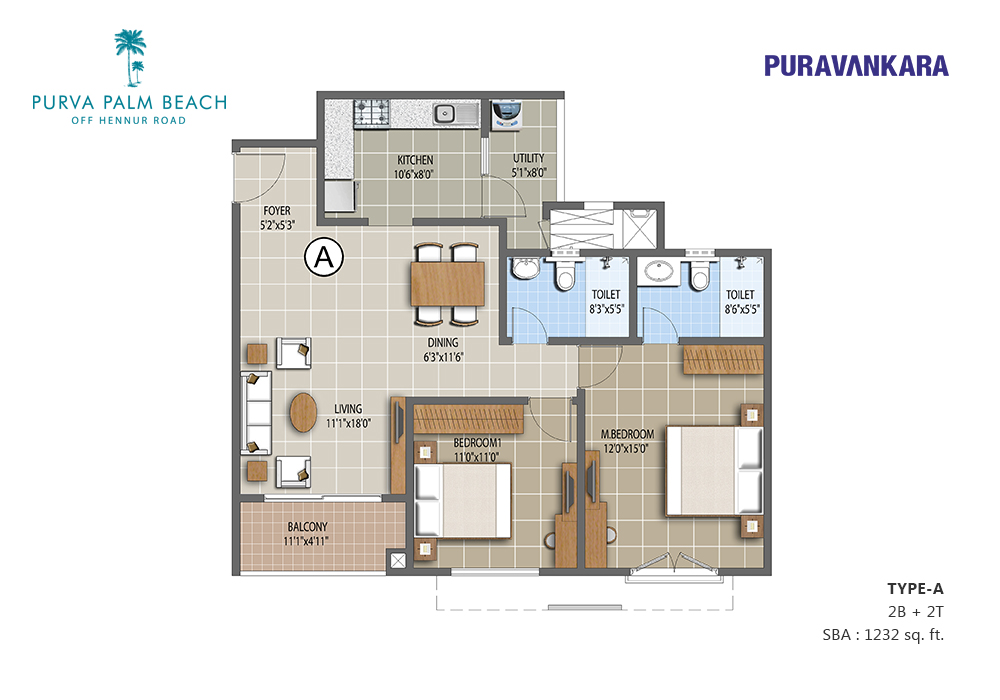 NEGATIVES OF PURVA PALM BEACH, HENNUR:
View: Half the apartments do not get the beautiful 'beach' view indicated in the pictures. They face outwards..
Appearance: The appearance of the 19 floor towers is uninspiring, regular and boring. I know it is difficult to create a beach resort look in a tower, but they just do not appear to belong to a beach.

Maintaining such a large water body: I am really concerned about how the lagoon, koi pond will be sustained with water being a precious resource in Bangalore. Just like in Purva Venezia, to fill up such a large man-made, waterway as shown in the Layout diagram, would require several lakh litres of water. And since the water is constantly getting evaporated, it has to be regularly replenished by pumping out more water through tubewells. Is it all worthwhile, just for the sake of a theme!
Lobby: The light to the staircase/lift lobby is only through the staircase and for such tall buildings, it seems a bit less.
Dining room: The dining room is tiny and does not get any direct light as it does not have windows. A dining table can only be placed in a corner as it will obstruct the circulation space.

Corridor: In the 3-bed units there is an 8′ long corridor which will be dark and adds to the square footage.
Premium cost: Apartments facing the beach are priced at an extra cost of Rs. 450/- per sft which is quite steep according to me.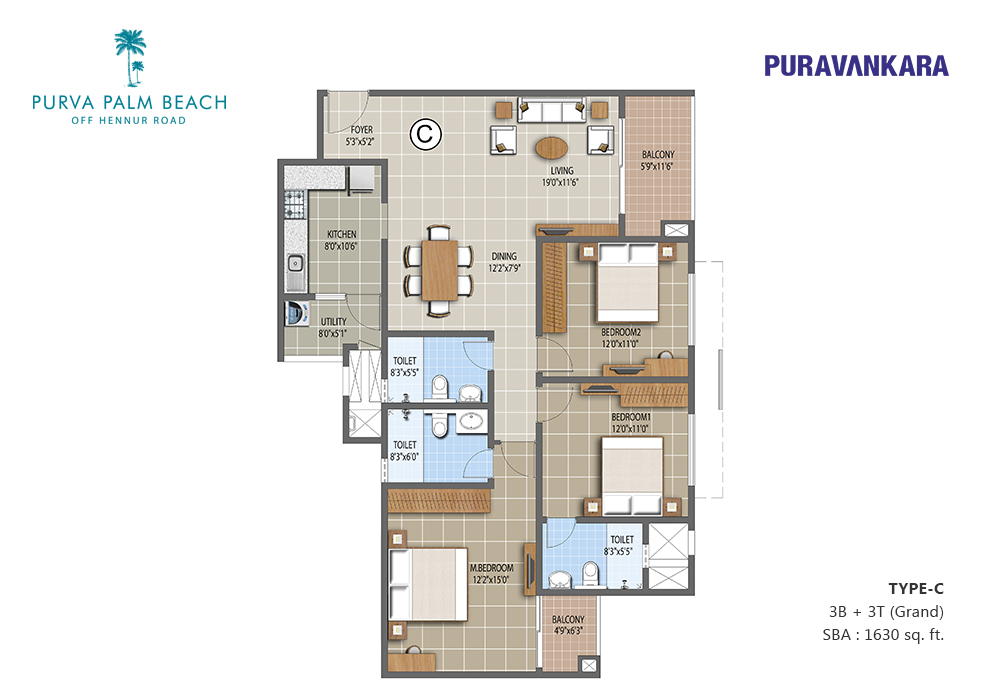 This is my unbiased review of  Puravankara's Palm Beach property on Hennur road. I like the beach concept only on paper – the holiday-fun images and the amenities that go with a well done 'beach resort'. But in reality, I don't buy it. I cannot imagine so much of water being wasted for the massive water bodies proposed in this project. Also, the plans and the elevational treatment  In Purva Palm Beach are very ordinary and not interesting.  I will give it a rating of 6.5 out of 10.

For more reviews of Buildings by the Puravankara group In Bangalore, go to:
For more information on other buildings/projects designed/executed completed in Bangalore, go to:
If you found this post useful, I would really love it if you pin it or share it. I have not blocked the site just because your ad blocker is switched on because I hope my content will be useful to you. But I am able to run this site only because of the ads. So I will be obliged if you turn off your ad blocker. Thank you!