Salarpuria Gold Summit, Hennur, Bangalore | An Architect Reviews
Salarpuria Sattva's Gold Summit is a just-completed residential apartment complex located on Hennur-Bagalur Road in Bangalore East. The site, a 2.7 acre property has 4 tower blocks, of which the front one(two combined) is one of Bangalore's tallest residential buildings with 33 Floors. There are a total of 183 apartments with 3-bed and 4-bed configurations. Salarpuria Gold Summit is ready to move into, since November 2014. Apartments by other reputed builders in Hennur are Chowriappa Constellation,  LGCL One Street,  Purvankara Palm Beach and Shriram Luxor, Hennur.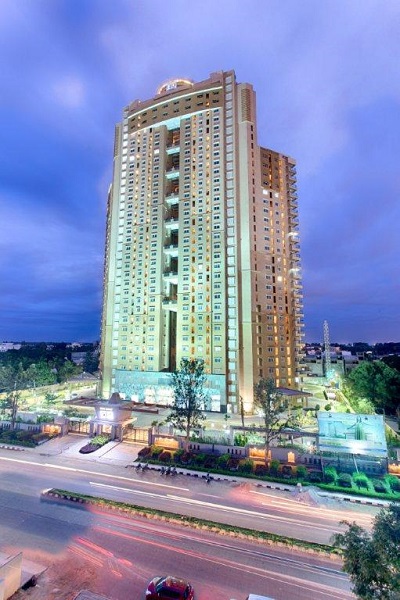 LOCATION OF SALARPURIA GOLD SUMMIT, HENNUR:
Salarpuria Gold Summit located in Kuvempu Layout on Hennur-Bagalur Road, is just a few minutes from Ring Road and right opposite to the Biozeen Tech Park. It is close to the Manyata Tech Park and it takes just half an hour to reach the International Airport because of a comparatively traffic-free road.  There are many schools such as Royal Concorde School , Delhi Public School, Vidya Niketan School, Vidya Shilp School, Bangalore International School, St Micheal's School, Kristu Jayanti College and hospitals like Columbia Asia Hospital near this location.
PROMOTERS OF SALARPURIA GOLD SUMMIT, HENNUR:
Salarpuria Gold Summit is promoted jointly by the Salarpuria Group and it's sister concern, the Sattva group. Established in 1986, Salarpuria Sattva Group is a real estate development firm based in Bangalore. Mr. Bijay Agarwal is the Managing Director of the company. The portfolio of the company includes construction of residential, retail, IT Parks, hospitality and commercial properties. Currently, 15 million sq. ft. of space is under construction and 30 million sq. ft. of space is in the planning stage.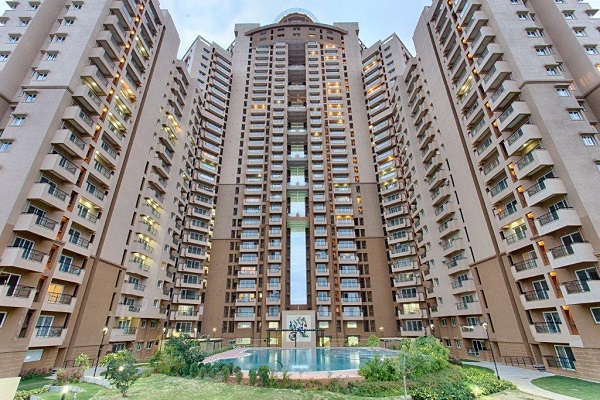 ABOUT SALARPURIA GOLD SUMMIT, HENNUR:
Salarpuria Gold Summit set in 2.7 acres on Hennur-Bagalur road is impossible to miss. It consists of 4 blocks of which 2 blocks, A and B in the front are connected and have 33 floors that reduce at the ends to  26 floors. The other two towers, C and D are much shorter at 18 floors and are placed inside the plot. There are totally 183 units of 3-bed and 4-bed configurations. The areas vary from 1,933 sq ft to 4,727 sq ft.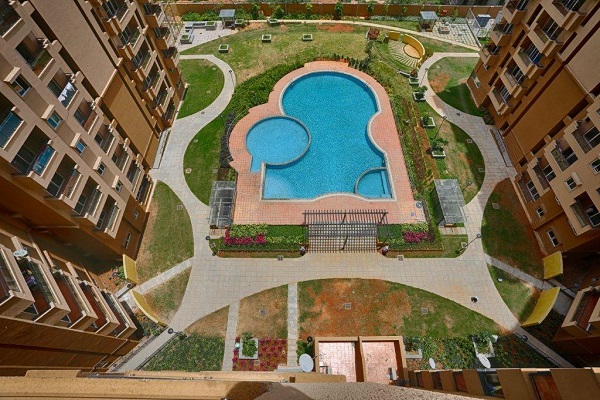 AMENITIES AT SALARPURIA GOLD SUMMIT, HENNUR:
The amenities provided at Salarpuria Gold Summit include:  Club House that has Gym, Health Club, Billiards, Card room, Party Hall, Games room, Amphi theatre, Tennis Court, Basket ball Court, Children's Play Area, Swimming Pool, 24Hr Backup, Security, Intercom,  Jogging Track and landscaped area.
The additional Features include Video Door Phone, Reticulated pipe gas system, Water treatment plant, Rain water harvesting system, Hydro-pneumatic pumping system, Sewage treatment plant, Fire detection and fighting system in all floors. All these except the first 2 must be provided compulsorily according to the rules.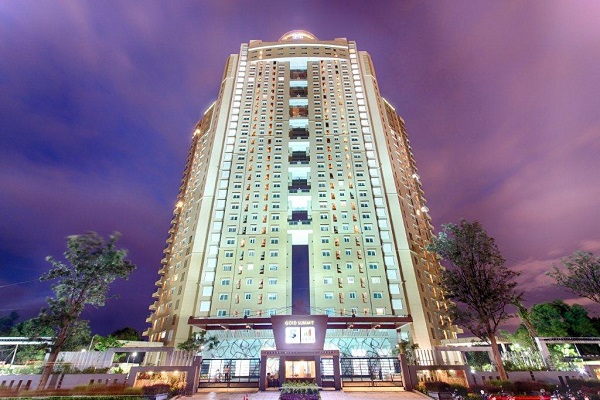 ARCHITECT'S REVIEW OF SALARPURIA GOLD SUMMIT, HENNUR, BANGALORE:
Since I am an Architect based in Bangalore, I am able to review some of the projects and builders in Bangalore with confidence. These reviews will hopefully help you in making the right decision when planning to buy a flat. My reviews are unbiased and solely based on the merits and demerits of the design of the buildings.
POSITIVES OF SALARPURIA GOLD SUMMIT, HENNUR:
Location: Needless to say the location of this project is it's USP. Close to schools, tech parks, hospitals and the Airport, you couldn't ask for a better location. Moreover, the Hennur-Bagalur road has been widened and  is a breeze to drive on.
Appearance: The 33 floor tower is imposing and grand. It stands majestically right on the road and is visually appealing.
View: The view form every flat is to the swimming pool or to the outside landscape or Main road and not to other blocks like in most projects
Rating: Salarpuria Gold Summit has been given a 4 star rating by CRISIL Real Estate Star rating. So if you go by ratings, then this is the one for you.

Room sizes: All the bedroom sizes are good, very comfortable for accommodating the usual bedroom furniture like wardrobes, cot, side tables, writing table/dressing. The bathrooms are a minimum of 6′ in width which is a very comfortable dimension. You can confirm this in my post on Bedroom sizes in Design of a Bedroom.

Living dining: The L shaped living/dining room in  the apartments of Block A and B are good sized have good ventilation and light from both ends and have privacy.
Lobby: All apartments have a entrance lobby which is the size of a small room and bigger than most foyers in similar buildings. It may not really serve any purpose except that it gives you a feel of what to expect in the  rest of the house, size wise.
Kitchen: The corridor style kitchen is very functional and efficient.  You can have more counter space in this type of kitchen arrangement as explained in my post on the design of a Kitchen .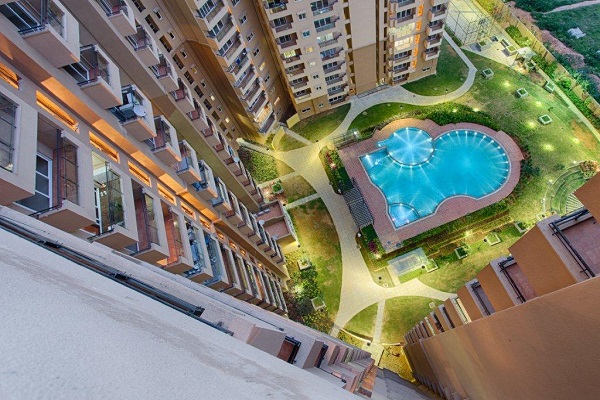 NEGATIVES OF SALARPURIA GOLD SUMMIT:
View: Though all the blocks have good views, the corners of Blocks A1 and B1 are hidden behind the blocks D and C respectively. The A1 and B1 series flats will have at least one bedroom getting mostly the next block in the line of vision.
Space: For the mass of built space, the amount of open, green space is very less.
Lobby: The light to the staircase/lift lobby is only through the staircase and for such tall buildings, it seems a bit less.
Dining room: The dining room in the C2 and D2 series of apartments do not get any light. The dining rooms in the A and B blocks are facing other blocks and have no view.
Balcony: The balconies are narrow, only 4′ in relation with the size of the flat. It is not enough to sit comfortably without feeling a bit cramped. I hope that the railing heights are at least 4′ in such a tall building.
This is my unbiased review of Salarpuria Gold Summit. I actually quite like it, the layout, design and overall appearance. I will give it a rating of 7.5 out of 10.
For more reviews of Buildings by the Salarpuria group In Bangalore, go to:
For more information on other buildings/projects designed/executed completed in Bangalore, go to:
If you found this post useful, I would really love it if you pin it or share it. I have not blocked the site just because your ad blocker is switched on because I hope my content will be useful to you. But I am able to run this site only because of the ads. So I will be obliged if you turn off your ad blocker. Thank you!