Kolte Patil Mirabilis, Horamavu, Bangalore | An Architect Reviews
Kolte Patil's flagship project in Bangalore called "Mirabilis", located in Horamavu, off Banaswadi Outer Ring Road (ORR) is spread over 7 acres of greenery and very close to the Horamavu Agara lake. It has a total of seven towers with 12 floors each and 640 apartment units. It is expected to be completed in 2016. Other residential complexes by reputed builders in Horamavu include Brigade Altamont, Chitrakut Amber, Prestige Gulmohar.


LOCATION OF KOLTE PATIL MIRABILIS, HORAMAVU: 
Outer Ring Road (1.4 Kms), Manyata tech park (6 kms), Baghmane tech park, ITPL whitefiled (11 kms), Old Madras road (4 km), MG Road (10 km) and International airport (32 km) are in close proximity to Kolte Patil Mirabilis. Schools such as Royal Concorde School , Delhi Public School, Vidya Niketan School, Vidya Shilp School, Bangalore International School, St Micheal's School, Kristu Jayanti College and hospitals like Columbia Asia Hospital, Baptist hospital are within reach from this location. Some of the other big apartment complexes nearby include Salarpuria Gold Summit.
ABOUT THE BUILDER KOLTE PATIL:
Kolte-Patil has been in the building sector for the past 25 years. Founded 2 decades ago Kolte-Patil Developers Ltd. is one of the foremost real estate companies in Pune.It has completed 1 crore sq. ft. of developments in Pune, Mumbai and Bengaluru and these include residential, commercial, retail, IT parks, and integrated townships. According to the company brochure, their core values include "creating spaces that blend in with the surroundings, eco-friendliness, technology, sustainability, value and commitment to time schedules".

ABOUT KOLTE PATIL MIRABILIS, HORAMAVU:
Kolte Patil Mirabilis has around 640 apartment units of 1-bed, 2-bed-2-toilet, 3-bed-2-toilet, 3-bed-3 toilet and 4-bed configurations in areas varying from 436 sft to 2300 sft. The apartment prices range between 20.25 lakhs and 74.3 lakhs. However, please note that these prices are excluding car parking, registration and other charges.

AMENITIES IN KOLTE PATIL MIRABILIS, HORAMAVU:
Swimming pool, provision  of space for Café , Spa and Creche, Gymnasium, Indoor sports facilities, Table tennis, Billiards/ Snooker, Squash court, Chess and Carrom tables, Multipurpose hall, Library, Tree atriums, Health trail, Yoga / Meditation pavilions, Congregation space, Exercise courts, Practice basketball courts, Practice cricket pitch, Tot lots, Children's play area, Garbage chute, Water feature at the entrance.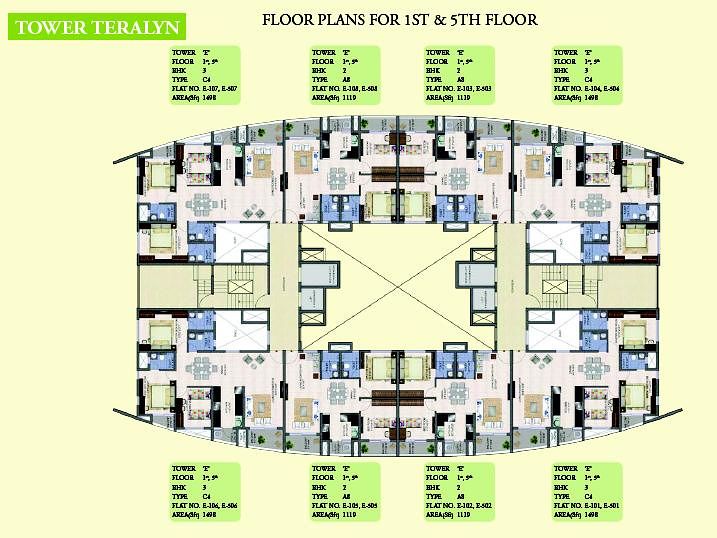 ARCHITECT'S REVIEW OF KOLTE PATIL MRABILIS, HORAMAVU, BANGALORE:
Since I am an Architect based in Bangalore, I am able to review some of the projects and builders in Bangalore with confidence. These reviews will hopefully help you in making the right decision when planning to buy a flat. My reviews are unbiased and solely based on the merits and demerits of the design of the buildings.
POSITIVES OF KOLTE PATIL MIRABILIS, HORAMAVU:
Location: The location near the ORR and Manyata Tech Park will attract the IT crowd. Moreover, it is close to MG road, schools, tech parks, hospitals and the Airport.
Resale Value: It is good for investment and will have good resale value because of it's excellent location.
Reputation: Kolte Patil Group is a well-established real estate firm in Pune and so their flagship project in Bangalore should attract buyers.
Appearance: The elevation of the 12 floor towers might be interesting because of the curved skin wall that circles the blocks. The skin wall causes the rooms to be set back and this gives additional insulation to the apartments.
Areas of the flats: The super built up areas of the flats are not too high and affordable. Many builders usually add more % on the built-up area while calculating the Super built-up area and hence have high super built-up areas.
Lobby: The light to the staircase/lift lobby is reasonably good as there are lot of windows facing the atrium.
Room sizes: The master bedroom, kitchen, living room and bathrooms are comfortably sized considering that the super built-up areas of the flats are on the lower side. See my post on Bedroom sizes in Design of a Bedroom, design of a Kitchen.
Living dining: The L shaped living/dining room in all the apartments is preferable as it breaks it into two spaces.
2.5 bhk or the 3-Bed-2-Toilet option: is available in which the super-built-up area of a 3-bed apartment is reduced by 150 to 200 sft. So for those of you who are looking for a cheaper 3-bed unit, you can opt for this type. In my opinion, 2 toilets are sufficient for a family of 4 or 5.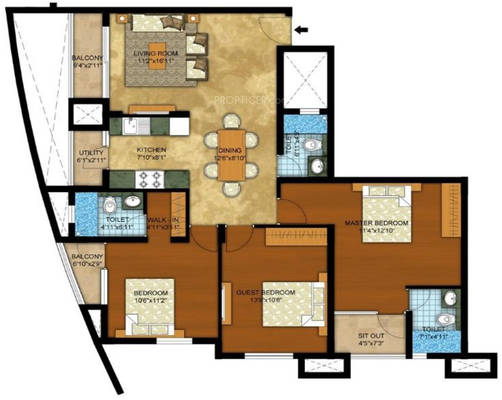 NEGATIVES OF KOLTE PATIL MIRABILIS, HORAMAVU:
View: In every apartment, one bedroom faces a central atrium and the opposite apartment bedrooms. It can feel like a closed-in space.
Dining room: The dining room is narrow and does not get any direct light as it does not have windows. A dining table can only be placed to one side, otherwise it will obstruct the circulation space.
Toilet: In the 2-bed and 3-bed units, the common toilet opens directly into the dining room. This can be annoying especially when people are sitting at the dining table and someone is using the toilet.
Foyer: All the apartments have a tiny entrance foyer which is too small for keeping footwear.
Balcony: The balconies are very narrow at 2'11" unlike in Purva Palm Beach which has 5′ balconies. A 5′ wide balcony allows for comfortable reclining chairs whereas a 3′ balcony is just enough for standing.
This is my unbiased review of  Kolte Patil's Mirabilis in Horamavu. I like the skin wall which allows forinteresting  pockets and provides insulation to the apartments. But in reducing the Super built-up are, the balconies, dining rooms have been made very small.  I will give it a rating of 7 out of 10.
For more information on other buildings/projects designed/executed completed in Bangalore, go to:
If you found this post useful, I would really love it if you pin it or share it. I have not blocked the site just because your ad blocker is switched on because I hope my content will be useful to you. But I am able to run this site only because of the ads. So I will be obliged if you turn off your ad blocker. Thank you!