Prestige Shantiniketan, Whitefield, Bangalore | An Architect Reviews
Prestige Shantiniketan by Prestige Group Builders is an upcoming township in Whitefield, Bangalore spread over 105 acres of green spaces. It is proposed as a self contained township with an expansive residential precinct, a Radisson Hotel, a Business Center, Forum Mall, a convention center and a five-screen multiplex.
PROMOTER:
Prestige Shantiniketan  is developed by the Prestige Group, one of the biggest builders of Bangalore, with around 185 completed projects.

ARCHITECT:
Prestige Shantiniketan is designed by M/s RSP Group, a multinational  architectural firm with an office in Bangalore.
PRESTIGE SHANTINIKETAN:
A look at the Site plan shows that Shantiniketan has been designed into two distinct precints – the residential precinct, called Soul Space placed away from the business precinct called the Commercial Crescent and the Global Lounge. The residential area is shielded away from the business area so as to ensure privacy for the residents because the commercial area will be accessible and used by non-residents as well.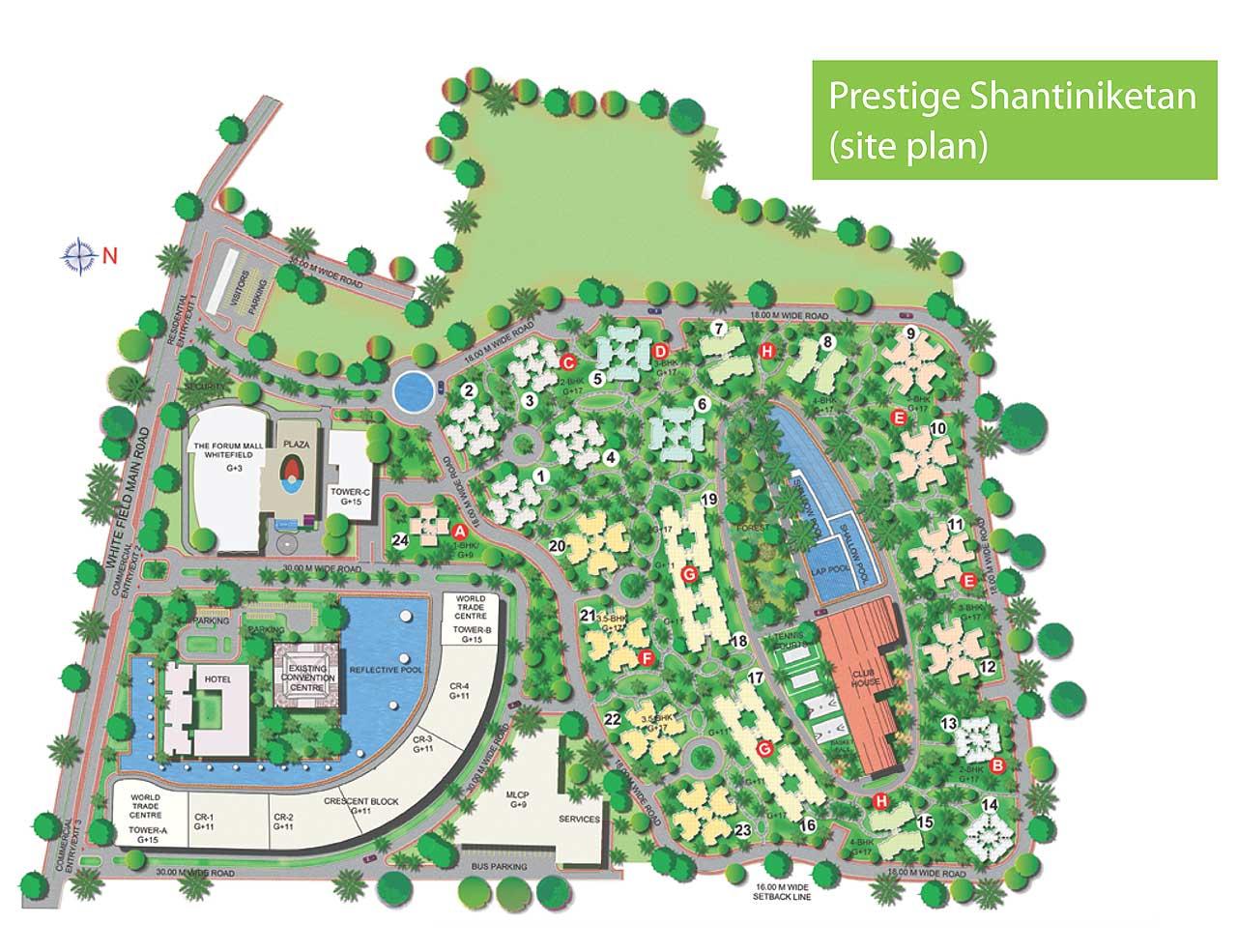 RESIDENTIAL SOUL SPACE:
Soul Space, the residential precinct has 2839 apartments spread out in towers with 12 – 18 floors.  These towers have been designed on the lines of the New York Skyline. The residential area has over 75% of open-to-sky spaces. These green pockets are traffic-free and have amenities like playgrounds, water bodies, lawns, leisure spaces and a large central park just like the New york Central park.
In the words of the promoter, "The Central park is a 10 acre, internationally styled large, green space that will leave you feeling like you're in New York. The Central Park is positioned pretty much on the lines of New York's Central Park. A place where like-minded people can meet up for a stroll around the park, to read a book under a tree or may be spend a lazy afternoon picnicking with the kids".
COMMERCIAL CRESCENT :
The Business Precinct – houses a business development centre built with new age corporations in mind. It comprises a stand alone 17-level signature tower, a 12-level crescent shaped block anchored at both ends by two 16-level towers with 3.5 million sq. ft. of office space. In addition, there is a Raddisson hotel and a convention centre. These steel and glass structures are reflected in the large reflective pool. See the perspectives shown below.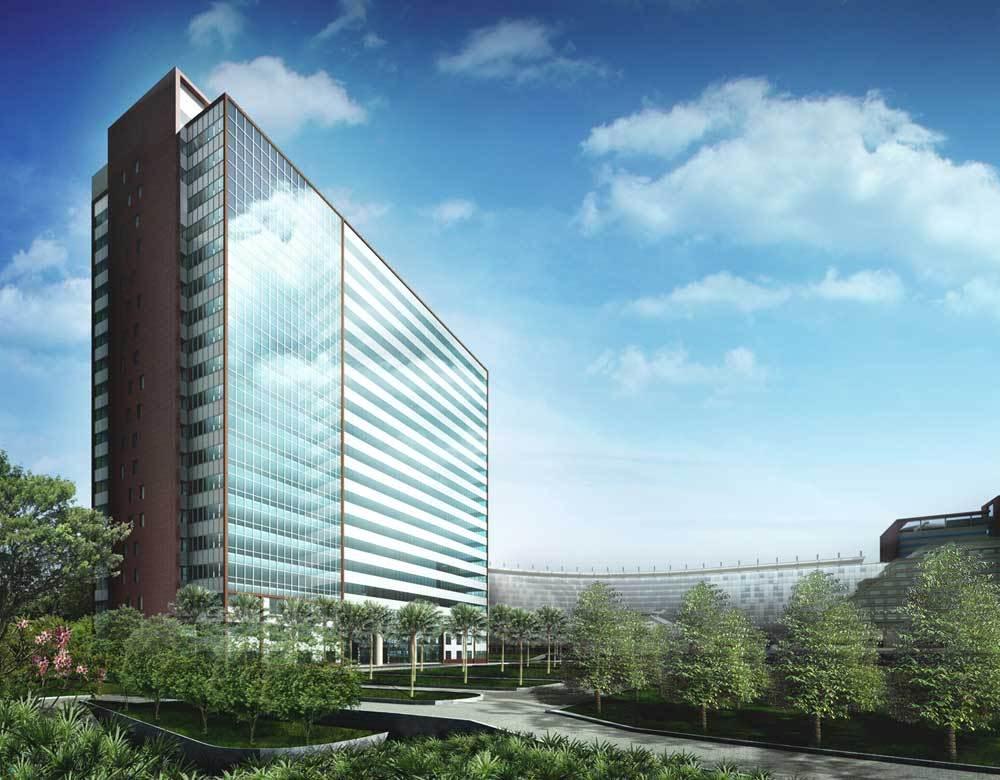 GLOBAL LOUNGE: The business precint is adjacent to the Global Lounge which has facilities like a food court, health court, fine dining restaurant, bank, ATMs, coffee shop and the Forum Mall. Like the commercial crescent, the Global Lounge is  placed away from the residential area, but within reach, since it will be used by non-residents as well.

FEATURES:
Prestige Shantiniketan has all the features you can expect nowadays like:
A clubhouse with indoor badminton courts, tennis courts, squash courts, party area, pool table, table tennis, coffee shop, jogging track, a children's play area and separate health clubs for men and women.

Party halls

Recreational rooms like the card/chess/carrom room.

A lounge library

A restaurant.

A large swimming pool.

100% power back-up,

High speed elevators,

Jogging tracks and

Security system.
COLLAPSE:
23rd October 2008: Four persons were injured and another 100 construction workers had a providential escape when a part of a 15-storeyed concrete structure under construction in Prestige Shantiniketan crashed at Whitefield here on Thursday. Around 4.20 pm, while removing the centring material, one corner of the roof of tower C started to give in. Six floors of the block crashed subsequently and the entire portion collapsed within the next half hour. About 60 workers who were working on the rooftop, removing the centring structure, ran to safety when the crash occurred. It was reported that one worker was missing and 4 workers who were at the bottom were injured.
The fire force could not launch a full-fledged rescue operation for two and a half hours because of the gradual collapse. Even after all the 14 floors had crashed, raising a cloud of cement, rescue could not begin because of reduced visibility. Light evening showers further delayed the process. Later, the fire force abandoned the operation following assurances from the promoters that there were no workers in the building at the time of the crash.
Prestige Group chairman Irfan Razack said there were no casualties nor was any worker injured. IJM, a Malaysian infrastructure company are the contractors for the project. Asked about the cause of the crash, he said: "We believe a concrete slab that was being laid fell, and that then had a cascading effect. While I don't think there's any structural problem, we will evaluate all possibilities that could have led to this."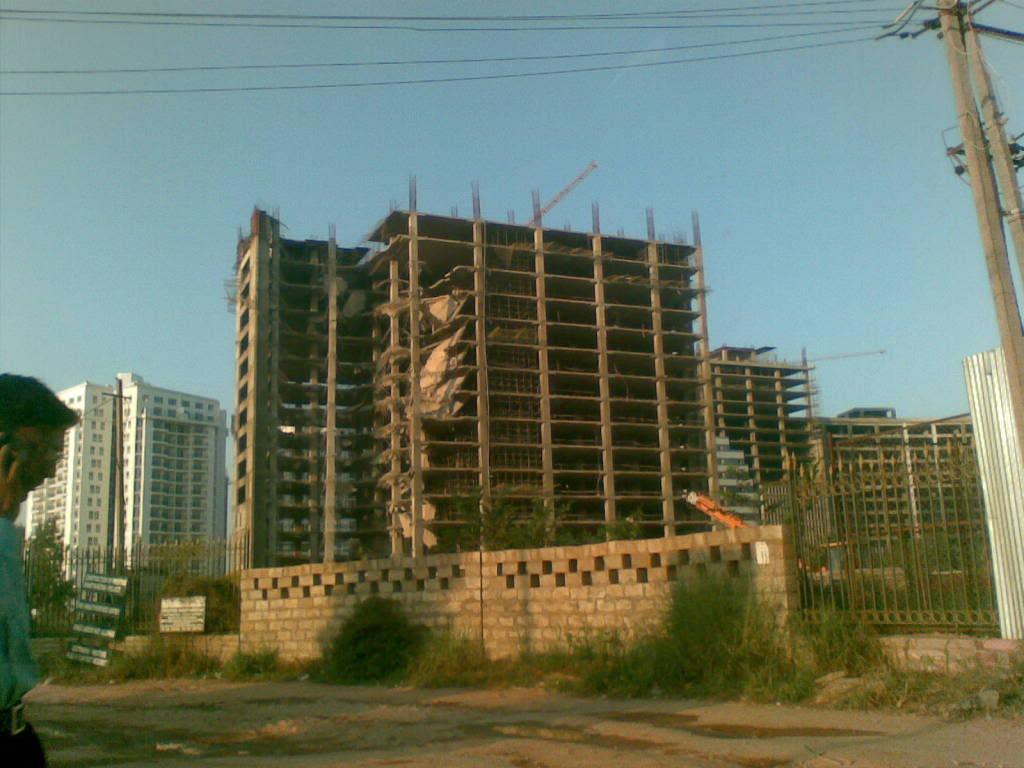 ARCHITECT'S REVIEW OF PRESTIGE SHANTINIKETAN:
To me, it looks like the construction was going at break-neck speed since there might be deadlines to be met. Normally after an RCC slab has been laid, it is important that it be given enough time to set and get tied to the underlying concrete structure. However in a hurry to speed up things, especially in multi-storey structures, the setting time is considerably shortened because not much work can be done while waiting for it to set.  That must be why when the centring sheets were being removed, the slab crashed.
Let's hope that, as reported in the media, there were no casualities. But I personally feel there might have been a number of  deaths or injuries because there is not much time to react in such situations. The whole matter must have been hushed up as is evident by the way the workers  disappeared and no actual eyewitnesses were available for comment. In such things, the reaction was instantaneous.
But in saying this, I have to add that I have a good opinion of Prestige Group and their buildings. I live in Bangalore; as an Architect I worked for a well known architectural firm that has designed many Prestige projects; and my parents live in a Prestige apartment.  Prestige Group has consistently kept up a good standard in all their projects. But in the race aginst time, even the best tend to forget the big picture and worry only about deadlines or money.
COMPLETION:
After the setback, the work naturally got delayed till the whole matter settled down. So eventually the deadlines could not be kept and a lot of money was spent. But it eventually got completed. See the picture below.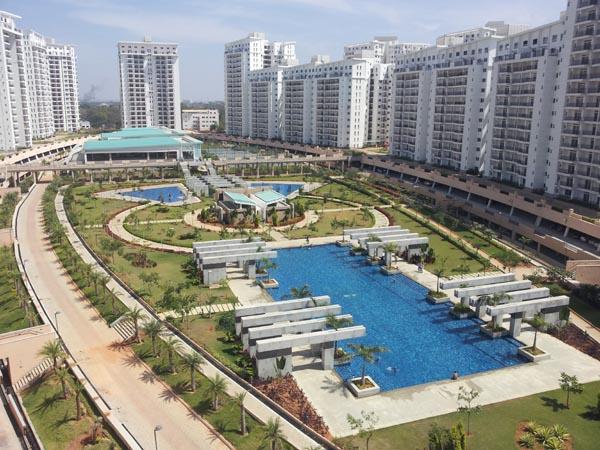 For more information on other buildings/projects designed/executed completed in Bangalore, go to:
If you found this post useful, I would really love it if you pin it or share it. I have not blocked the site just because your ad blocker is switched on because I hope my content will be useful to you. But I am able to run this site only because of the ads. So I will be obliged if you turn off your ad blocker. Thank you!