STEPS FOR DESIGNING A LIVING ROOM | An Architect Explains
The living room is your entertainment center, the place for cozy movie nights with your family and where your guests make their first impressions when they visit. So making it a cozy yet spacious, stylish room that reflects your taste is important.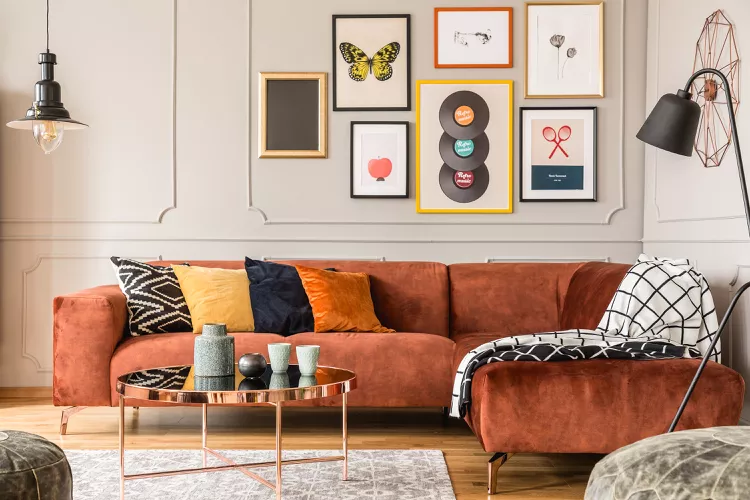 As an Architect, I have given an easy  step-by-step guide on how to decorate a living room If you follow these steps you can have a living room that looks like it came straight out of a magazine.
Step 1: Know your measurements
Step 2: Decide the furniture pieces
Step 3: Picture the layout
Step 4: Choose your style
Step 5: Choose the main sofa
Step 6: Pick the area rug 
Step 7: Choose the right lighting
Step 8: Choose your colour palette
Step 9: Use different textures
Step 10: Add art and wall accessories
STEP 1 – KNOW YOUR MEASUREMNETS: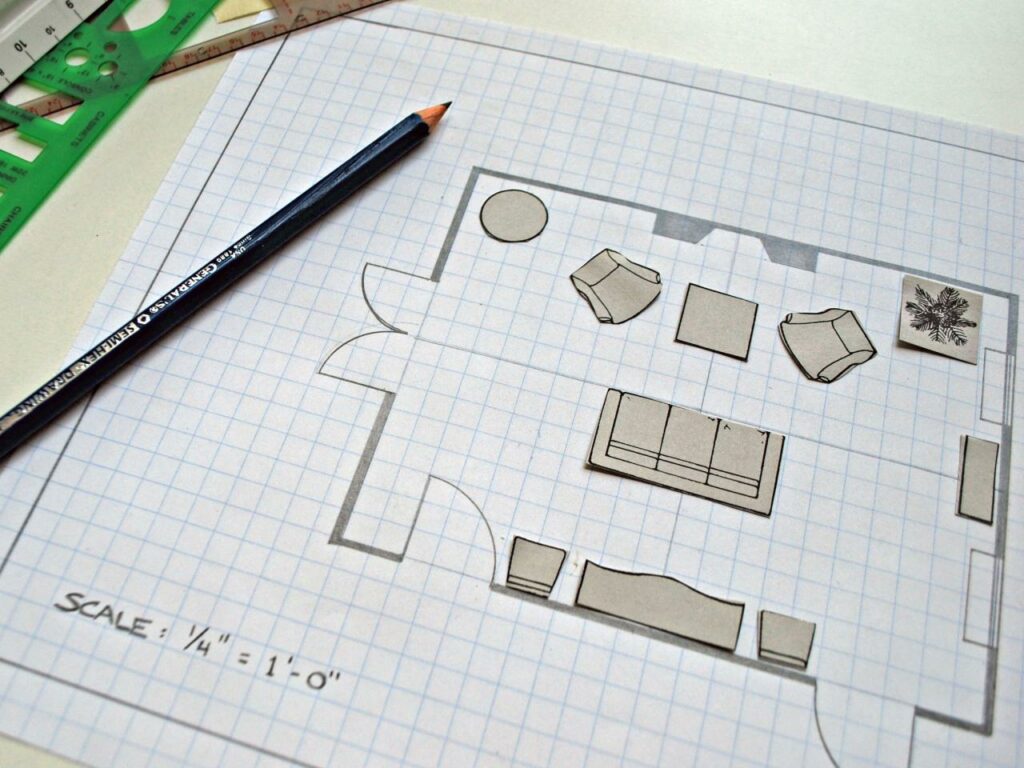 The first thing you need to do is to – measure. You'll have to pay special attention to walls with windows, doors, niches or alcoves. Make sure you measure the openings sizes too.
Your entire living room design could not work with respect to window treatments, furniture and rugs if you do not measure each nook and cranny. Remember to take this sketch with you while shopping. It'll prevent you from ordering incorrect size furniture or rugs or window curtains.
STEP 2 – DECIDE THE FURNITURE PIECES: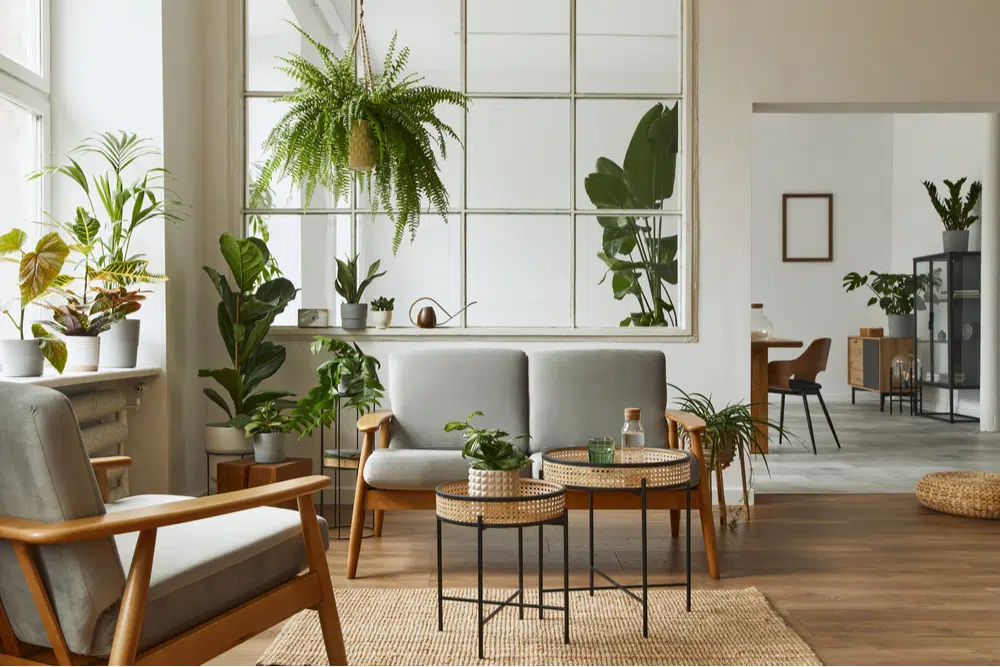 Make a list of the important furniture pieces and items that you want to have in the living room and prioritize the positioning of these items. For this, ask yourself questions like:
What will I be doing in my living room?

How many people will usually be spending their time there?

Am I planning on hosting parties?

Do I enjoy watching TV in the living room?
These questions will help you in deciding your priority regarding the furniture. For example, if you know that you'll spend time watching TV in the living room, maybe investing in a comfortable sectional sofa is more important than adding accent chairs. On the contrary, if you're planning to host parties, a loveseat paired with accent chairs and ottomans might give you more flexibility to create an inviting seating area that sparks conversations.
STEP 3 – PICTURE THE LAYOUT: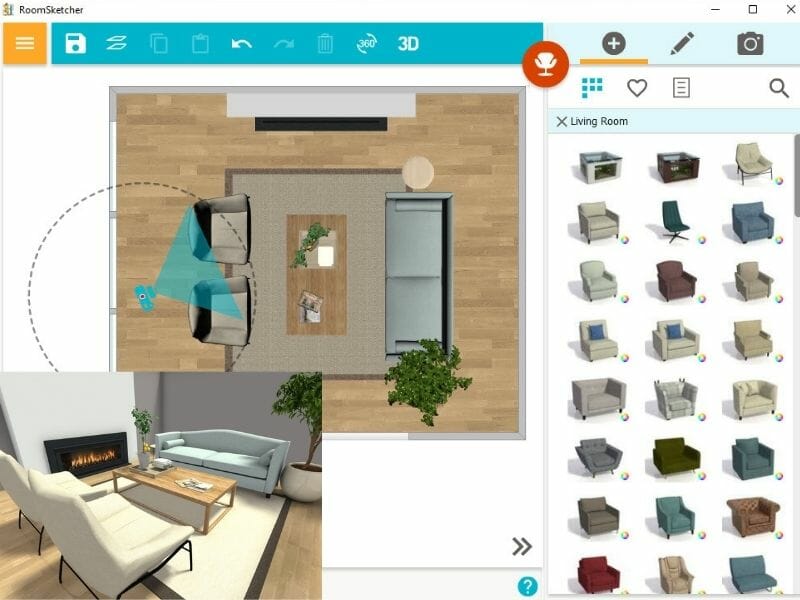 You don't have to be an interior designer or an architect to imagine how your want your living room's layout will be. There is a plethora of floor planner software available to help you  plan your layout.
When you take the time to draw a layout of your room, you can get a better idea of the furniture you need to buy or retain. Also, it can help you figure out if you'll have enough space for a new bar cabinet or a long sectional sofa. Or it may help you realize that there will not be enough room for an additional showcase.
STEP 4 – CHOOSE YOUR STYLE: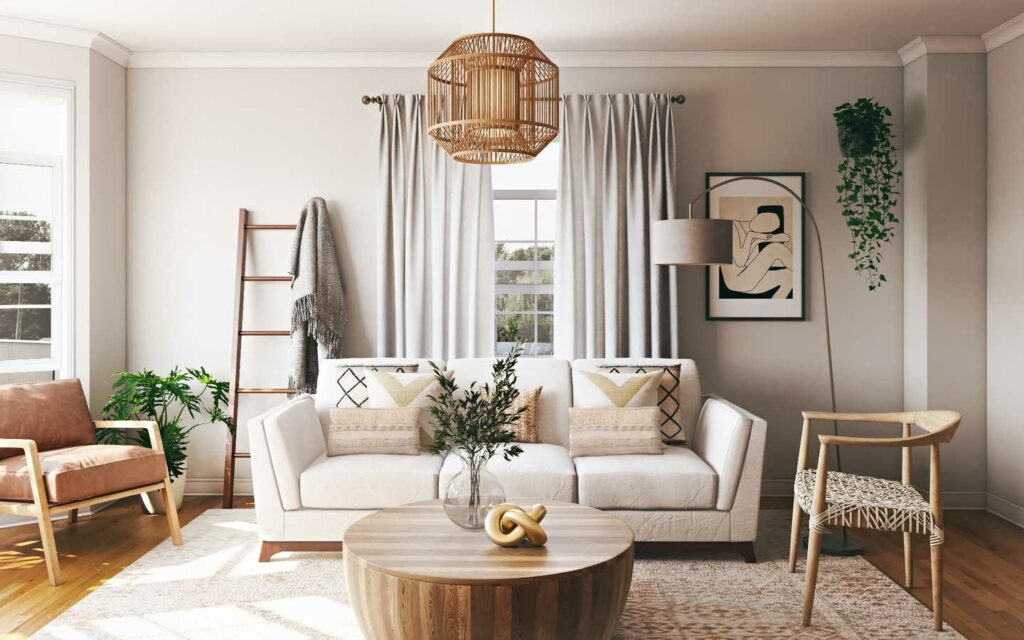 This is the trickiest part of creating your living room space. Think about the style you wish to showcase: modern, contemporary, Scandinavian. eclectic, relaxed, formal, warm, farmhouse or inviting.
Choosing a style can help you figure out what you need and where and how you'll shop for furniture. It will also help you to choose furniture, rugs, curtains, cushion covers, accessories, colours in that particular style because you need to tie them all together.
STEP 5 – CHOOSE THE SOFA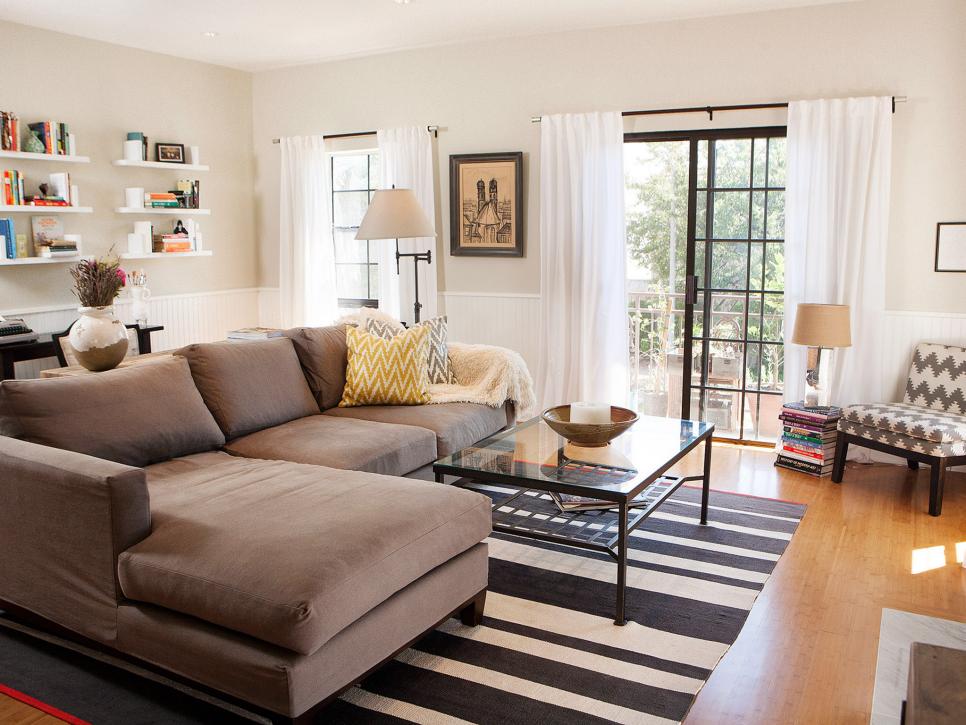 The couch is perhaps the largest piece of furniture in your living room and will dictate how you arrange the rest of the furniture. So find a sofa that will become your focal point and that suits you. Remember to keep in mind the functionality of your living room. If you know you'll spend a lot of time here watching TV, then a sectional is a better option than regular sofas. Additionally, lifestyle considerations like pets and children will determine the material of the sofa.
Whether you're choosing an accent, large sofa, or playing with various seating options, make sure you don't over-saturate the space. While you want your seating area to be comfortable, you also want to leave enough room to walk around the area without continually tripping over the edges of the sofa or the coffee table.
STEP 6 – PICK THE AREA RUG: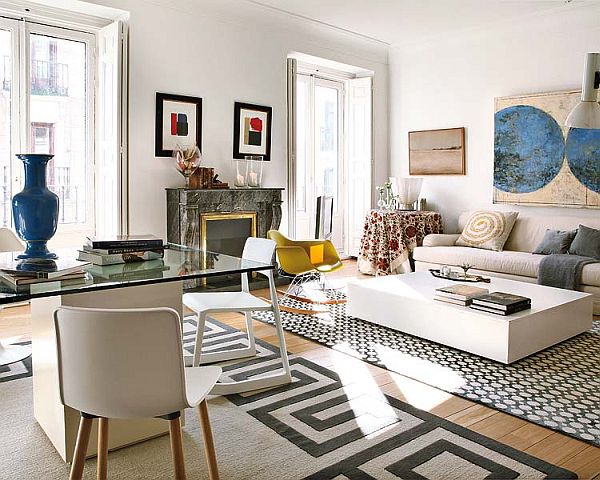 For a living room, you should find a big enough rug to fit all your furniture. Keep in mind, when area rugs are too small, the living room will look disjointed. Start by measuring the room in which you'd like to place the rug. Then, purchase a rug that allows you to maintain a gap of at least 8 inches and up to 24 inches from the walls. The smaller the room, the smaller the gap.
The center of the coffee table should be in the center of the rug, with couches, chairs, and side pieces surrounding it and on or, at least partially on the rug. It's fine to have the front legs of a major upholstered piece on the rug and the back legs off, but all the legs of smaller pieces should be on the rug.  If you have a very large room, you may need more than one rug to make this happen.
You can even layer different area rugs to create more depth and add more texture. Divide up the conversation areas and use different rugs for each space, These pieces don't have to match, but they should be neutral or tied together by color or pattern.
STEP 7 – CHOOSE THE RIGHT LIGHTING: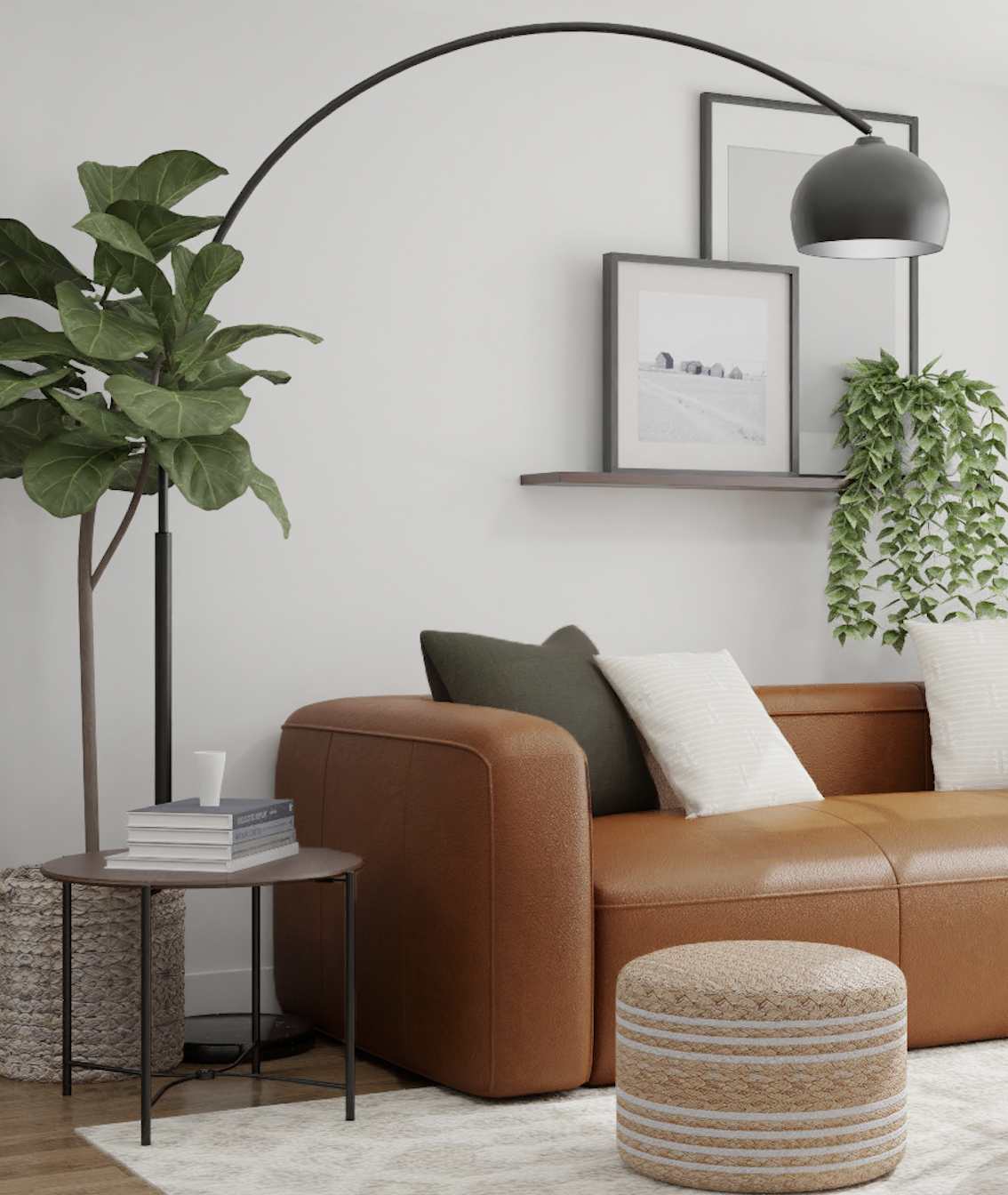 For your living room to look put together, you need three lighting types: ambient, task, and accent. To make this happen, you might consider a mix of overhead chandeliers, table and floor lamps next to the main sofa for accent, and wall sconces for ambient lighting.
Lighting can be quite tricky, so make sure to have an overall idea of how your living room will be arranged before you buy lighting. Choose statement light fixtures that blend with the design. You don't always have to use two matching lamps. Depending on your living room's style, you can play around with the pieces you add. For example, you can use a statement lamp on one side that goes with your side table, but on the other side, choose a floor lamp that provides different lighting. Not only are you choosing the right light style for each portion of your living room, but you're also adding more pieces to make the space look more intriguing.
Here are some lighting ideas for your home to give you some inspiration.

 



STEP 8: CHOOSE YOUR COLOUR PALETTE
When it comes to living room, choosing the right paint color is crucial. Therefore, pick a color palette that compliments your furniture choices, your home's overall aesthetic, and the style you want to achieve in this room. Also, try to incorporate more color using pillows, throws, and decorative elements to break with the monochromatic look of the space. 
Mix Light and Dark Paint Colors: We're used to seeing rooms in one color only. Don't be afraid to mix colors, patterns, and styles throughout your living room. However, make sure that there's a common theme, whether it's the color, the style, or the subject matter, to ensure you don't make the space look overwhelming.  When you combine dark and light living room paint colors, you create a dynamic look that adds depth and balance to your space. 
On that same note, remember that you can contrast neutral colors as well. For example, white walls can create a crisp contrast to caramel leather accents and brass hardware. Using contrasting tones makes the palette feel richer, and it will give you a striking look as you start adding more color and texture.
STEP 9: USE DIFFERENT TEXTURES:
If you don't feel confident using color to create a unique look, incorporate different textures instead. Consequently, you can include texture by adding leather, cotton, wool, stone, glass, and many other textures as you wish.
As you start to be more creative and playful with your furniture choices, try to mix up your upholstery. Mix and match pieces to give your decor more personality and break up the style. One of the safest ways to do this is to mix leather chairs with a fabric sofa or vice versa.
STEP 10: ADD WALL ART AND ACCESSORIES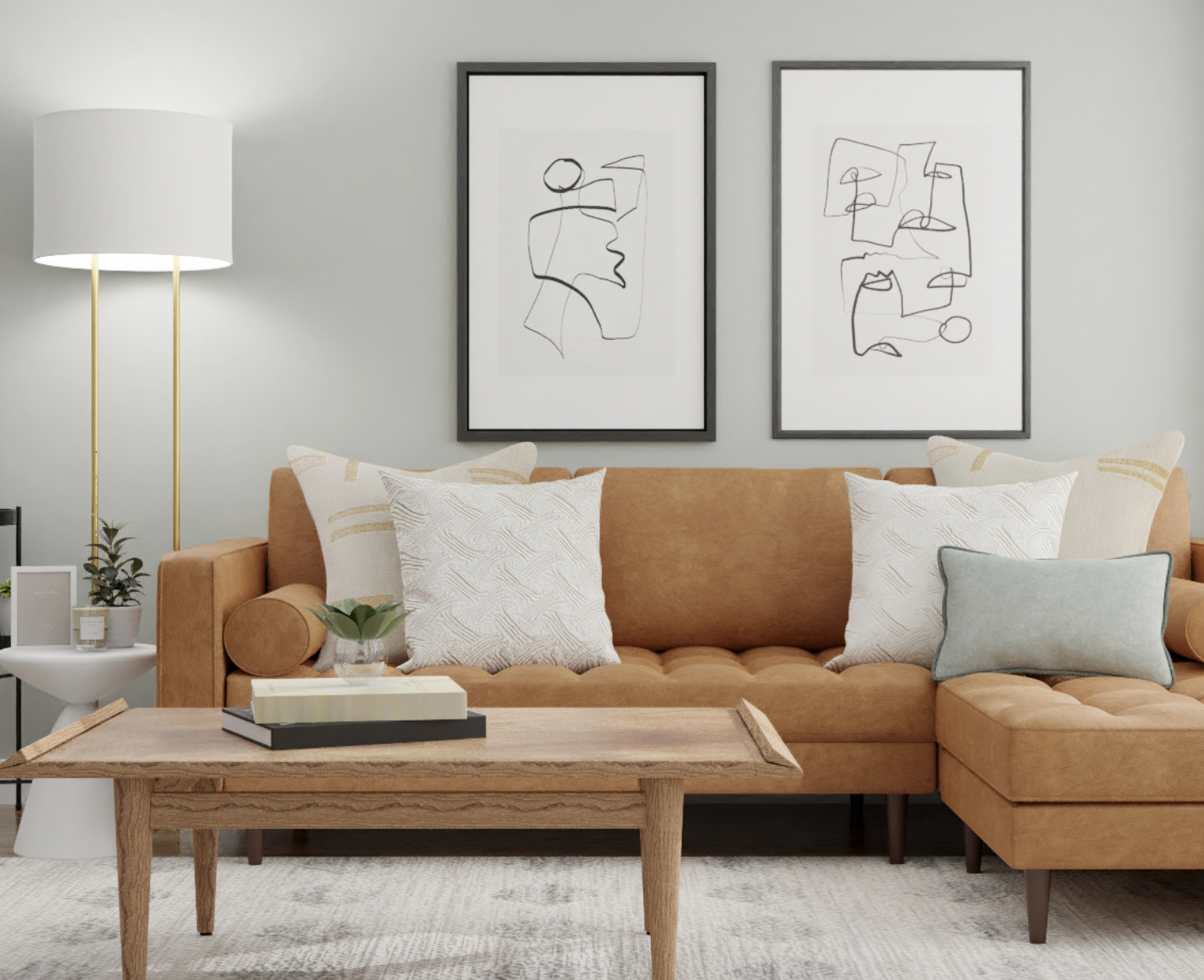 No living room would be complete without wall art and accessories. However, don't go crazy, thinking that every inch of the room needs to be filled. Empty space is vital in designing comfortable spaces as it provides a place for your eyes to rest. But, including wall art and accessories like pillows, blankets, mirrors, decorative items will pull the space together and complete the look.
It can be challenging to choose artwork to match your space. Hence think about the overall theme when selecting your wall art. Remember that when you're adding wall accessories, these are often pieces that are deeply personal choices and speak about your personality. Other components can be more strategic, like an oversized floor mirror over a small wall to make the room seem more spacious.
HOW DO I START DECORATING MY LIVING ROOM?
The tips given above can get you started on planning your living room space. But try to start small. Otherwise, a whole redesigning project can be too overwhelming. Begin by picking the rug, sofa, and accent art wall. Start creating conversational and enjoyable spaces in the living room. Follow a theme, so it's easier to stay focused.
I CAN GET OVERWHELMED: WHAT DO I DO?
When in doubt, you should always turn to the experts. Look for inspiration on Pinterest, Houzz, Instagram, and other interior design outlets to get an idea of what a professionally designed living room should look like. It can also help you get an idea of the different layouts, styles, and furniture pieces you can add to your living room to make it stand out from the crowd.
HOW CAN I DECORATE MY LIVING ROOM ON A LOW BUDGET?
You don't have to redesign your entire living room to make an impact. Start by rearranging the furniture to play with your living room's layout and change the way it looks. Get a few frames and upgrade your art wall decor using family photos, prints, and easy-to-find posters. Add greenery with house plants to elevate the space, and think about painting a wall or two to create more depth. These small steps can make a huge difference in how your living room space looks without having to spend a fortune to make it happen.



If you found this post useful, I would really love it if you pin it or share it. All it takes is a simple click on the "pin it" "like," "share," "tweet," or Google+ buttons below the post.
Related Topics: