SCIENTIFIC VASTU FOR EAST FACING HOUSE | An Architect Explains
For people who follow Vastu Shastra rules, the direction of the main door of the house is an important consideration. East facing houses are the second most preferred homes (first choice being north facing ones). So while looking for houses, people believe that any East facing home is auspicious. However this is not true. The placement of the entrance dictates whether an East facing house is auspicious or inauspicious according to Vastu Shastra Principles.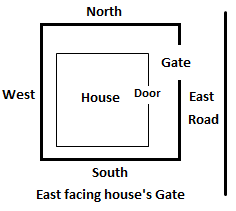 WHAT IS A EAST FACING HOUSE?
Many people find it difficult to identify the orientation of the house/site. The House/Site orientation can be recognised by one simple action. Stand inside the house or the Site and face out of the main door or gate, as the case may be. So, if you face East, then it is an East facing house.
WHAT DOES VASTU SHASTRA SAY ABOUT EAST FACING HOUSES?

You might have heard from the so-called 'Vastu specialists' that only East and North facing properties are auspicious and West and South facing houses should be avoided. But that is not true. In reality, as per Vastu Shastra, all the directions are equally good and the auspiciousness of a home doesn't depend upon the direction. The most important factor is the correct placement (location) of the main door/entrance door. For each and every direction – be it North, East, South or West –Vastu Shastra lays down specific rules for locating the main entrance door of the house. You must locate the entrance at only "allowed" places and never locate in the "prohibited" zones.
Now, since we're dealing with East facing houses, let's have a look at the Vastu guidelines for them.

 



WHAT ARE THE VASTU GUIDELINES FOR THE LOCATION OF THE MAIN DOOR IN EAST FACING HOUSES?
To figure out where to place the main door in East facing houses, imagine and divide the East length of the house from the North-East (NE) corner to the South-East (SE) corner into 9 equal parts; (each part is called as pada or step in Vastu Shastra). The NE pada is the 1st pada and the SE pada is 9th. This has been indicated in the image below. You can see that the padas 1,2 are orange in colour, 3, 4, 6 and 7 are yellow in color; 5 is green and padas 8 and 9 are red in colour.
Here's a summary of the Vastu guidelines for location of the main door in East facing houses:
The 5th pada (green one) is the most auspicious one to locate a main door for East facing home. It's the location of Sun (the God of fame) and blesses the residents with a lot of name, fame and respect in the society.

The pada's 3, 4 and 6, 7 are the ones that you can use if pada 5 alone is small. But try to include pada 5 in this arrangement.

Padas 1 and 2 are the prohibited ones; however, if you happen to locate the entrance of your home here then there's nothing to fret about as it won't bring any harm; but it may not give any benefits at the same time. Also, if you're planning to use pada 1 for main door, then make sure to leave at least 6 inches (1/2 feet) of space from NE wall; i.e the main door should not touch NE corner.

Padas 8 and 9 are the "prohibited" ones and must never be used to locate the entrance of a house and that's because it's the place from where illness enters the home. If you happen to  have an entrance from this part of the home then please read the article @ South-East vastu dosh and remedies.
ACCORDING TO VASTU SHASTRA, WHAT SHOULD ONE AVOID IN EAST FACING HOUSES?
Avoid placing the door in the 8th and 9th padas.


Avoid toilets in NE corner.

Avoid septic tank in NE corner.

A staircase in North-East of a house should also be avoided


Avoid having a kitchen in NE corner.

Avoid big trees in North and East of a house.

Avoid having clutter, dirt, dustbins etc. in North and NE; it's better to avoid it everywhere.

There should not be a cut in NE corner; if there's one then read our article @ North-East vastu dosh & remedies.
ACCORDING TO VASTU SHASTRA, WHAT TIPS SHOULD ONE FOLLOW IN EAST FACING HOUSES?
Place the main door in 5th pada.

You can place the entrance in padas 3rd, 4th, 6th and 7th if pada 5 alone is small.

Make walls in the North and East slightly shorter and thinner than the walls in the South and West.

Face East (in SE kitchen) and West (in NW kitchen) while cooking.

Pooja room in NE is very auspicious.

A living room in NE is also good.

So now, you must have figured out that an East facing property does not automatically mean that it is auspicious. If you believe in Vastu Shastra, it makes sense to make some tweaks as suggested in this post to help you feel totally reassured. Since we're dealing with East facing house vastu, here are 3 more MUST READ posts:
South-East vastu doshas and remedies

Vastu remedies for a North-East kitchen
READ MORE:
Visit my blog on House Construction In India  and carry out an evaluation exercise to judge whether the Orientation of a Site is as per Vaastu Shastra principles. Accordingly, you can decide if you want to buy the Site. In case you already possess a Site, then you can decide whether you want to make some corrections to the Site, so that it is suitable as per Vaastu.
Though I normally explain the Vastu Principles scientifically, in this post I chose to only list the Vastu guidelines because I have realised that most of my readers are not keen to know the science behind the guidelines- they only want guidance for the correct location of the main entrance door and rooms. But if you are interested, you could go to my scientifically explained posts:




If you found this post useful, all it takes is a simple click on the "pin it" "like," "share," "tweet," or Google+ buttons below the post. 
Related Topics: