Indira Gandhi International Airport, New Delhi | An Architect Reviews
Indira Gandhi International Airport's (IGI) new domestic terminal called T1D which started operating since  April 2009 is designed by the prolific architect Hafeez Contractor. Built at a cost of Rs500 crores T1D will cater solely to Low Cost Carriers once the under construction Terminal 3 is thrown open in April 2010. The terminal T1D will raise the domestic capacity of the IGI Airport to 10 million passengers annually.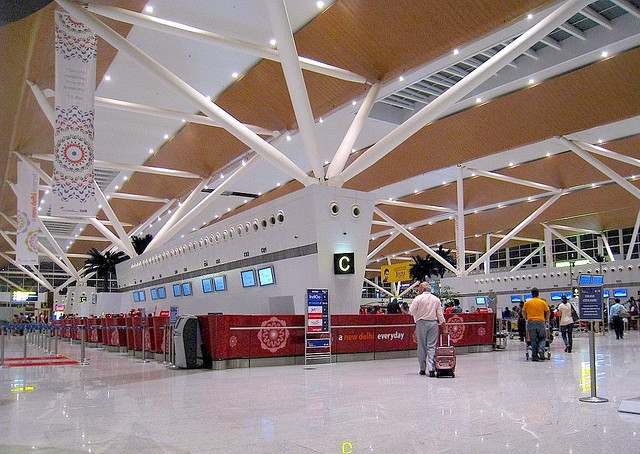 DESIGN OF TERMINAL T1D, INDIRA GANDHI INTERNATIONAL AIRPORT, NEW DELHI:
In the last few years, with the introduction of several domestic airlines, the traffic volumes have increased. Now, more than 24 million passengers pass through the Delhi airport every year and a plane takes off virtually every 2 minutes. This has put a lot of strain on the IGI airport which was designed only for 12 million people a year.  The proposed integrated terminal was a few years away. DIAL decided to design and construct a new terminal right away. Thus was born terminal T1D between terminals T1A and T1C.
The challenge of this project was that a lot of critical airport services and utilities had to be relocated before the construction of T1D could even begin. They were shifted to new  buildings without interupption and the construction of terminal T1D started within touching distance of the airport runway and other areas.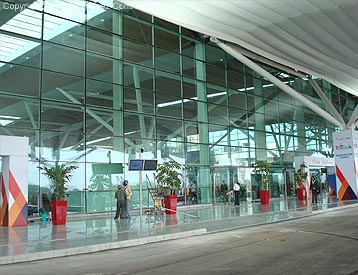 Designed by the renowned indian architect, Hafeez Contractor, the terminal T1D is a 2 level structure with a feel of openness about it. As passengers arrive at T1D, they enter the level which is meant for check-in facilities wheras the ground level is for baggage processing. The architecture is simple, with a lot of steel and glass in the curved roof with a visible skeleton. The colour is given by the cherry red plastic used for some interior fixtures.
SIZE OF TERMINAL, INDIRA GANDHI INTERNATIONAL AIRPORT, NEW DELHI:
The new terminal has almost double the space (35,000 sq.m) of the 70 year old terminal 1B (18,000 sq.m). The terminal T1D has 8 entry gates, 72 check-in counters, 1500 sq.m of commercial space and 16 security channels. Apart from that, the spanking new terminal has a retail bazaar, a smoking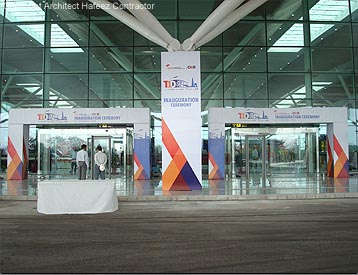 room, a baby care room, wi-fi services, kids playing area and an entertainment zone among other things.
It has a modern 4 level in-line baggage system which will eliminate the  x-ray check prior to check-in. This opens up a lot more space in the check-in area and passengers will not have to stand in long queues to get the baggage security check. Instead they can walk straight up to a check-in counter leave their luggage and let the four level in line screening system do the rest. Baggage zips throught the sensor based controls and suspect bags are isolated for physical checks. Sensors atomatically guide the bags to their destination
DIAL has taken help from Munich airport to implement the ORAT (Operational Readiness and Airport Transfer)
programme to ensure seamless shifting of operations from T1B to T1D.
Below are some images of the Architect's perspectives. They are courtesy the Architect, Ar. Hafeez Contractor.
This information is courtesy CNN, TOI and Indianskyscraperblog.wordpress.com
COLLAPSE OF ROOF SECTION AT TERMINAL 1D, INDIRA GANDHI INTERNATIONAL AIRPORT, NEW DELHI: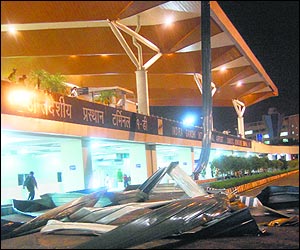 On August 21, flight operations at IGI Airport had to be shut for nearly two hours after a heavy downpour for nearly 30 minutes as there was flooding in the new terminal 1D because the ceiling leaked at several places and a part of the roof near Gate 14 crashed due to strong winds. A day before the deluge, the bolts on the roof had been unscrewed for some repair work and were not re-fixed properly. This made it easy for the winds to blow away a few panels of the roof, sources said.
In the aftermath of the incident, Hafeez Contractor had said the building's roof was not designed to take such a heavy winds, "which were almost tornado-like for 15 minutes" on August 21. "We need to rework the roof design now for a higher wind load," Contractor had said.
ARCHITECT'S OPINION OF THE NEW TERMINAL T1D, INDIRA GANDHI INTERNATIONAL AIRPORT, NEW DELHI:
The te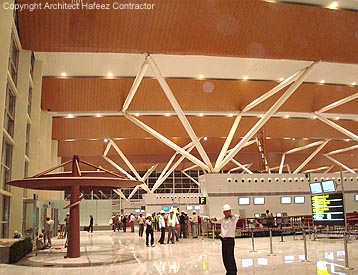 rminal  1D is well lit and has an open feel about it because of the huge curved roof structure  and multiple skylights that puncture the roof membrane. However this design is always susceptible to leaks and dampness in the multiple joints between the skylight and roof panels, especially where there is regular rainfall. It is surprising that even with so many modern innovations, this is still a problem that most architects face when trying to bring in more sunshine into a building with the help of  skylights. Though there are sealants that expand and contract and are meant to seal the joints, due to improper workmanship or application the joints inevitably leak.
 For more information on buildings/projects designed/executed completed in other parts of India, go to:
If you found this post useful, I would really love it if you pin it or share it. I have not blocked the site just because your ad blocker is switched on because I hope my content will be useful to you. But I am able to run this site only because of the ads. So I will be obliged if you turn off your ad blocker. Thank you!