CORK FLOORING | An Architect Explains
Cork commonly used as wine bottle stoppers is also a natural flooring material and a green, or environmentally friendly product. It comes from the bark of the cork oak tree, native to the Mediterranean which has a lifespan of 250 years. Cork flooring has been in use for many decades in libraries and churches because it absorbs foot falls and noise. But now you see it everywhere.

The bark is hand-harvested every nine years, leaving a protective inner layer of bark that allows the tree to continue to grow and regenerate new bark. After drying, the cork bark is punched up for wine bottle stoppers and the remaining cork is boiled, ground up, and compressed using no- or low-VOC (volatile organic compounds) adhesive resins to form cork sheets which can be cut and used as flooring.
Cork has both advantages and disadvantages. It is useful to know the characteristics of Cork, its usability and suitability as a flooring option. As an Architect, I have described Cork along with it's features under the following headings so that you can decide whether it is suited for your requirement and your space:
What are the advantages of Cork flooring?
What are the disadvantages of Cork flooring?
Where is Cork flooring best suited?

 



 WHAT ARE THE ADVANTAGES OF CORK FLOORING?
Cork is available as either tiles or interlocking planks and has a host of advantages:
WHAT ARE THE DISADVANTAGES OF CORK FLOORING?
While, Cork does have many benefits, you should know its limitations before making a decision for your home.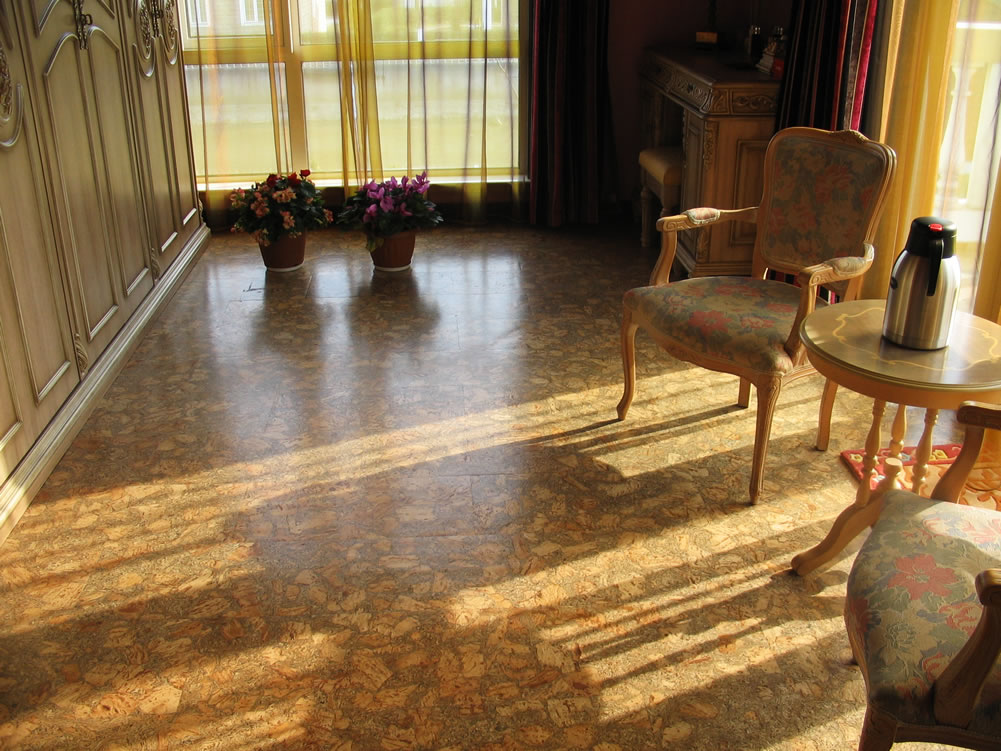 WHERE IS CORK FLOORING BEST SUITED?
Cork being a renewable product is very popular among environment-friendly homeowners. It goes well with modern homes, is sound-proof and cushion-y. Therefore it is popularly used in Basement. Because of it's water proof qualities, it is also used in Bathrooms. But it can get dented and is not as cost-friendly as Vinyl or carpet. So it is not a common flooring choice.

For information on other flooring options, go to:

READ MORE:
In order to get a rough idea of the suitability of a particular flooring for your requirement and to make a fair comparison of the different types of flooring, refer to an Architect's rating of the various kinds of flooring on my blog: House construction in India
If you found this post useful, all it takes is a simple click on the "pin it" "like," "share," "tweet," or Google+ buttons below the post.