DESIGNING AN EFFICIENT KITCHEN | An Architect Explains
Kitchens have changed from the traditional, very large, poorly-lit and inefficient space to smaller, well-lit and efficient family space today. This change has been necessitated because most women are working today and cannot afford to spend most of their time in the kitchen. In an effort to use space optimally, kitchens have been made smaller but more efficient and the extra space has been added to other areas of the house.
The design of a kitchen requires careful planning considerations in order to have a very efficient and comfortable space. As an Architect, I have explained some of the design considerations that you must take into account before you plan or renovate your kitchen. They have been explained here under the following headings:
What is the best way to make a kitchen efficient?
What is a modular kitchen?
What is a work triangle?
What are the tips for the design of an efficient kitchen?
What are the kitchen accessories that make a kitchen efficient?

 



WHAT IS THE BEST WAY TO MAKE A KITCHEN EFFICIENT?
The best way to make a Kitchen efficient is to:
Have a modular kitchen.

Reduce the amount of movement between work areas.

Use easy-to-clean and maintain  materials for kitchen surfaces.
WHAT IS A MODULAR KITCHEN?
Modular Kitchen is a term used for the modern kitchen furniture layout consisting of modules (units) of cabinets with accessories inside, which can facilitate the effective usage of the spaces in a kitchen.
The modules or units in a modular kitchen are of the following types, namely, the 'floor units', (which are kept on the floor and on top of which the kitchen worktop is laid), the 'wall units' (which are held on the wall for storage purposes) and the 'tall storage unit' or the 'larder unit' ( for effective storage of food and provisions).
Modular kitchen normally constitutes wooden cabinets, counter-tops, internal accessories, carrousels, pull-out baskets, trays, pole-system, chimney, hob, built-in-oven, sink with or without drain board and in some cases a refrigerator, dishwasher or other gadgets.
When you are ready to transform your Kitchen into an efficient, modern one, go consult an Architect or an Interior designer. He  will design the Kitchen space using modules of standardized sizes to suit individual spaces.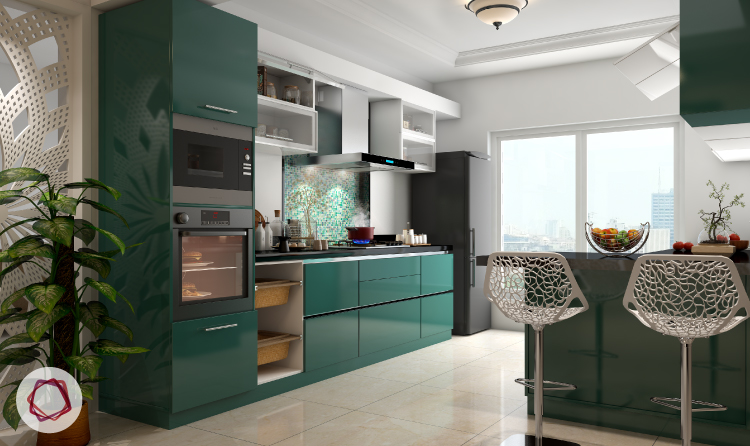 WHAT IS A WORK TRIANGLE IN A  KITCHEN?
When your Architect/Designer presents you with the design of your Kitchen it is worthwhile to check if the following points have been taken into account.
Work triangle: The work triangle in your kitchen comprising the three main work areas namely the Refrigerator (cold storage), the Sink (cleaning/preparation) and the Stove ( cooking area) must be compact so that it reduces movement time and yet allows enough leg room.
Ideal work triangle: Each leg of the triangle should be between 4 and 9 feet and the total of all three legs should be between 12 and 26 feet. There should be no obstructions (cabinets, islands, etc.) that intersect a leg of the work triangle and household traffic should not flow through the work triangle.
WHAT ARE THE TIPS FOR THE DESIGN OF AN EFFICIENT KITCHEN?
Counter tops: Replace the old kitchen counter tops with granite, kota, engineered stone or colourful solid surface counters. They not only enhance the look of your kitchen but are also low on maintenance.
Kitchen hobs: Replace your old gas burners with stylish hobs which are neat to look at and easy to clean.
Chimney: Smaller kitchens can get claustrophobic. So install a Kitchen chimney above the hob to have a smoke-free  and fume-free cooking area.
Kitchen Sink: Replace your traditional kitchen sink with deeper stainless steel sinks which can accomodate more utensils and are easier to clean.
Glazed tiles: Use light coloured tiles above the kitchen worktops and the sink. They make the space look stylish, brighter, larger and are easy to clean. However avoid using glazed tiles on the kitchen floor as they can be very slippery. Even a few drops of oil, soapy water can make the surface slippery. Moreover, breakable objects break more easily when they fall on glazed tiles.
Good placement of furniture in a Kitchen: The correct placement of furniture, cabinets determines whether a kitchen looks spacious, aesthetic and un-cluttered. It also decides whether the room becomes a relaxed place for efficient cooking and spending family time.

 



DESCRIBE SOME KITCHEN ACCESSORIES THAT WILL MAKE THE KITCHEN MORE EFFICIENT?
Pull-out baskets/trays: Have stainless steel pull-out baskets (preferably with good-quality channels for long-term use) within the cabinets to allow easy accessibility to every utensil. You can decide the levels at which these baskets are to be fixed within the cabinets, depending on the sizes of your vessels and appliances.
Pole-system: The Pole system is a multipurpose storage unit that can be mounted on the breakfast counter or on the floor. Since it is vertical and compact, it saves space while allowing you to store all your frequently used items like fruits, cups, snacks etc within arm's length.
Midway system: This is a stylish steel holder with a single or  double tier shelves, which can be installed just below the overhead cabinets, near the stove. These shelves can be used for storing  essential and frequently used items like sugar, tea, coffee powder, chilli and other spices.
Glass storage jars: Use glass or pearl-pet jars to store ingredients and label them. This makes it easier to find them when in a hurry.
Carrousels: Carrousel baskets also known as 'merry-go-round' baskets revolve around a rigid centre shaft, thereby enabling easy accessibility to even the corner most jar. They are especially useful in the corner of a kitchen, at the junction of the "L-Counter".
For a concise Vastu guide and evaluation of your Kitchen and Kitchen Backyard, please refer to the posts on my blog: House construction in India
Related Topics:
If you found this post useful, I would really love it if you pin it or share it. All it takes is a simple click on the "pin it" "like," "share," "tweet," or Google+ buttons below the post.