KOTA STONE FLOORING | An Architect Explains
Kota Stone is a fine-grained variety of limestone obtained from Kota, Rajasthan, India.  It is available in attractive, earthy colours. It is non-slippery, water-resistant, non-porous, can be rough finished or polished to a high shine. However, it does not have the sophisticated appearance of Marble

or

Granite. It is more rustic looking.
It is used both in interiors and in exteriors, commercial spaces, external staircases, pathways, corridors, driveways, and balconies etc. A very similar stone is the Shahbad stone found in North Karnataka. But Shahbad is mostly grey.

Kota stone has both advantages and disadvantages. It is useful to know the characteristics of Kota sone, its usability and suitability as a flooring option. As an Architect, I have described Kota stone along with it's features under the following headings so that you can decide whether it is suited for your requirement and your space:
What are the characteristics of Kota stone?
What are the advantages of Kota stone flooring?
What are the disadvantages of Kota stone flooring?
Where is Kota stone flooring best suited?

 



 WHAT ARE THE CHARACTERISTICS OF KOTA STONE?
Composition: Kota is a very fine grained, siliceous calcium carbonate rock of sedimentary nature.
Physical properties

:

Kota is hard, compact, tough and homogenous natural stone. It is non-slippery.
WHAT ARE THE ADVANTAGES OF KOTA STONE FLOORING?
Beautiful: Polished Kota Stone looks beautiful because of it's nice smoothness and shine.
Finish

:

Kota stone can be finished according to requirement such as one-side honed, both-sides honed, hand cut, machine cut, polished, mirror finish and calibrated etc.
Hygienic

:

Kota, being non-porous and moisture resistant, is a hygienic flooring option in humid regions.
Cool

: Kota reflects heat and is always cool and comfortable underfoot.

Affordable

:

Unlike Marble or Granite, Kota stone is very affordable. In fact it is the cheapest stone among other natural stones.
Wide range: Kota is available in beautiful colours  like black, pink, grey and beige. though the rich greenish-blue and brown colours are the most popular.
WHAT ARE THE DISADVANTAGES OF KOTA STONE FLOORING?
Flaking: The stone tends to flake over a period of time. However, periodic polishing using polishing wax can eliminate this phenomenon.
Lustreless: Kota lacks the luster of Marble or granite.
Small sized tiles

:

Unlike Marble and Granite, Kota is not available as large slabs, due to the brittleness of limestone. The maximum sizes are around 240 cm x 75 cm.
Many joints

:

Unlike Marble or Granite, Kota stone flooring does not give the appearance of a seamless flooring because Kota tiles are available only in small sized tiles. Also, there is a lot of variation in colour between tiles.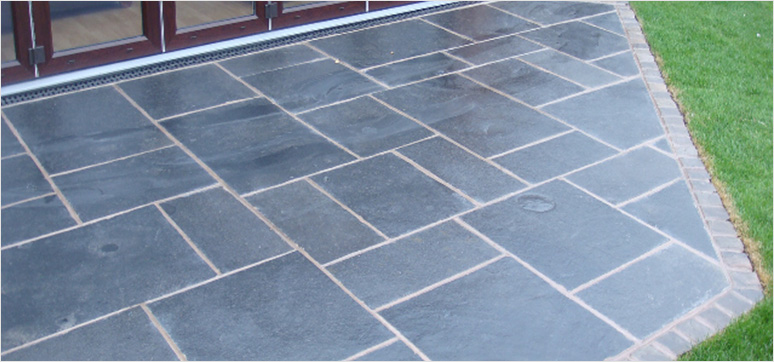 WHERE IS KOTA STONE FLOORING BEST SUITED?
Due to it's durability and affordability, it is the most preferred choice among natural stones in large spaces like industries and commercial buildings and homes of eco-conscious people.  It is sometimes used as a wall cladding because of its natural colouring and sheen. A very good alternative to Kota is Shahbad stone or Slate.

For information on other flooring options, go to:

READ MORE:
In order to get a rough idea of the suitability of a particular flooring for your requirement and to make a fair comparison of the different types of flooring, refer to an Architect's rating of the various kinds of flooring on my blog: House construction in India
If you found this post useful, all it takes is a simple click on the "pin it" "like," "share," "tweet," or Google+ buttons below the post.