FENG SHUI | EIGHT CARDINAL DIRECTIONS
The universe is a balance of Yin and Yang and the balance between the two creates different types of energies. There are eight basic types of Yin-Yang energies, each of which is represented  by a name, a trigram ( a group of three lines that illustrates its Yin-Yang balance), a Feng Shui element, a Feng Shui colour, a Feng Shui number. Each of these energies is linked to a specific compass direction and to a specific member of the family.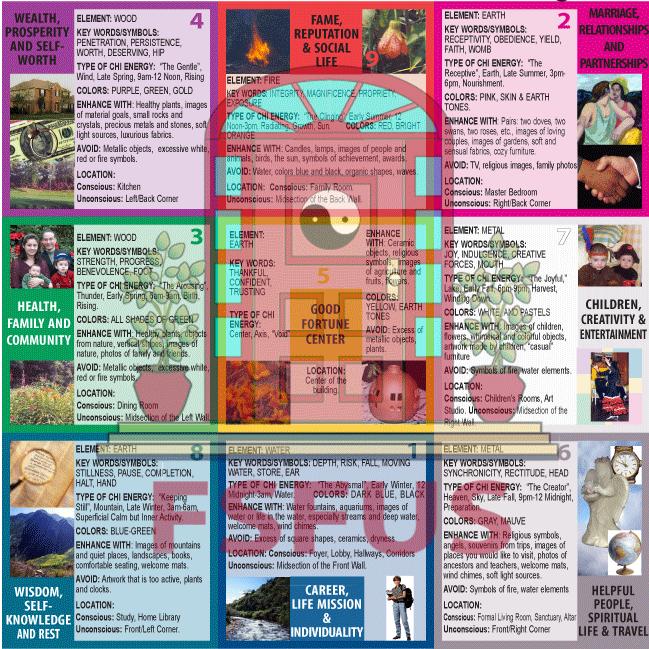 The energy associated with each direction has certain inherent characteristics that makes it suitable for certain activities and to a specific member of the family. This knowledge helps you to arrange the rooms of a house in specific directions such that the activities  of each room are suited to the energy in that direction. Also, the rooms of individuals can be arranged such that each individual member of the family benefits from the specific Yin-Yang energy suited to him/her.
Here is a summary of the ideal arrangement of rooms in your house in the eight compass directions, such that you can optimise the qualities of the energy in each of the sectors.
NORTH or Front Middle – MEDITATION/PUJA ROOM or MASTER BEDROOM: The energy in the North is called KAN and is related to the Middle son or men aged between 16 and 30. This energy is a stable, tranquil, quiet energy and is good for activating positive changes in your life and career. Therefore a room used for quiet contemplation like a meditation room/puja room can be positioned in the North. It is also a good place for a bedroom as the energy encourages a stable sex life and a contented relationship.
Feng Shui Element: Water
Colours: Dark Blue and Black
Number: 1
NORTH-WEST or Front Right is best suited for an OFFICE or MASTER BEDROOM: The energy (chi) in the North-West sector is called CHIEN (binary symbol- 111) and relates to the father of the household and to men over 46. This energy relates to responsibilityand planning and fosters the characteristics of leadership and organisation. Therefore it is a good place for the Office or Master Bedroom of the breadwinner of the house.
Feng Shui Element: Metal
Colours: White, Black and Gray
Number: 6



NORTH-EAST or Front Left – STUDY or a KID'S BEDROOM: The energy (chi) in the North-East sector is called KEN and is relevant for the youngest son and boys upto the age of 15. This energy is strong, sharp, quick to change and supports decision-making and provides the drive to attain desired goals. Therefore the North-East zone is ideal for learning and education and the right place for a study or a bedroom of students/the youngest male member.
Feng  Shui Element: Earth
Colours: Beige, Light Yellow, and Sandy/Earthy
Number: 8



WEST or Middle Right – DINING/LIVING ROOM or CHILDREN'S BEDROOM: The energy in the West sector is called TUI and is related to the youngest daugter of the family or girls upto the age of 15. This energy is associated with children, creativity, joy and will encourage a deep and loving family structure. Therefore the West is good for children's and adolescent s' bedrooms. It is also ideal for a living room or a dining room, where the family meets.
Feng Shui Element: Metal
Colours: White, Pastels, metal and Gray
Number: 7
EAST or Middle Left –  STUDY or KITCHEN: The energy in the East sector called CHEN relates to the eldest son or men between 31 and 45. This energy is forward-looking and optimistic and helps in developing ambition and realising dreams. It is suitable for a kitchen or hobby room as these rooms can benefit from the active and practical energies.
Feng Shui Element: Wood
Colours: Brown, Green and blue
Number: 3



SOUTH or Rear Middle – DINING ROOM, OFFICE or BEDROOM: The energy(Chi) in the South sector is called LI and relates to the middle daughter or women aged between 16 and 30 . It is a passionate energy and is associated with respect, recognition and fame and so the South zone is suitable for an office or dining room and also a bedroom.
Feng Shui Element: Fire
Colours: Red, Orange, Purple and bright Yellow
Number: 9
SOUTH-WEST or Rear Right – LIVING / FAMILY and DINING ROOM: The energy (chi) in the South-West is called KUN and relates to the mother of the family and women over 46. This tranquil energy is associated with love and happy marital relationships. It encourages strong relationships and emotional security and so, the South-West zone is the best place for the Living room or family room or the dining room where the family congregates. It is also ideal for a  bedroom.
Feng Shui Element: Earth
Colors: Beige, Light Yellow, and Sandy/Earthy
Number: 2
SOUTH-EAST or Rear Left – KITCHEN or STUDY or BEDROOM: The energy in the South-East sector is callled SUN and relates to the eldest daughter and women between the ages of 31 and 45. This energy is active but less agressive than in the East and is suited to mature progress. So, the South-East is ideal for a Kitchen or Study.
Feng Shui Element: Wood
Colors: Brown, Purple and Green
Number: 4



Although the Bagua locations for your home are fixed, it is useful to know your most auspicious direction for you, as it is worthwhile for you to face this  direction when doing activities for long periods of time, like eating, working, sitting and sleeping. Read about it here:

VASTU SHASTRA AND FENG SHUI SIMILARITY
Feng Shui is conceptually similar to its Indian counterpart "Vastu Shastra" in that, they both try to harmonize the flow of life-energy ("Chi" in Feng Shui or "Prana" in Vastu) through the house. You can read more about the Vastu Shastra Factor, the eight Cardinal directions here:
If you found this post useful, I would really love it if you pin it or share it. I have not blocked the site just because your ad blocker is switched on because I hope my content will be useful to you. But I am able to run this site only because of the ads. So I will be obliged if you turn off your ad blocker. Thank you!



Related Topics: