MURPHY BED (WALL BED) | An Architect Explains
The Murphy Bed – known generically as a wallbed – was named after its inventor, William Murphy. The story goes that his one-bed apartment was too small for him to entertain his friends, so he invented a way of making more space by hiding away the bed into the wall d

uring the day. Although we mainly think of Murphy Beds as wall beds, in 1918 William Murphy invented a bed that could be attached inside the door of a closet and folded down from there.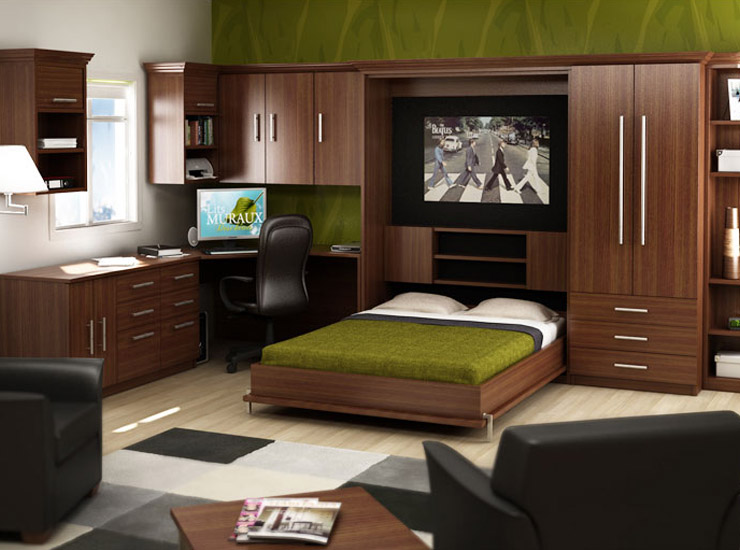 Listed here under the following headings, are some of the Guidelines for the design of a Murphy bed. As an Architect, I have explained each of these guidelines under the following headings:
What are the components of a Murphy bed?
What are the types of Murphy beds?
What are the advantages of Murphy beds?
What are the disadvantages of Murphy beds ?
Are Murphy beds still popular?

 



WHAT ARE THE COMPONENTS OF A MURPHY BED (WALL-BED)?
Storage: Wall beds are stored vertically against a wall or inside a closet or cabinet and so well incorporated into wall units, you can't even tell that the bed is there
Mechanism: They usually have a counter-balancing mechanism to allow for easy raising and lowering. You can flip the bed at one of its horizontal edges, to make it stand vertically inside a wall or closet.
Mattress and frame: The mattress is generally attached to the bed frame, with a lock at each corner and lies on wire mesh instead of box springs.
Headboard/footboard: Another unique characteristic of the Murphy bed is that they do not have headboards, footboards or bed rails.
Night tables: Some units even include extras such as fold-out night tables.
WHAT ARE THE TYPES OF MURPHY BEDS?
The original panel style – where the whole bed simply folds down from the wall in one go.  A panel bed has the advantage that with no doors to open, less space is used.
The Bi-Fold or Closet style –  In this style, both the Murphy bed and the closet are concealed behind a pair of closet doors in the bedroom or living room. When the doors are opened, the bed folds out from within. Bi-Folds tend to have simpler and lighter operating mechanisms.
Hide-away bed: The hideaway bed concealed behind a wall or closet has a dual purpose and can be used as a shelf or desk, as seen here.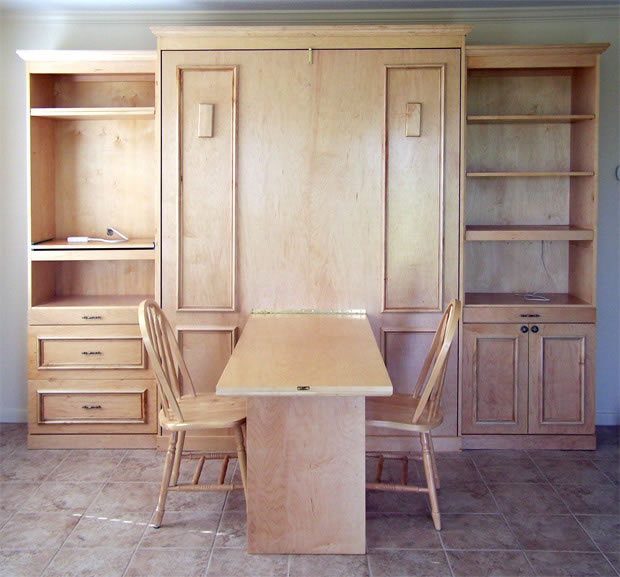 Space: Since the Murphy bed can be folded away during the daytime, you can utilize the space for some other purpose, while at night you can convert the place into a bedroom.
Economical: At times, the Murphy beds prove to be cheaper than the regular ones.
Usefulness:  Murphy beds can be used by anyone including pets.
WHAT ARE THE DISADVANTAGES OF THE MURPHY BED?
Comfort: You might just have to compromise on the comfort quotient when you use a Murphy bed. In comparison to the regular beds, Murphy beds may not be as comfortable or sturdy because they use wire mesh instead of box springs.
No Scope For Decoration: Since Murphy beds do not have headboards, footboards, or bed rails, they provide no scope for decoration. So, if aesthetics is high on your list, a Murphy bed is not for you.
Tedious Task: Since you are limited by space, you need to fold the bed every morning you get up. This task may become tedious over time, especially for older citizens.
ARE MURPHY BEDS STILL POPULAR?
The peak market for wallbeds was back in the 1920's. In recent times, the wallbed has not been so popular because of the availability of alternative, space-saving beds such as futons, bunk beds or trundle beds which are a lot more comfortable. However, as cities become ever more crowded, there are fewer number of bedrooms in apartments. In such spaces, Murphy beds are the best alternative. Nowadays Murphy beds have been revamped to include modular cabinetry with glass, mirrors, lighting, storage or computer centers.
While Murphy beds are folded into a closet, the Futon bed  can be folded and stored away in a closet.
If you found this post useful, I would really love it if you pin it or share it. I have not blocked the site just because your ad blocker is switched on because I hope my content will be useful to you. But I am able to run this site only because of the ads. So I will be obliged if you turn off your ad blocker. Thank you!
For information on other Bed Types, go to: