Sobha City, Thanisandra, Bangalore |An Architect Reviews
Sobha City by Sobha Developers, is located 4km off Hebbal Ring Road, towards Thanisandra. Spread over 36 acres, it is one of the biggest residential projects in East Bangalore. There are four tower types of floor heights 15, 19, 20 and 22 floors and 28 row houses in this project with a total proposed number of 1762 units.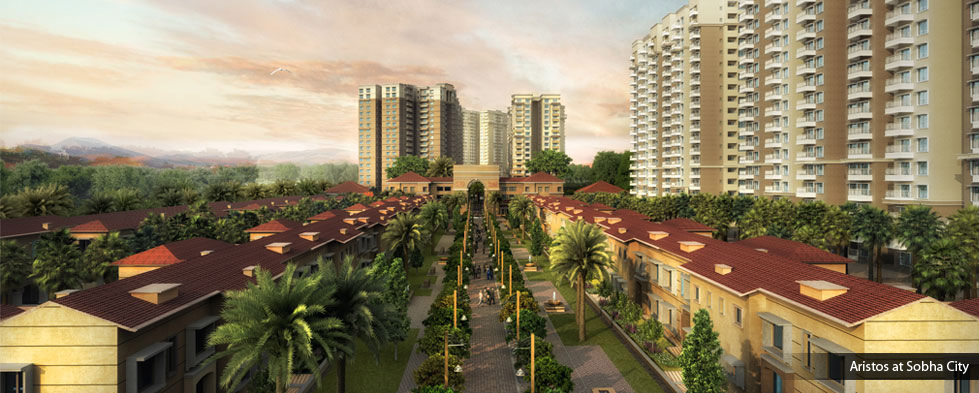 LOCATION OF SOBHA CITY, THANISANDRA, BANGALORE:
Sobha City can be accessed from Hebbal ring road (Bellary road)-4km as well as from the ORR (outer ring road) – 1.4km via Thanisandra main road. This site is in proximity with reputed medical institutions, schools and colleges, recreational centres as well as shopping arcades, such as Manyata Tech Park, Elements Mall, Esteem Mall, Vidya Shilp School, Rashtrottana Vidya Kendra, Kristu Jayanthi College, Akshaye PU college, Baptist Hospital, Columbia Asia Hospital, Kaveri Hospital, Kamanahalli and Banaswadi.  Some of the distances from Sobha City to well-known places are listed here:  Outer Ring Road (1.4 Kms), Manyata tech park (2.8 kms), Hebbal Flyover (5.8 Kms), Mekhri Circle (8 Kms), Windsor Manor (10 Kms), MG Road (12.5 Kms), City Railway Station (17 Kms), International Airport (22 Kms). Some of the other big apartment complexes near Manyata tech park in the vicinity include Salarpuria Gold Summit, Kolte Patil Mirabilis, Prestige Gulmohar,Purvankara Palm Beach
ABOUT THE BUILDER, SOBHA DEVELOPERS:
Sobha Developers was started by Mr. P.N.C. Menon, 20 years ago in Bangalore, India in the year 1994. He used his 35 years of experience in building monarchical palaces as well as luxurious villas and hotels in the Middle-East. When He started in Bangalore, the construction industry was in its nascent stage, but to his credit, Mr. Menon revolutionised the industry by introducing world-class quality construction at truly affordable prices. Today, Sobha Developers is one of the largest real estate groups in the country having completed 104 projects covering about 71.73 million square feet of area. The Company currently has ongoing residential projects in 9 cities, viz. Bangalore, Gurgaon, Chennai, Pune, Coimbatore, Thrissur, Calicut, Cochin and Mysore.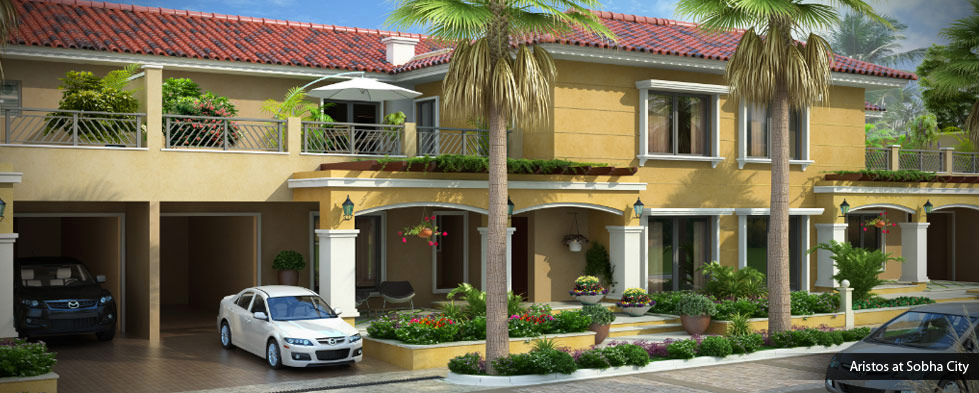 ABOUT SOBHA CITY, THANISANDRA, BANGALORE:
Inspired by the architecture and lifestyles of the Mediterranean, this residential enclave of luxury apartments and row houses has four types of tower blocks and 28 row houses and will have 1762 apartment units when all the phases are completed. It has luxury apartments of configurations 2-bed, 3-bed, 4-bed and they vary in areas from 1340 sft to 2164 sft while the row houses vary in areas from 2792 sft to 3764 sft. The apartment prices range between Rs 82 lakhs (for the luxury units)and Rs 3.58 crores (For the super luxury units). The four types of blocks and row houses are listed here:
Casa Serenita: 22 floors with 503 luxury units of 2 and 3 bed configurations

Santorini 1 and 2: 19 floors each with 455 luxury units of 2 and 3 bed configurations

Mykonos: 15 floors with 448 luxury units of 2 and 3 bed configurations

Casa Paradiso: 20 floors with 328 super luxury units of 3 bed configuration

Aristos: 28 super luxury 4-bed row houses (G+1)
AMENITIES IN SOBHA CITY, THANISANDRA, BANGALORE:

These include a 60,000 sft Club house with indoor facilities such as: Badminton courts- 2 nos, Squash courts- 2 nos, Multi-purpose halls- 2 nos, Restaurants/ Cafe-2 nos, ATM, Guest rooms- 4 nos, Business center, Audio visual room, Crèche + indoor children play area, Saloon + spa, gymnasium, Yoga/ Aerobics, Clinic, sculpture garden, outdoor dining, fountains, pools pebbled pathways, water and shade features.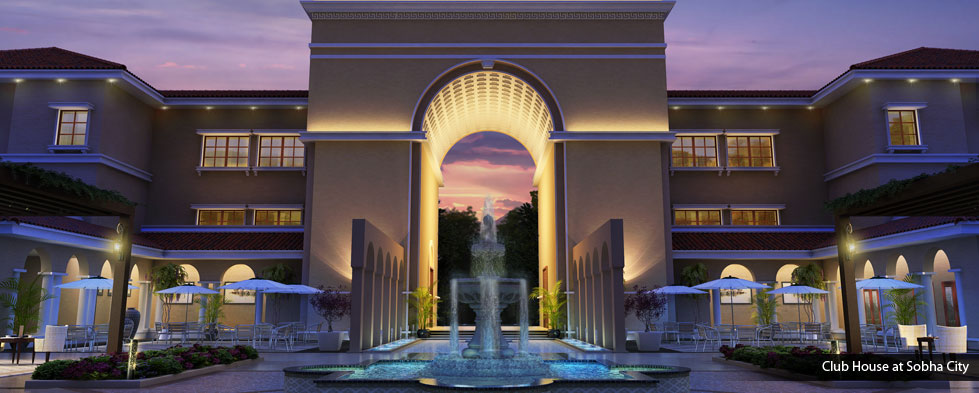 ARCHITECT'S REVIEW OF SOBHA CITY, THANISANDRA, BANGALORE:
Since I am an Architect based in Bangalore, I am able to review some of the projects and builders in Bangalore with confidence. These reviews will hopefully help you in making the right decision when planning to buy a flat. My reviews are unbiased and solely based on the merits and demerits of the design of the buildings.
POSITIVES OF SOBHA CITY, THANISANDRA, BANGALORE:

Location: The location near the ORR, Hebbal ring road and Manyata Tech Park makes it very attractive to the IT crowd. Moreover, it is close to MG road, schools, tech parks, hospitals and the Airport.
Resale Value: Sobha City is good for investment and will have good resale value because of it's excellent location and the fact that it is a Sobha project.
Reputation: Sobha Developers is probably one of the most recognised builders in South India and is known for their quality construction and good finishes. So this is a huge plus in favour of the project.

Design: The site being longitudinal, the project has been designed along a 600 meter central spine that leads all the way up to an arch which seems appears majestic and imposing, in the perspectives. Whether it is in proportion to the rest of the project, the multi storey towers and the row houses, can only be assessed once it comes up in site.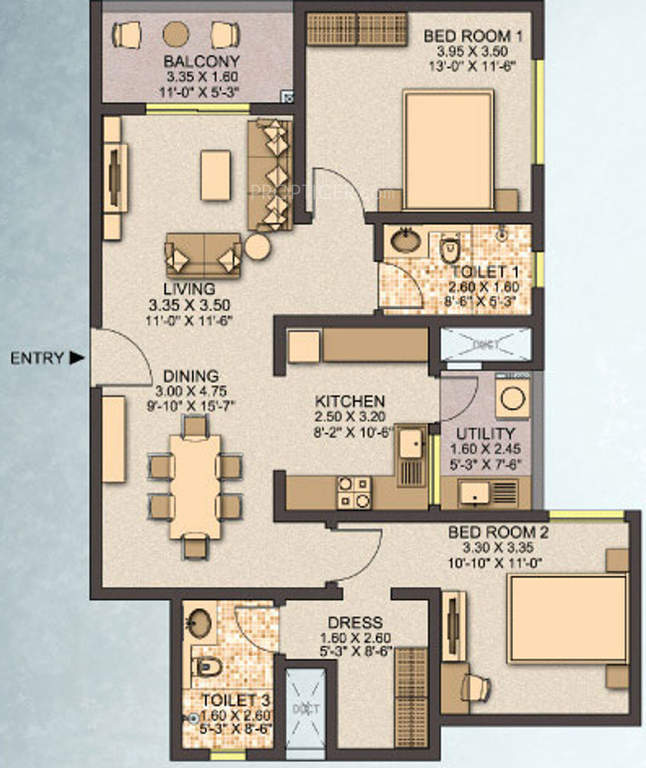 Room sizes: The master bedroom, kitchen, living room and bathrooms are comfortably sized considering that the super built-up areas of the 2-bed flats are on the lower side. See my post on Bedroom sizes in Design of a Bedroom, design of a Kitchen.
Open area: Being a multi-storey project, Sobha city has an advantage in that it has 65% open area which has been utilsed well for landscaping, pools, water features, gardens, tree canopies and pebbled pathways.
Carpet area to built up  area ratio: Carpet area is said to be 75% of the built-up area, which is okay but not that efficient.
Bedrooms: Some of the 2-bed units have an attached dress with the master bedroom which allows for a lot of wardrobe space. But I personally feel this would have been advantageous in a 3 bed unit as you are paying more. In a 2-bed unit,  you will be paying more for this 'extra room' but have only 2-bedrooms.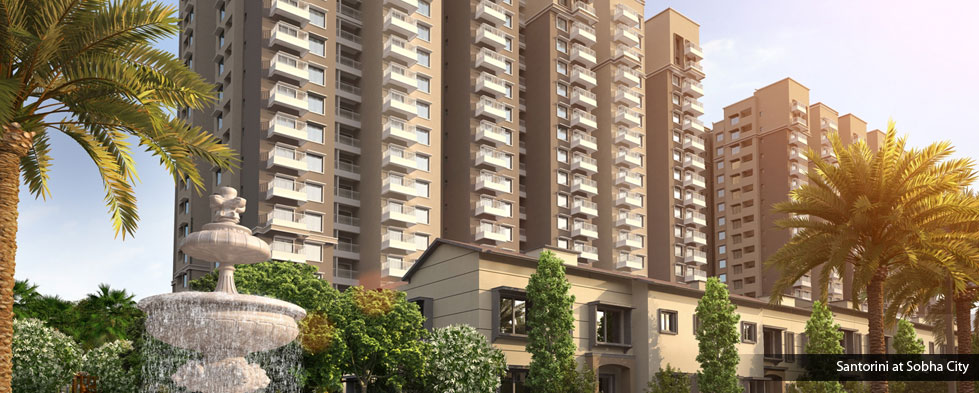 NEGATIVES O
F SOBHA CITY, THANISANDRA, BANGALORE:

Appearance: The elevation of the 15 to 22 floor towers is nothing to talk about. But that is the problem with MOST multi-storey buildings. They tend to be repetitive and boring. The row houses are clearly inspired by the Mediterranean style with arches and sloping roofs with terracotta tiles. But the striking feature of Mediterranean houses is the white stucco exteriors and that is missing here. In fact they have painted the exterior with shades of their distinctive brown, which makes their projects look boring according to me
Foyer: The entrance to the 2bed flat is without a Foyer. It always is advantageous to have a foyer as it serves as a 'pause' space and is a place to keep the footwear.
Living-dining: The living/dining room in almost all the apartments is a longish hall. An L-shaped one is always preferable as it breaks the spaces.  And in some of the units, the living area is not set back and serves as a passage way. So the furniture arrangement is also affected by the traffic. Moreover, the dining  in most of the units and sometimes the living, does not get any direct light as there are no windows.

Bedrooms: In most of the units, at least one bedroom is facing a duct. 
All the 3-Bed-units have three toilets: In my opinion, there should have been 3-bed 2-toilet apartment options as 2 toilets are sufficient for a family of 4 or 5 and is advantageous as the super-built-up area of such an apartment is reduced by 150 to 200 sft. There are many people who want a 3-bed unit but cannot afford it because of the price which is in direct proportion to the super-built up area.

Corridors: In some of the units, I see corridors and lobbies which are just a waste of space. It all adds up in the built-up area and these spaces are not included in the bedoooms or other living spaces. So effectively you are paying for wasted space.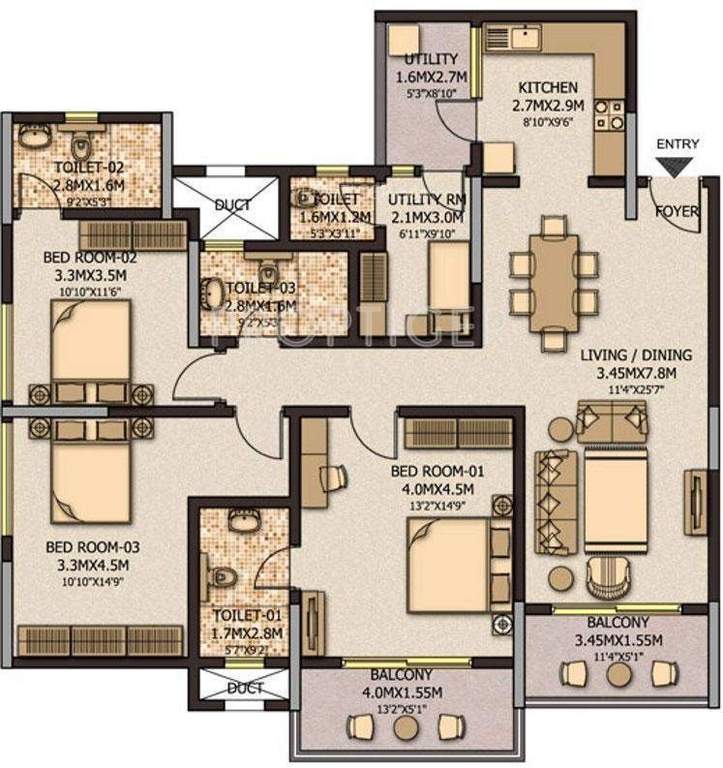 This is my unbiased review of  Sobha City in Thanisandra. I like the planning along the central spine of the site as it is the most efficient way of arranging units in this linear site. At first appearance, I also like the Mediterranean touch in the row houses and the grand archway. But the boring brown shades and the not so-efficient plans of the units disappoint. I will give it a rating of 7.2 out of 10.
For more information on buildings/projects designed/executed completed in Bangalore, go to:
If you found this post useful, I would really love it if you pin it or share it. I have not blocked the site just because your ad blocker is switched on because I hope my content will be useful to you. But I am able to run this site only because of the ads. So I will be obliged if you turn off your ad blocker. Thank you!